We love easy DIY Christmas Decorations. Here is a great list of DIY Christmas decor decorations. Enjoy making your home festive with these beautiful decor ideas.
Christmas is my very favorite time of the year. This time of year means family, yummy treats, lots of fun crafts, and decorating for the holiday season!
Plus, there are so many styles or themes you can choose from for your holiday decorating! Do you like to stick to a specific theme or color scheme?
These 20 DIY Decorating Ideas for Christmas are sure to get your crafty juices flowing. Either make a project exactly as shown or start with an idea and go off on your own!
Christmas Decor Crafts:
Visit the website for the step-by-step tutorial.
You can make a fun 3D Reindeer Decoration to add to your holiday decor using your Cricut cutting machine.
Make a canning lid Christmas wreath for the front door, made with washi tape! A tutorial with video instruction.
Learn how to create a farmhouse holiday throw pillow using your cutting machine and SVG cut file. You will love these DIY Decorative Christmas Pillows!
Learn How to Make a Pom Pom Tree for Holiday Decor. An Easy DIY Craft Tutorial Idea for handmade Christmas decorations that can be up all year!
Create a beautiful glass etched snowflake candle mirror plate. Adorn with LED Candles and you have a simple centerpiece for the perfect home decor piece.
How to make a garland winter wreath for Christmas. An easy DIY craft tutorial idea for seasonal home decor in less than 30 minutes!
A Candy Cane Wreath is a fun gift idea that also doubles as Christmas decor. A step-by-step Candy Cane Wreath Tutorial!
Want to make a snowflake canvas painting with your kids? Celebrate the season of snow and winter with these DIY snowflake finger paintings!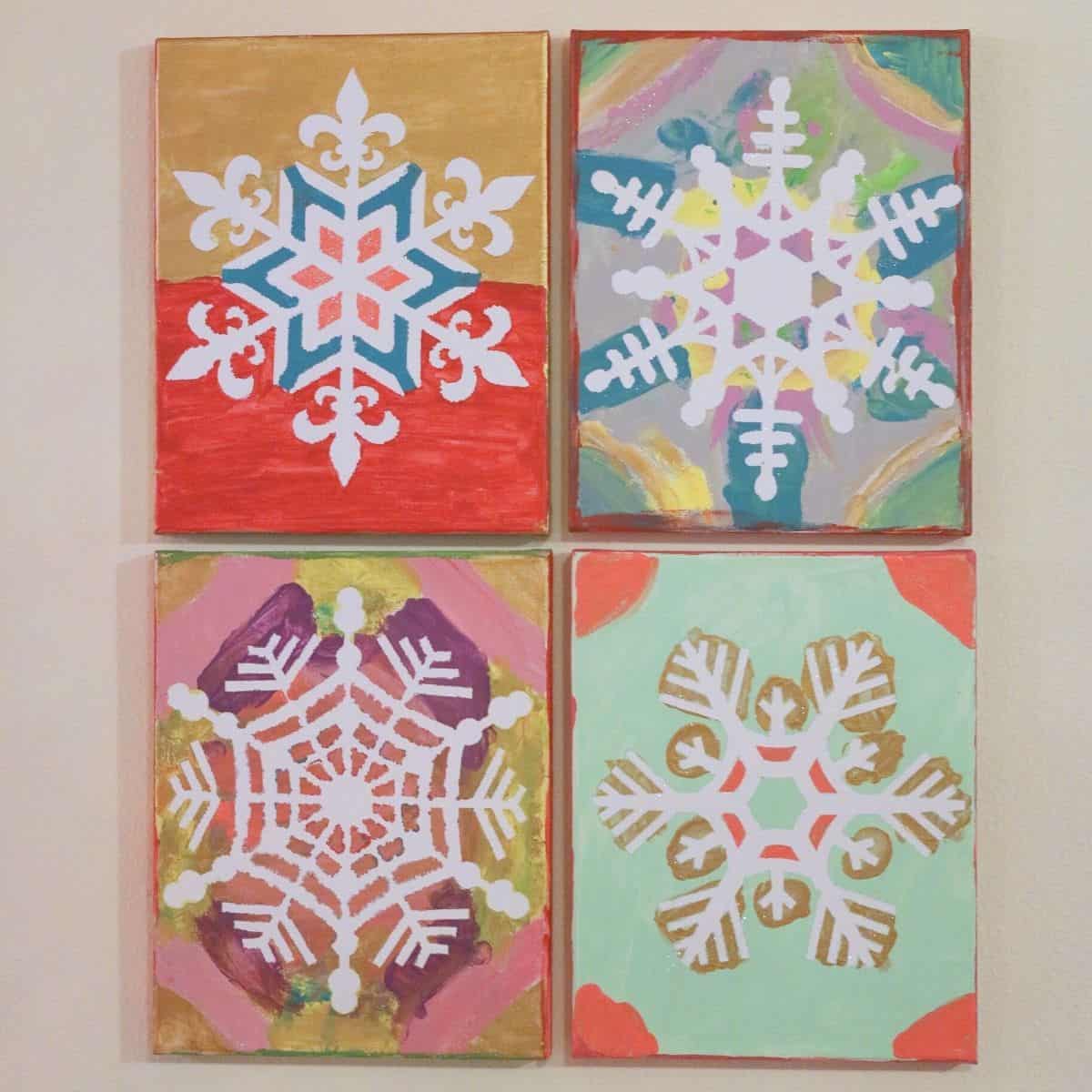 Simple holiday decor you can make yourself!
Create a charming, lit-up Spiral Paper Christmas Tree with our free SVG and Dollar Store finds for a unique, budget-friendly holiday decor.
Learn how to make a Snowflake Pillow Cover, using Cricut! Perfect to add to your holiday home decor.
Make a beautiful Handmade Christmas Tree Skirt with fabric and a glue gun!
Learn how to make a Felt Ombre Snowflake Trivet using a Cricut cutting machine. An easy DIY craft tutorial idea for functional winter home decor.
Make the perfect handmade gift with mason jars. Easy DIY craft tutorial idea for Christmas, or any gift-giving reason.
Learn how to make a Christmas Tree Advent Calendar with the Cricut Maker! The full Project is ready to cut in Cricut Design Space.
Decorate for Christmas with a decorative throw pillow that actually jingles! This DIY holiday throw pillow will look fun and festive in your living room.
Create a cozy yarn tassel tree for a homespun touch to your Christmas decor. Simple steps for a festive, crafted charm!
Give handmade glass etched Christmas cookie plates to your friends and neighbors this year! They will love the cookies and keep the plate for years to come!
Using a Cricut and a few basic materials, you can easily make a Christmas tree made of felt. Make a gift for friends and family or decorate your house.
Our Crafting Essentials List:
Title:
20 DIY Christmas Decor Crafts (Step By Step)
Keywords:
christmas decor crafts
Last Updated:
November 8, 2023