These easy dog crafts let you show how much you love your furry companion. Crafts like dog treat holders and dog toys make DIY pet crafts easy peasy.
We love our pooches! They really are a part of the family.
Since you craft for everyone else, why not make some amazing gifts for your best friend?
These DIY projects are easy to make and your furry friends will love you for it!
More Craft Idea Posts:
Idea posts are awesome because they give you lots of ideas all in one place! Here are a few more idea posts that I think you might like: 12 Paper Toys to Print, 20 Lampshade Ideas, and 20 Fantastic Paper Garlands.
Be sure to look around the blog for more Craft Idea Posts!
Crafts for Dogs:
Visit the website for the step-by-step tutorial.
You can make an empty water bottle dog toy cruncher for your favorite furry friends. An easy DIY craft tutorial idea made with dry dog food.
We decided Emmett needed a dog leash, a technicolor dog leash!!!!! And you gotta see what we used to do it! It was like a 90s birthday party/summer camp all over again. Check it out!!!!
3. DIY Dog Tent from Woodshop Diaries
If you want a super-easy way to make a DIY dog tent with striped (or any patterned) fabric so that it will all line up correctly, I've got you covered 🙂
Do you play the dog guessing game when it comes to your pet's mixed breed? You can get all of the answers with the WISDOM PANEL Canine DNA Test!
If you have a dapper little doggie (or cat) like we do, you NEED these easy DIY dog bow ties in your life. The ones I am teaching you today are especially cute because they are made from the material of old neckties!
Pet paws, while different from their human counterparts, are also susceptible to damage from hot pavement, the elements, and other factors. You can help soothe and moisturize damaged or irritated paws with this best dog paw balm recipe. Keep reading to learn how to make a natural pet balm for your furry family!
I think the phrase that refers to dogs as "man's best friend" is completely true. My dogs know things that I've never told a single soul. They've been there for some of my hardest moments, and though they might not really understand what exactly is going on, they know when the most important place they can be is by my side with my hand running through their soft fur.
Make a dog chew toy using your old t-shirts for your furry friend. A complete tutorial and video!
This cozy custom dog coat is a super easy beginner sewing project that is done in less than an hour, start to finish. It's the perfect gift for your furry friends!
I'm really happy with how they turned out. I especially love how the collar flaps mirror Henry's big ole bat ears. This project was so easy, quick, and uniquely adorable — the perfect DIY gift for any dog owner!
Shark attack! Check out Humphrey's new DIY squeaky stuffed shark dog toy. Today I( am sharing the DIY details on how to sew a shark dog toy with stuffing and squeakers.
Make your own customized DIY dog food tin storage canister for just a few dollars from an empty popcorn tin.
Paw prints are a great way to celebrate new additions to the fur-family, special milestones or occasions during life together, as well as to hold on to mementos of beloved pets after they pass. Here's the scoop on how to make simple DIY paw prints using air-dry clay.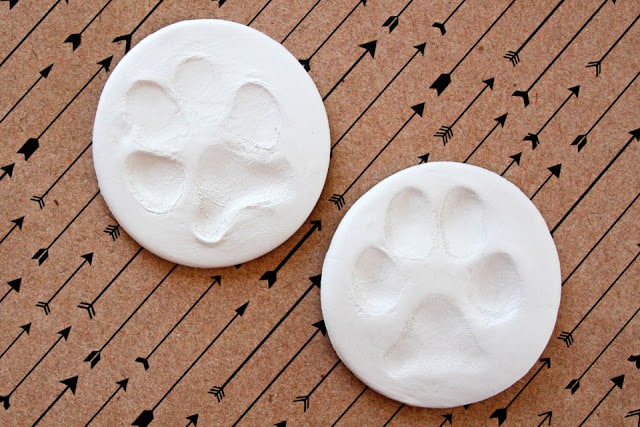 Making your own dog shampoo bar is so easy! In fact, homemade dog shampoo is a fantastic treat for your dog, especially when you're looking for natural and safe alternatives for your pet pooch.
Spoil your dog with a DIY comfy blanket dog bed they can snuggle inside. Below is the complete step-by-step tutorial.
Paracord accessories are really fun and pretty easy to make once you get the hang of the knot or braid you're trying to use. For today's project, I thought making my dog a rainbow collar would be a good excuse to play with paracord and lighters.
Dressing your pet doesn't have to be expensive. Make your dog or cat a custom t-shirt from a basic onesie and vinyl!
Recently, I made our Boxer a Snuggle Mat for foraging treats. He loves it, and I can't wait to show you how easy this is to make your own pet. It works for both cats and dogs!
19. Cooling Mat from Diana Rambles
Does your pet suffer in hot weather? If so, then make them one of these Cooling Mats to keep them cooled off.
Make a natural dog calming spray to help your pet relax at home or on the go. Includes free printable labels!
Our Crafting Essentials List:
Title:
20 DIY Dog Crafts That Are Fun And Interactive
Keywords:
crafts for dogs
Last Updated:
August 9, 2023