Spoil your dog with a DIY comfy blanket dog bed they can snuggle inside. Below is the complete step-by-step tutorial.
I would like to introduce you to a very special member of our family.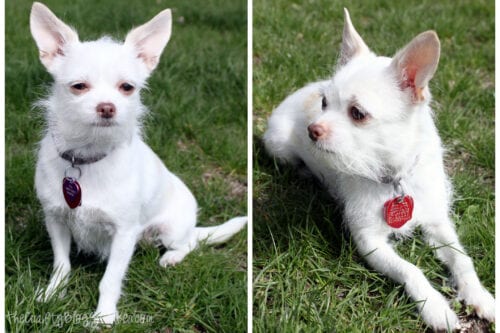 Her name is Eva. Isn't she cute?!
My husband likes to say that she is so ugly that she is cute, but all I can see is her cuteness.
Eva is mix of Chihuahua and Shih Tzu. She weighs just a touch over 5 lbs, and she is SPOILED!!
Eva loves 2 things. Blankets and her dog bed. She will bury herself under a pile of blankets to get nice and warm.
She won't even go in her crate unless her dog bed and blanket are in there. She will just sit at the door until I put it in, and then she'll go in without any prompting.
More Dog Craft Tutorials:
Crafting is so much fun when you make something for your best friend. We have several pet tutorials that we'd like to share with you. Like this Mixed Breed DNA Test, this Water Bottle Crinkle Toy, and this Pet Memorial Shadow Box Frame.
Be sure to look around the blog for more fun craft tutorials!
Supplies You'll Need to Create this Project:
This post contains affiliate links.
Dog Bed Tutorial:
Cut 2 pieces of fleece
22 x 60 inches
22 x 34 inches
Sew the shorter end together so it looks like this.
Keeping the shorter piece on the inside, place the pillow down where you want the edge of the blanket to be.
Bring the top edge of the fabric around the top of the pillow.
Align the edges of the fabric along one side of the pillow and pin. Remove the pillow and align the other side and pin the other edge. Sew along the edges. Remove the pins and turn right side out, and the dog bed is finished!
I think she likes it!
If you love this tutorial, please give it a five-star review and help me share it on Facebook and Pinterest!
Our Sewing Essentials List
Title:
How to Make a Blanket Dog Bed Tutorial
Keywords:
blanket dog bed
Last Updated:
September 4, 2023