Curious if the Listerine foot soak really works? Discover the truth about this popular DIY remedy for soft, smooth feet. Find out more here! If you make a purchase using the affiliate links below, we may earn a commission.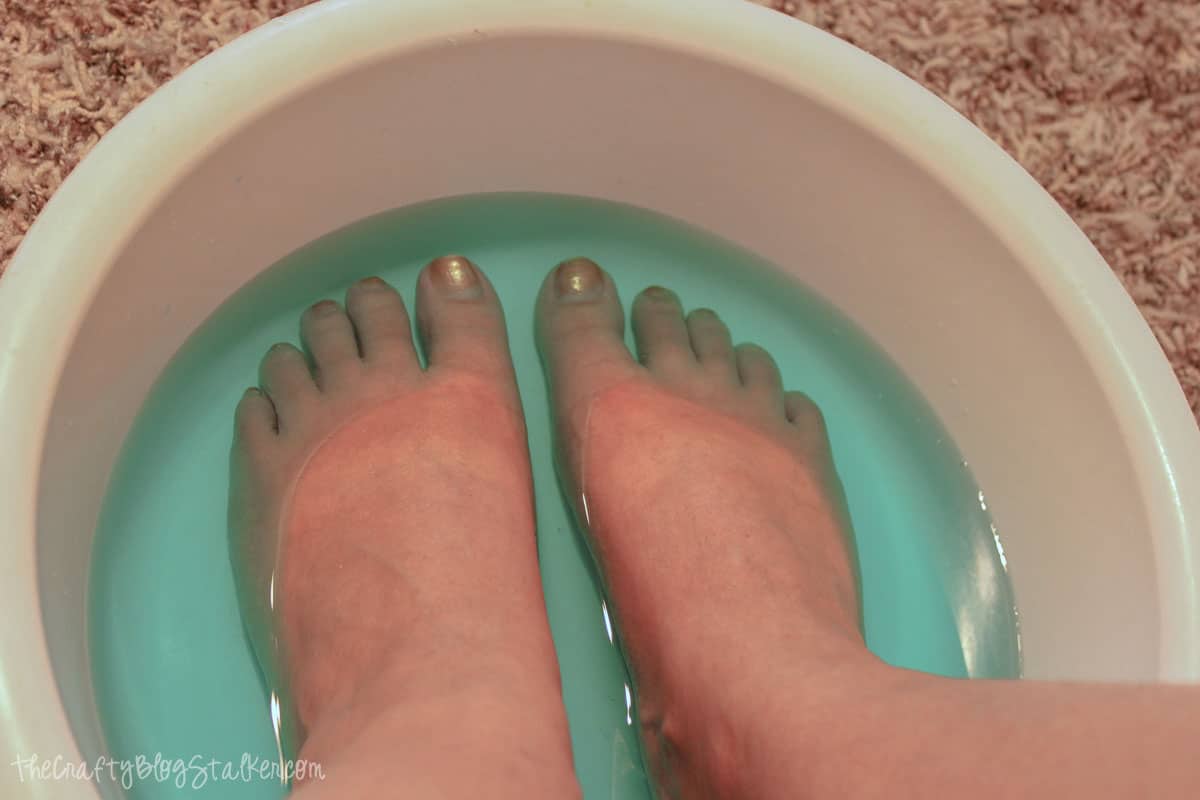 Have you heard about the Listerine Foot Soak to remove dead skin? I am sharing my results!
I have a scary secret I'm going to share with you and I am a little embarrassed to tell you but... I have gross feet.
My feet are dry and flakey, and my husband even calls them scaley.
My heels are the worst! There are layers of dry and cracked nasty skin on my heels that are so thick that I could probably walk across hot coals and I would not feel a thing.
You're welcome for painting that lovely picture in your mind.
Are yours the same way?
Recently I saw this picture posted on Pinterest for a Listerine Foot Soak. It says that the dead skin will practically wipe off.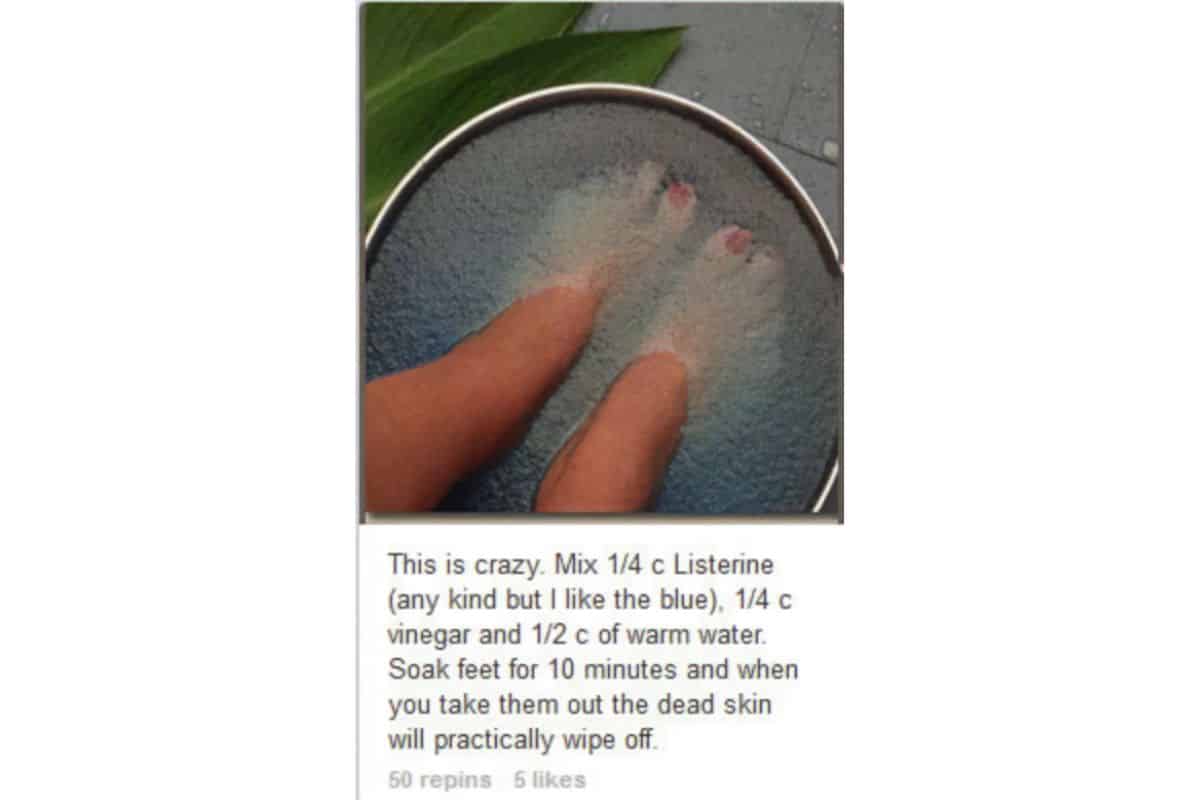 Listerine Foot Soak Recipe:
The recipe above only makes a total of 1 cup, and that isn't much liquid to soak your feet in.
Instructions:
First off, I used the generic brand of Listerine mouthwash also called Antiseptic Mouthrinse. It was cheaper and I figured I was putting it on my feet, not in my mouth.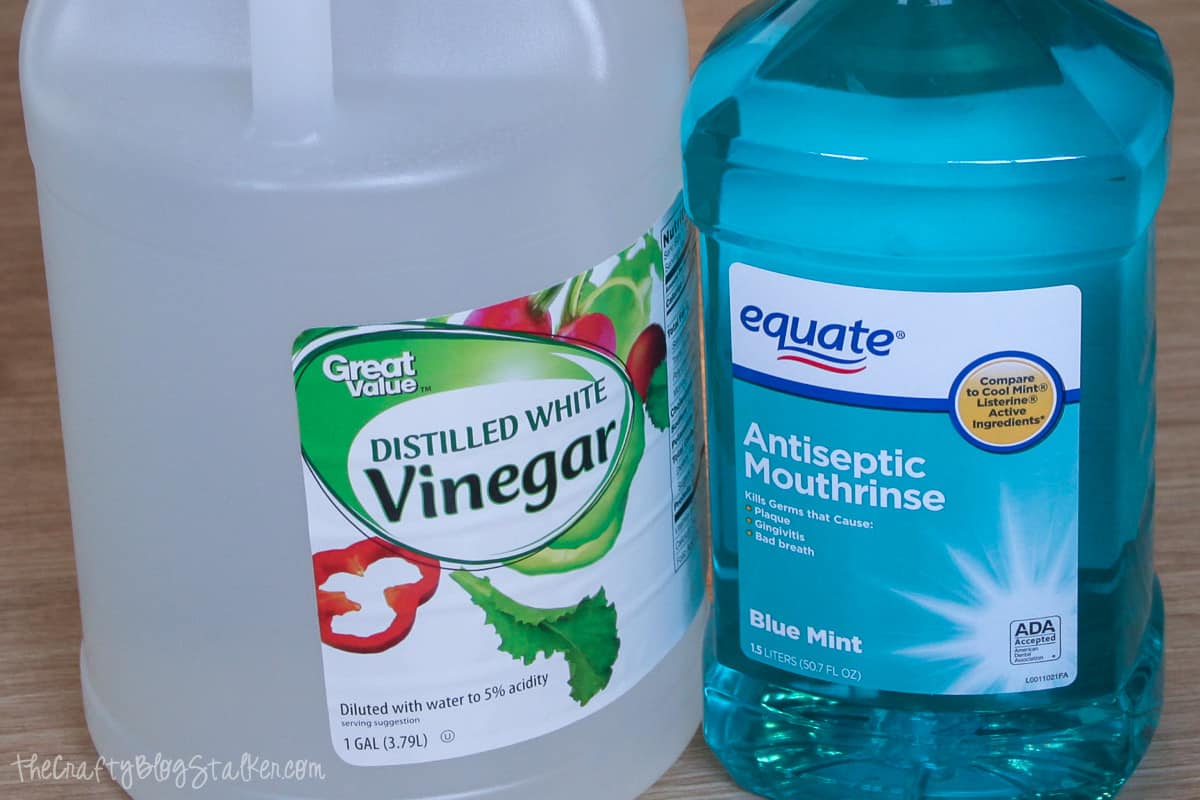 Create the mixture in a nice big bowl, you want to make sure that your feet have room to be immersed and soak.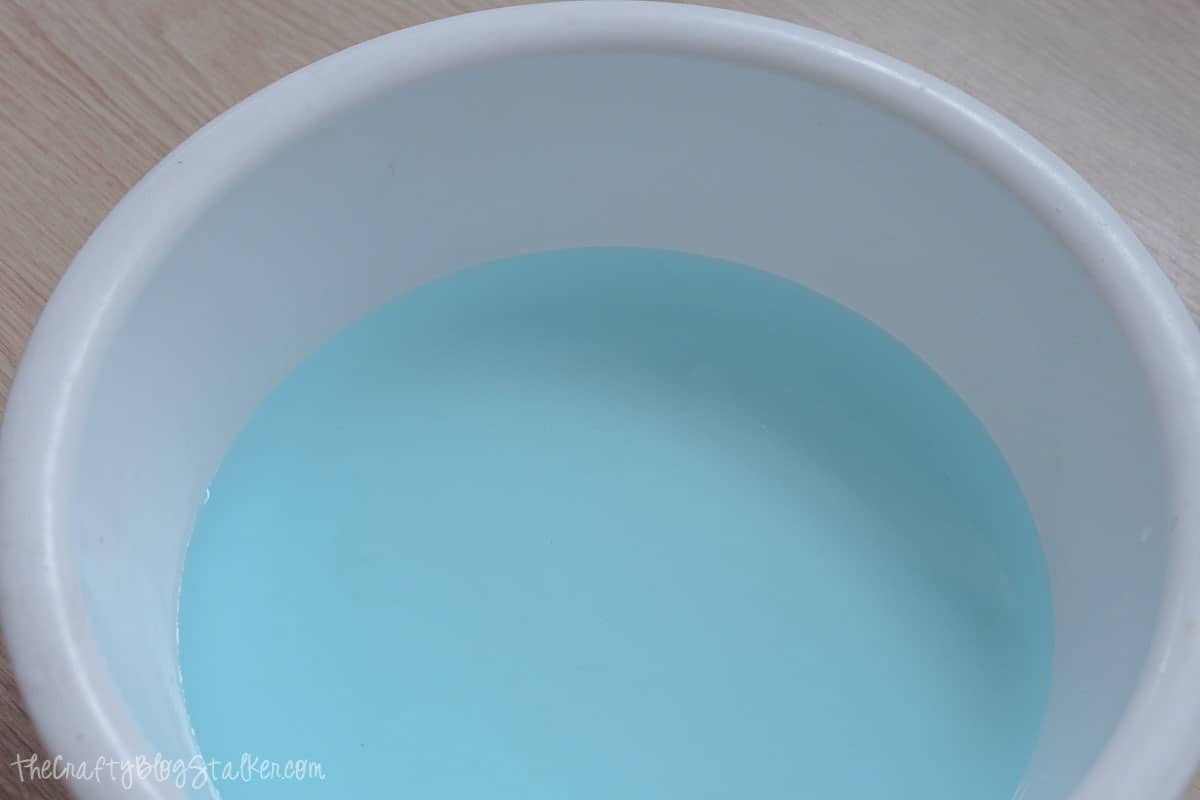 I have to say that I really did enjoy the minty tingle from the menthol on my feet, and the smell was quite relaxing.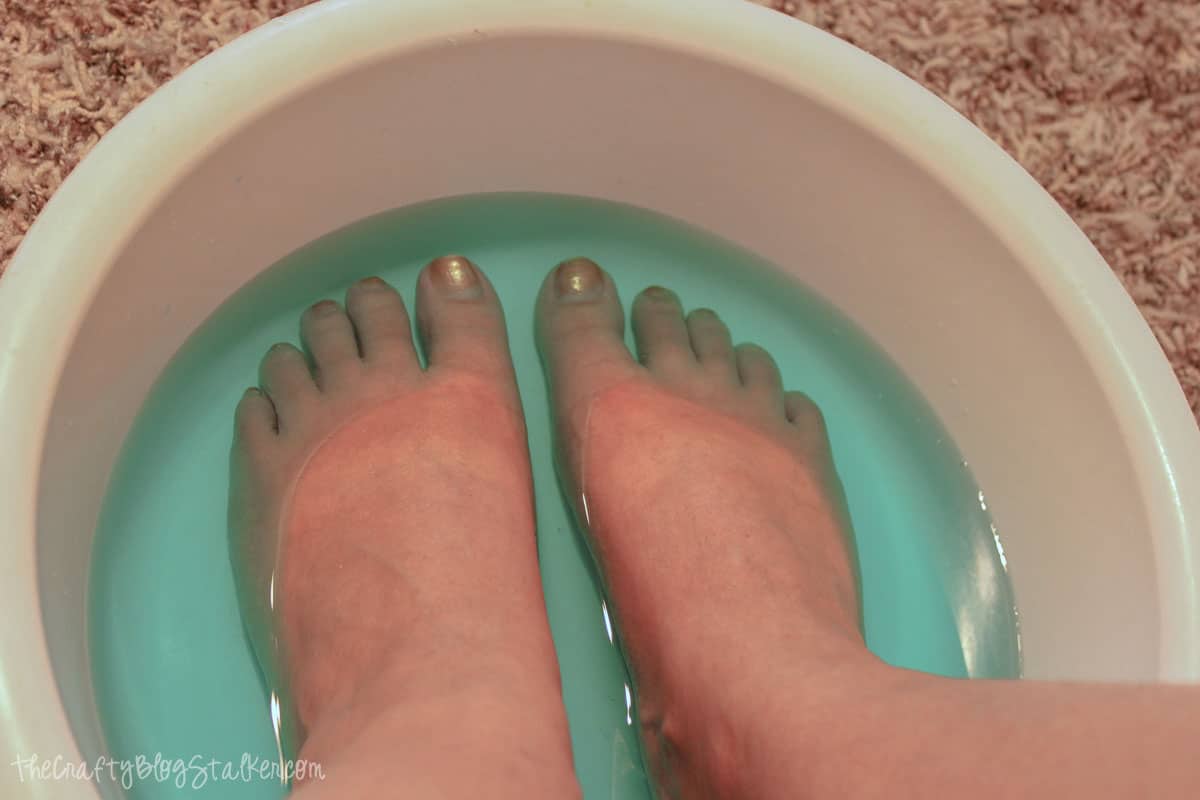 Kick on some Netflix and this soak could easily last upwards of an hour, or at least until the water gets too cold.
Health Benefits of Soaking Feet in Listerine?
While my feet were soaking I browsed the internet to see what others thought about this foot-soak recipe with Listerine.
Does the Listerine Foot Soak really work?
Here is where we get to it, so does it really work?
To say the least, I am disappointed.
I really wanted to wipe away all of that nasty yuckiness but it just didn't happen. Although, I do think it did something!
Here is a picture of the before and after of my feet. This is just the soak, I did not scrub with a pumice stone or slather the lotion on.
Surprisingly, my before feet aren't that bad! They are usually much worse than this.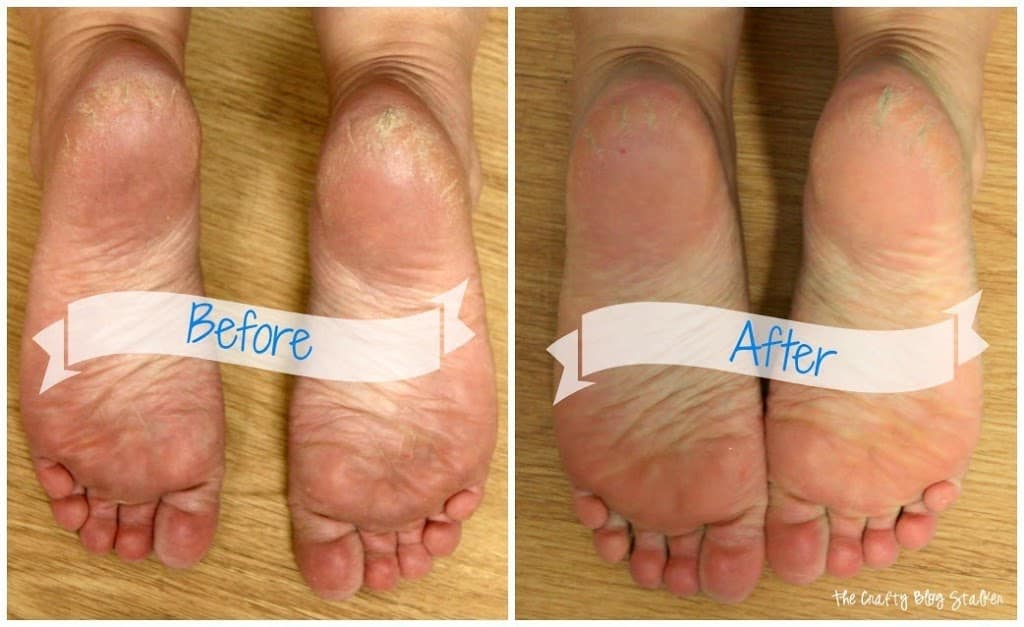 As you can see in the after, those yucky dry cracks on my heels are actually looking better. They aren't as yellow or dead-looking, and my feet do smell very minty and fresh.
What I Learned:
The soak does feel very nice and the strong mint makes your feet tingle even after the soak is over.
The dead skin does not simply wipe away. Wiping with a towel did nothing but dry my feet - strange.
There may be health benefits to a Listerine soak.
After these pictures were taken, I did go back with a pumice stone and that did work at removing the dead skin, but that works no matter what type of foot soak. So I can't attribute that to the Listerine Soak.
My final conclusion is that I would do the foot soak again. Not to remove the dead skin but because I enjoyed the minty tingle.
I would not recommend this mouthwash foot soak if you have open wounds on your feet, sensitive skin, or intense irritation.
I have heard of some experiences where the blue Listerine has turned people's feet blue. This was not my experience, but I did use the generic and not the Listerine brand.
What is your experience? Has it helped with your athlete's foot or fungal infections? I'd love for you to share in the comments below!
Frequently Asked Questions:
Can I substitute Apple Cider Vinegar for White Vinegar?
Yes, you can substitute apple cider vinegar for white vinegar. It will affect the color of the foot soak, but it should still work just the same.
Is Listerine safe on the skin?
There are essential oils in Listerine that can irritate your skin if you have sensitive skin. Check the ingredients for any known allergies you have.
How much Listerine to use for foot soak?
The simplest equation is 1 part Listerine, 1 part vinegar, and 2 parts water.
Our Crafting Essentials List: