Does Baby Foot really work? Baby Foot is a deep exfoliation treatment for feet that peels away dead dry skin and leaves your feet soft and moisturized.
Have you heard about Baby Foot? It is a treatment that you apply to your feet and over the next week it exfoliates the skin and peels away old, dead, rough, dry skin and leaves your feet super soft.
My feet are nasty! Don't believe me? I'm going to show you in just a moment! I know it doesn't help that my feet are always either naked or in sandals and flips flops. My heels are the worst. I could probably step on a nail and not feel it for all of the "protective" layers.
The worst is when I go to someone's house and they ask me to remove my shoes. I am always so embarrassed and pray they won't be grossed out.
I recently found an article online about Baby Foot and I was both intrigued and completely grossed out, I knew I had to give Baby Foot a try and see if it would work on MY feet! And why not share my results with you!
I was not paid by Baby Foot to provide this review, but I am an affiliate. So if you decide to give Baby Foot a try too, please use a link from this page. It helps me provide you with free tutorials and more fun content. The cost of Baby Foot is $25, but sometimes there are coupons posted on their Facebook page.
If feet gross you out or you have a weak stomach you may not want to continue. There are close-up pictures of feet and peeling dead skin.
Baby Foot Exfoliant
The Baby Foot Package comes with everything you need, you just supply the feet and maybe a towel.
The booties come prefilled with a formula that contains 17 types of natural extracts. This magic formula is what soaks into the skin and exfoliates and moisturizes at the same time. There are also tape pieces that close the bags around your feet.
Doing one foot at a time, I cut the bag open along the cut line with a pair of scissors.
Inserted my first foot.
Using the tape strips, I closed and secured the bag around my ankle.
Then I repeated the process for the other foot.
Start the timer! The bags stay on my feet for 1 hour. I decided to relax and watch a little tv. If you wanted, you could still walk and move around but the feet are quite slippery inside the bags, so I suggest taking it pretty easy.
While my feet were baking, I could definitely feel the gel working. The best way I can think to describe it is as a burning tingle. It wasn't a painful burn, just a tingle.
When the hour is up, I carefully walked to my bathroom to clean up.
I removed the booties and gave my feet a good wash with soap and water.
Then it was back to normal life. I just had to wait impatiently to see when it would start working!
Before Baby Foot
Before I show you the results, it's only right I show you how my feet looked before Baby Foot. I knew I was going camping, so I purposely waited until after my camp trip so my dry gross feet would be at their worst after playing in the dirt for a whole week. You can even see the tan line from my sandals!
These pictures were taken right before I applied Baby Foot.
Day 2
Not much of a change by the second day. I did notice a little bit of peeling up by my ankle but wasn't sure if that was from Baby Foot or maybe I got a bit of a sunburn on my feet and didn't realize it.
Day 3
By day 3, my feet were starting to itch like crazy, and I could tell the dead layer was really drying out. My feet were almost turning white. The slight peeling I noticed the day before had progressed and I knew it wasn't from the sunburn but was the Baby Foot working.
Day 4
Now we got some good peel going! By day 4 my feet are super gross but I can't stop looking at them! It's so cool! The hard part for me is not picking. I am a picker, I can't help it. I try to resist the urge as much as possible, but there are a couple times I might have broken the rule. 🙂
My feet are still a little itchy but as bad as the day before.
What was really gross was seeing all of the dead skin in my shoes after I took them off. Sorry, I had to share.
Day 5
By day 5 the strips of dead skin were starting to get annoying, and I did pick at them a little more.
Several people who have used Baby Foot get a big peel where almost the entire bottom of the foot comes off in one gross piece. I didn't have that at all. Mine peeled more like a sunburn, in smaller pieces.
Day 6
This was the last day for me. By midday, I could see that I just had a couple of dry pieces that were still holding on. While in the shower, I took a washcloth and wiped the rest of the dead skin away. Baby Foot was done so I gave myself a little pedicure to show off my pretty new toes.
I think my feet look completely different and surely for the better! The deep heel cracks are mostly gone. There are still light traces of some of the really bad ones.
Overall, I am very pleased with Baby Foot and would say, YES! Baby Boot really works!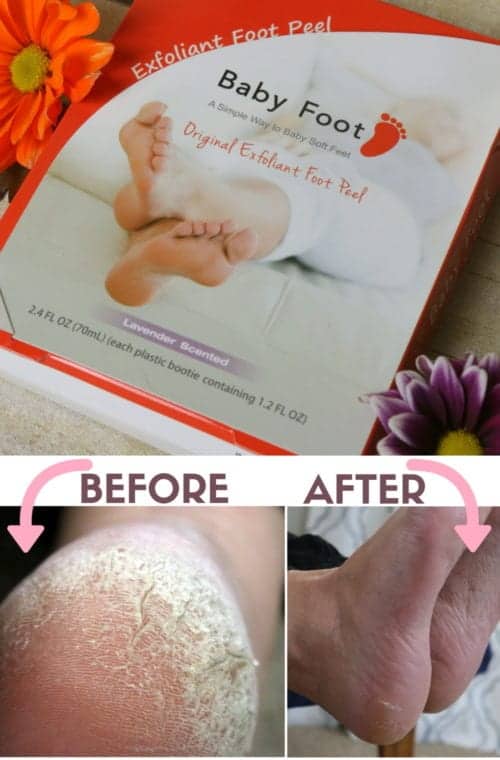 I know this is not a permanent solution. The best way to make sure my feet stay nice and soft is to take really good care of them and apply lotion regularly. I plan on using my Homemade Lotion Recipe. I think that will definitely do the trick!
Are you convinced? Do you want to give Baby Foot a try yourself? You can Baby Foot on Amazon or go to BabyFoot.com and learn more about this treatment, how it works, and purchase your own Baby Foot Treatment.
What have you tried to get rid of dry nasty feet? Did it work?