Get crafty this holiday season with 28 easy-to-follow felt Christmas crafts. Perfect for kids and adults, these projects add handmade charm to your festivities.
Welcome to your one-stop resource for felt Christmas crafts!
Whether you're an experienced crafter or just starting out, this list of 28 fun projects has something for everyone.
Featuring easy-to-follow instructions suitable for both kids and adults, you'll find ornaments, wreaths, handmade gifts, and more to add a personal touch to your holiday festivities.
So gather your materials and let's get crafting for the most wonderful time of the year!
Christmas Felt Crafts:
Visit the website for the step-by-step tutorial. All links will open in the same tab.
2. Styled Felt Trees from The Crafty Blog Stalker
Create charming mini Christmas trees with just a Cricut and felt. Perfect for holiday gifting or adding a festive touch to your home decor.
3. Magnolia Holiday Wreath from Benzie Design
Create a cozy holiday atmosphere with our DIY Merry Magnolia Wreath! It's the perfect wall decor to warm your heart and welcome the festive season.
4. Mini Christmas Banner from Holiday Crafts and Creations
Craft a Mini Christmas Banner to add a dash of holiday cheer to your home! This simple DIY project is perfect for those seeking homemade Christmas decor.
5. Felt Flake Christmas Ornaments from Betz White
Kick off your holiday crafting with our Felt Flake Christmas Ornaments! Capture the magic of the season's first snowfall with this quick and charming DIY project.
6. Twisted Felt Garland from Purl Soho
Get crafty this holiday season with our Twisted Felt Garland! A perfect DIY to add festive flair to your home and enjoy quality time with loved ones.
7. Felt Poinsettia Flowers from Tidy Mom
Craft your own holiday magic with these DIY Felt Poinsettia Flowers! Easy to make, they're the perfect festive addition to your seasonal decor.
8. Felt Candy Cane Christmas Tree from One Little Project
Create quick and easy felt candy cane Christmas trees with our printable template! No sewing is required, and they make perfect gifts for friends or teachers.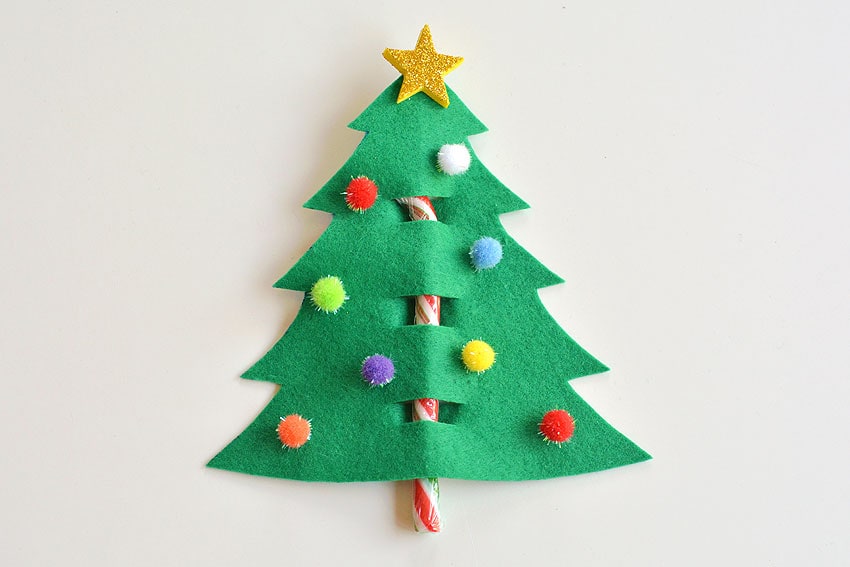 9. Gingerbread House Felt Ornament from Cutesy Crafts
Add a dash of holiday charm to your Christmas tree with this adorable Gingerbread House Felt Ornament. A hit with the kids and a festive DIY project!
10. DIY Jolly Letters from Made In A Day
Create festive holiday decor with DIY Fabric Covered Letters! Use decoupage glue, red felt, and ball trim to transform paper mache letters into Christmas cheer.
11. Nordic Felted Christmas Gnomes from DIY Candy
Create adorable Nordic Felted Christmas Gnomes using simple supplies like paper cones and felt. A quick and charming addition to your holiday decor!
12. Felt Ribbon Candy from Tauni Everett
Capture the charm of old-fashioned ribbon candy with this Felt Ribbon Candy DIY. Perfect for holiday decor, it's as delightful to look at as the real thing!
13. Make Your Own Mistletoe from Stay At Home Artist
Create your own felt mistletoe for a holiday touch that beats any store-bought plastic version. Add beauty and tradition to your festivities!
14. Easy Felt Holiday Tree Ornaments from Frugal Family Home
Craft felt holiday tree ornaments with your kids for a cherished annual tradition. Create new keepsakes each year to add festive charm to your Christmas tree!
16. Felt Pine Cones from My Husband Has Too Many Hobbies
Create your own felt pinecones with this easy tutorial. Perfect for seasonal decor when natural pinecones are scarce. Quick, simple, and eye-catching.
17. Felt Leaf Wreath from The Crafting Nook
Craft a stunning felt leaf wreath this Christmas. All you need is felt, ribbon, a wreath frame, and hot glue.
18. Felt Christmas Tree Decor from We Can Make That!
Create eye-catching mantel decor with an easy-to-make felt Christmas tree. Use your Cricut and supplies stash to customize size and material.
19. International Felt Garland from Julie McGuffee
Elevate your holiday decor with a versatile International Felt Garland. Easy to make and customizable to fit any decorating style.
20. Felt Gingerbread Star Cookie Ornament from Artsy Fartsy Mama
Add a sweet touch to your Christmas tree with handmade Felt Gingerbread Star Cookie Ornaments. Easy to make and perfect for festive decor!
21. Felt Poinsettias with Free SVG File from Leap of Faith Crafting
Create beautiful felt poinsettias for the holidays using a Cricut Maker or an alternate method. Comes with a free SVG file for easy crafting!
22. Nazareth to Bethlehem: A Felt Advent Calendar from The Craft Patch
Capture the spirit of Advent with a homemade felt calendar, inspired by my mom's creation from a church craft day. Easy to make with glued-on felt and gold ribbon!
23. Children's Felt Christmas Tree from That's What Che Said
Keep little hands busy and your real tree pristine with a Children's Felt Christmas Tree. A fun and safe way for kids to enjoy decorating their own Christmas tree!
24. Sugar Plum Christmas Garland from Julie McGuffee
Bring holiday whimsy to your decor with a Sugar Plum Christmas Garland. A delightful way to make visions of sugar plums dance in your home this season!
25. Gnome Ornaments from Leap of Faith Crafting
Craft adorable DIY Gnome Ornaments from felt! Perfect for tree decorations, gift tags, party favors, and more. A versatile, charming addition to any holiday celebration.
26. Scandinavian Felt Christmas Trees from The Craft Patch
Make DIY Scandinavian Felt Christmas Trees with our free cut files. Features hand-stitched edges and a Nordic pattern.
27. Felt Poinsettia Christmas Wreath from Craft Ideas
Create a Felt Poinsettia Wreath with stiff felt for durable, shapely flowers. Perfect as an indoor door wreath or table centerpiece. Multiple uses included.
28. Advent Calendar with Felt Ornaments from The Craft Patch
Create a DIY Advent Calendar with hand-stitched felt Christmas ornaments. Decorate the tree on the wall hanging each day leading up to Christmas.
Our Crafting Essentials List:
Title:
28 Felt Christmas Crafts You Can Make With Simple Instructions
Keywords:
felt christmas crafts
Last Updated:
November 30, 2023