Living in a small space? Discover 23 simple yet stunning ways to transform your closet into a functional and beautiful office, also known as a cloffice.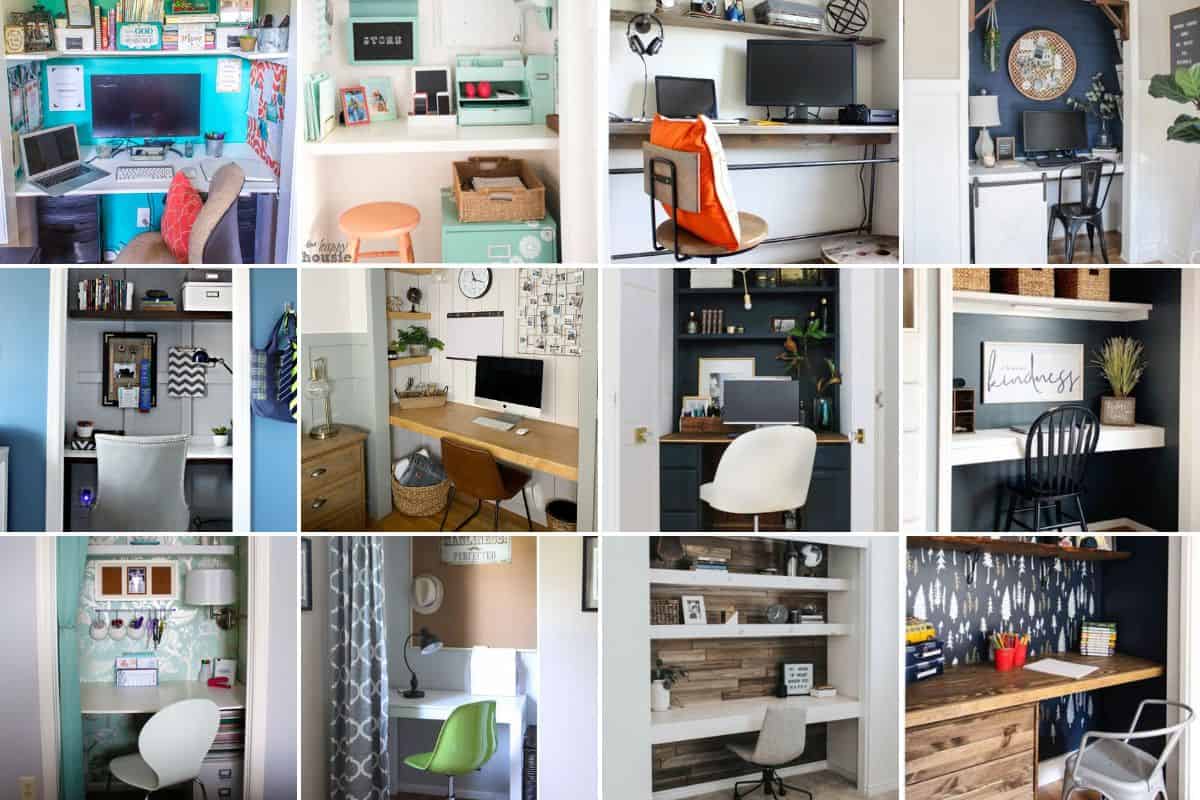 Welcome, savvy space-maximizers! If you're living in a snug home and think an office is out of reach, think again.
Today, we're diving into the wonderful world of "cloffices"—that's right, turning your closet into a fully functional office.
Closet Office Design Ideas:
Visit the website for the step-by-step tutorial. All links will open in the same tab.
1. Formal Family Room and Office Nook by Homemade By Carmona
Explore the transformation of a living/family room into an elegant office nook. Despite renovation hurdles, the final space perfectly marries form and function.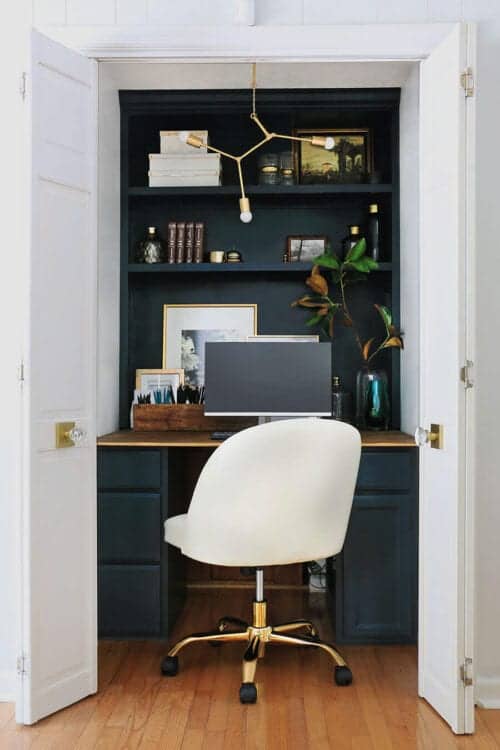 2. Contemporary DIY Closet of Office by Outfits and Outings
Turn a cluttered closet into a sleek, contemporary office. With our easy DIY guide, see how small spaces can be both functional and stylish. Perfect for maximizing home utility!
3. Closet Desk Makeover by The Cofran Home
Transform a neglected closet into a functional home office. With built-in shelves and a sleek desktop, this makeover turns a "catch-all" space into a work haven. Say goodbye to desk envy!
4. The Closet to Office Makeover by Naptime Decorator
Discover the journey from closet to 'cloffice'! Now 100% complete, this revamped space offers an efficient, stylish home office we're thrilled to share.
5. Closet Office Reveal by House by the Reserve
From endless plans to stunning reality, our Closet Office is finally complete and on budget! Thanks to expert carpentry from my dad, this space is a dream come true.
6. Home Office in the Closet by Tidy Little Tribe
Discover my sanctuary—a dedicated home office where I can focus on bills, emails, and even blogging. It's my quiet retreat amid the chaos of homeschooling three kids.
7. Your Closet Should Be a Mini Home Office by Architectural Digest
Turn your tiny closet into a home office like freelance entrepreneur Ryan did. With limited space in a family home, his closet workspace is a game-changer.
8. DIY Closet Desk by The Dotted Nest
Transform your office closet into a functional desk and bookshelf space with this DIY project. Using minimal materials, you can create a built-in workspace in just 2 days!
9. How to Build and Install a Desktop in a Closet by The Happy Housie
Maximize space in a small bedroom shared by busy little ones with this guide. Learn how to build and install a desktop in a closet with wallpaper to create an efficient workspace.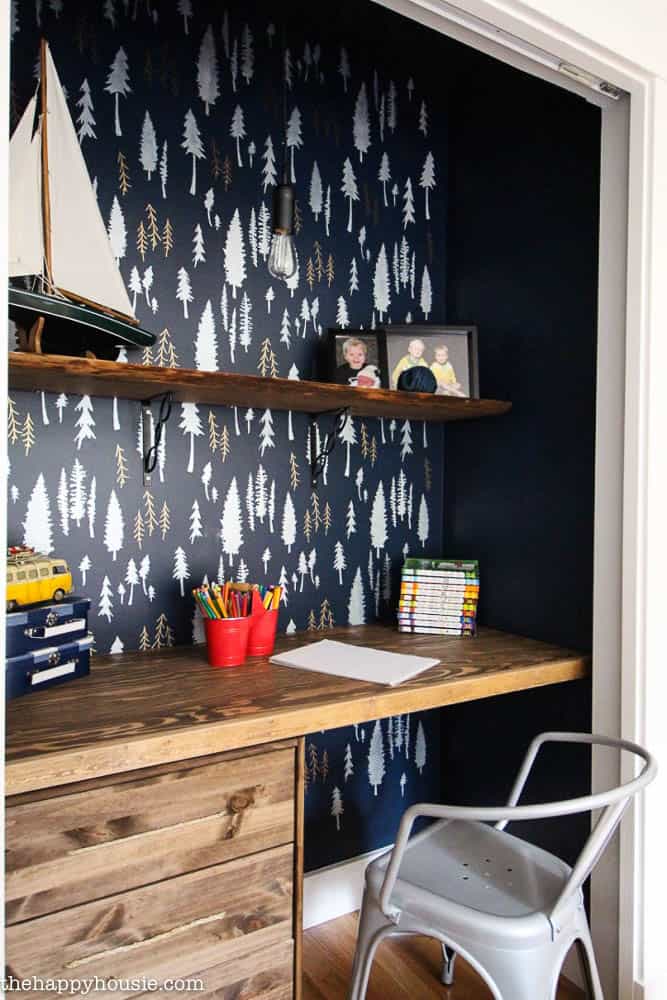 10. Closet Desk Reveal by Sparetime Treasures
Transform your closet into a cozy, efficient workspace! Our DIY guide shows you how, from planning to execution, even if you're not a carpentry expert.
11. Craft Closet Makeover by Pretty Healthy House
Tame your craft chaos with our Craft Closet Makeover guide! Transform a guest room closet into an organized crafting haven so your supplies—and your sanity—stay in drawers and baskets.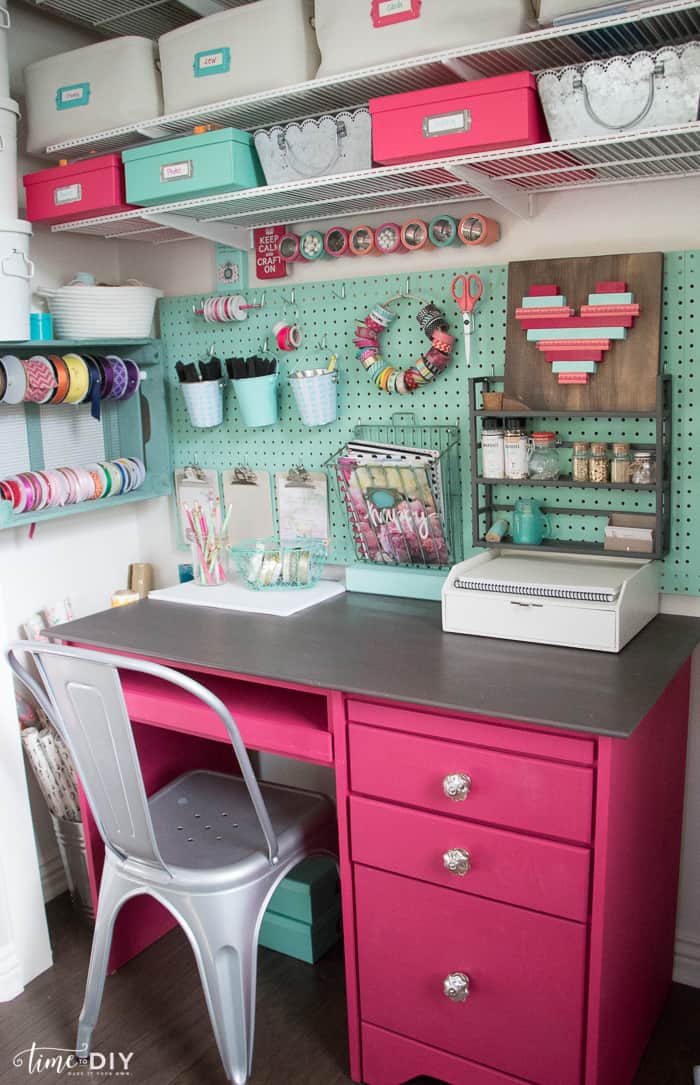 12. DIY Closet to Office by House on Six Tenth
Transform an extra closet into a home office. Ideal for work-from-home parents needing a dedicated space with beautiful home decor.
13. Home Office in a Closet by The Crazy Craft Lady
Turned a closet into a home office after months of tweaking. A journey involving multiple trips to stores, floating shelves, and now is a satisfying workspace that's ever-evolving.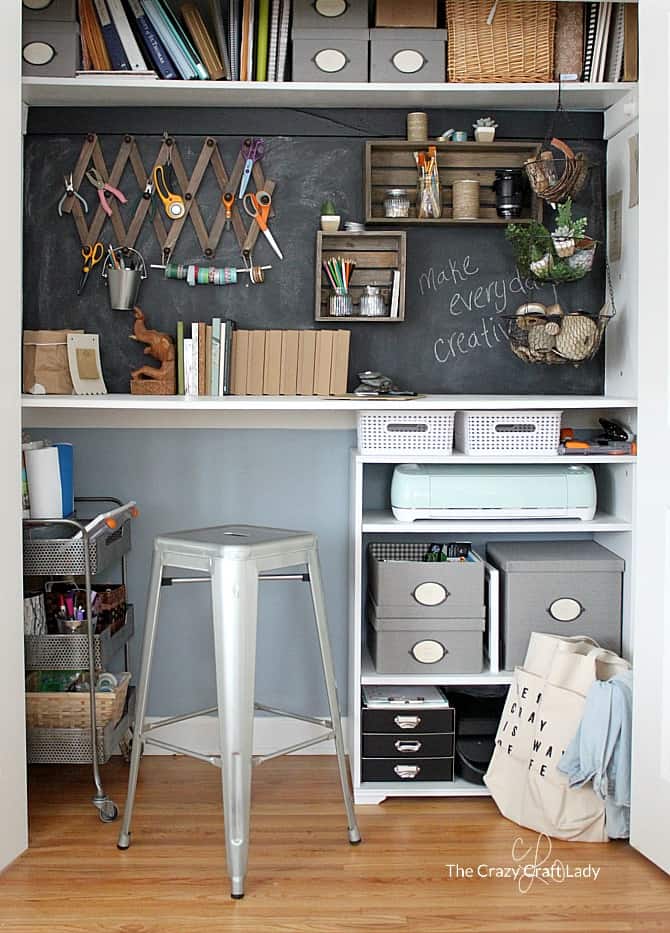 14. Office Craft Room by Houseful of Homemade
Transformed closet into the ultimate office space and craft room. After last-minute projects and some aches, the result is a perfect, multifunctional haven.
15. Kid's Closet Study Zone by I Heart Organizing
Transformed my son Preston's closet into a focused study zone, following the success of our own closet makeover. The perfect nook for homework, and learning. Check out that shelving and storage space!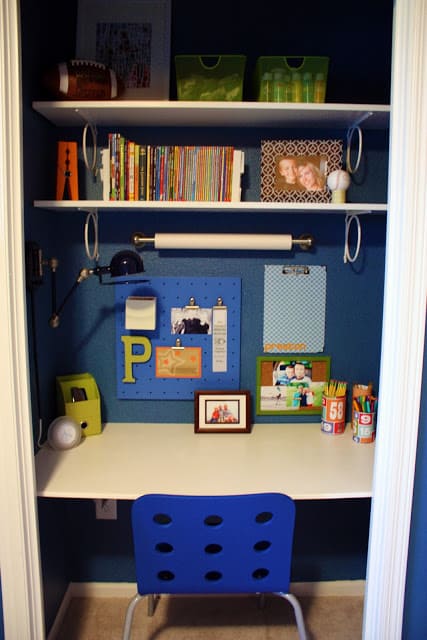 16. Make a Closet Office from Mom Advice
Transformed a neglected closet into a $200 workspace for our teen. Small space, big impact!
17. Closet Office Makeover from I Heart Organizing
Last weekend's mission? A Closet Office Makeover for our oldest! Aimed for sophistication and organization, now it's a study haven for the school year.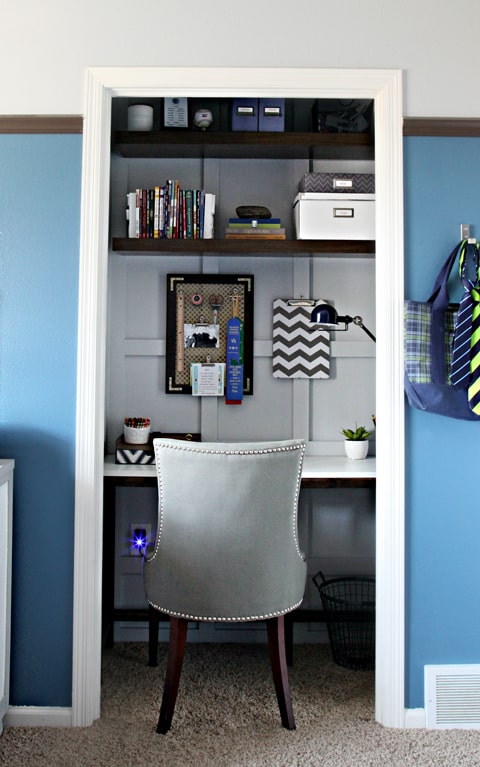 18. Built-In Closet Industrial Desk from Hymns and Verses
Tiny room, big solutions! Kicked off the year by building a Built-In Closet Industrial Desk for our youngest. Space-saving and stylish!
19. From Closet to Office is a Cloffice with a DIY Desk from Dreaming of Homemaking
Closet to Office? Yes, please! DIY your way to a Cloffice with our easy desk guide. Small space, major transformation!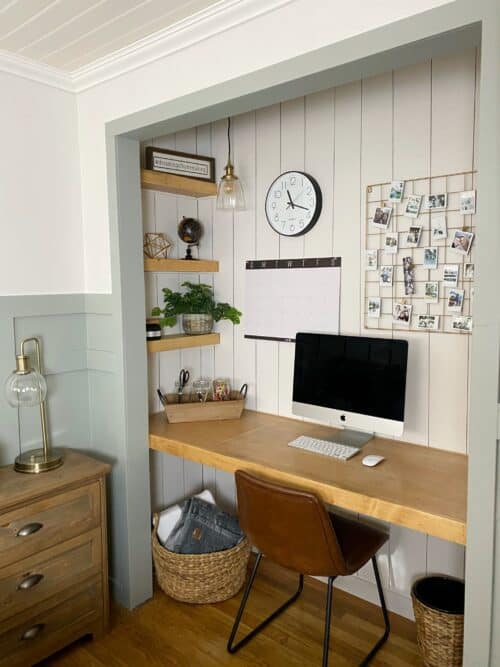 20. Closet Office Inspiration from Remodel Aholic
Living in a cozy 1200 sqft home with a full house? No worries! We turned overlooked closets into chic workspaces for Mom and Preston. Small space, big dreams!
21. Command Central Station from The Happy Housie
Say hello to Command Central Station, your go-to spot for all things organized! Tucked away in a closet, this command center keeps life's chaos in check.
22. Create a Cloffice in Your Home from Marty's Musings
Work-from-home woes? Say hello to the Cloffice! A dedicated workspace right in your closet. Short on space, big on productivity!
Our Crafting Essentials List: