A collection of 23 easy Ice Cream Maker Recipes that are delicious and sure to please any crowd. Ice cream is the perfect summertime treat to eat and share.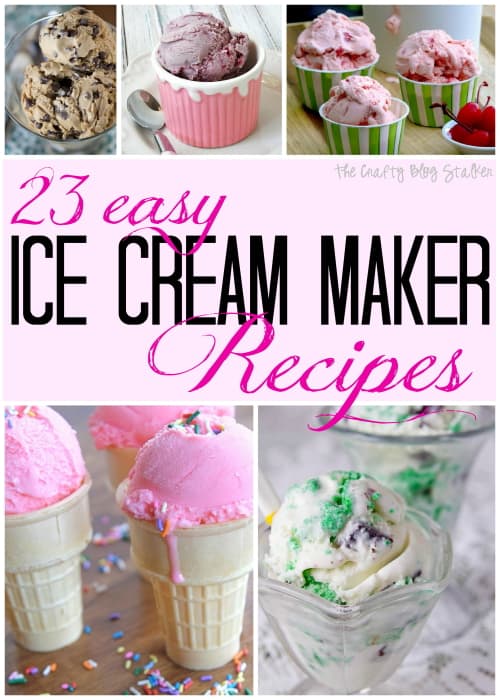 I recently got my first Ice Cream Maker and I absolutely love it. It is very similar to this one made by Rival, although mine has a pink bucket.
The ice cream is soo much better than store-bought and coming up with all of the flavors and mix-ins has been so much fun! But, I'm lazy. Every time go on the hunt for Ice Cream Maker Recipes there are so many that require a ton of steps. Boil the cream, pre-freeze this ingredient and 4 hours later you can put all of the ingredients in the ice cream maker, to make the ice cream. Ummm, no thank you. I bought the ice cream maker so I wouldn't have to do all of those steps.
Since I am lazy, I scoured the internet and found 23 delicious looking recipes that DON'T have all of those fussy prep steps. Sign me up! My absolute favorites are the add four ingredients into the machine and wait. They might not be as pretty as the ones with all the add-ins but they taste just as delicious.
Click through to the next page to see all of the delicious ice cream maker recipes!