Learn the simple recipes for homemade cakes and cook them for your family. Here is the list of 20 simple recipes for homemade cakes to try at home.
If I could choose one dessert to eat for the rest of my life it would be cake.
I absolutely love cake- it is my very favorite dessert to eat.
More Recipe Round-ups:
I'll be the first to admit that I don't love to cook, but I do love gathering around the table and talking about our day.
To help with meal planning, I go to recipe round-ups where I can get a lot of recipe ideas in one place. Like 25 Simple Popcorn Snacks, 20 Easy Pasta Salad Recipes, or 20 Simply Delicious Slow Cooker Recipes.
Homemade Cake Recipes:
Simply tap on the recipe title to be taken to the step-by-step recipe tutorial.
This is the perfect recipe for your next gathering. You and your friends will LOVE this delicious Lemon Bundt Cake Recipe!
This Chocolate Chip Bundt Cake is super easy to make and comes out moist and delicious every time. It's actually so good that I didn't even need ice cream with it. And that hardly ever happens in my world!
This Crockpot Lava Cake is delicious chocolatey perfection! Serve with a scoop of ice cream for a mouth-watering dessert.
Serve this Pumpkin Bundt Cake at your fall parties. A simple DIY recipe tutorial idea topped with Milk Chocolate Harvest M&M's®. A perfect cake for Fall.
If you have never made a dump cake before then you are in for a treat. I mean just 3 simple ingredients & whatever toppings & mix in's you choose & you are rockin' & rollin'.
This Chocolate Chip Cake is 2 layers of moist and delicious cake with mini semi-sweet chocolate chips baked right in, and a sweet vanilla chocolate chip buttercream frosting to boot!
This PERFECT chocolate bundt cake is ideal for any special occasion! Rich, satisfying, and just plain DIVINE. It is our family's go-to for all birthdays and special events!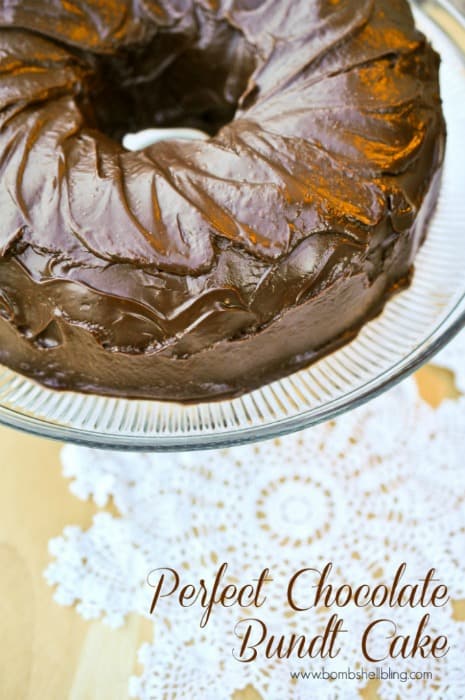 This super moist white cake recipe from scratch is the best white cake I've ever had. No more looking around for a homemade white cake that's actually moist. It's the perfect recipe for a wedding cake or a birthday cake.
I am all about simple desserts and this is one that my family just loves and is so much better than just a basic cake. This recipe is always a hit with the kids.
10. Funfetti Cake from Baked By An Introvert
A showstopping funfetti cake with pillowy soft layers of white cake speckled with colorful sprinkles. Whipped vanilla buttercream frosting encases the cake and more sprinkles are added for decoration.
There's a reason I call this the Best Chocolate Cake Recipe: it's so good restaurants have asked me to start making it for them! This moist homemade chocolate cake is made completely from scratch and has incredible chocolate flavor.
Classic Pumpkin Roll – Cinnamon and cloves add the spice to this pumpkin sheet cake, topped with cream cheese frosting and rolled into a festive log.
14. Butter Cake from Rasa Malaysia
Traditional, rich, soft, and fluffy butter cake. This is the best butter cake recipe. This easy recipe yields sweet and buttery cake with simple ingredients!
The original recipe for Orange Juice Cake is one that was shared with her many years ago. I've made a few minor changes to the recipe over the years, but it remains one of my favorite cakes.
This German Chocolate Poke Cake takes the classic dessert recipe to a whole new level with a tender chocolate cake soaked in sweetened condensed milk and topped with a rich chocolate ganache and sweet coconut pecan frosting!
Traditional Victoria Sponge Cake consists of 2 layers of light-as-air sponge cake that sandwich whipped cream and jam. Perfect for a British afternoon tea treat or anytime dessert.
A delicious pound cake, perfectly dense, but so moist, with wonderful pops of fresh strawberries and a delicious strawberry glaze!! With the use of strawberry puree and extract, it's undeniably the best strawberry cake recipe ever!
A deliciously easy Cinnamon Apple Cake made from scratch. This soft and tender Apple Cake is packed with fresh apples and features a crunchy cinnamon topping and a drizzle of sweet frosting.
Marshmallow Chocolate Poke Cake is an easy dessert recipe for the serious chocolate lover! Decadent chocolate cake infused with sweetened condensed milk chocolate ganache mixture, covered with marshmallow whipped cream and more chocolate ganache swirled on top.
If you love these recipes, please help me by sharing this post on Facebook and Pinterest!
Our Baking Essential List:
Follow TCBS