These are easy to make and fun to eat, and the only thing you need is a mini muffin pan. Enjoy homemade-tasting desserts with little effort.
What is a Cookie Cup?
If you have never had a cookie cup you may be asking what is one?
A cookie cup is a fun twist on the classic cookie. Instead of being baked flat and round on a cookie sheet, the cookies are baked in mini muffin pans. When baked in the mini muffin pan the cookie now looks like a cup or some call it a bite.
The best part is, now you can fill that cup with yummy extras, like pudding, cheesecake, fruit, or candy!
Today, we have shared 40 of the best cookie cup recipes you can find on Pinterest because there are so many delicious ways to make them, and all of the fillings! Yum!
Easy Dessert Recipes:
Who doesn't love desserts? We certainly do and that is why we have shared so many dessert recipes that can be enjoyed at any time of year. Like these Easy Lemon Bars, these Orange and Fudge Sandwich Cookies, or this Heavenly Chocolate Cake Recipe.
Take a look around and see all of the recipes we have!
Delicious Recipes for Cookie Cups
Visit the website for the step-by-step recipe tutorial.
These Bite-Sized Peanut Butter Cup Cookies are one of my favorite ways to put those peanut butter cups to good use and turn a candy that is good on its own into a cookie that is even more delicious.
Can't decide between chocolate chip cookies and brownies? Now you can have both with these Chocolate Chip Cookie Brownie Bites! They may be tiny in size, but they are big in flavor.
When you can't decide between cheesecake, sprinkles, or chocolate chip cookies for dessert… have all three!
These Lemon Bar Cookie Cups are easy to make and easier to serve than lemon bars. If you're a lemon bar lover, you'll love this cookie cup version.
5. Gnome Cookie Cups from Just is a Four Letter Word
These adorable gnome cookies can be enjoyed year-round though I am partial to enjoying them alongside my other favorite Christmas cookies.
The gooey centers of these cookies do firm up as they cool. Best to serve them while still warm or reheat in a hot oven or zap 'em for 10 seconds in the microwave.
With the help of some fabulous refrigerated cookie dough, we made a bunch of delicious cookie creations!
These Mini Strawberry Cheesecake Cookie Cups are little bites of heaven! A soft and chewy strawberry cake mix cookie filled with a no-bake cheesecake filling. These mini desserts are so tasty you won't be able to eat just one!
These Mini Berry Tarts are the perfect small-bite dessert to serve at brunches or baby showers. They are easy to make, and everyone loves them so much. Everyone always wants the recipe, and I'm happy to pass it along.
Salty meets sweet in these crunchy pretzel cookie cups dipped in chocolate and filled with creamy caramel.
Sugar cookie cups oozing with blueberry filling and crowned with toasted marshmallows.
Enjoy all the flavors of the classic turtle candy…in the bite-sized form of a soft and chewy cookie cup! Perfect for any holiday occasion or just anytime-snacking.
These little cookie cups are kind of perfect.
Sugar cookie cups pair perfectly with the refreshingly tart lemon curd filling in these sweet little Lemon Meringue Cookie Cups!
These Apple Crisp Cookie Cups combine classic oatmeal cookies with homemade apple pie filling for the perfect comfort food.
What better way to celebrate a summer cookout than with smores? Then again, when chocolate chip cookie meets smores, you're not going to want to share.
These Boston Cream Pie Cookie Cups are made with a vanilla cookie base, custard filling, and chocolate ganache topping! They are delicious and such fun little cookies to bite into!
Cherry Pie Cookie Cups are the perfect answer to a cherry pie craving! These bite-sized desserts are prepared in 5 minutes and are sure to disappear quickly!
White Chocolate Peanut Butter Cookie cups with a White Chocolate Reese's cup tucked inside. Chocolate- check. Peanut Butter- check! Sprinkles- check! This cookie's got everything you need.
This recipe combines my two favorite flavors, dark chocolate, and mint. Although I enjoy this combination year-round, it particularly hits home during Christmas.
Oatmeal cookie dough rolled in coconut and filled with pineapple-mango jam baked in a mini muffin tin to create delicious little oatmeal cookie cups with a tropical twist.
These Hot Chocolate Cookie Cups are made with ready-to-bake sugar cookie dough and pudding cups! So easy to make and they are a super fun holiday dessert and are perfect for Christmas parties, cookie exchanges or just to put a smile on someone's face!
This is the kind of dessert you could make and have an entire room unanimously agree on. It's not just the cookie. It's that each bite delivers the perfect combination of cookie and icing.
Fruit Cheesecake Sugar Cookie Cups are a fun twist on the classic sugar cookie recipe! Chewy sugar cookies filled with no-bake cheesecake & topped with fresh fruit.
Giant Chocolate Chip Cookie Cups recipe a la mode topped with dark chocolate ice cream and finished off with a drizzle of strawberry syrup! These are the size of cupcakes and a great dessert recipe for any holiday, Valentine's Day, or birthday party!
Creamy tiramisu filling in little coffee-flavored cookie cups. Low-carb tiramisu you can eat with your fingers! These keto cookie cups will have you coming back for more.
28. Cookie Cups from Lady and the Blog
This cookie cup recipe will give you a whole new way to have your cookies and milk for dessert. My children get an absolute kick out of this every single time we make this and with good reason. What a fun presentation, right?
These little blueberry pie cookies are a quick and easy pie recipe and are WAY better than your average blueberry pie! They pack in so much flavor and are mini, which makes them the perfect dessert for parties!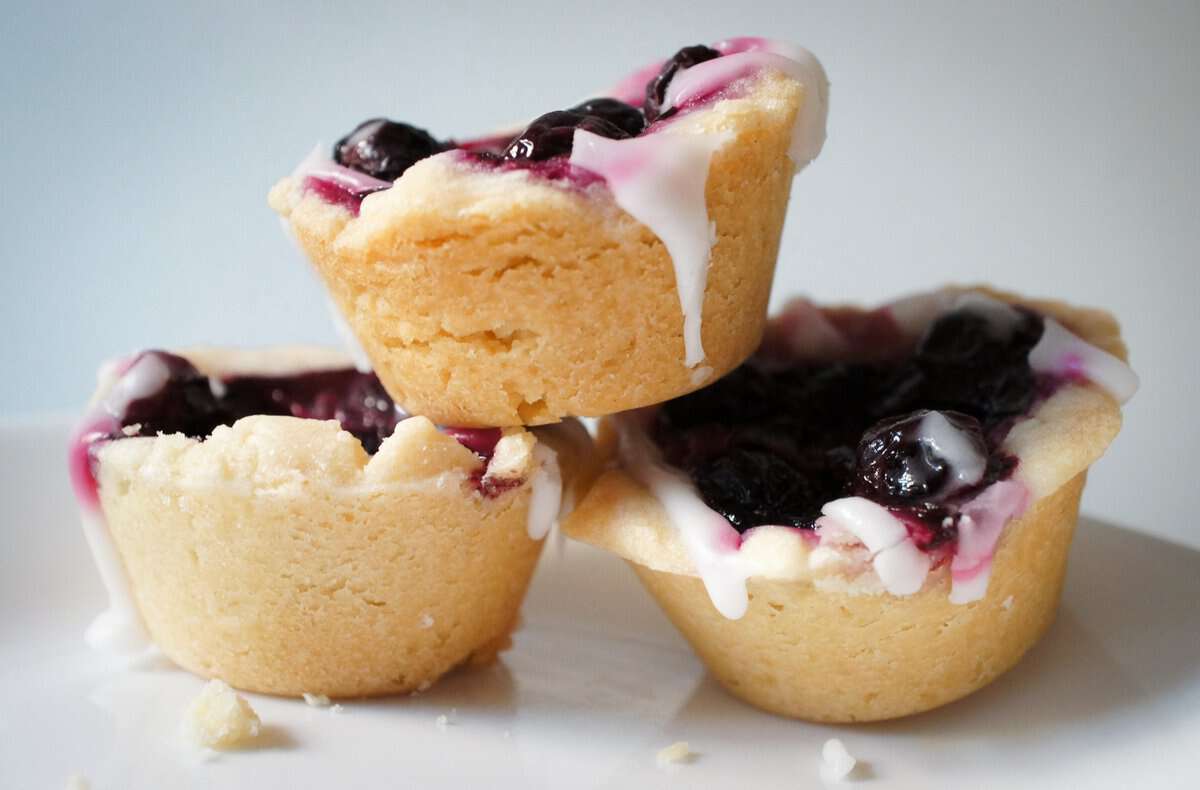 Dark chocolate and pecans baked in a soft sugar cookie cup–yum!
These Chocolate Peppermint Cookie Cups are the perfect make-ahead treat for the holidays. Dark chocolate cookies filled with whipped peppermint cheesecake and topped with crushed candy canes!
Nutella is unquestionably the most delicious ingredient on the planet. I mean…cookies shaped like cups and filled with fat dollops of Nutella? Twist my arm, why don't you!
Amazing chocolate cookie cups filled to the brim with homemade chocolate chip cookie dough and drizzled with chocolate. The ultimate dessert for cookie lovers!
Miniature sugar cookie cups are filled with all of your favorite banana split toppings in this fun dessert.
Sugar Cookie Cups filled with marshmallows, chocolate chunks, and graham cracker crumbles and toasted to perfection!
Did you ever make a dessert that was too pretty that you actually felt guilty when you took your first bite of it?
These Buckeye Bites are perfect for a crowd! Sweet chocolate cookie cups filled with a peanut butter mixture and topped with chocolate ganache – so good!
Golden brown chocolate chip cookie cups filled with mini Butterfinger candies
Rich, tangy raspberry cream pairs perfectly with little chocolate cookie crusts. These Raspberry Cream Tartlets' small size makes them great party food.
These easy Oreo Cheesecake Cookie Cups are perfect for the Oreo lover in your life!
What cookie-cup recipe are you going to try first?
Our Baking Essential List: