Start your Smash Book journey! Learn to craft a vibrant photo journal with our simple guide on necessary supplies and steps. If you make a purchase using any affiliate links below, we may earn a commission.
In a world where digital photos and online journals seem to reign supreme, there's still something profoundly touching about creating a tangible, handcrafted repository of memories.
Enter the enchanting realm of Smash Books, where creativity meets nostalgia, fostering a haven for your cherished moments.
If you're someone who appreciates the allure of holding a physical representation of your memories in your hands, starting a Smash Book is an adventure you'll definitely want to embark upon.
Whether you're looking to craft a whimsical photo journal or a vibrant memory keeper, this guide will walk you through all the essentials to get started.
If you have never heard of a smash book, let's go over what they are, first.
What is a Smash Book:
You may be familiar with traditional scrapbooking. Which is a way to journal and memorialize pictures and happenings in your life.
DIY smash books are another way to record your favorite memories, but in this type of record keeping, organization and perfection are not expected.
It is encouraged to simply throw pages together without all of the planning and coordinating. Your book doesn't even need to be in chronological order! Just open the book, and create your page right there!
Tape pictures in place, add embellishments with a glue stick, tape, or staples, and write down your thoughts and feelings with your favorite pen or marker.
Stickers are always a great addition, and can also be used to adhere ticket stubs or memorabilia.
With a smash book, you don't have to worry about the perfect layout. This is how they get their name because everything is smashed in. It's a smash book!
You can buy Smash Books that are designed for this type of journaling, or you can create your own! Which is what I am going to do.
This type of journaling also goes by lots of different names, but they are all very similar. When looking for inspiration you can also search for junk journaling and art books.
I would like to add, that this project isn't for everybody. I have a few people getting mad at me for "ruining books". If you can't stand the thought of writing in an old book, covering up text, and possibly even ripping out pages, then go with a new book that is designed for this type of craft.
How to Start a Smash Book:
I had never made a Smash Book before, but I love looking at them on Pinterest so I wanted to give it a go.
At my local thrift store, I came across this old book whose title was the same as my name. I just couldn't resist and I thought it was a sign that it was time to start my own Smash Book.
This book is old and completely awesome! The copyright date is 1964 and all of the pages are uneven.
How to Prep Pages:
When using a preexisting book, you will need to prep the pages so that you can write, paint, and glue over the words.
Applying Guesso helps thicken the page and make it more sturdy.
Click here to learn how to Prepare Book Pages with Guesso.
What to Journal:
Don't know what to put on the pages of your Smash Book? Here are a few ideas.
Favorite Instagram Photos
Favorite Quotes
Favorite City
10 things about you
Postcards from your city
10 facts about the city you live in
Favorite Person
Photos from Somewhere you used to live
Favorite Recipe
What happened the year you were born
Favorite band/concert
If you had $1000 and had to spend it in one store what would you buy
Favorite hobby
Favorite Trip
Favorite Poem
Last movie you saw
10 reasons why you love someone/something
About your pet
Top 10 favorite books
Top 10 favorite songs
About your parents
Your most embarrassing moment
Favorite Restaurant
Notice all of those "favorite" ideas? This memory book should be all about you. So don't be afraid to write about anything and everything you love!
Inspirational Smash Books:
When creating, I like to see what others have done. It always gives me such great ideas! These are some of my favorites. Aren't they fun?!
1. My Red Smash Book from Inspiration Everywhere
My red Smashbook is finally done! Join me on a creative journey through its pages filled with crafty adventures and memories.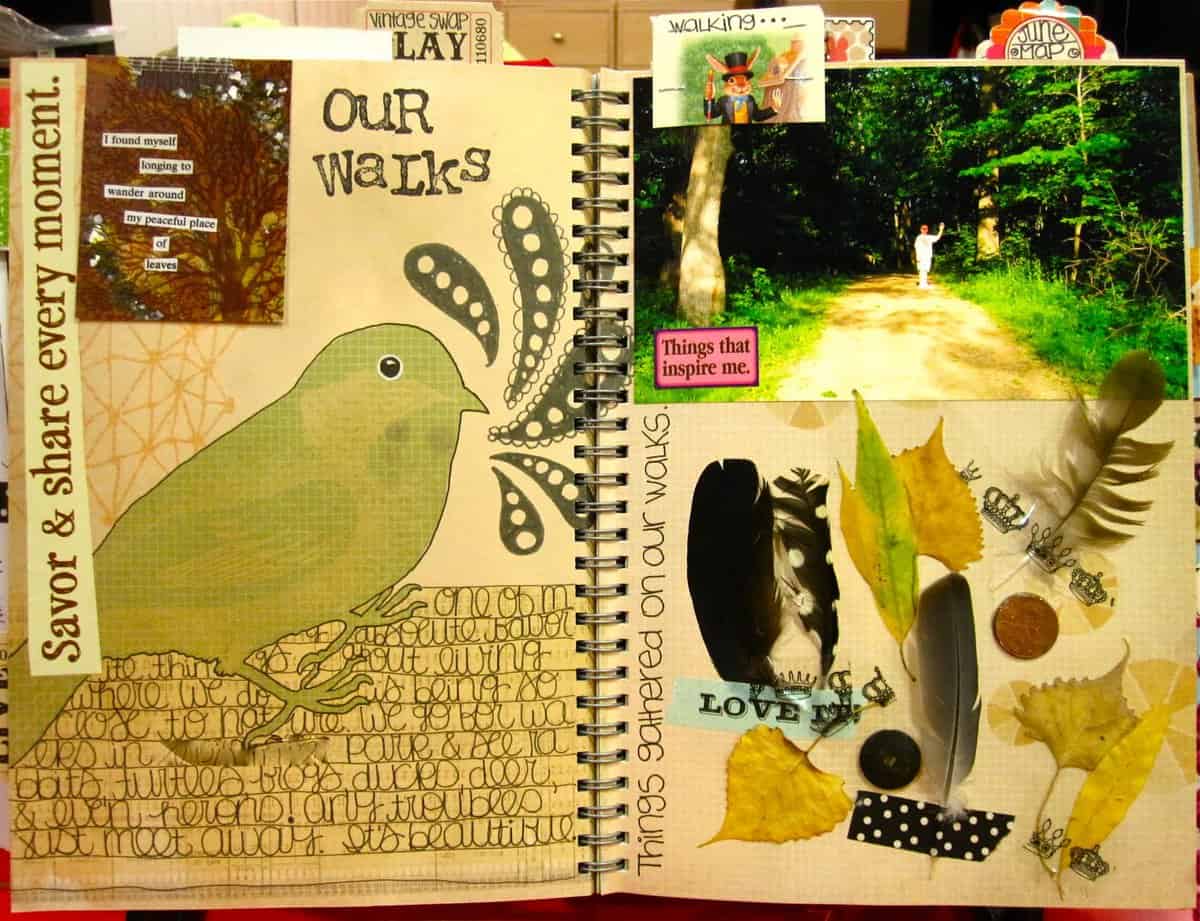 2. Smash Book Travel Album from Polkadot Chair
Explore creative Smash Book ideas that double as a travel album and journal. Join me as I share my South African adventure in colorful, collage-style pages!
3. Making a Composition Book Art Journal from Ashley Hackshaw
Create a fulfilling art journal or memory book with ease. Join the creative journey of making composition notebooks filled with memories, notes, lists, and more!
4. Vacation Smash Book from The Realistic Mama
Preserve your vacation memories in a fun and unique way with a Vacation Smash Book! Discover creative ideas to "smash" your travel adventures into a delightful keepsake.
5. Smash Book with Kids from The Mad House
Get creative with your kids this summer through Smash Booking! A fun, rule-free way to capture memories together.
6. Rubber Band Bound Junk Journal from Art Journalist
Discover a super simple junk journal with repositionable pages – perfect for your creative projects!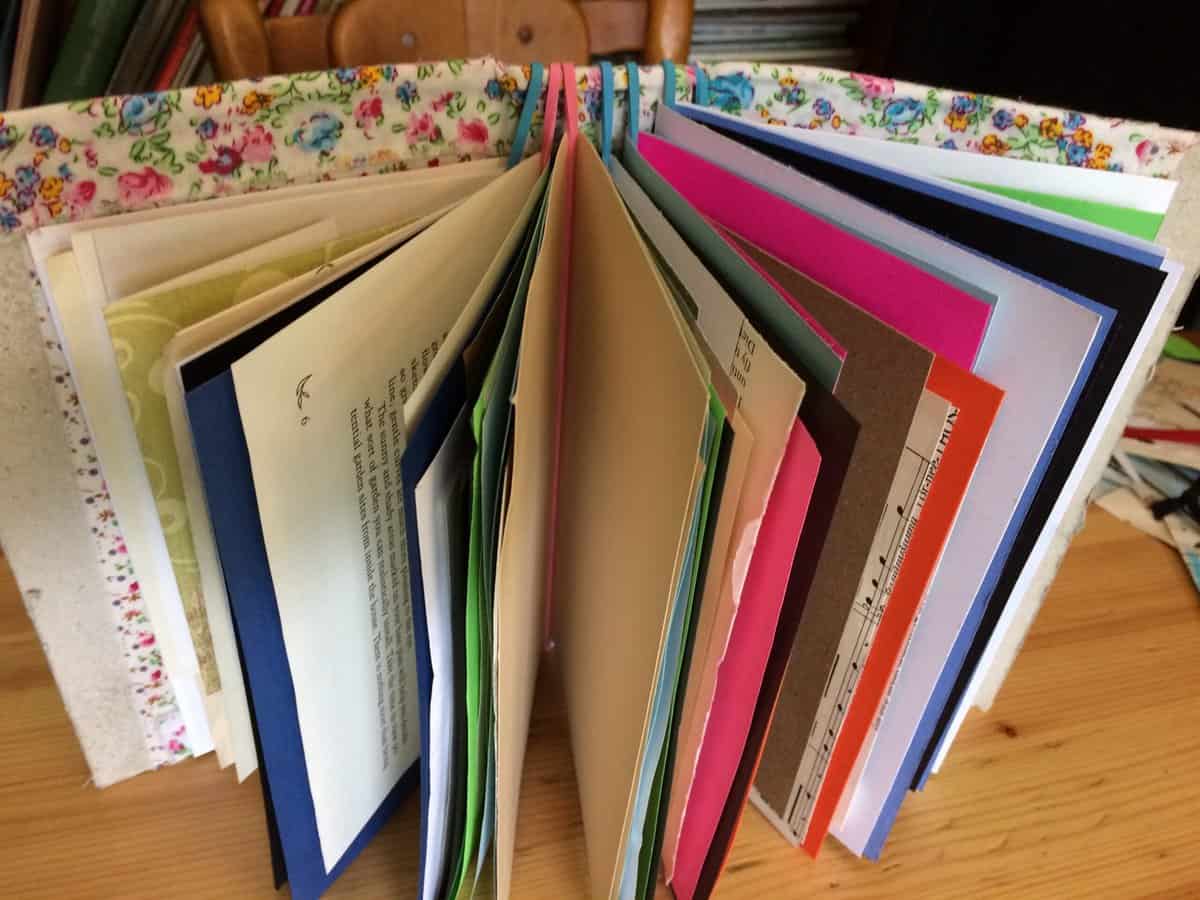 7. Creative Junk Journaling on Old Book Pages from Kerry May Makes
Rediscover the art of creative journaling on old book pages, adding a fresh burst of inspiration to your 'Happiness' junk journal.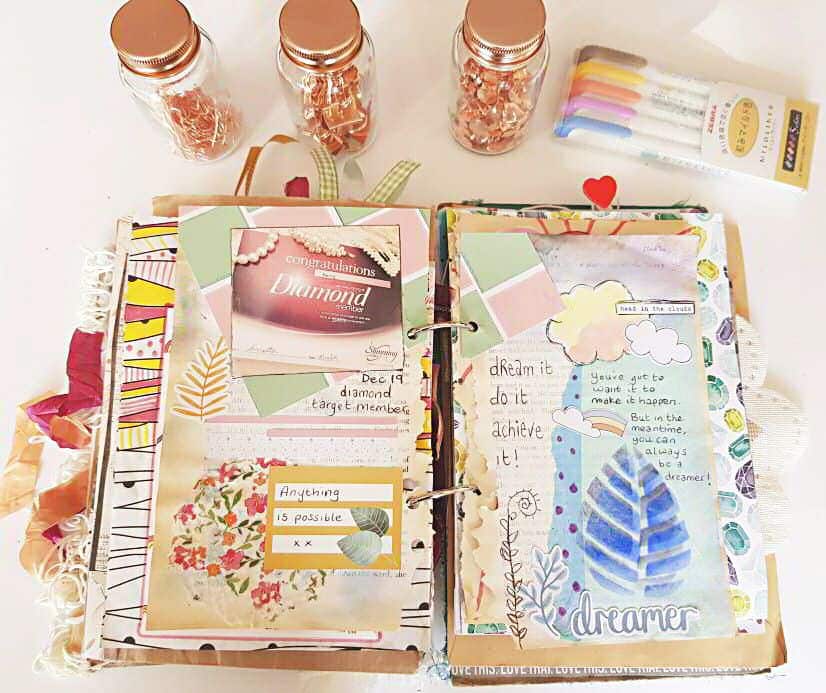 8. Making a Craft Log with a Smash Book from Tried and True
Crafting confession time! I'm no scrapbooking pro, but I found a fun alternative. Discover how I've created a craft log with a Smash Book, capturing memories even with a busy life.
9. Art Journal in an Old Book from Pink Spark Studio
Dive into art journaling – a joyful and accessible creative outlet. Explore crafting within old book pages for a unique artistic journey!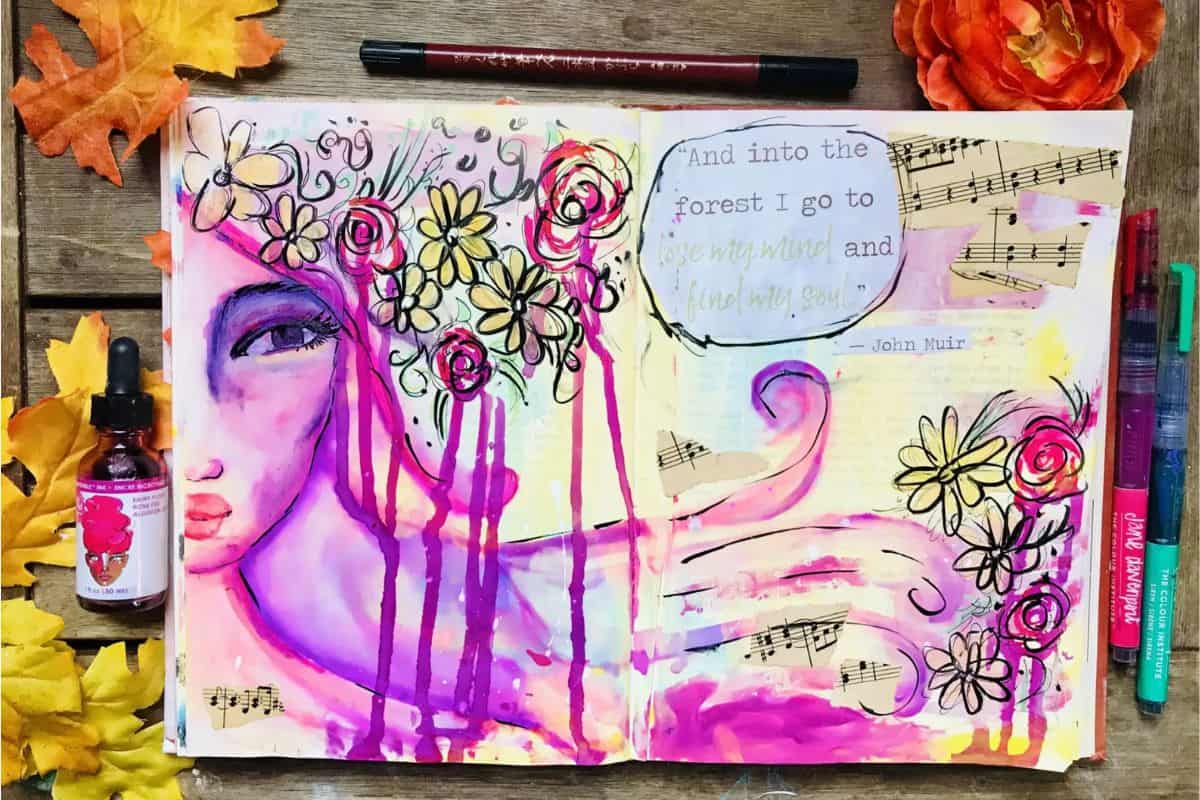 10. The Joy of Junk Journals from Journal with a Purpose
Experience the joy of junk journaling – a captivating journey to document thoughts, experiment with techniques, and treasure ephemera in one creative space.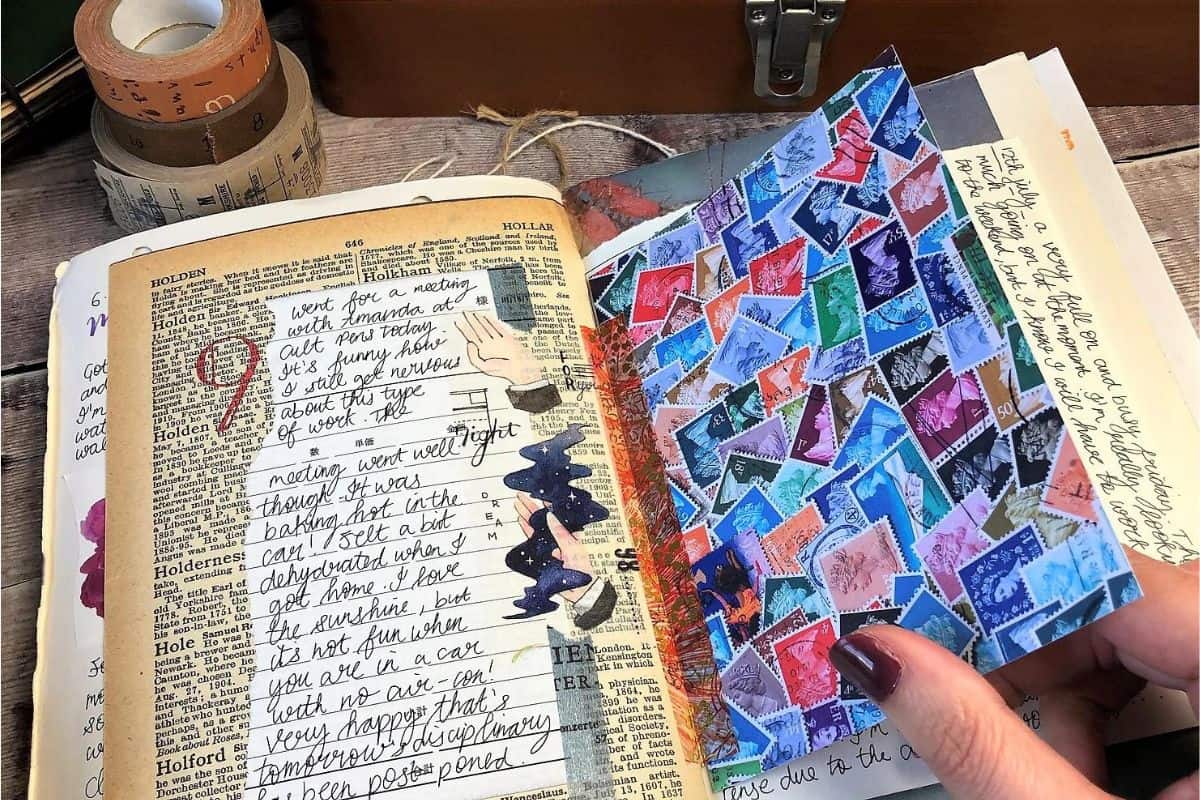 There is No Wrong Way:
The biggest thing to remember is there is no wrong way to Smash Book. It is supposed to be messy and maybe even a little chaotic. That is what makes it so much fun!
Our Crafting Essentials List: