An easy DIY recipe tutorial idea for Fudge and Orange Cookies. A cookie recipe that is so good you'll want to share with everyone!
Have you ever tried the flavor combination of orange and chocolate? It is amazing and one of my favorites! Lately, I have been craving it but I don't have any tried and true recipes so I went on a search. I found this cookie recipe at allrecipes.com and decided to give it a try.
MY LATEST VIDEOS
How to Make Fudge & Orange Cookies
Click here for a printable PDF version of this recipe.
COOKIE:
3/4 cup butter (no substitutes), softened
1 cup sugar
1 egg
2 egg yolks
2 teaspoons grated orange peel
1 1/2 teaspoons orange extract
2 cups all-purpose flour
1 teaspoon ground ginger
1/2 teaspoon baking soda
TOPPING:
1 (7 ounces) jar marshmallow creme
3/4 cup sugar
1/3 cup evaporated milk
2 tablespoons butter
1/8 teaspoon salt
1 cup semisweet chocolate chips
1/2 teaspoon vanilla extract
DIRECTIONS:
In a mixing bowl, cream butter and sugar. Beat in the egg, egg yolks, orange peel and extract. Combine the flour, ginger and baking soda; gradually add to creamed mixture.
Drop by rounded tablespoonfuls 2 in. apart onto ungreased baking sheets. Bake at 300 degrees F for 21-23 minutes or until golden brown. Remove to wire racks to cool.
In a saucepan, combine the marshmallow creme, sugar, milk, butter, and salt. Bring to a rolling boil over medium heat; boil for 5 minutes, stirring constantly. Remove from the heat. Add chocolate chips and vanilla; stir until chips are melted. Spread over tops of cookies.
Here is the cookie batter before it is baked.
While they are cooling. You can see the mounds of cookie batter flatten nicely while baking.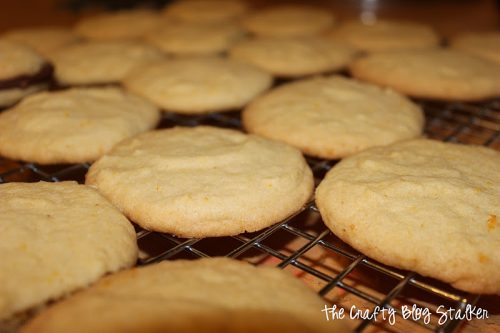 The yummy fudge topping.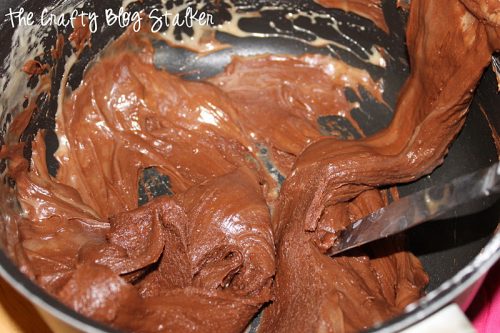 I made the cookies as a sandwich cookie with the fudge in the middle.
Don't they look good?!
These truly are a yummy cookie. Although it is hard to eat more than one at a time because they are so big. My husband thought they were a little sweet, but I thought they were perfect! (I would recommend keeping them in an airtight container with a piece of bread so they don't dry out because then they are very crumbly and a little harder to eat)
I hope you enjoy these Fudge and Orange cookies!
Do you have a favorite Orange and Chocolate recipe? Share and leave a comment below!
And let's be friends on Pinterest so you can see all the delicious recipes I'm pinning!
You Might Also Like: