You can make a beautiful Minky Rag Quilt and give it as a gift or keep it for yourself. Below is the complete step-by-step tutorial.
There is something about snuggling under your favorite blanket and watching a movie, reading a book, or taking a nap.
Most of my kids have their favorite blanket but my daughter has been asking me to make a quilt just for her.
She has a quilt that her Grandma made her when she was born, but that poor thing is barely a blanket anymore. It is full of holes and I am pretty sure there isn't an ounce of batting left in it. That quilt has been very well-loved.
It is only fair that my daughter has a favorite blanket to snuggle too, so I pulled out my sewing machine and got to work.
Craft Video Tutorial:
Like videos? I have a video tutorial for you! Subscribe to my YouTube Channel so you don't miss out on any future video tutorials.
My inspiration came from Mia Dolce Originals. Isn't this a gorgeous rag quilt?
The quilt I made really was a group effort. I brought it to my Mom's house for a fun sewing day and got a lot of help from my Mom and my SIL. Because of their help, we were able to knock it out pretty quick.
What is Minky Fabric:
Minky fabric is a very soft, plush fabric that is often used to make baby blankets, baby clothing, and baby accessories. Minky fabric is 100% polyester and can be slippery to sew. The fabric will shed fibers during the sewing process and the first several washes. That is completely normal.
Rag Quilt Square Guide:
To plan for the size of the quilt I wanted to make, I referenced this chart for the Calculation of Required Quilt Squares by Jubilee Homespun Inspiration.
The chart on this website will show you how many squares you will need for the size of the quilt you are wanting to make. I went with the small (30" x 54") quilt and 6-inch size squares.
Supplies You'll Need to Create this Project:
This post contains affiliate links.
2 ½ Yards Minky
2 ½ Yards Flannel (used for the batting)
2 ½ yards Cotton

split into 5 different patterns so ½ Yard of each pattern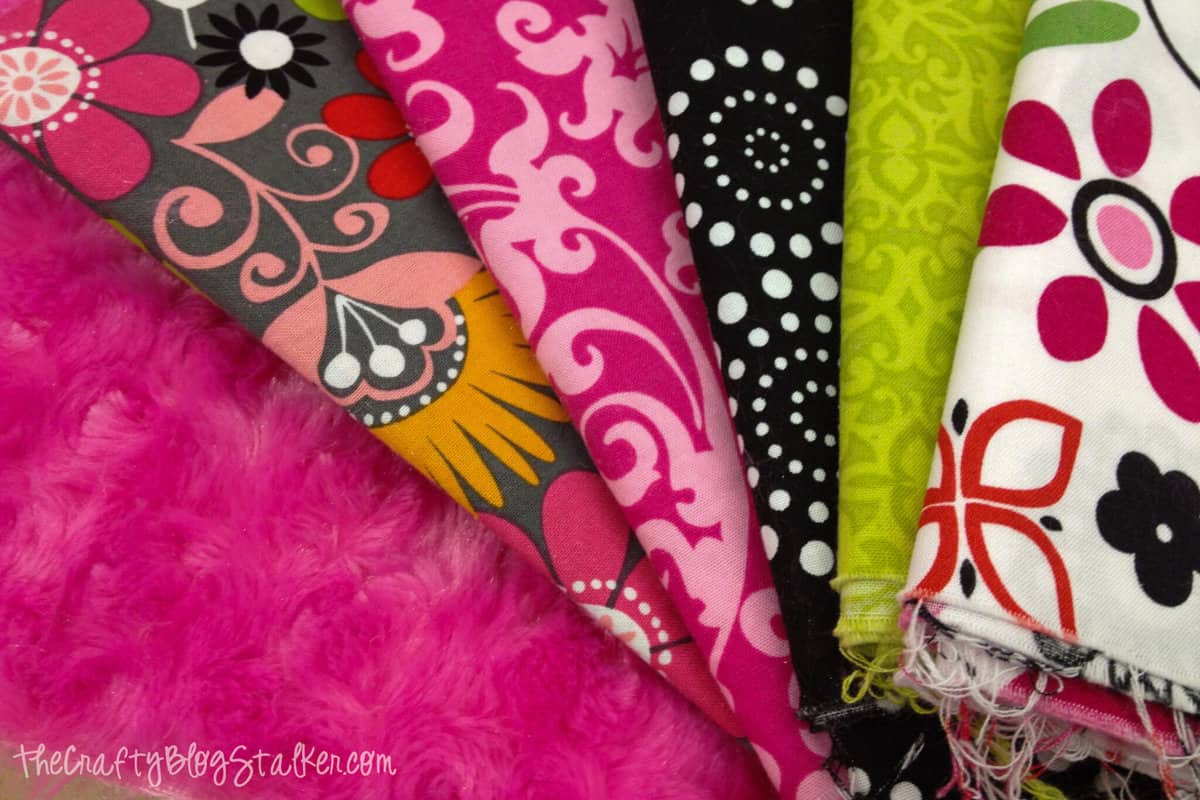 Prepping the Quit Squares:
Begin by cutting all of the fabric into 6-inch squares and layer all of the pieces before sewing begins. This will make the layers quicker to grab.
Layer -> Minky facing down, flannel, and cotton print facing up.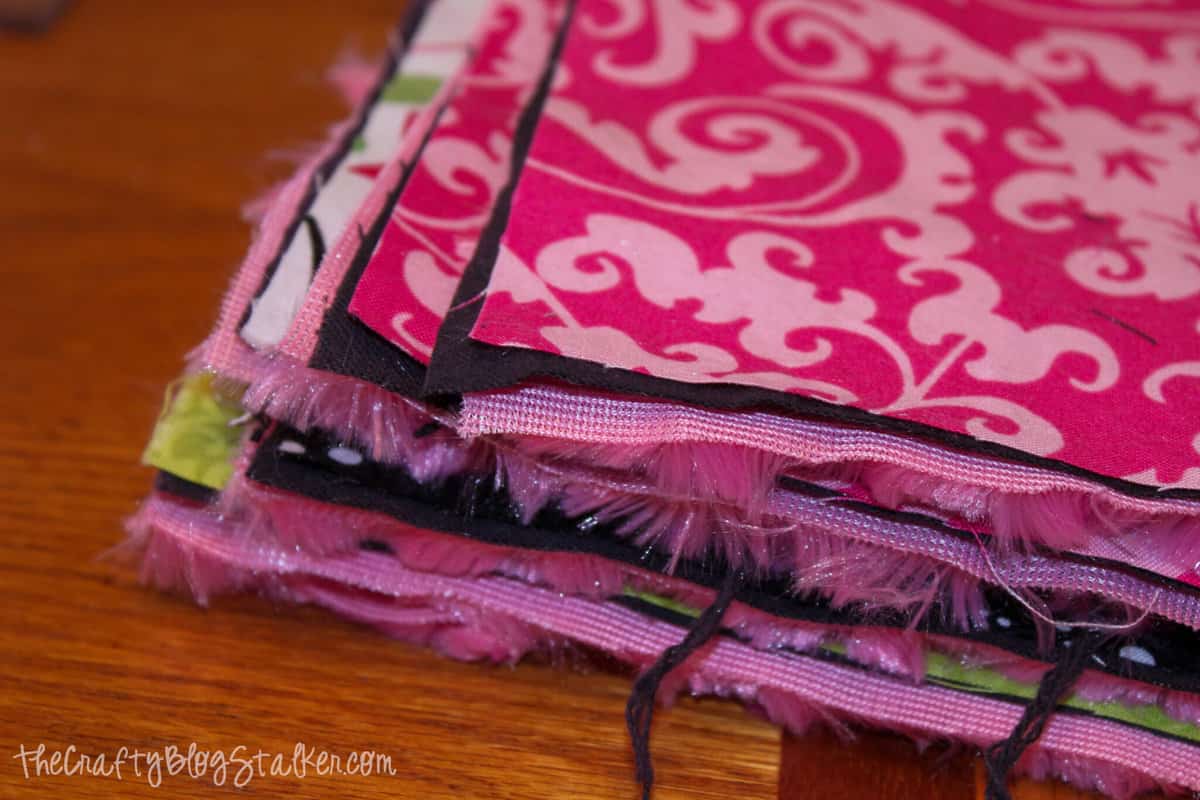 Sew an X, corner to corner on each square.
I made a chain of squares, not cutting them apart until I stitched through all of the squares. This is a big time saver.
Then do the same thing, sewing the stitch across the opposite corners.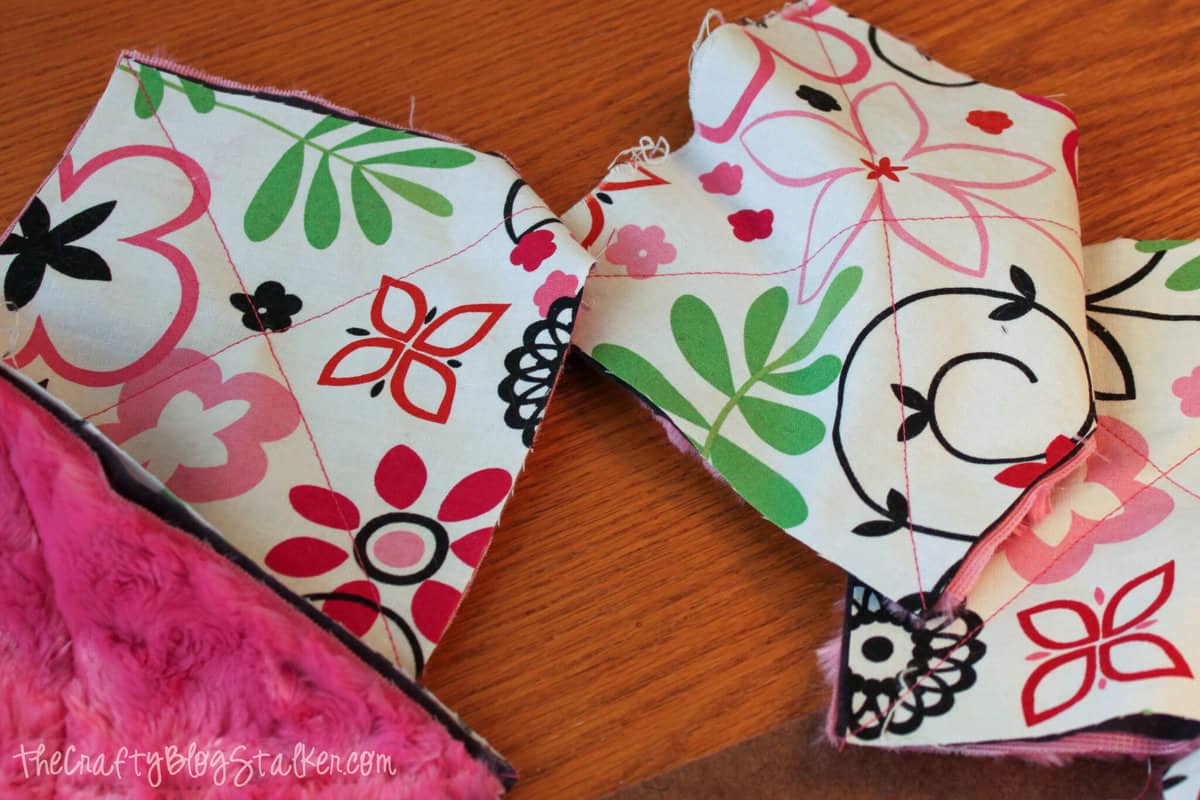 The Minky fabric sheds like crazy when you are cutting and sewing. Those little fibers get everywhere and float around in the air.
We all had a good laugh when mom pulled out a mask to wear, those pesky little fibers kept going in her nose. It was funny, but a great solution!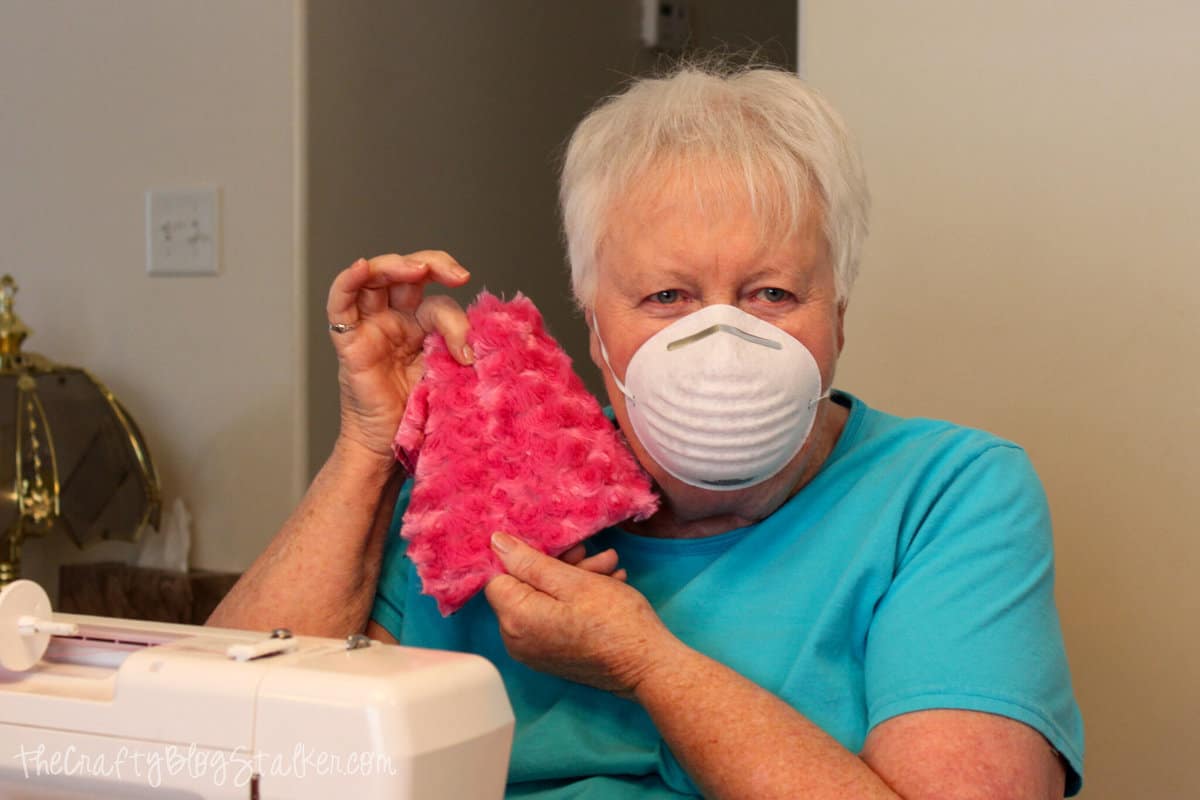 After my mom had had enough of those little fibers she passed the task on to my SIL.
Sewing the Quilt Squares Together:
When all of the squares are sewn with an X, lay them out on the ground to lay out the pattern, making sure that no duplicate squares are laying next to each other.
Sew the layered squares together in rows, with a ⅝ inch seam. Then stitch the rows together, matching up the seams of each row and column and keeping all seams on the same side of the quilt.
Finishing the Edge:
When all of the squares and rows are sewn together you are almost done. The last step is snipping those seams.
The prettiest part of rag quilts is the fringed edge around each square of the blanket.
To get this effect, take a sharp pair of scissors to the seams of the quilt. Snip the seam about every ⅓ inch. stopping the cut before you get to the stitched line.
This is a bit time consuming, but totally worth the finished look.
The final step is to wash and dry the quilt. All of those edges will fluff and separate and become super cute and soft!
If you love this rag quilt tutorial, please give it a five-star review and help me share it on Facebook and Pinterest!
Our Sewing Essentials List:
Title:
How to Make a Minky Rag Quilt
Keywords:
Minky Rag Quilt
Last Updated:
September 4, 2023