Perler beads are fun to play with and make a number of different things, from flowers and animals to geometric shapes. See how to make these fun shapes here!
When I was little, I could sit for hours creating fun designs and shapes with Perler beads.
Then, when my design was complete I would beg my mom to turn on the iron so I could melt the beads together. I was always so proud of everything I came up with.
Things haven't changed much in all these years although now I can turn on the iron for myself! Perler Beads are still so much fun!
Visit the website for the step-by-step tutorial and free pattern.
Do your kids love Perler beads? Mine do! They are so fun and inexpensive and the possibilities of things you can create are endless.
We recently purchased a large amount of Perler beads, I'm not sure why we hadn't ever bought them before because these things have kept my boys busy for hours! I had to join in the fun and create some things for myself while they were busy creating. These Chevron Perler Bead Necklaces were so easy to make.
This craft project is so easy to make. Plus, it's functional. I don't know about you, but we never have enough bookmarks in our house. It was about time that I made some.
My kids are crazy about Perler Beads right now so of course, I had to get in on the pixilated fun! This Mother's Day Perler Tray takes a while to put together (you could always decrease the size if you're short on time!) but is easy enough to make with kids. Just go slowly and enjoy quality creative time together!
Perler beads aka fused beads or Hama Beads aren't just for kids. These awesome DIY geometric coasters are made from Perler beads – and they are a perfect way to have some whimsy to your decor.
This DIY retro camper keychain and free pattern are perfect to hold your camper keys, or just for fun if you wish you had a retro camper!
Learn how to make fruit Perler bead magnets with this easy tutorial and free templates. This project is such a cute perler bead idea!
I combined my love of puzzles with my love of crafting and made a functional pentominoes puzzle out of these colorful little melty beads.
This past week, we discovered crafting with Perler beads. These fun crafts develop some serious fine motor skills, let me tell you. Placing the tiny beads was more challenging than we all thought it was going to be, but even my 6-year-old stuck with it and made some really fun designs.
Looking for a fun craft for kids to while away a rainy (or, here in Texas this time of year, an extremely HOT) afternoon? These Perler bead backpack tags are a quick and easy craft for kids that will ensure backpacks are full of pizzazz once school is back in session!
I love experimenting with Perler beads and coming up with new ideas. As fruit prints are in trend right now, I thought I will show you how to make 3D fruit bowls out of Perler beads. You can use these bowls for organizing your school/ office supplies in your drawer. Or use them on your desk to add a pop of color and to store knickknacks.
This Perler bead keychain is so simple to make and it is even cute year-round. We made one for my big girl's backpack and a second one for my little girl's lunchbox. So cheerful and happy.
We've got a fun craft for the kids to do while they are on Winter Break. Since you know us so well, I'm sure you can guess that it involves Perler Beads. So, get them out and make some cute Christmas Ornaments.
My girls and I love to craft while the boys are gone and we decided to have a "Cupcakes and Craft" night together! I posted this on Instagram and I received lots of questions and emails asking where I get my Perler bead patterns.
We're talking colorful Perler Beads today! (You know our love for those, right?) I would love to say how excited the kids get when we pull them out, but I think we moms have them beat!
As kids, my sister and I loved making up new Perler bead patterns. We even set up a lemonade stand on our street to try and sell our creations. The deal was, buy a Perler bead creation, and you get a lemonade made with our secret recipe.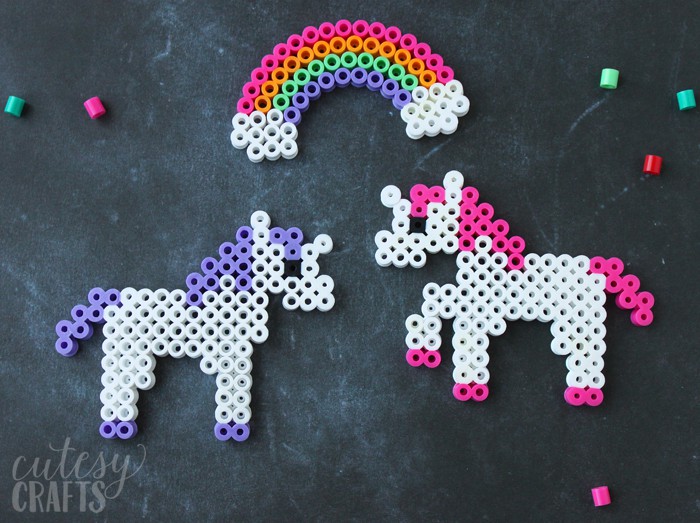 It just wouldn't be right for us not to include a Perler Bead project in Disney Week! And check out who we decided to make….that's right, good ol' Donald and Daisy. Our kids are biting at the chance to wear these to Disneyland so, we may have to add some more characters to our collection.
If you are looking for a quick and easy craft to celebrate Star Wars Day, look no further. These Star Wars plastic beads coasters not only look great, but they are also easy to make. Plus, they are completely functional. W00T!
I couldn't decide on a cactus motif, so there were three of them. I have a photo of them on the pegboard that you can use as a great template. And it's a perfect DIY gift too.
See all the colors of the rainbow when you spin this mobile! Or choose your favorite colors to create one of two sizes of spinners—double or single.
Which Perler bead pattern are you most excited to try?
Our Crafting Essentials List:
Follow The Crafty Blog Stalker