You can make a pair of Sharpie Tie Dye Shoes with this easy step by step tutorial. Create fun tie dye designs like galaxy and rainbow!
Complete step by step instructions and video tutorial below!
Have you ever tried to tie dye before? It is such a fun craft!
This tie dye is a little different because we are going to be using Sharpie markers and isopropyl alcohol. It is easy enough for everyone in the family to participate!
Supplies Used to Make Sharpie Tie Dye Shoes
Items linked below may go to similar items when exact items couldn't be found online. Links are affiliate so when you purchase, I will get a small kickback to help fund the next tutorial!
Sharpie Tie Dye Shoes Video Tutorial
Like videos? I have a video tutorial for you! Please subscribe to my YouTube Channel so you don't miss out on any future video tutorials!
Coloring your Tie Dye Shoes
Coloring the shoes is the first step. This is where you can really get creative and design your shoes!
Each of my girls were going for a different look.
Liza wanted a rainbow design.
Allie was going for a galaxy design and used lots of blues and purples.
Morgan wanted a spectrum design where the color faded into the next.
I wanted a more traditional tie die look so I colored circles of colors on the shoes.
Applying the Isopropyl Alcohol
To protect the white rubber soles on the shoes you can tape them off before you apply the alcohol. Or you can use pure acetone to try and remove the color that leaks onto them after the shoe is dried.
There are a couple different ways to apply the isopropyl alcohol to the shoes. I chose the squeeze bottle method because I felt like it gave me more control. But you can also you an eye dropper or spray bottle.
Squeeze the alcohol onto the shoe and really saturate the canvas.
Apply a couple layers of alcohol to really get the sharpie markers to swirl together.
Continue to add more alcohol until you get a look you are happy with. You can even let the alcohol dry, and then add more to get your desired look.
Let your Tie Dye Shoes Dry
A lot of the swirling of the ink happens while the shoes are drying. Let the shoes dry completely before wearing.
Here are what our tie dyed shoes looked like the next day after letting them dry over night.
Liza's Rainbow Tie Dye Shoes.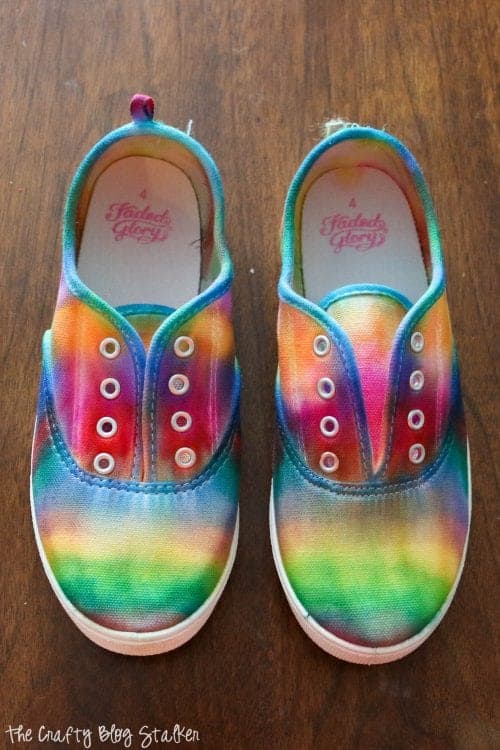 Allie's Galaxy Tie Dye Shoes.
Morgan's Spectrum Tie Dye Shoes.
And my traditional Tye Dye Shoes.
For whatever reason, the neon green Sharpie marker did not bleed, but the other neon colors did. But I still really like how they turned out. The green circles are kind of cool, don't you think?
What colors or design will you try with your Sharpie Tie Dye Shoes? Share and leave a comment below!
Follow me on Pinterest and you can see all the DIY projects I'm pinning!
You Might Also Like These Tutorials: