Kids will love these fun homemade popsicle stick crafts. Easy to do, and fun to make, and fun to display. These crafts are some of the easiest to make Popsicle stick crafts around.
Fun Popsicle stick crafts are a timeless way to keep your little ones busy. The sticks are inexpensive and the possibilities are endless. There are so many things you can make!
If your kiddos are complaining that they are bored, break out the box of popsicle sticks and help them create one of these awesome projects!
These craft projects are great for toddlers, preschoolers, and up!
More Kid Craft Ideas:
Kid Crafts are great because they stop the boredom and help kids be creative and use their minds! And we love sharing kid craft tutorials like these Paper Strip Hearts, this Fishtail Stretch Bracelet, and these Sharpie Tie Dyed Shoes.
Take a look around and see all of the craft tutorials we have!
Popsicle Stick Crafts:
Visit the website for the step-by-step tutorial.
This pocket folding fan is so easy to make and folds up perfectly to store in a pocket on a hot day. It is such a unique and fun craft idea for kids! They can decorate the front with simple artwork then secure it with popsicle sticks & a rubber band! This post contains affiliate links.
The design for this frame came by accident. I was playing with popsicle sticks and suddenly realized I had created a wonderful frame. I then designed the stand to hold the frame.
This easy DIY Beaded Wind Chime will make a cute addition to your garden! A super simple dollar store DIY to add to your easy kid's craft list! Summer is always right around the corner, plan this for a stay home day.
4. Photo Puzzle from All For The Memories
This fun DIY project works for kids or adults. Using any photo, craft sticks, Mod Podge, and a craft knife you can create a unique personalized puzzle.
Today I'm going to show you how to wood burn playing card sticks! They are pretty fun to make and are easy to read and hold. I think these can be fun for the novelty of it and fun for kids to play with.
Your kids will love making music with this simple DIY Popsicle Stick Harmonica. They are so easy to make!
These craft stick airplanes are super easy and fun for kids to make. This airplane craft brings back the nostalgia of the good old days. It's a simple popsicle stick craft that kids in a hospital, scout troop, or a school can make, and it can be used as a photo holder too if you attach a magnet
Fingers have always been the default reading pointer, but sometimes you've got to add a little fun. So, the girls and I got out some of our craft supplies and made a set of these fun Magic Wand Reading Pointers.
One of my favorite things about summer is the opportunity to observe so many different types of bugs and insects. One of our favorites is dragonflies.
A colorful spring project to make with the kids, these craft stick flower pots are a no-mess craft and make an adorable homemade gift!
Bring out your craft sticks and pipe cleaners as we're making a craft stick crocodile craft today! These little fellows look super fun, and what's even more fun is that once your kids make them, they will be able to play with them.
12. Marble Run from Frugal Fun 4 Boys
Of all the many marble runs we've built over the years, this is our new favorite! Simple materials and sturdy construction make it a WIN for a wide variety of ages. This would be great for a classroom STEM challenge.
Looking for a boredom buster activity to help you out with the kids? Thousands of people on Pinterest have loved this Washi Tape Boredom Buster Jar and I know you will too.
A simple DIY project that actually works, perfect to do with the kids for Mother's Day.
This easy kids' craft is so much fun! Learn how to make a DIY Popsicle Stick Picture Frame quickly and easily. Add magnets to stick it on the fridge!
This Popsicle stick catapult design is an AWESOME STEM activity for kids of all ages! Exploring physics has never been so exciting for kids because everyone loves to launch stuff into the air. A catapult made out of popsicle sticks is the perfect kids' activity for simple physics.
Is it wreath season yet? Luckily the answer is yes! DIY wreaths are something I make every year near the holidays and I'm always on the lookout for fun wreath ideas. It's unbelievably easy, just crafts sticks, glue, and a paper plate! Who knew something so fancy could be made from such humble materials.
A simple kids' craft is the perfect way to keep your kids occupied this summer. And crafts that they can play with when they're finished making them are even better! That's why you'll love this adorable floating popsicle stick boat craft for kids. It's easy to put together and perfect for fun water play, too!
Our Popsicle Stick Unicorn Craft is the perfect way to make your holidays even more magical! With a glittery horn & rhinestones, this is one pretty unicorn! Makes a great reading pointer or bookmark!
Craft stick crafts are fun for kids as they can be turned into just about anything. Make adorable barnyard farm animals and use them as puppets!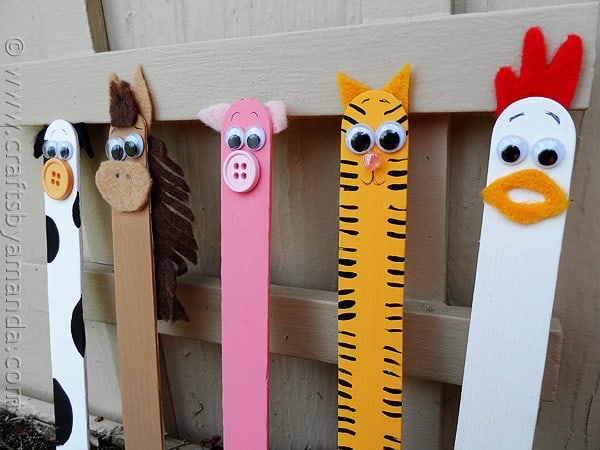 If you love these crafts, please help me by sharing this post on Facebook and Pinterest!
Our Crafting Essentials List:
Title:
Top 20 Easy to Make Popsicle Stick Kids Crafts Anyone Can Make
Mentions:
Crafts for Kids
Keywords:
easy popsicle stick crafts
Last Updated:
August 8, 2023