Whether you're a teacher or a student, personalized notebooks make it easier to find what you're looking for. Make your very own customized notebook using sublimation. If you make a purchase using the links included, we may earn a commission.
If you have a sublimation printer and a glitter notebook you probably have everything you need to make a custom notebook.
You can make different covers for different class subjects, people, journals, goals, or whatever specific use for a notebook that you have!
The notebook I am showing you today has a custom cover with a back-to-school theme. Plus, I have the design available for you to access for free.
Craft Video Tutorial:
Like videos? I have a video tutorial for you! Subscribe to my YouTube Channel so you don't miss out on any future video tutorials.
Supplies You'll Need to Create this Project:
Measure, Design, and Print:
The first step in any sublimation project is to measure, you want to know the size to print the design.
My notebook is the standard 8 x 10.5 inches for notebooks.
In Adobe Illustrator inserted the PNG design, and sized it to 6 x 7 inches.
Using the font Ask Why, I typed in my name, then mirrored the design.
Once I liked how it looked, I printed the design from my sublimation printer.
Apply the Sublimation Print:
Use a paper trimmer to cut around the design.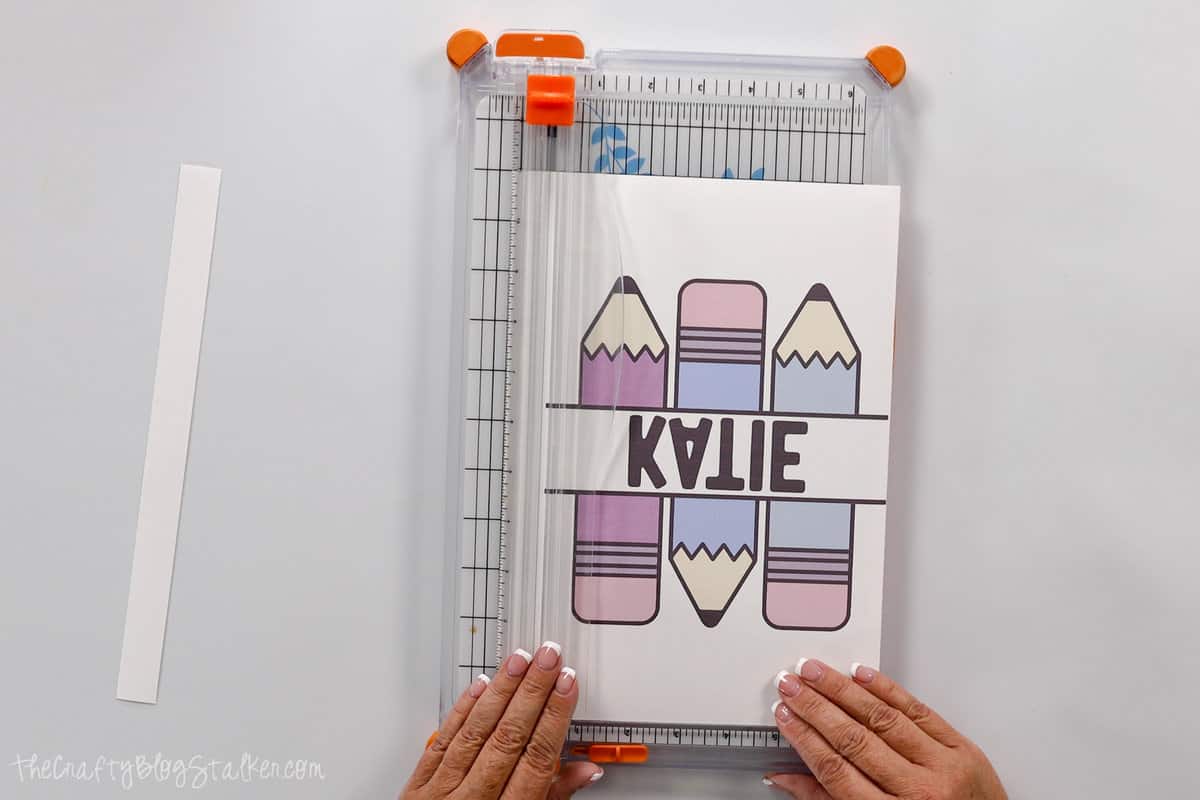 Center the design face down on top of the glitter cover of the notebook.
Secure in place with strips of heat tape on all four edges.
Apply Heat:
Preheat the heat press to 400ºF and set the time to 60 seconds.
Once the heat press is ready, apply the heat with medium pressure for the complete time cycle.
My notebook is plastic spiral bound. So I made sure to keep the binding away from the heat press.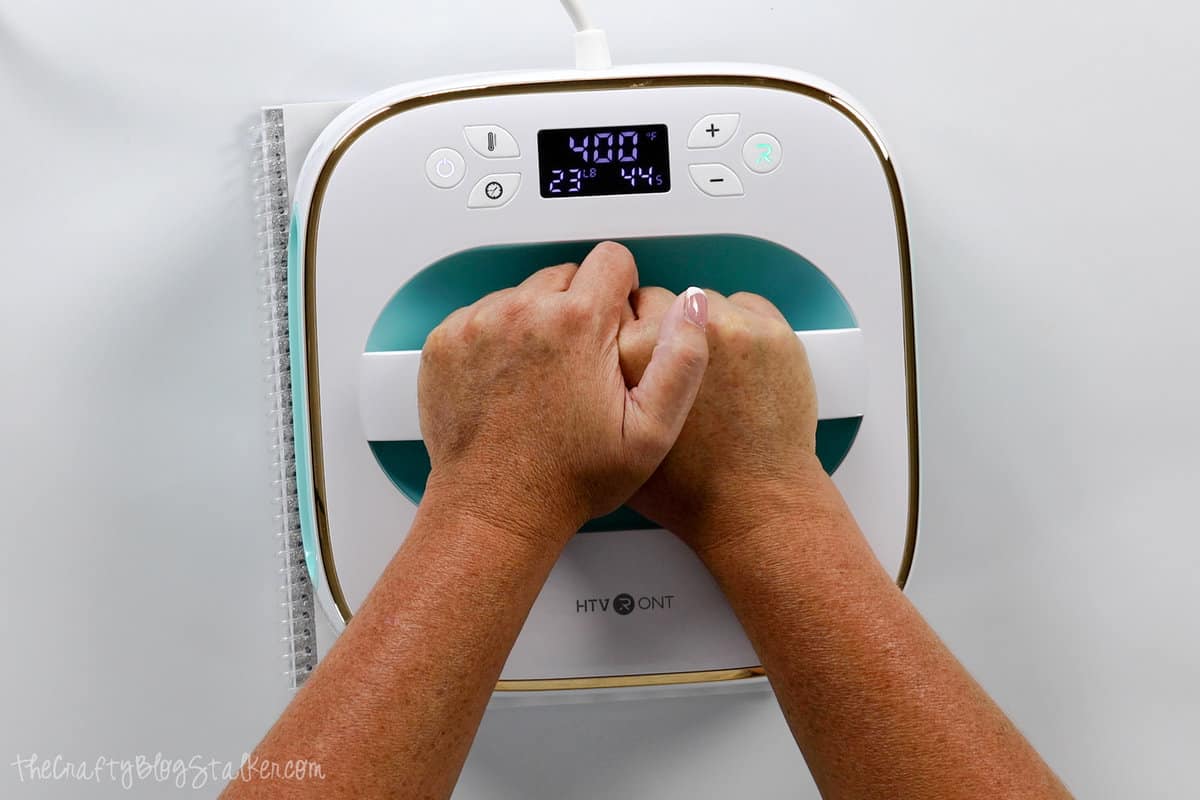 Remove the Sublimation Print:
The reveal is always my favorite part!
Once cool to the touch, carefully peel back the heat tape and sublimation print.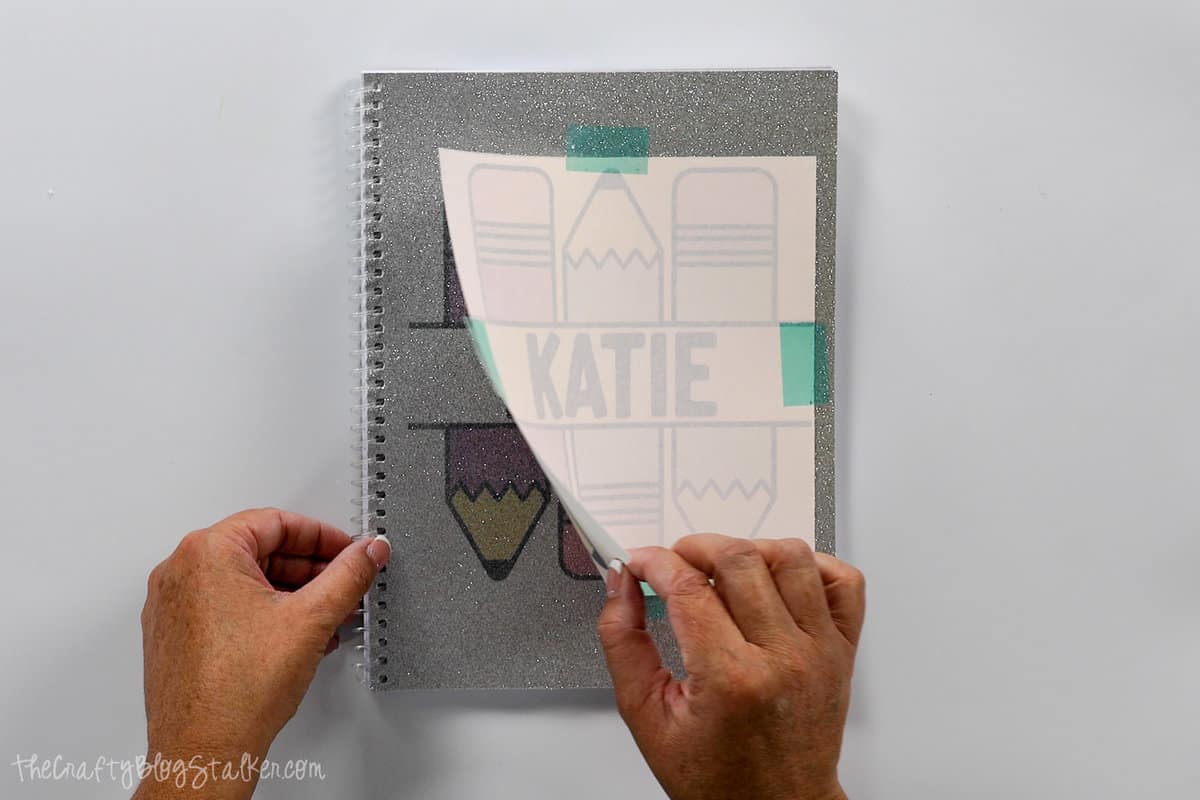 It turned out fantastic, and I love that glitter sparkle on the notebook cover!
FAQs:
Can you sublimate on a notebook?
Yes, you can! As long as the cover of the notebook either has a sublimation coating or a glitter coating.
You can even find glitter notebooks at your local dollar store, so this can be a very inexpensive craft.
Why can you sublimate on Glitter?
Sublimation ink is a special kind of ink that bonds itself to polyester, then making the ink permanent.
Glitter is made of polyester, making it the perfect material for sublimation.
My favorite colors of glitter to sublimate on are white, and silver because if you mix colors your print design may look off. For example, if you have a blue design and press it onto a yellow notebook, your design will now be green because yellow + blue = green.
Can I use my home printer to print for sublimation?
The answer to this question is both yes and no. Let's start with the No.
No, you cannot print a design off of any printer and use that print-out for sublimation.
Just like your project has to have a special sublimation coating, you must use a special sublimation ink in your printer.
So once you have converted a printer to a sublimation printer, then you can use that home printer to print your design.
I have a step-by-step tutorial all about Converting an Ecotank Printer into a Sublimation Printer if you want more information.
Our Sublimation Essentials List:
Title:
How to Sublimate Personalized Notebooks for Back to School
Mentions:
30 Minutes or Less, Dollar Store Crafts
Keywords:
personalized notebooks
Last Updated:
November 13, 2023