This tutorial shows how to sublimate on a drinking cup using the heat press by Sublifun. Turn your favorite image or design into a fun and personalized tumbler. Products for this tutorial were supplied by Sublifun. If you make a purchase using the links included, we may earn a commission.
Sublimation is a popular, up-and-coming craft. Especially since the products needed to sublimate are becoming much more budget-friendly!
I love that we, as crafters, can now make professional personalized items without having to order them from an expensive business.
Craft Video Tutorial:
Like videos? I have a video tutorial for you! Subscribe to my YouTube Channel so you don't miss out on any future video tutorials.
More Sublimation Tutorials:
Since we love to sublimate, we have lots of crafting tutorials we want to share with you. Like this Personalized Door Mat, this Sublimation Photo Mug, and Converting an Ecotank Printer into a Sublimation Printer.
Be sure to look around the blog for more fun Sublimation Tutorials!
FAQs:
Can you sublimate a tumbler with a heat press?
Yes, you can as long as you are using the right kind of heat press.
Not all heat presses are equal. They are designed with a specific use in mind. A flat heat press will not work. You will need to use a press that is designed to use with a tumbler.
I love this Tumbler Mug Heat Press. It is super simple to use and has other attachment options so you can make sure to get perfect heat and pressure to whatever you are creating!
What I love about this press is that the timer automatically starts when you close the clamp, and it resets when you open the clamp. No extra pushing of buttons each time!
What temp and time do you sublimate tumblers?
A good rule of thumb is to always follow the product recommendations. Any reputable business selling sublimation blanks will provide that info with their product.
I know that isn't a very cut and dry answer, but sublimation coatings are different as well as the material the coating is applied to.
So go back to where you purchased the blank tumbler, and that info can usually be found under the product information.
As an example, here are the Sublimation Skinny Tumblers I use in today's tutorial. You can see the highlighted text states time and temperature.
Can I sublimate on any tumbler?
No, you cannot. The tumbler needs to have a special sublimation coating so that the ink will transfer from the print to the tumbler.
Always make sure that you purchase quality sublimation blanks. I have seen others purchase tumblers on amazon that stated they could be used for sublimation but the ink doesn't transfer properly.
A great and reputable brand on Amazon that I purchase from is Sublifun. They have lots of different tumbler styles and sizes, and everything I have got from them has sublimated beautifully.
Can I use my home printer to print for sublimation?
The answer to this question is both yes and no. Let's start with the No.
No, you cannot print a design off of any printer and use that print-out for sublimation.
Just like the tumbler has to have a sublimation coating, you must use a special sublimation ink in your printer.
So once you have converted a printer to a sublimation printer, then you can use that home printer to print your design.
I have a step-by-step tutorial all about Converting an Ecotank Printer into a Sublimation Printer if you want more information.
My Cow Tumblers:
When I was creating this tutorial for you I actually made three different tumblers. I was just having too much fun and I couldn't stop making them! 😂
For my tutorial below I am making a 20 oz tumbler, but I wanted to make sure and show you the two other 17oz tumblers I made as well.
I am truly obsessed with cows right now!
Just in case you liked one of these cow designs over another, I have all three available for you to use.
Supplies You'll Need to Create this Project:
Measuring and Printing:
The first step in any sublimation project is to measure, you want to know the size to print the design.
My 20oz tumbler measures 9.8 x 8 inches so that is the size that I printed my tumbler design using my sublimation printer.
Use a paper trimmer to cut off the white around the design.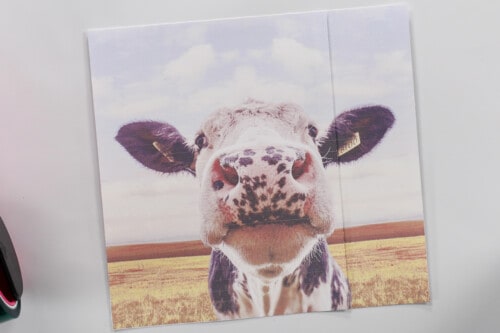 *I measured wrong for my tumbler and made the print taller than I needed. That is why the image above shows a seem. But if I would have printed correctly at 9.8 x 8 inches, I wouldn't have needed the seem.
Wrapping the Tumbler:
Go around the tumbler with a lint roller to remove any dust or small stray hairs. That dust will interfere with the image transfer, so don't skip this step!
Align the print and the tumbler making sure where the ends come together is straight along the top and bottom.
Pull the print as tightly as you can onto the tumbler and sever with heat tape.
Tape the entire seam and tape around the bottom edge as well.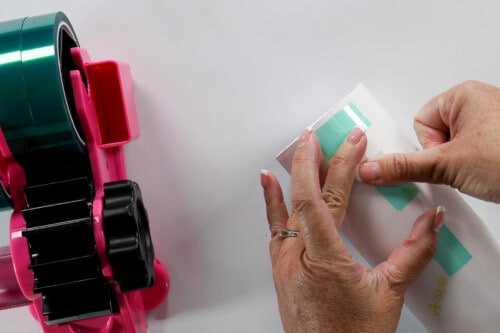 Use a piece of butcher paper or an extra sheet of printer paper and wrap that around the cup and secure with a piece of tape. It doesn't need to be as secure as the print. Sublimation ink can bleed, so this extra layer is to protect your press.
Tumbler Heat Press:
According to the manufacturer of this cup, I press with a temperature of 360º for 50 seconds.
Most tumbler presses have a small gap on top, and since this is an all-over design, I will need to rotate the tumbler while pressing.
I press with a temperature of 360º for 3 intervals of 20 seconds, rotating the cup ⅓ after each interval.
Once the tumbler has been pressed, place it on a silicone mat to let it cool until you can handle the tumbler without being burned. It comes out hot!
Unwrapping:
Unwrapping the tumbler is my favorite part. It is just so satisfying!
Peel back all the paper, no need to be careful, you can tear it away.
I love that close-up cow nose!
As soon as I finished making this one, two of my daughters immediately stated they needed one too. They are just too cute!
Our Sublimation Essentials List:
Title:
How to Make a Drinking Cup with a Sublimation Tumbler Press Machine
Mentions:
30 Minutes or Less, Sponsored
Keywords:
sublimation tumbler press machine
Last Updated:
August 9, 2023