The Best Crafting Tools Kit by MakerX gives you the tools to get creative. From rotary tools to an airbrush, this kit has everything you need to become a maker.
My favorite craft projects are the items I make from simple supplies using my own hands. I know it is truly one of a kind and reflects my heart and soul.
Not too long ago, I set out to make a sign to give as a gift. The project became frustrating when I realized I didn't have the right tool to cut the frame pieces.
I continued on, making another tool kind of work for what I needed, but then I wasn't as happy with the finished look as I should have been.
Because of that experience, I have realized how important it is to have the right tools, for the right projects.
That is why I am so excited to be partnering with Worx and the MakerX line of tools!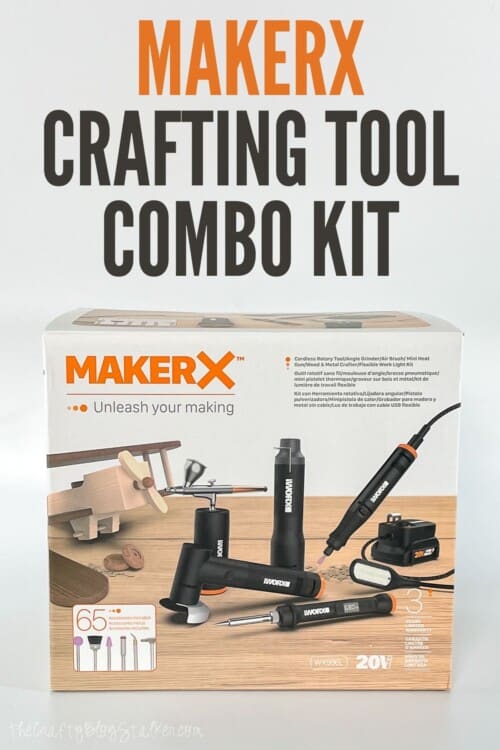 What Are MakerX Tools?
MakerX tools are designed and created with the maker in mind.
All of their tools get their power from rechargeable batteries, which means you are not stuck, close to an outlet. You can take their tools anywhere and be ready when inspiration strikes.
The MakerX crafting tools are a line of tools from Worx. This means all of their batteries are compatible across all of their tools. From their Wood & Metal Crafter to their Circular Saw!
These tools can be used with a variety of projects and creative ideas.
20V MakerX 6pc Ultimate Crafting Tool Combo Kit:
This product was received in exchange for my honest review.
Visit the website to purchase your own 6pc Ultimate Crafting Tool Combo Kit.
Unboxing Video:
Like videos? Please subscribe to my YouTube Channel so you don't miss out on any future video tutorials!
What's In The Box?
Let's go over everything that comes inside the box, there is a lot so hold on!
Batteries:
The kit includes two 20 volt rechargeable batteries and a quick charging base.
I love that there are 2 batteries, which means you can always make sure you are ready to go and don't have to wait to charge before you can get crafty!
MakerX Hub:
The hub slides onto the top of the batteries and has the cord that plugs into all of the tools.
The hub also has a metal belt clip and a USB port.
Rotary Tool:
The Rotary tool has a brushless motor and variable speed control of up to 35,000 RPM.
This little tool can cut, sand, polish, and more with the 40 piece Rotary Tool Accessories that come in a plastic case so you can keep all of your tips organized.
Angle Grinder:
The Angle Grinder has a brushless motor and variable speed control of up to 24,000 RPM.
Also included are 3 different wheels, a cutting wheel, a grinding wheel, and a medium grit sanding wheel. But most other 2 inch blades are also compatible with this handy tool.
Airbrush with Food-Safe Nozzle:
This nozzle has a dual function switch that regulates both the airflow and paint volume.
Just make sure that you are using airbrush paints. Thicker paints not intended for airbrushing can clog the nozzle.
Mini Heat Gun:
This tool will continuously blow hot air that is 500° Farrenheit and features a precision nozzle so you can easily aim that hot air exactly where you want it.
Wood & Metal Crafter:
The Wood & Metal Crafter is a great tool. I love that it is so with the included tips.
There are 8 assorted Wood Burning Tips you can use to create wood-burned art, and there is also a Soldering Tip so you can use the tool with metal.
Included are a cradle stand and a silicone comfort sleeve, that is on my tool in the picture below.
USB LED Flex Light:
The Flex Light has 3 settings for brightness. A 54, 33, and 22 lumens so you can get just the right amount of light when and where you need it.
The stem is completely posable.
And remember that USB port on the MakerX Hub? You can plug the Flex Light in there and still plug the cord into any of the other crafting tools.
Carrying Bag:
The MakerX Carrying Bag measures 10" x 10" x 6.25" and is made of nylon with zipper closure.
Use the included bag to store all of your favorite tools!
Video Review:
Visit the website to purchase your own 6pc Ultimate Crafting Tool Kit. It also makes the perfect gift for any DIYer or crafter!
Title:
Unboxing the Best Crafting Tools Kit by MakerX
Keywords:
crafting tools kit
Last Updated:
June 1, 2023