Sparkle up your space with ArtDot's DIY Diamond Painting Aesthetic Stickers Kit. Perfect for personalizing laptops, home decor & more. Fun for all ages! This post is sponsored by ArtDot. All opinions expressed are my own. If you make a purchase using any affiliate links below, we may earn a commission.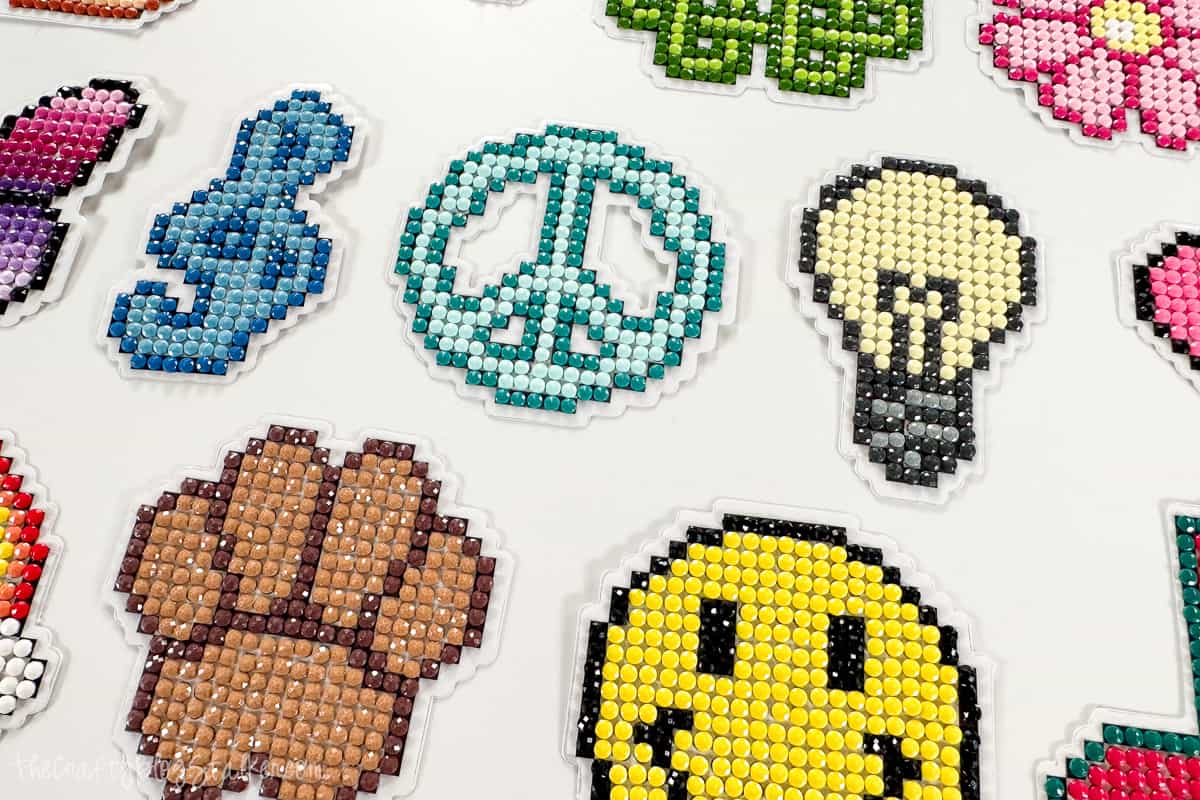 Diamond painting has emerged as a favorite hobby for myself and many other craft enthusiasts.
It reminds me of cross-stitching with an element of paint by number.
If you've been considering dabbling in this sparkling world, there's no better way to start than with the Diamond Art Freestyle Sticker Kit from ArtDot.
Diamond Painting Stickers:
The Diamond Art Freestyle Sticker Kit is priced at only $19.99 and makes a great gift!
Plus, if you use the coupon code: crafty you'll get 10% off your order. Purchase over $25 and you'll also get free shipping.
Inside the box, you'll receive:
38 Freestyle Stickers
48 Colors of Round Diamond Drills
1 Pen
1 Heart-Shaped Wax
1 Tray
Instructions:
The instructions on how to create your diamond art stickers are on the back of the box.
The reason this is called a freestyle kit is that there are no set colors to apply to the different stickers. You can do whatever you want!
In the second image on the instruction you can see different icons like A for a dark color, or C for white, but these are only suggestions.
And since the kit comes with 48 different colors you have lots to choose from!
For the first sticker let's do the Smiley face emoji.
Peel back the protective film off of the top of the sticker. Underneath is a sticky layer that the plastic diamonds will stick to.
I am going to go more traditional with this sticker, with a yellow face and black outline.
To start, cut open the yellow packet of diamond drills and pour some onto the tray.
Remove the top protective sheet of the wax and press the pen into the wax. The wax is what will hold the diamond drills onto the pen so you can place them on the sticker.
You can use either side of the pen. One side holds one diamond at a time.
The other side of the pen holds 3 at a time.
I personally prefer to use the single side of the tool, but you can use whichever side you prefer.
Simply place those round diamond drills on top of each little icon on the sticker.
When your pen stops picking up the diamonds, simply reinsert it into the wax and then it should resume picking up.
Once the yellow was all filled in, I moved on to the black outline.
This is how my smiley face looks completely finished. Isn't he cute?
Ombre Sticker:
For the next sticker, I wanted to create an ombre effect.
Since the diamond drills come packaged in a row of light to dark that was really easy!
And here is the finished butterfly!
I had so much fun, that I just kept creating more and more stickers!
I loved that I could color them however I wanted!
Sealing:
The kit does not include a diamond art sealer and in some instances, you might not even need it.
The sealer I used is called LANBEIDE Diamond Painting Sealer. The bottle comes with an application sponge and you just wipe over the top of the stickers.
Then let them dry completely.
The sealer dries completely clear and they still have all of their sparkle!
Adhering the Sticker:
Now you can adhere the sticker just like you would any other sticker!
Remove the backing paper.
Then place the sticker where you want it! In my case, it's on a photo frame.
Isn't that cute? I love how the sticker itself is clear so that those diamond dots really pop!
15 Places to put Stickers:
There are so many places you can put diamond art stickers, and here are a few ideas.
skateboard
laptop
notebooks
folders
water bottle (make sure to hand wash)
candle holders
pen holders
photo frame
phone case
calendar
bookmarks
magnets
bike helmet
posters
Tablet case
Here are a few places I chose to put my stickers.
How to Organize Leftover Diamond Drills:
I get asked quite a bit about how I store and organize my leftover diamond drills.
My favorite storage solution is my Stackable Diamond Painting Storage.
It holds 315 containers to organize and store all of my diamond drills.
On the front of the package, where it says ARTDOT - 307, 307 is the color's number.
I have Diamond Drill Labels that I can put on top of the individual container, and no matter what kit I use, number 307 will be the same color.
This is a great system and doesn't take up very much space at all.
If you are just getting started and don't need this large of a system, you can begin by purchasing only 2 drawers and purchase more as needed.
If you have any questions, don't hesitate to reach out. I'm happy to help!
Title:
DIY Aesthetic Stickers Diamond Painting Kit for Beginners
Mentions:
30 Minutes or Less, Crafts for Kids, Sponsored
Keywords:
Aesthetic Stickers
Last Updated:
September 18, 2023