Create a DIY Craft Kit for your hard-to-buy-for kids, tweens, or crafty adult friends! This craft even makes for a fun Saturday activity! An easy DIY craft tutorial idea. This shop has been compensated by Collective Bias, Inc. and its advertiser. All opinions are mine alone. #GiveColorfully #CollectiveBias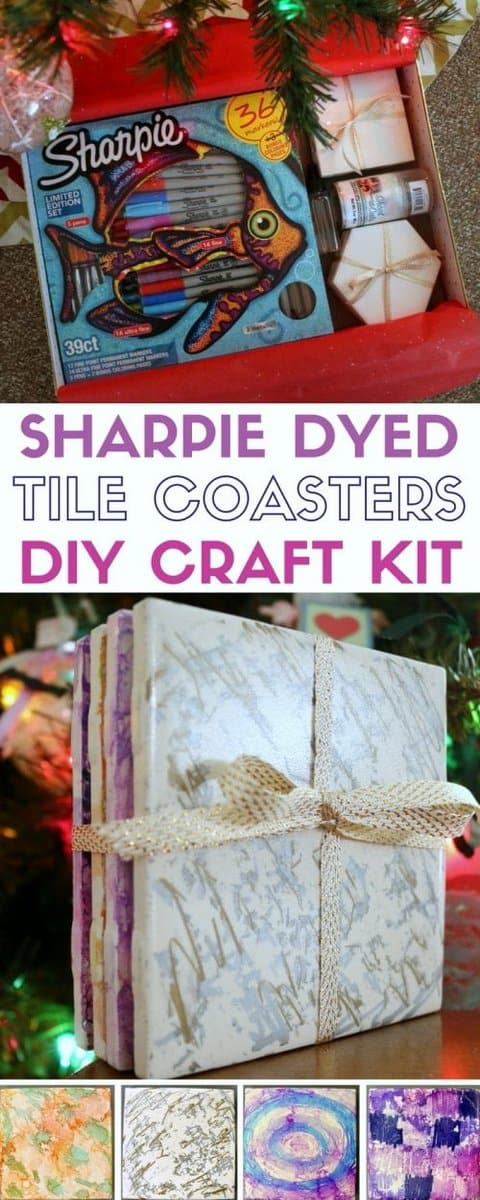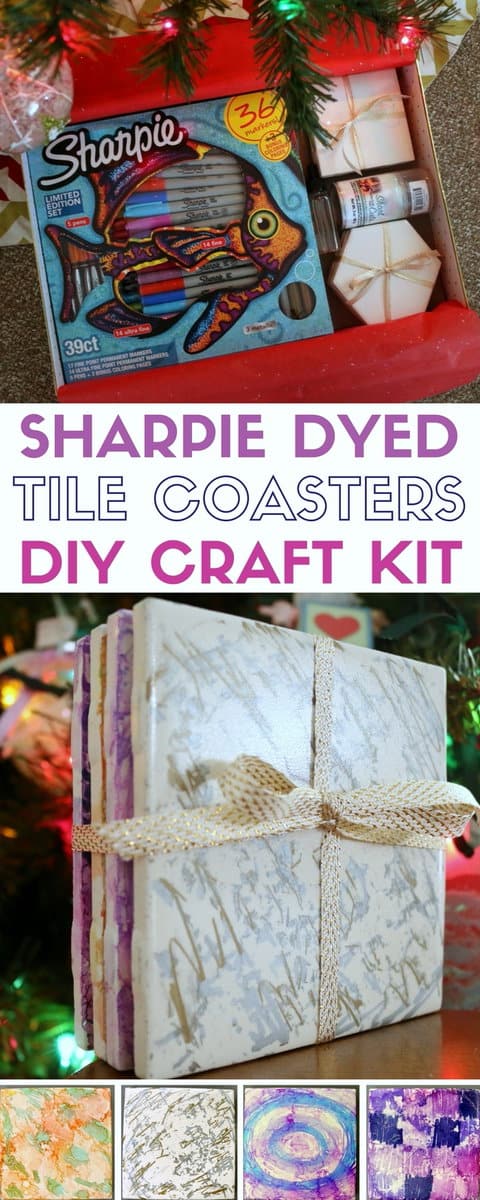 Crafting and gifting are the perfect combinations! You can make a craft to give as a handmade gift, or gift a craft kit so they can enjoy the crafting process themselves! This project works both ways.
It all starts with these Sharpie Gift Packs available at Target! Hover over the image below and you can shop right from here!
There are so many amazing gift packs to choose from. I picked up my Sharpie Permanent Markers Limited Edition Gift Pack at my local Target in the party and stationery section.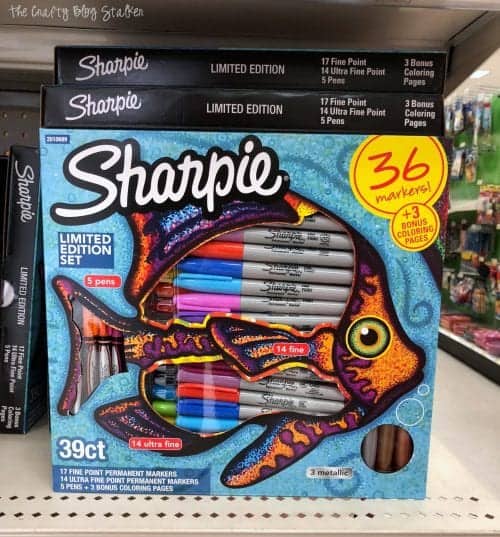 From fine point to ultra-fine, pens and even metallics, I am in Sharpie heaven!
Other available sets to choose from are the Mr.Sketch Scented Combo Gift Pack, the Prismacolor Colored pencils Gift Pack, and the Sharpie Permanent Markers and Paper Mate Flair Gift Sets. With the wide variety of colors in each gift set, any of them would make great gifts for kids, tweens, and adults!
Would you like to see what I made with my totally awesome Sharpie Gift Set? Sharpie Tile Coasters! I'm going to show two ways to give this gift. As a DIY Craft Kit and as Handmade Gifts!
How to Make Sharpie Dyed Tile Coasters DIY Craft Kit Gift
Supplies Used: Some links may be too similar items when exact items couldn't be found online.
Sharpie Permanent Markers Limited Edition Gift Pack
4, 4 x 4-inch Square White Ceramic Tiles
4, 4 x 4-inch Hexagon White Ceramic Tiles
2 Felt Sheets
3 oz Clear Gloss Spray Paint
Dropper Bottle
Rubbing Alcohol
11 x 16-inch Gift Box
Ribbon
Tissue Paper (optional)
Begin by filling the dropper bottle with the Rubbing Alcohol. Make sure the lid is screwed on tight so the bottle won't leak in the craft kit.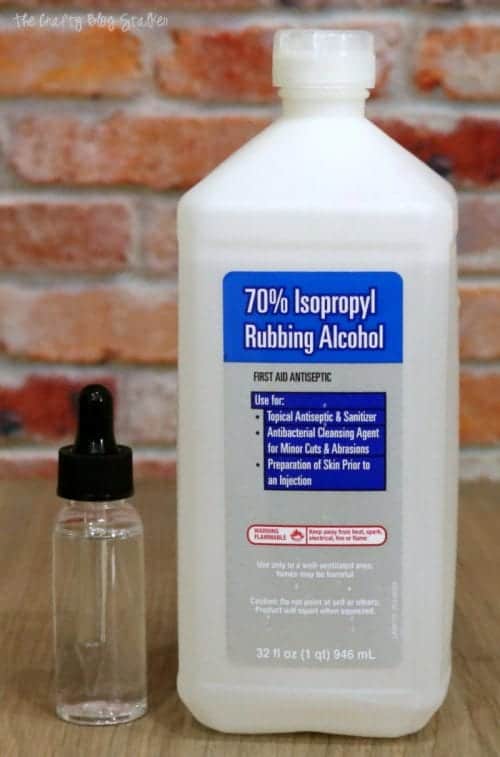 Tie the stacks of ceramic tiles together with a bit of ribbon. If you will be shipping this gift or if there is a good chance of violent shaking before the gift is opened, you may want to wrap the tiles in bubble wrap to keep them safe.
Lay a couple large pieces of tissue paper into the box and arrange the kit contents so it looks nice and presentable.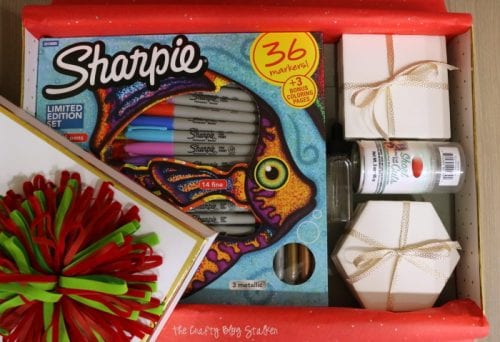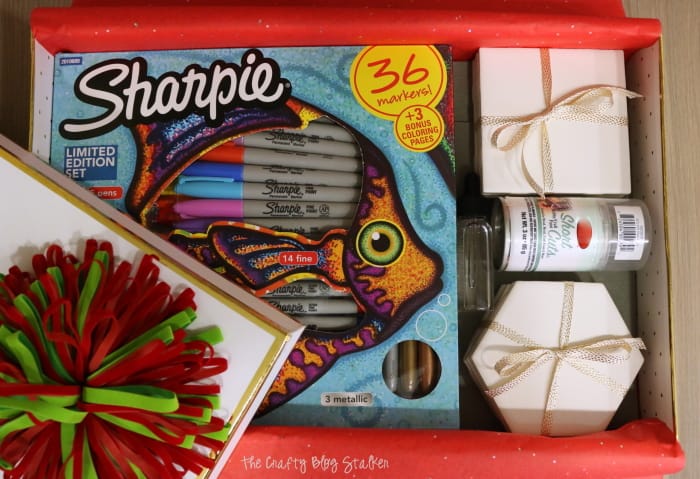 I started with the felt sheets on the bottom pushed to the edge of the right of the box. The Sharpie Permanent Markers Limited Edition Gift Pack next, pushed to the left of the box. With the space to the right, I placed the tiles, the clear gloss spray and the dropper bottle of rubbing alcohol.
Now your Sharpie Dyed Tile Coasters DIY Craft Kit Gift is ready to give!
How to Make Sharpie Dyed Tile Coasters
Now we will learn how to make the Sharpie Dyed Tile Coasters. You can make them for yourself or give them as a beautiful handmade gift.
Supplies Used:/p>
Sharpie Permanent Markers Limited Edition Gift Pack
4, 4 x 4-inch Square or Hexagon White Ceramic Tiles
1 Felt Sheet
Clear Gloss Spray Paint
Dropper Bottle or Pipette
Rubbing Alcohol
Hot Glue Gun and Sticks
Begin by coloring your tile with the Sharpie Markers. You can do random or create a design. We are going to mush the colors together for a tie-dye look, so no need to be too critical of your art skills here.
For the first tile, I used yellow, orange, and electric green. Simply coloring random spots all over the tile.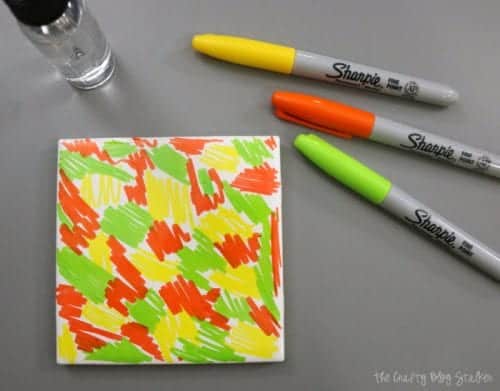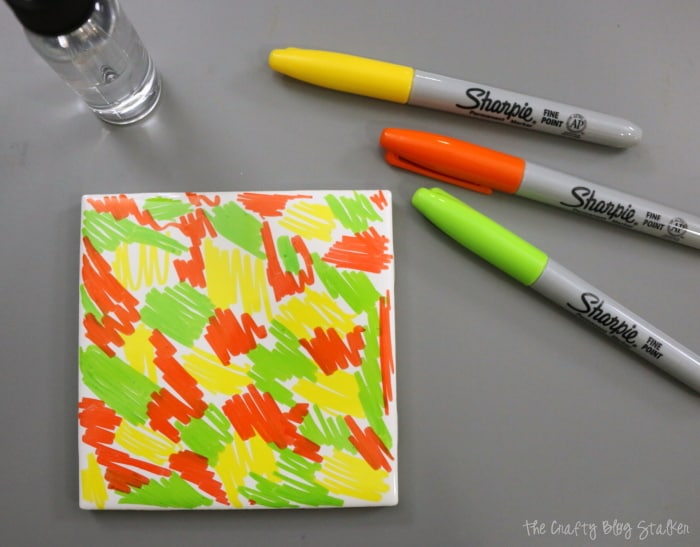 Place the tile on top of a piece of cardboard to protect your countertop from any splatters or spills, and drop the rubbing alcohol onto the tile with the dropper. How you drop the rubbing alcohol can affect the look so play around with it to see how you like it. You can drop it all from one edge, drop from higher up so you get splatters, or just move it around. It really does look cool no matter how you choose to do it.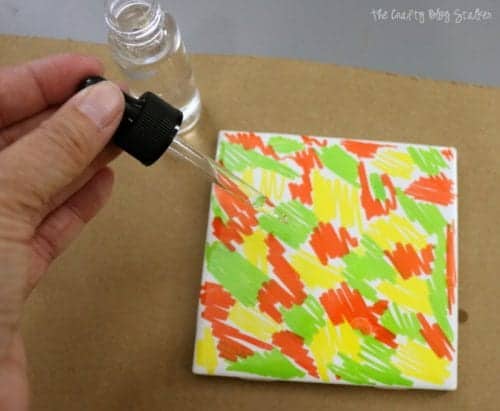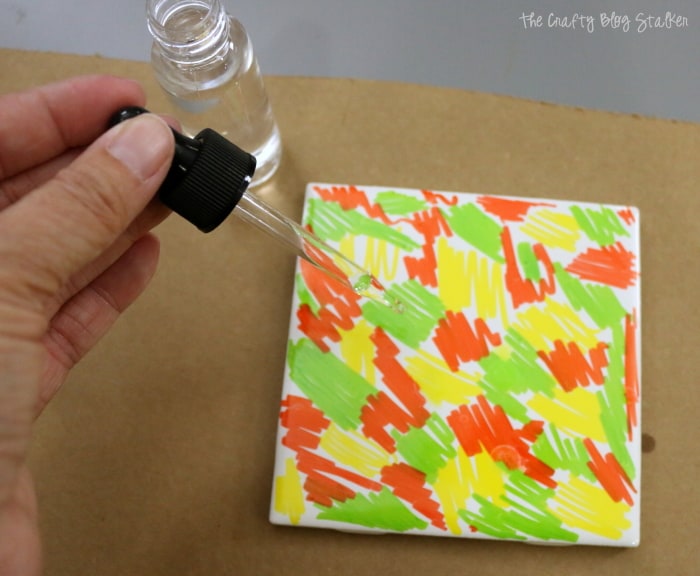 Let the tile dry then apply a couple coats of clear gloss spray paint. This will seal the dye onto your tile coaster.
Doesn't it look awesome?!
I did 4 tiles, each a different way to give you a couple of ideas on how to create your tile coasters. But feel free to do it your own way!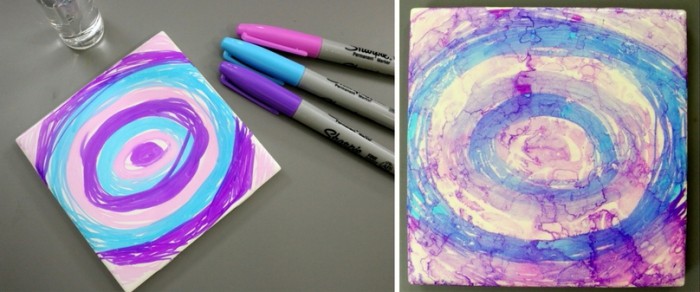 Each tile looks completely unique!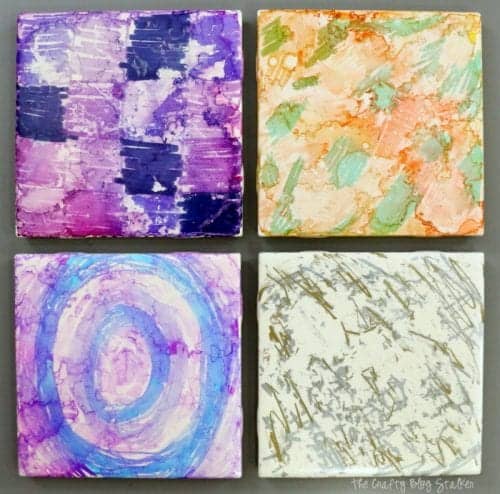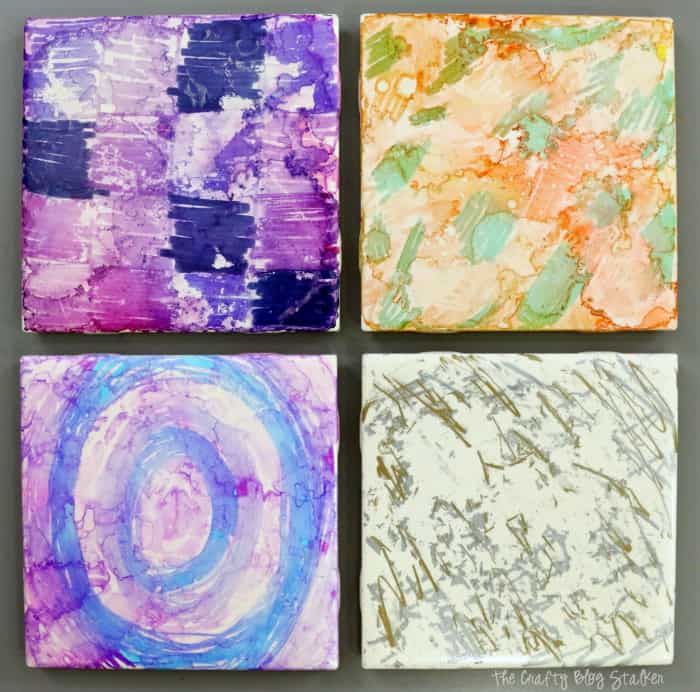 From the felt, cut 4 squares that measure 4 x 4 inches. This will be the backing to the tile coaster so it doesn't scratch the tables the coasters are used on.
Glue the felt onto the back of the tile using a hot glue gun and glue sticks.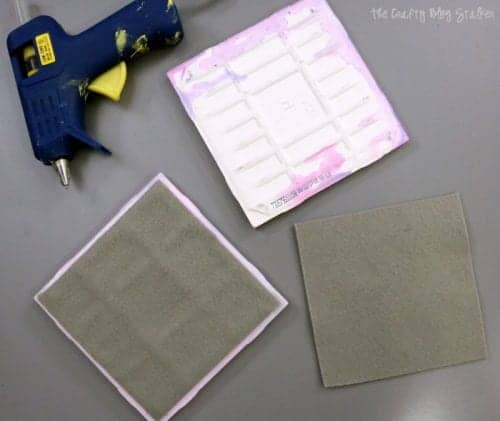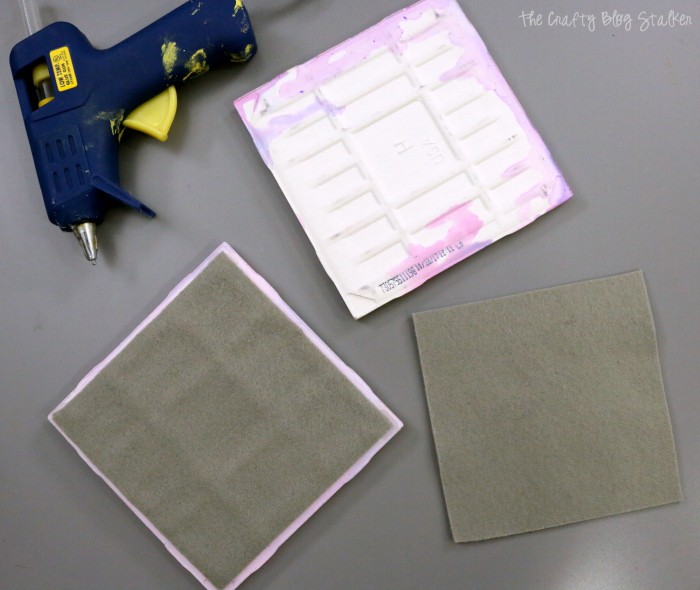 Tie a ribbon around the finished Sharpie Dyed Tile Coasters and give them as a handmade gift!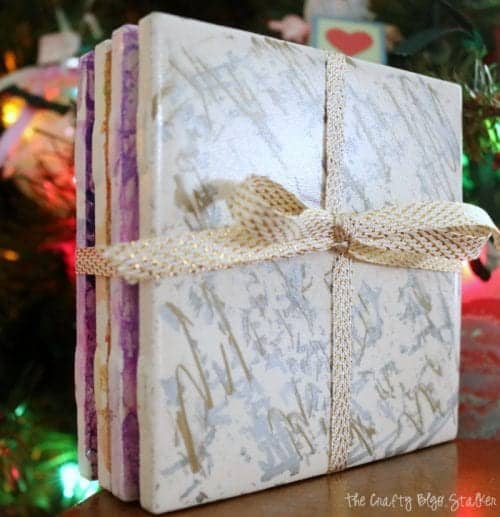 Your friend will drink their coffee or hot cocoa next to the tree on Christmas morning and think of you, as they place their warm cup down on beautiful tile coaster.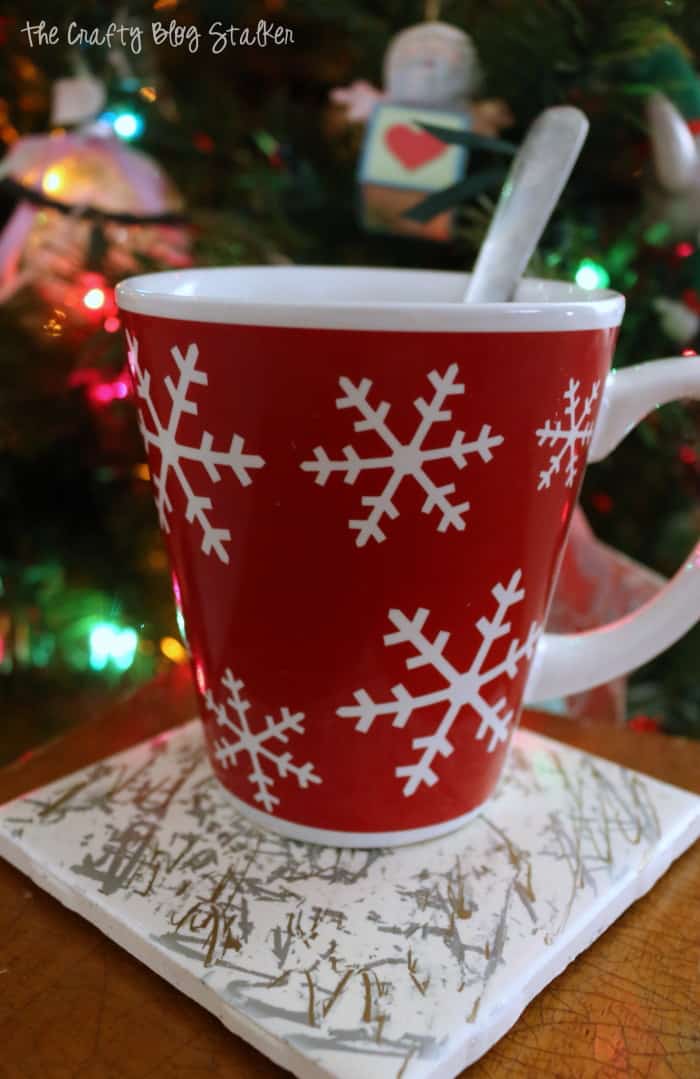 What have you made with Sharpies Markers that would make a great gift?
Our Crafting Essentials List:
Title:
How to Make Sharpie Dyed Tile Coasters DIY Craft Kit Gift
Mentions:
30 Minutes or Less, Christmas, Sponsored
Keywords:
sharpie dyed tile coasters
Last Updated:
November 1, 2023