Menstruation can catch young teens off-guard, leaving them unprepared. The following tips offer advice on what to include in a period kit for girls. If you make a purchase using the links included, we may earn a commission.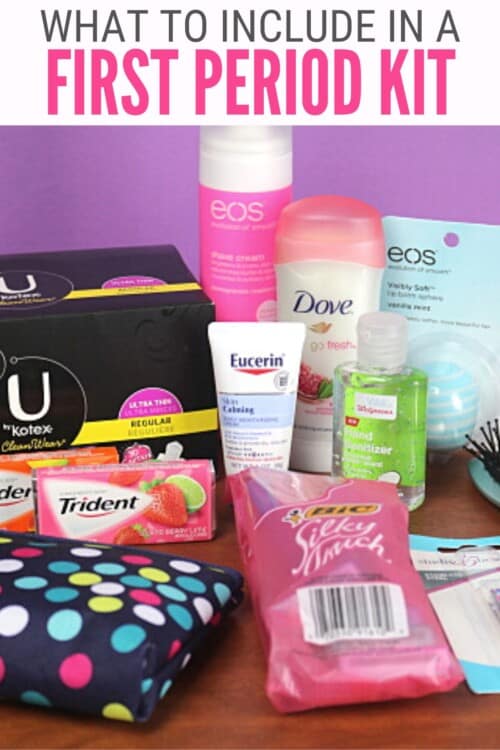 It is back to school and this year my 12-year old daughter has mixed emotions about starting 7th grade and Middle School.
She is really excited about being able to choose her classes and especially about learning the cello in band class. Still, she is also a little nervous about remembering her locker combination and being able to find all of her classes.
I am so excited for her to take this next step. Ahead of her is lots of laughter and fun with new friends, and also tears as things won't always go her way.
No matter what lies ahead for her I want her to feel confident and prepared as she takes on this new school and everything that goes with it.
FAQs:
What is a period Kit?
A period kit is a small cloth pouch that you can send your young teen with, so when she gets her first menstrual cycle she will be prepared, and have the supplies that she will need.
What should I include in a diy period kit?
A period kit should be simple, light, and easy to carry around while still being discreet. Small cloth makeup bags are perfect because they can easily be kept in a backpack or locker.
As to what type of feminine products you use, talk to your teen. Explain how the different products work and maybe what their friends use, or what you use. Put them in control and let them choose what products to use.
I feel pads or sanitary napkins are easiest to start with, but one of my daughters does not like pads and wanted to start right away with tampons, and that worked for her.
What is a Confidence Pack?
A confidence pack goes a step beyond a period kit. The confidence pack is larger and contains items that help the girl move through puberty, while still feeling confident about all of the changes that her body is making.
When is the best time to send your child with a period kit?
If possible, look at your family history with periods. How old were the woman in your family when they got their periods? Often, it is around the same age.
The year that my girls turned 12 was when they received their period kit to keep with them, and that timing worked great for them.
Supplies for a Period Kit:
Additional Supplies for a Confidence Pack:
I think the most important step to all of this is to include them when it comes to shopping. Let them pick out the zipper pouch and so on. I know my daughter had a blast shopping for all of her "grown-up" supplies.
This polka dot pouch my daughter chose is about a medium size because she wanted it to be big enough to keep hand sanitizer, lotion, and a few other things in there too. Plus it is blue so it completely fits her personality!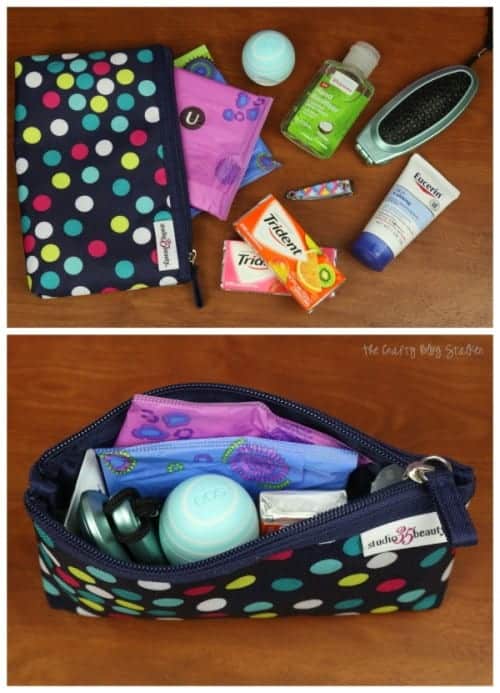 She doesn't need everything we bought at school, some of it is better to stay at home and keep close in the bathroom. That is where she can keep the box of pads, shaving cream, razors, and deoderant.
As we were creating her Confidence Pack we were able to have a great mother-daughter conversation and talk about things like her friends, boys, and what will happen when she starts her period.
She doesn't love talking about her period, but my sweet daughter is getting older and I want her to be prepared for whatever life throws at her, including her period.
Do you think we missed anything? What different items would you put in a Confidence Pack? OR how did you teach your daughters about surviving their cycle? I'd love to hear your best tips!
Our Crafting Essentials List:
Title:
What to Include in a Period Kit for Girls
Mentions:
30 Minutes or Less
Keywords:
period kit for girls
Last Updated:
August 14, 2023