Are you on the hunt for a gift for someone who loves to craft and loves to use the Cricut? Here you'll find my favorite gifts for the Cricut crafter. If you make a purchase using the affiliate links included, we may earn a commission.
It is so important to give the perfect gift, whether it is for Christmas, a Birthday, or any time of year, shopping for gifts is hard!
If your friend or loved one is super creative and is a Cricut lover, then I can help you with a great gift idea, because I am a huge Cricut fan myself!
These Cricut accessories are perfect for the creative person and the possibilities are endless as to what they can create with them.
In this Cricut gift guide, I will share 20 of my favorite Cricut tools. That means I've done the research for you!
Most of these supplies can be purchased at your local craft stores, but I've included links because isn't it just easier to buy online?
Gifts for Cricut Users:
Cricut is always running amazing sales, so I have linked to each item so you always have the most updated price.
1. Cricut Cutting Machine
Even if they already have a machine, TRUST ME, they would love another! I have 3 and use them all!
There are 3 main Cricut cutting machines but several different models. Let's do a quick breakdown of the differences.
Cricut Maker 3:
This machine is the GOAT of all Cricut machines. It seriously does everything.
Cuts SMART materials without a mat
Cuts 300+ Materials
13 Adaptable Tools
Bluetooth capabilities
Cricut Maker:
This is the original Maker model, still amazing but doesn't have all of the upgrades of the Maker 3.
Cuts 300+ materials
13 adaptable tools
Bluetooth capabilities
Cricut Explore 3:
The Explore 3 is the latest Cricut machine.
Cuts SMART materials without a mat
Cuts 100+ materials
6 adaptable tools
Bluetooth capabilities
Cricut Explore Air 2:
This was the first machine with Bluetooth capabilities.
Cuts 100+ materials
6 adaptable tools
Bluetooth capabilities
Cricut Joy:
This machine may be small but it is mighty!
Perfect for on-the-go crafting
Cuts SMART materials without a mat
Cuts 50+ materials
Bluetooth capabilities
2. Cricut Access
Cricut Access is a wonderful companion to Cricut Design Space! Cricut Access provides instant unlimited access to over 100,000 images, 4,000 projects, and 400 fonts!
Plus they will receive 10% off any Cricut.com or Design Space purchases!
This is a subscription-based service. You can pay month by month, or for a discounted rate, pay for the whole year upfront!
3. Cricut Mats
I know mats aren't the most fun purchase, but they are always needed and are a necessity to a Cricut crafter.
The Joy mats are a different size from the mats for the Maker and Explore models so make sure you are purchasing the correct size for the machine.
The best mat to buy as a gift is the StandardGrip Mat. It is the most used with all materials.
4. Adhesive Vinyl
Vinyl is a very popular material to cut on the Cricut cutting machines. Vinyl can be used on paper, walls, wood signs, glass, mirrors, car windows and so much more! Plus there are so many different styles and colors of vinyl to choose from!
My latest favorite is the holographic vinyl.
If not sure what color to go with? You can never go wrong with black or white.
5. Iron-On Vinyl
Iron-on is also known as heat transfer vinyl or HTV. This is also a very popular material to cut.
Iron-on is great for clothing like shirts and hoodies, and can also be applied to hats, ceramic mugs, and wood!
All of the colors available are so fun, and I absolutely love the glitter colors. But if you're not sure, white and black are great stock-up colors.
6. Pens and Markers
Cricut Pens are the best! I would think of them more as markers but whatever you call them they are great.
The Joy pens are a different size from the Maker and Explore, so make sure you are getting the right size!
The pens fit perfectly into the housing of the machine so it can draw for you, instead of cutting.
These colors are beautiful and draw perfectly on cardstock. They come in different tip sizes and pen groupings. My favorite is the Ultimate Fine Point Pen Set which includes 30 pens!
7. Weeding Tools
While these little tools look like a Dentist's pick, they are actually for weeding vinyl and iron-on materials! Those little hooks help grab the material and pull it away easily.
Duplicates of this set are definitely needed. I am always misplacing my favorite weeder tool, and the tweezers are amazing as well!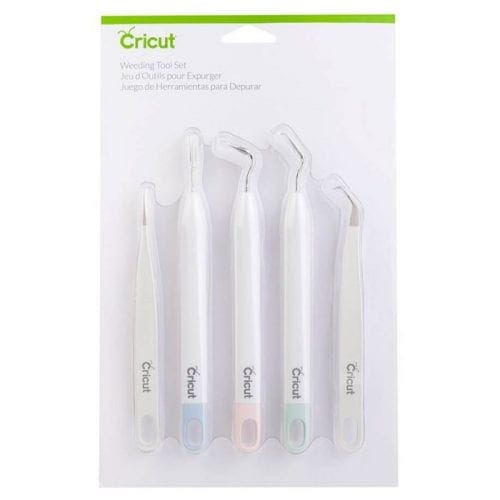 8. Cricut BrightPad
The Cricut bright pad is similar in width to a tablet but with a larger working space.
It is basically a flat light and is super helpful in weeding materials.
When iron-on or vinyl materials are laid on top of a lit BrightPad you can see the cut lines much more easily.
Also great for paper crafts.
The BrightPad can also be used for art tracing, and I've also used it underneath my diamond paintings too! It is very handy.
9. Cricut Foil Transfer Kit
This kit includes 3 different tips for adding foil to paper projects. And who doesn't love foil?
This is another tool that comes in a different size for the Joy, and the Maker and Explore are the same.
Use with Foil Transfer Sheets to get that beautiful shiny foil look.
10. Cricut EasyPress
This heat press is amazing and is my favorite heat press by far!
The EasyPress is used to apply iron-on material, to flat surfaces like T-shirts, coasters, a tote bag, or wood signs for home decor.
There are 2 different sizes depending on how much you want to spend or what types of projects it will get used on. There is a 9x9 and 12x10.
My favorite size is the middle 12x10 size.
11. EasyPress Mats
These mats serve so many purposes!
They protect the work surface so you don't have to worry about burning your table or counter.
Plus, they reflect heat back into the project making the EasyPress even more efficient.
Available in 3 different sizes, but my favorite is 20x16-inch. It is large enough for any project!
12. Cricut EasyPress Mini
The EasyPress Mini is a much smaller version of EasyPress.
Since it is so much smaller, the EasyPress Mini is great for sewing, ironing seams, and flattening out a ribbon.
It is also great for small iron-on projects on hats or shoes where you need a smaller heating surface.
13. Cricut Infusible Ink Markers
Sublimation has become a hot and trendy craft, and Cricut is right there to make it easy and accessible to everyone!
These pens can be used in the housing of a Cricut machine to draw and write, and then transfer to sublimation blanks!
14. Cricut Mug Blanks
Making personalized and unique mugs is so much fun!
All of Cricut's mugs work with vinyl, sublimation, and infusible ink so there is no limit to what they can create!
15. Cricut Mug Press
I absolutely love my mug press! Plus, it is a perfect size. Many other presses for mugs are huge and hard to store.
This mug press works with 11-16 ounce mugs and is intended for use with Infusible Ink or Sublimation designs.
There are even some tumblers that can be used, they just have to flip and press twice to cover the entire tumbler.
16. Craft Knife
The TrueControl Knife is razor-sharp and comes with 5 replacement blades.
Works great on paper, foam, leather, and so much more!
17. Cricut Brayer
The brayer is a great tool to make sure your material is firmly "stuck" to the cutting mat before drawing and cutting.
I keep mine accessible in my craft room at all times.
18. Glue Gun
A glue gun is just a glue gun, right? Wrong!
This glue gun is so comfortable to hold. Plus, somehow within Cricut genius, they have figured out how to reduce drips and glue strings!
They really are the smartest!
19. Sewing Tool Kit
This little kit is perfect for the seamstress even if they don't use a Cricut.
It includes 6 tools like a seam ripper, measuring tape, and the best fabric scissors!
20. Ultimate LED Lamp
These LED lamps are the newest additions to the Cricut Family, and I have to tell you, THEY ARE AMAZING!
There are two different versions, a floor lamp, and a desk lamp so they fit in any space.
They pivot, rotate, and have sliders to control the brightness level. No matter the project they will have perfect lighting!
Did you find your perfect gift idea? I'd love to know what you settled on!
Our Crafting Essentials List:
Title:
20 of the Best Gifts for Cricut Users that they'll Love
Keywords:
gifts for Cricut users
Last Updated:
November 16, 2023