Bathroom signs can do a lot more than just tell us the rules. They can also be the source of uncountable laughs. Find the funniest bathroom signs here! This post contains affiliate links.
The bathroom can be an awkward place, especially if visiting a new friend's home for the first time. A funny sign, perfectly placed can really help ease the tension if you get my drift! LOL
Most of the Bathroom Signs in this post are available to purchase, so you can put that vinyl and wood away and simply add it to the cart.
Now for those that just audibly gasped, don't worry. At the very end of this list, I do have a Bathroom Sign Tutorial. I couldn't leave you without any craft!
So hold on to your seat, and get ready to laugh, or at least, allow that smirk to creep across your face. Shit is about to go down!
1. Scale of 1 to 10 Urinate
Handmade with love from our Arkansas home, each item is unique and sizes may vary. Our individual stain colors are mixed by hand, resulting in one-of-a-kind pieces that showcase the character of each wood piece.
3. You Never Know What You Have
Add a touch of humor to your bathroom with the Farmhouse Wood Sign featuring a toilet paper image and the phrase, "You never know what you have until it's gone." A perfect addition to your decor!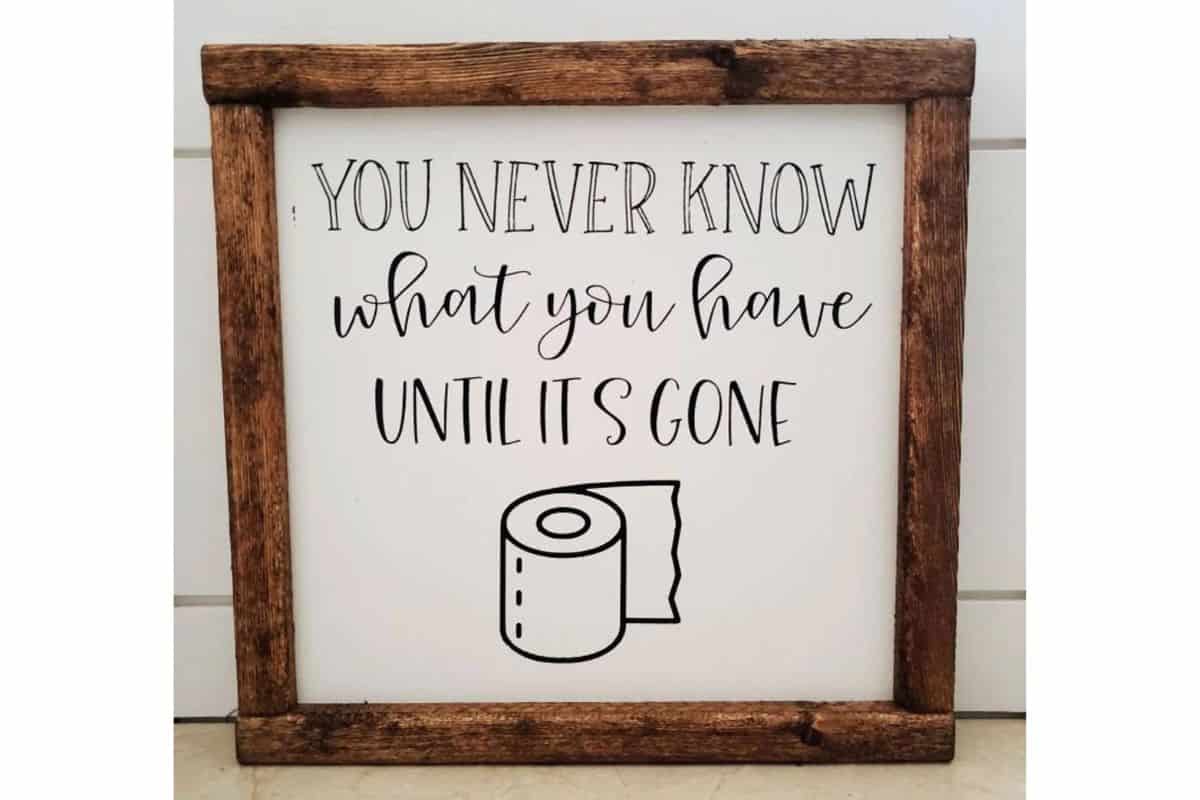 4. Forgot Your Phone Bathroom Sign
Enhance your modern farmhouse decor with this charming framed sign!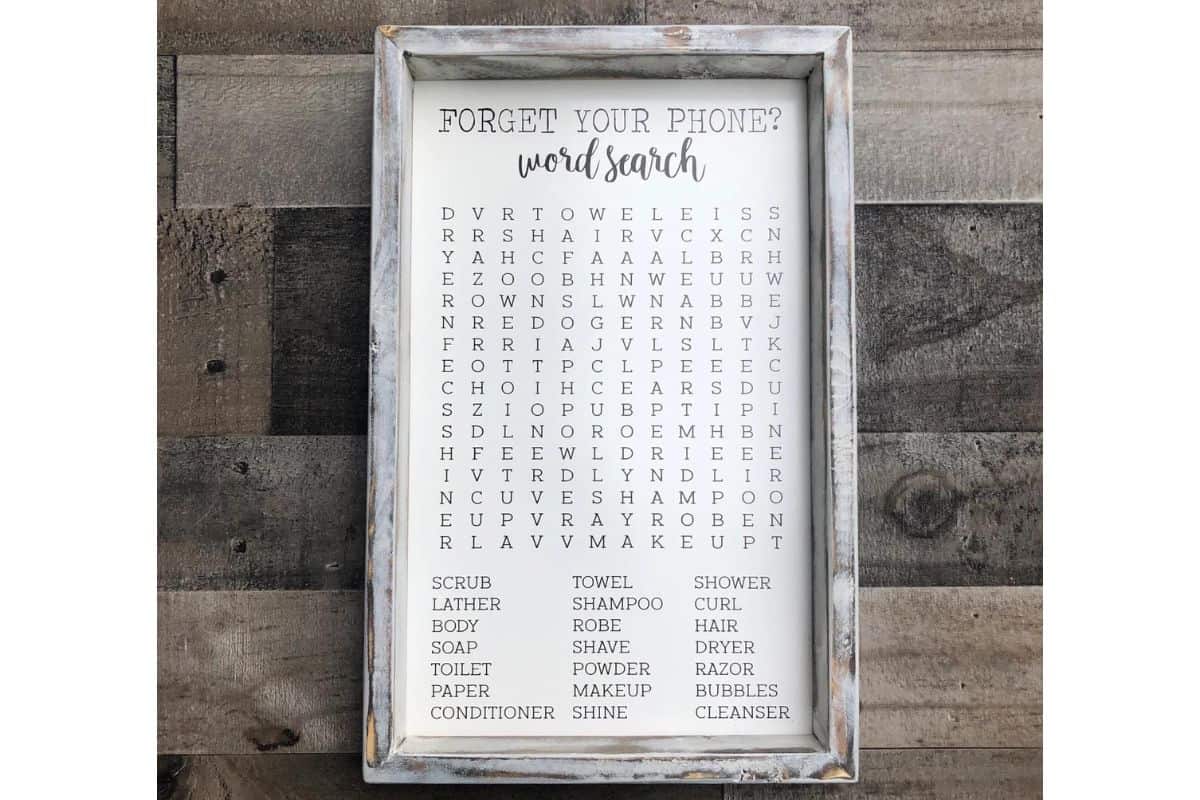 5. Unloading Zone Only
Don't let your guests get lost in the loo! This adorable farmhouse sign reminds them of the bathroom time limit. Hand-painted on a slightly distressed white background with bold black words. Hurry up, nature calls!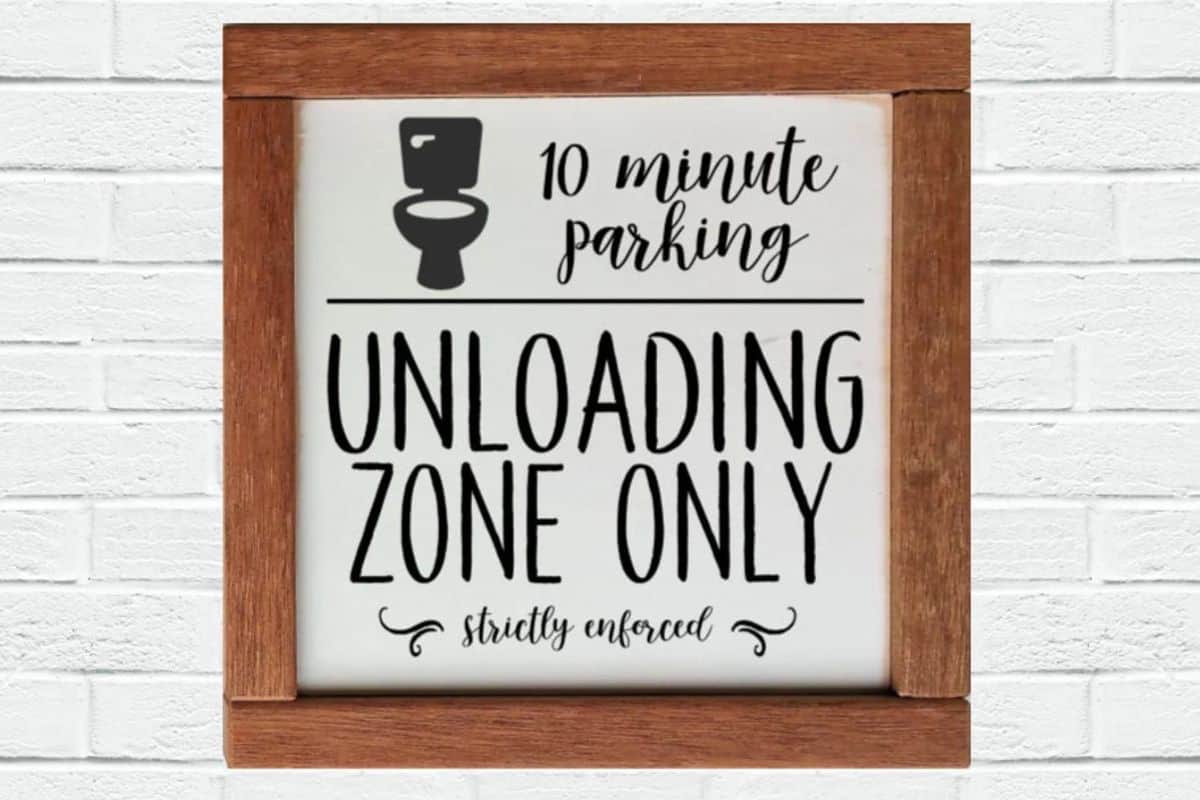 6. Text Me
Uh-oh, TP emergency! Text me for backup with this handmade bathroom sign. Framed in wood and made with love, it's the perfect addition to your porcelain throne. Don't get caught with your pants down, order now!
7. This Room Is Brought to You By
Add some flush to your bathroom decor with this hilarious restroom sign! Perfect for homes, cafes, or anywhere people gotta go. Give it as a housewarming gift and watch your friends crack up. It's the gift that keeps on giving...until the toilet paper runs out.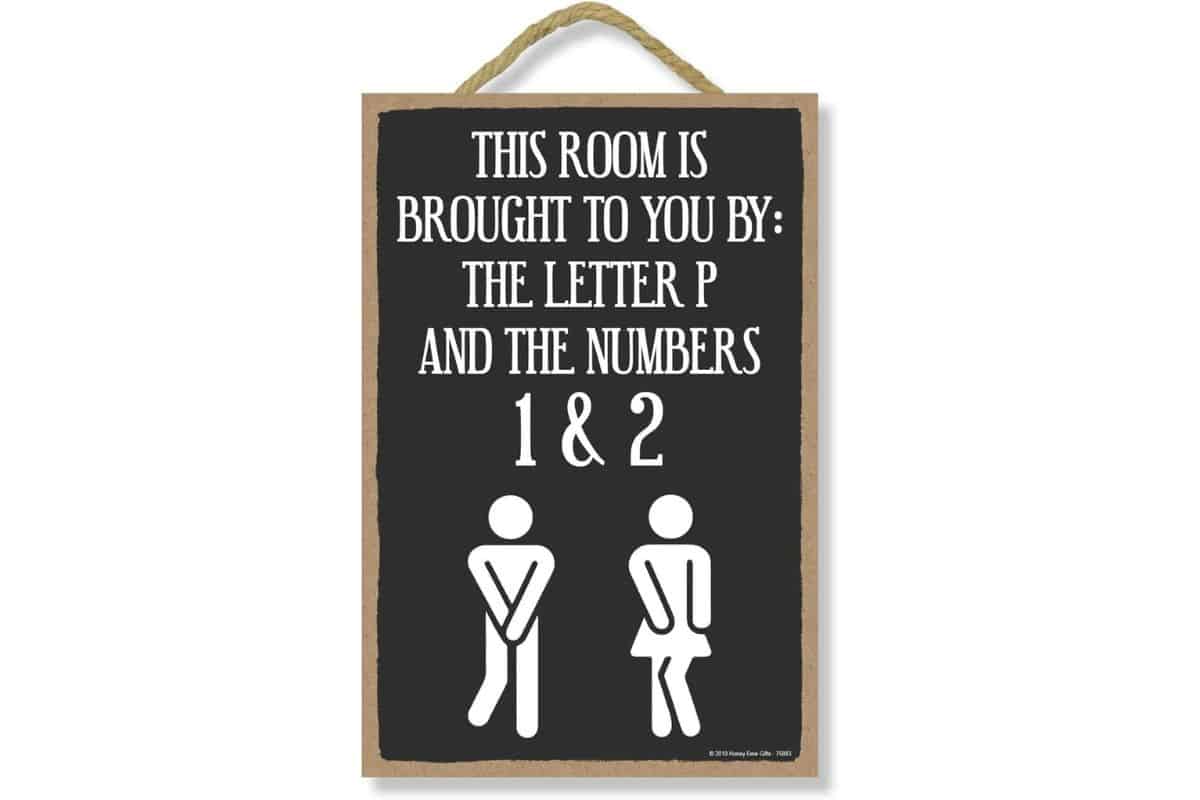 8. I Don't Remember Eating Corn
Painted white with bold black letters and a sleek frame, it's the perfect addition to your bathroom decor. Hang it up and let the laughs roll in! Gloss finish and easy hanging hook included."
9. Bathroom Rules
Your bathroom rules will be crystal clear with this hilarious bathroom sign! Perfect for your throne room or half bath, your guests will laugh and love it. Just don't blame us if they stay in there a little too long!
10. Don't Be A Turd
Flush your bad mood down the drain with this hilarious wood sign! Handcrafted with love and 100% wood, it's perfect for any room in the house - especially the bathroom. Remind your family to be decent human beings with this fun decor.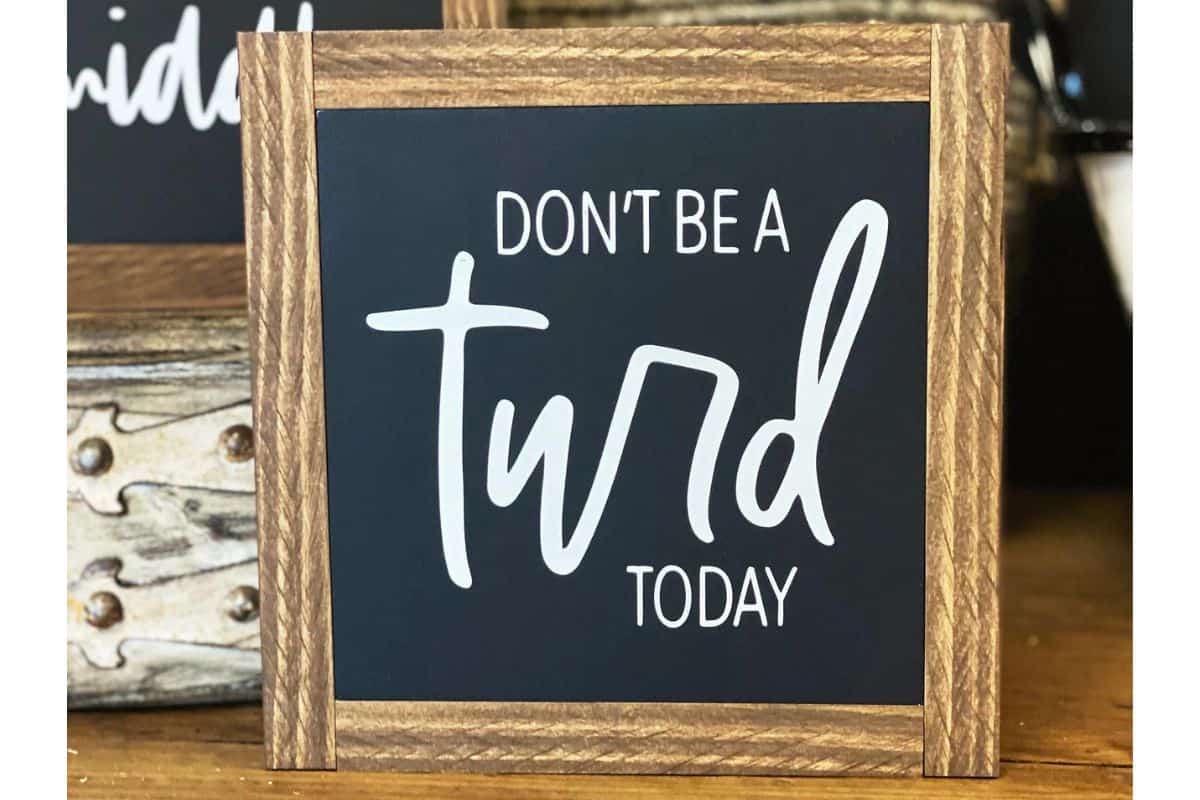 11. Pee on the Seat
Our signs are the best of both worlds! Made from baltic birch wood, they have a rustic plank look but are professionally printed for a modern touch. They're perfect for any decor style - from farmhouse to urban chic.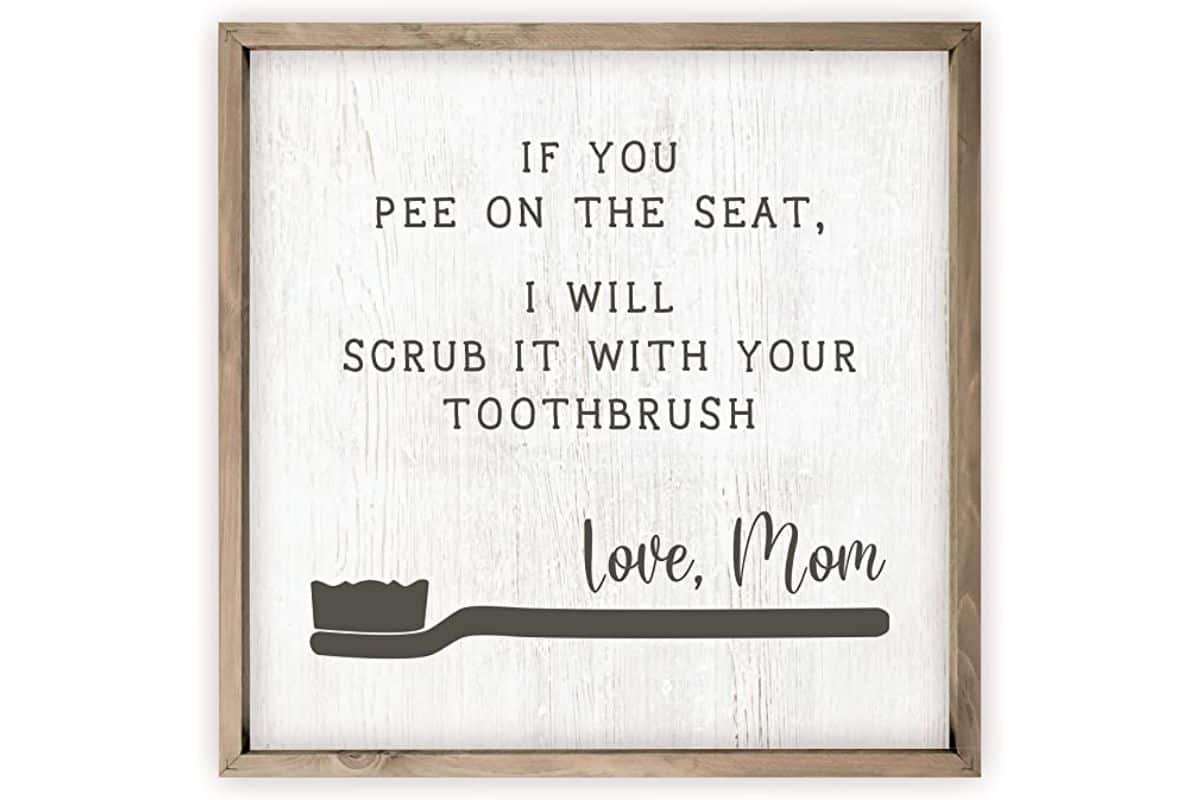 12. Please Remain Seated
Remind your guests to stay seated for the entire performance. Available in 6x6 inches or for those who really like to take their time, 10x10 inches. It's the perfect addition to any throne room decor.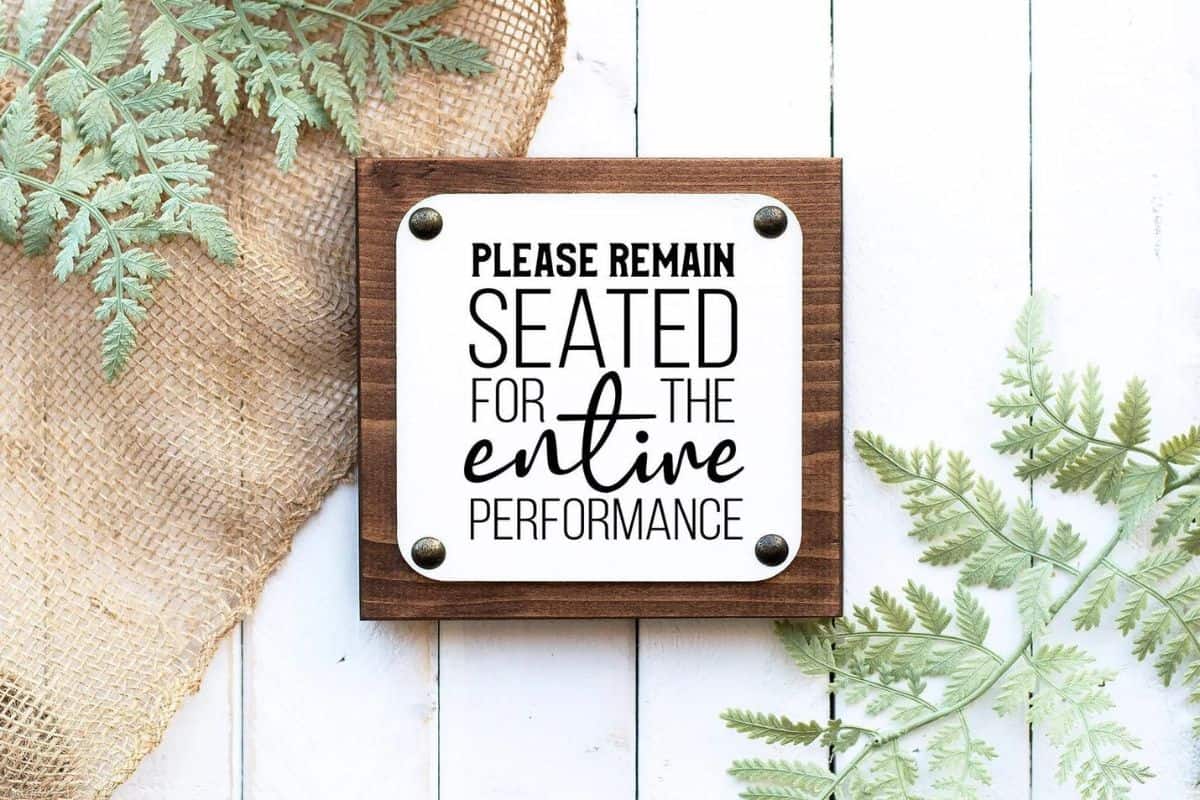 13. Please Seat Yourself
Upgrade your wall decor with our USA-made wall plaques! Featuring high-quality lithograph prints mounted on durable MDF wood, each piece is hand-finished with a fresh layer of foil for a clean look.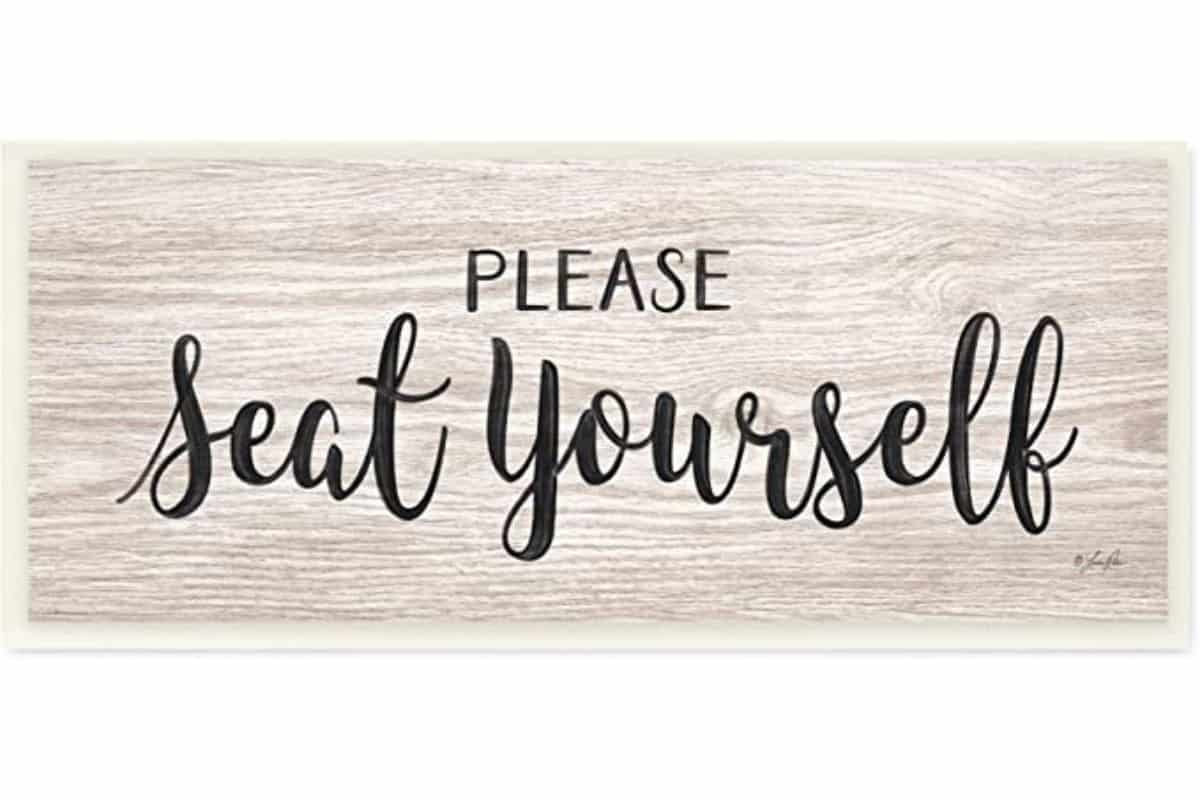 14. Pee Like No One is Listening
Go ahead, tinkle with confidence! Our handmade wooden sign reads 'Pee like no one is listening'. Perfect for adding some humor to your home decor. Each sign is unique, so the one you see is the one you get.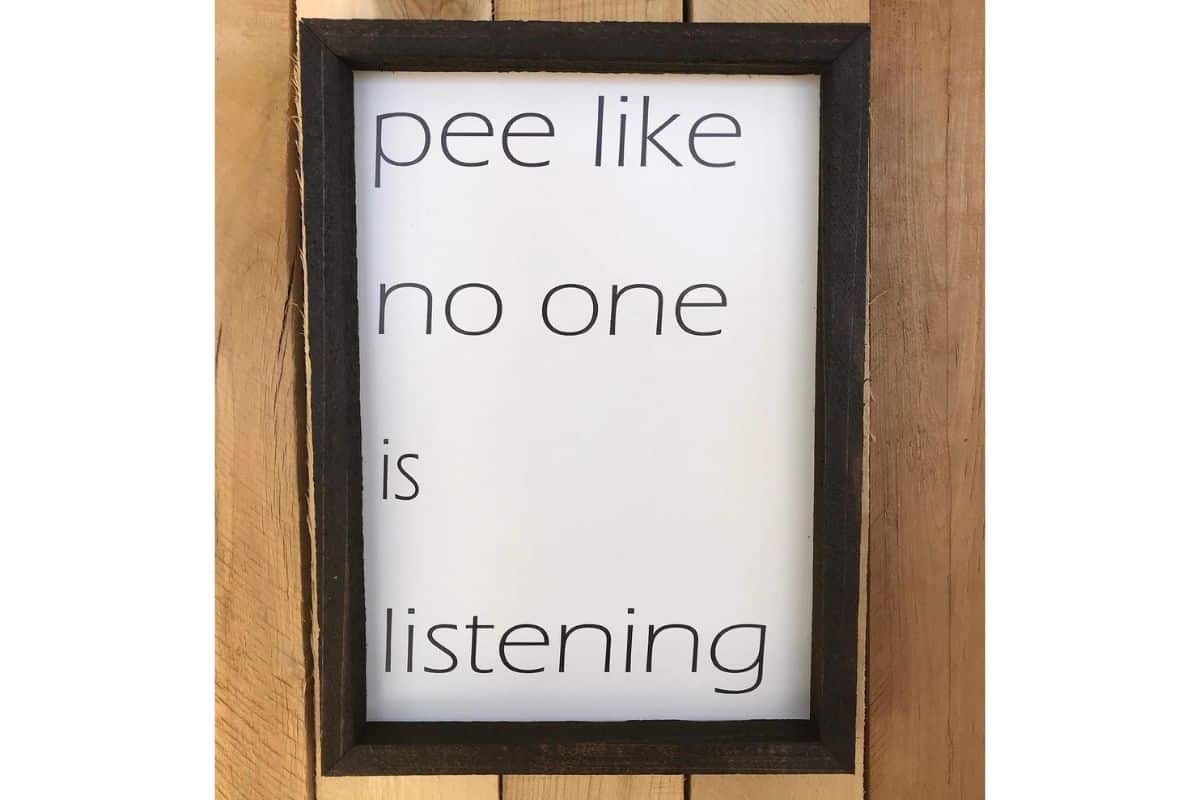 15. Hello Sweet Cheeks
Bring some cheekiness to your bathroom with our hand-painted 'Hello sweet cheeks' wooden sign. Adds a touch of humor to your bathroom decor, and can also work as a cute wall hanging for a baby girl's nursery.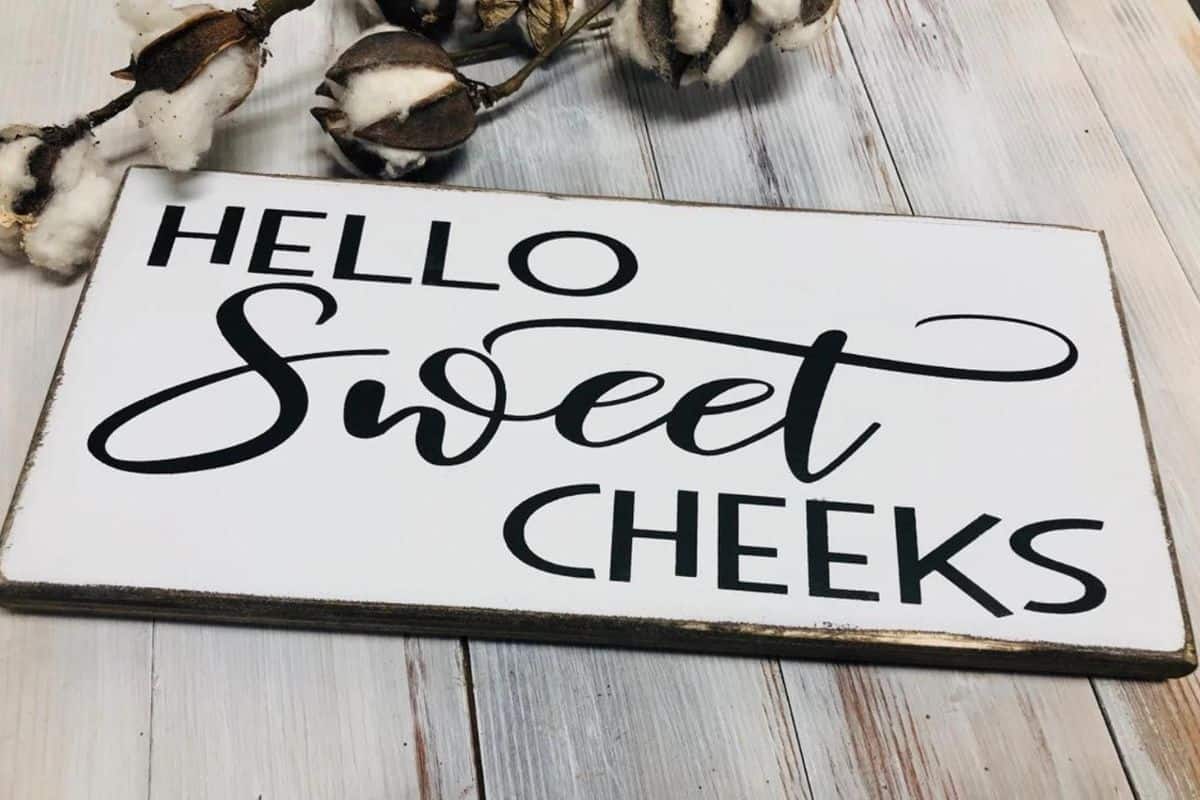 16. Rustic Bathroom Sign
Add some humor to your man cave or guest bathroom with our rustic wood sign. Perfect for those who appreciate a little laughter in their life.
17. I Call My Bathroom Jim
Want to add some humor to your bathroom? This sign is sure to make your guests laugh out loud! Featuring the hilarious phrase: "I call my bathroom the Jim so it sounds better when I say I go to the Jim every morning."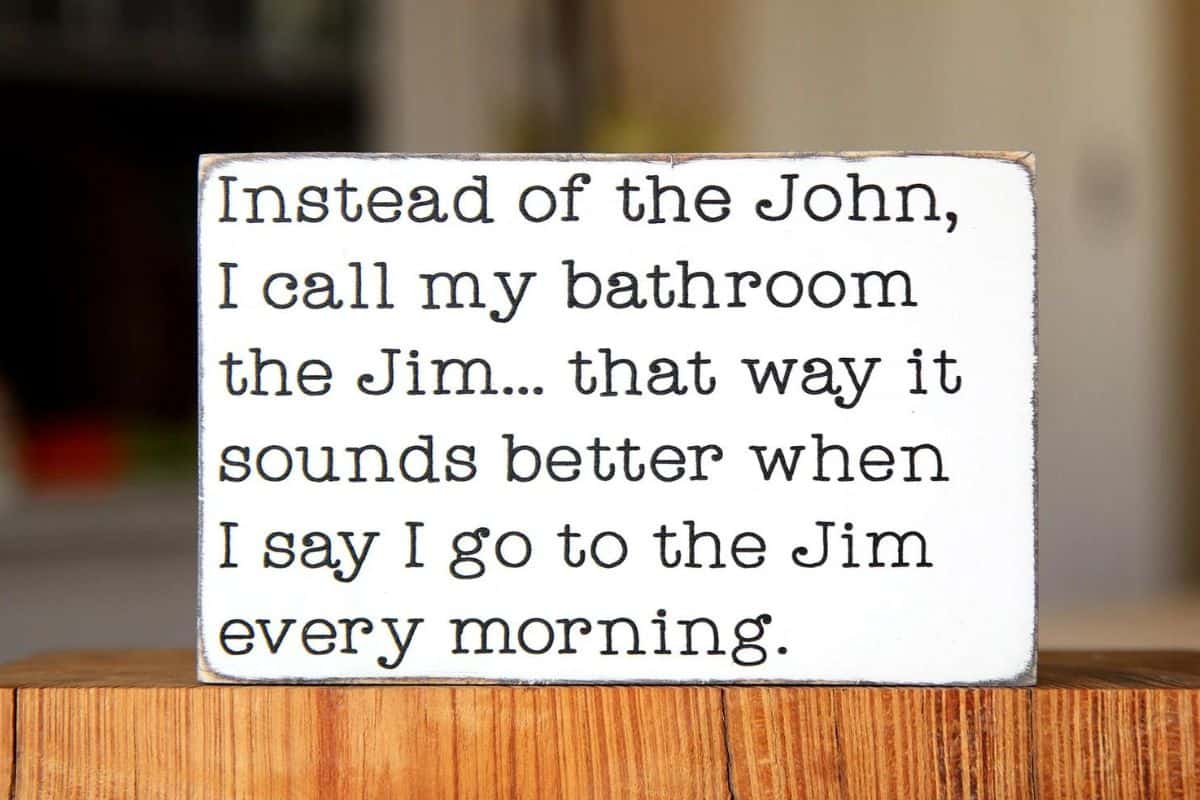 18. Wash Your Hands and Say Your Prayers
Add some farmhouse charm to your half bathroom with this made-in-the-USA sign that's sure to make your guests laugh. Perfect for home or office bathrooms.
19. This is Not Show and Tell
This hilarious wood sign is perfect for any bathroom decor. Small size is great for counters and shelves, while the large size can stand alone or be hung on a wall.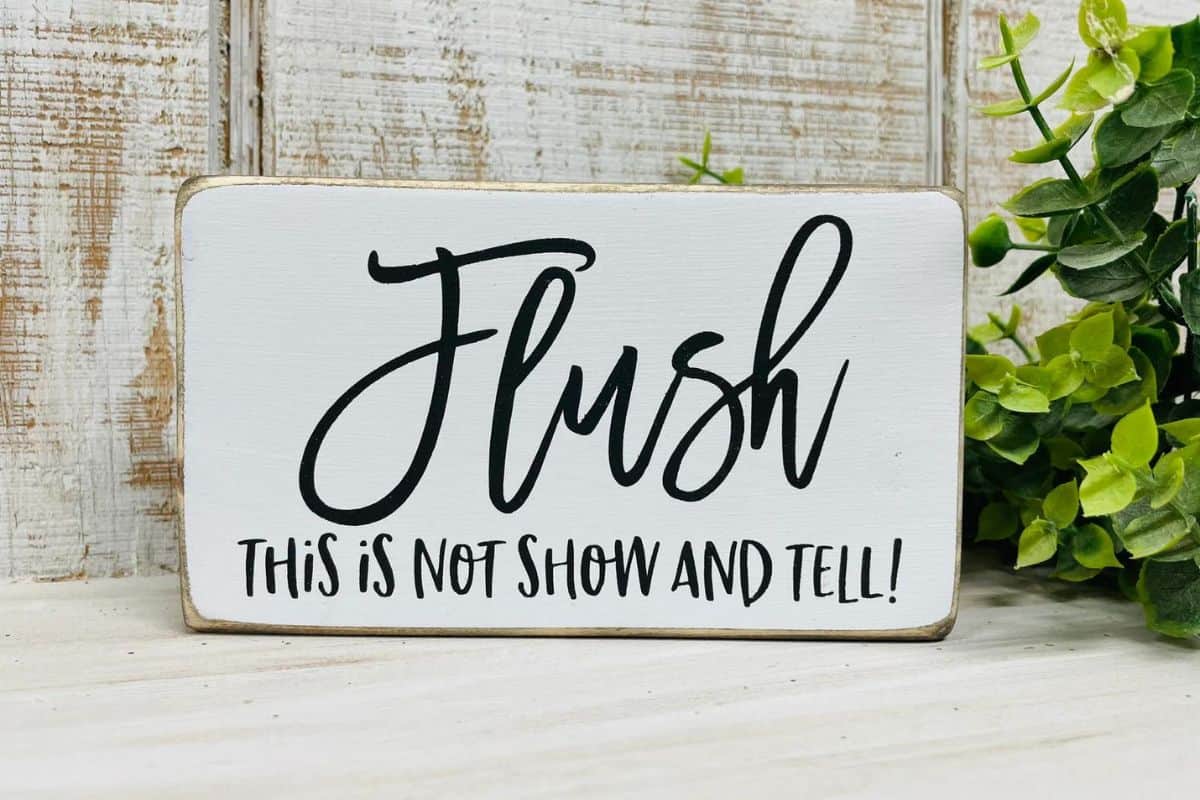 20. Prayer Changes Things
Handmade rustic wood sign, available in 6x6" and 10x10". Adds a touch of humor to any bathroom decor while reminding everyone of the important things in life.
21. OMG Becky
Check out this bootylicious wooden sign, inspired by Sir Mix-a-Lot's classic hit! Measures 6"x6" with slight size variations up to ¼ inch. The frame is stained with special walnut.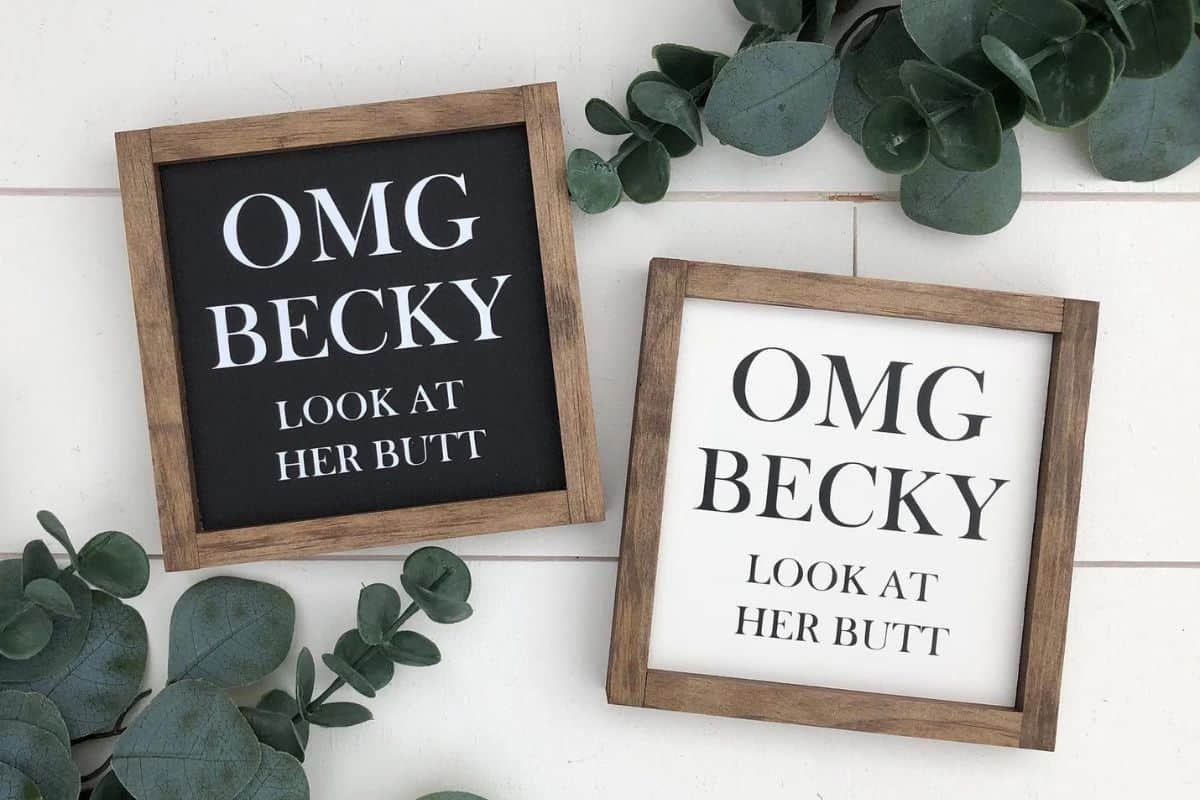 22. Would Poop Here Again
Welcome to our happy place, where we aim for 5 stars in poop performance. Size: 6x7 inches with a charmingly stained wood frame and bold black background with white letters.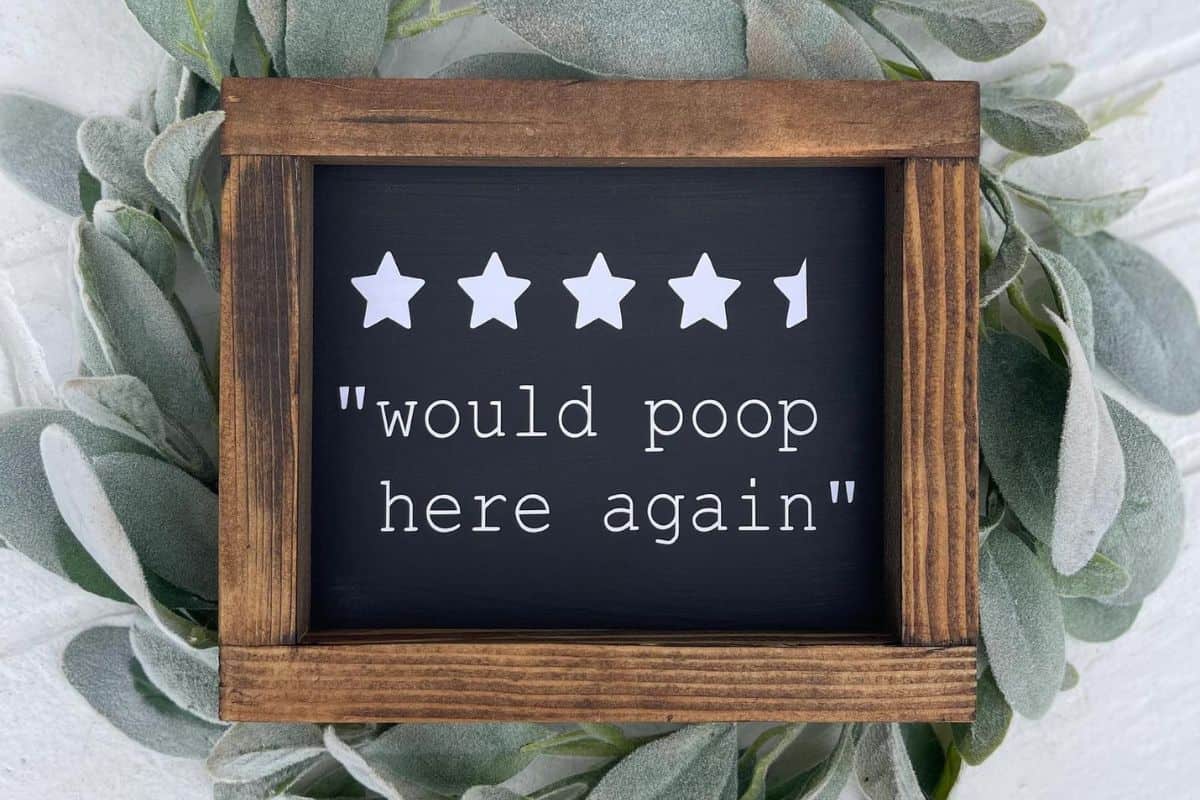 23. The Best Seat in the House
Claim your throne with our Best Seat in the House sign. Perfect for your royal bathroom decor.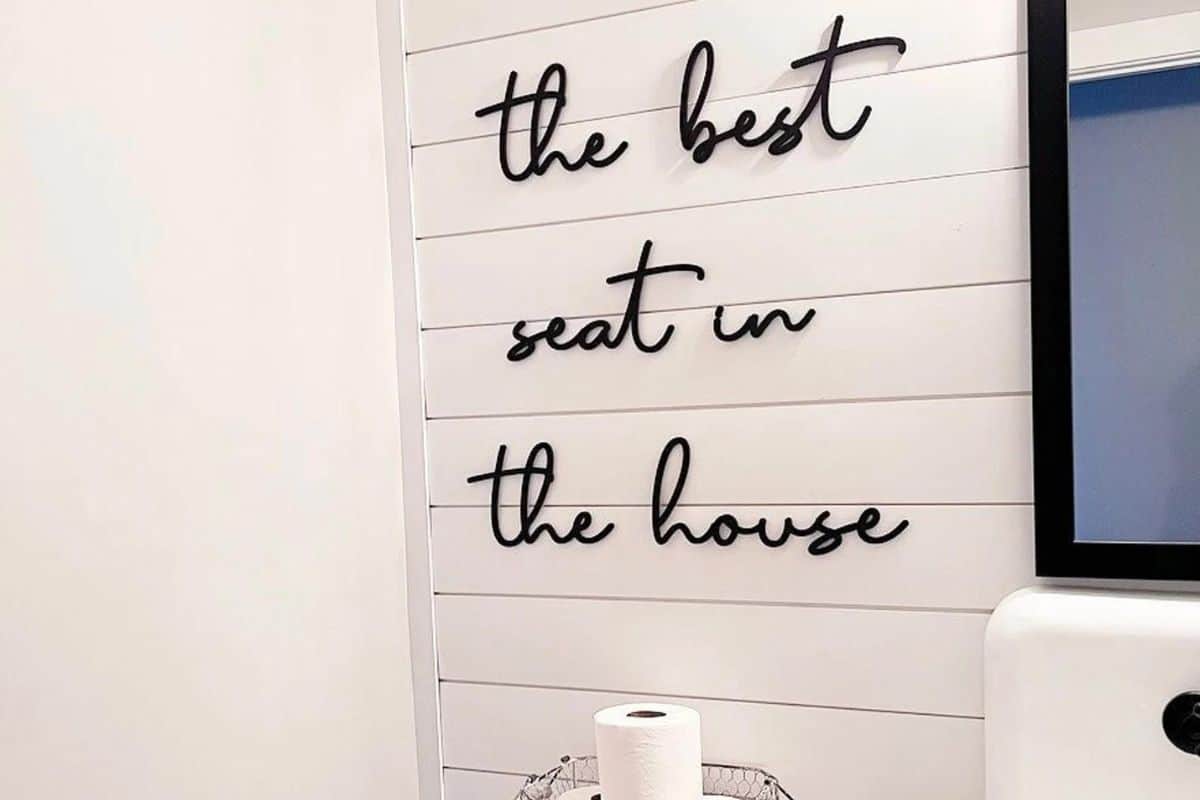 24. About To Go Down
Add some humor to your bathroom decor with this handmade wood sign! Measuring approximately 6x6 inches, it's the perfect addition to any bathroom.
25. Rustic Looking Aluminum Sign
Upgrade your farmhouse bathroom with a little bathroom humor! This high-quality, water-resistant sign has a charming wood plank design and a sleek modern look.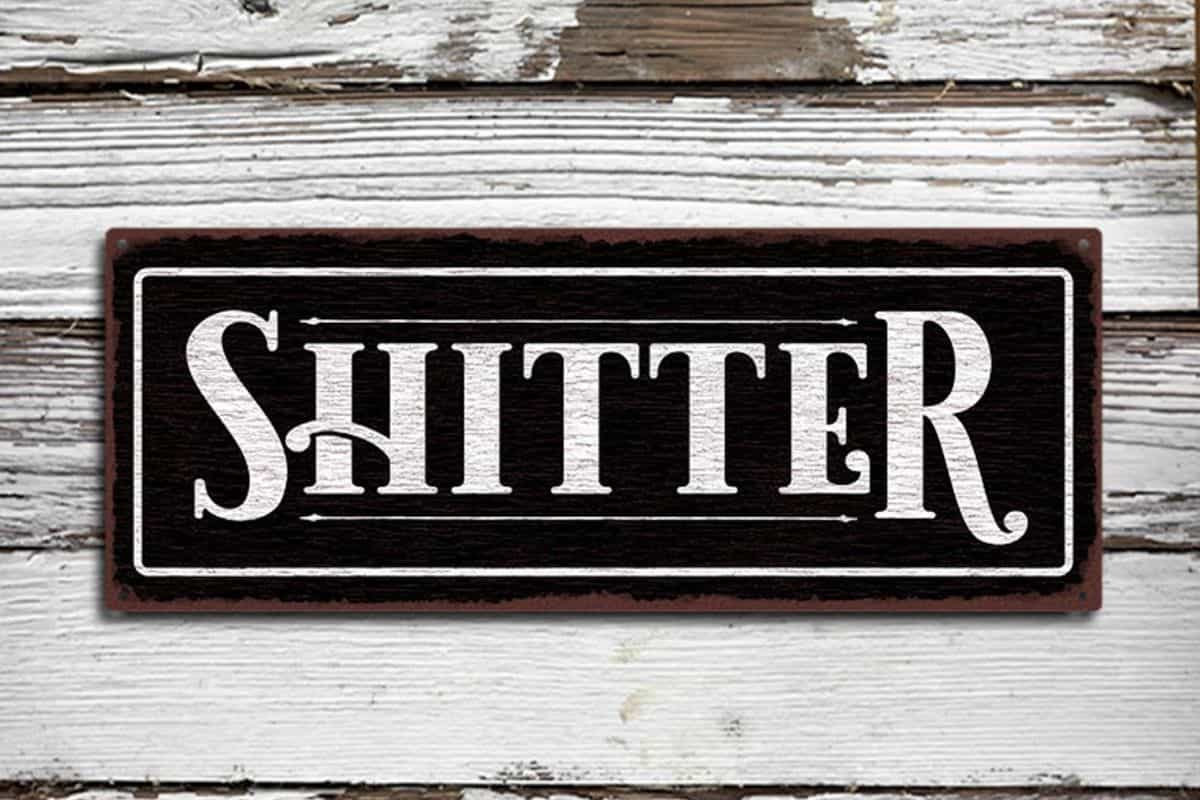 26. Wood Bathroom Sign
This adorable donkey sign wants you to know that you have a "nice ass". It's a funny and playful way to add some humor to your home decor.
27. Bathroom Figures for Restroom Sign
This set of Gotta Go Bathroom Figures includes both a male and female figure, pictured in solid dark brown and blue sparkle. They're perfect for adding a little humor and personality to your bathroom decor!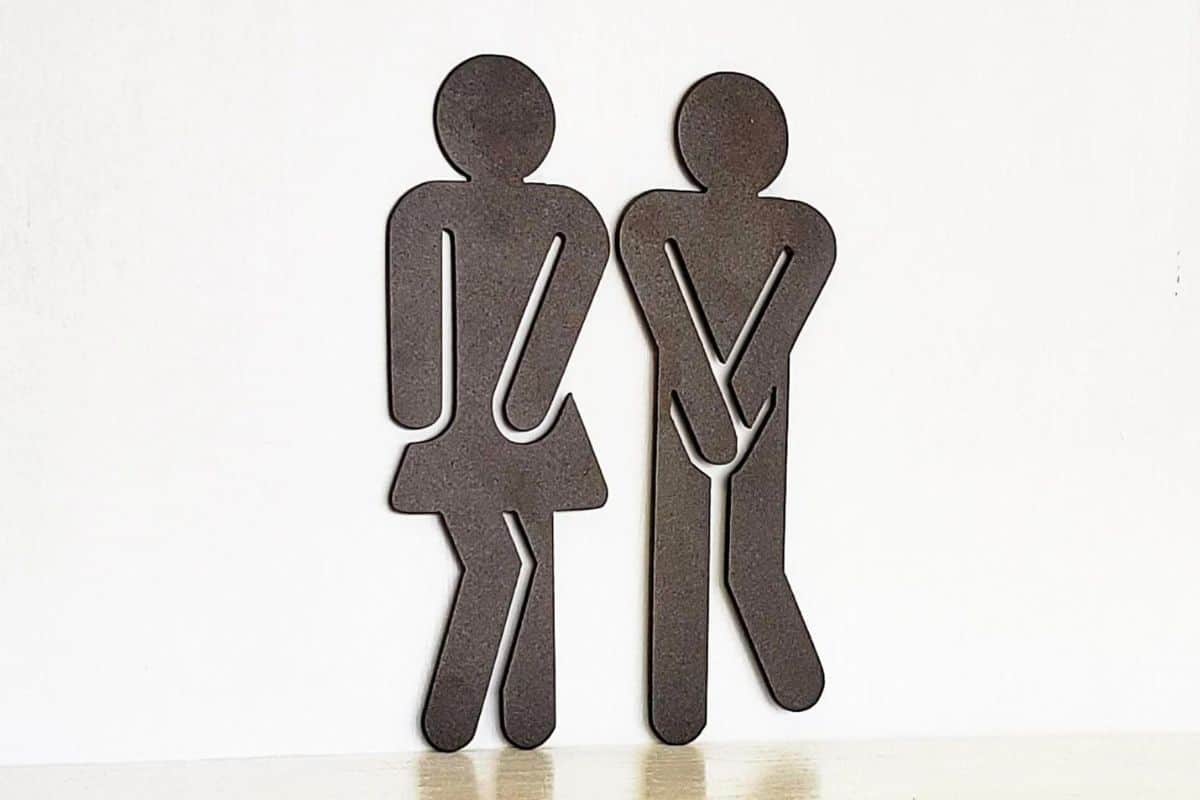 28. Turn on the Fan
Add some humor to your bathroom with our farmhouse-style wood sign. This funny sign is sure to make your guests chuckle and is perfect for your guest, kids, or boy's bathroom.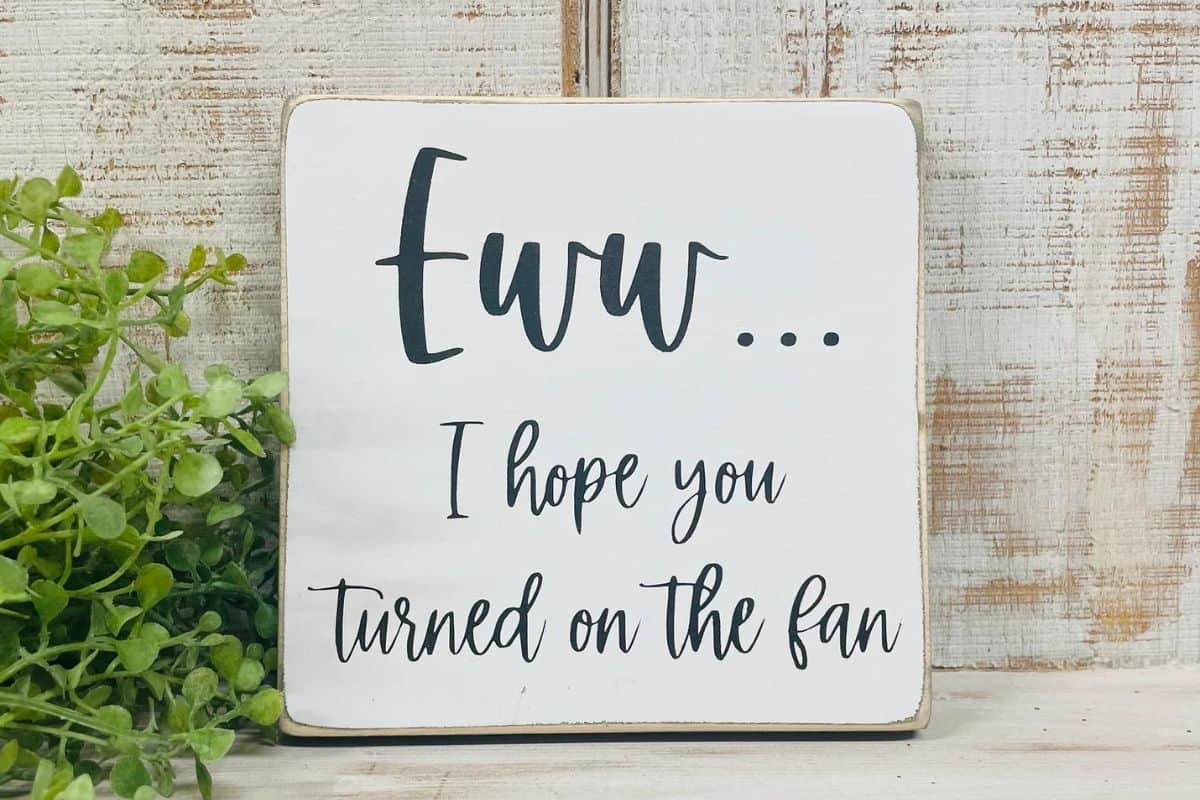 29. Use the Force
Transform your bathroom into a galaxy far, far away with this Star Wars themed wall decor! Use the Force and add a touch of adventure to your daily routine. This is the perfect and unique gift for any Star Wars fan, young or old.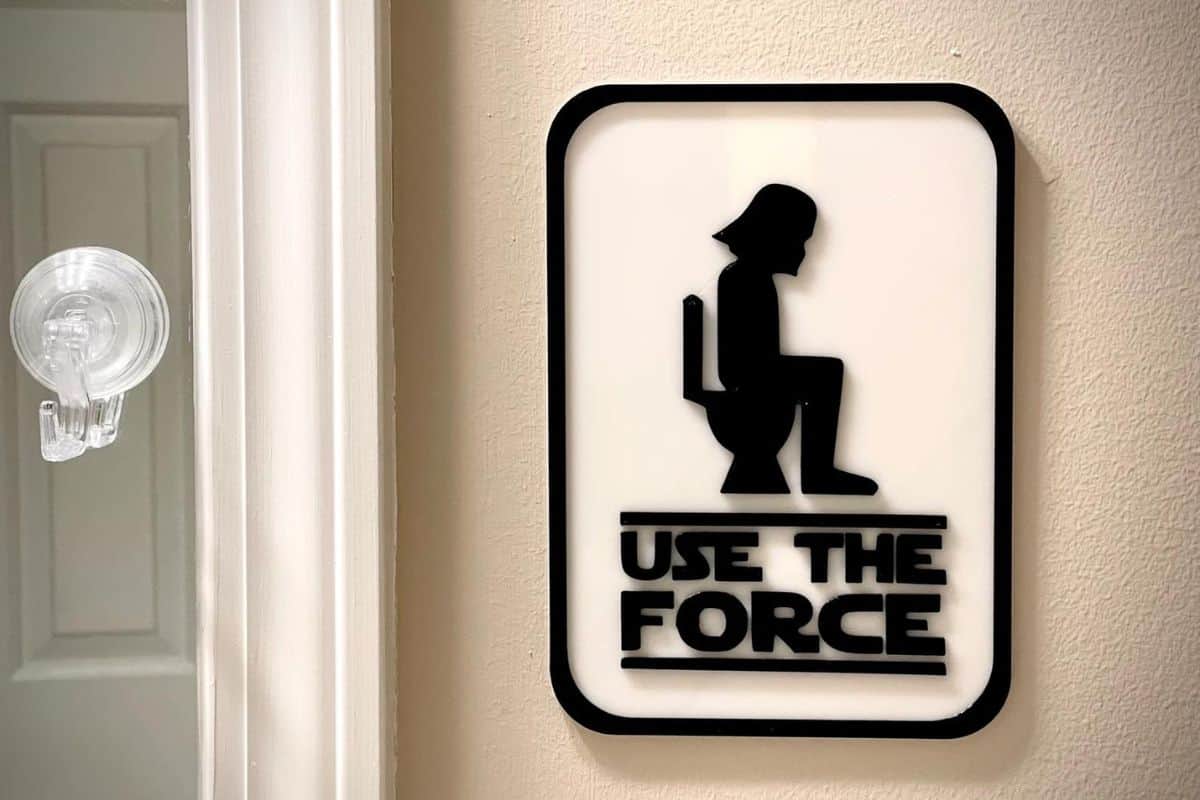 30. Booty Call
Looking for a way to spice up your bathroom decor and give your guests a good laugh? Look no further than this Booty Call sign! Made from high-quality materials and designed with a rustic farmhouse style, these signs are sure to impress.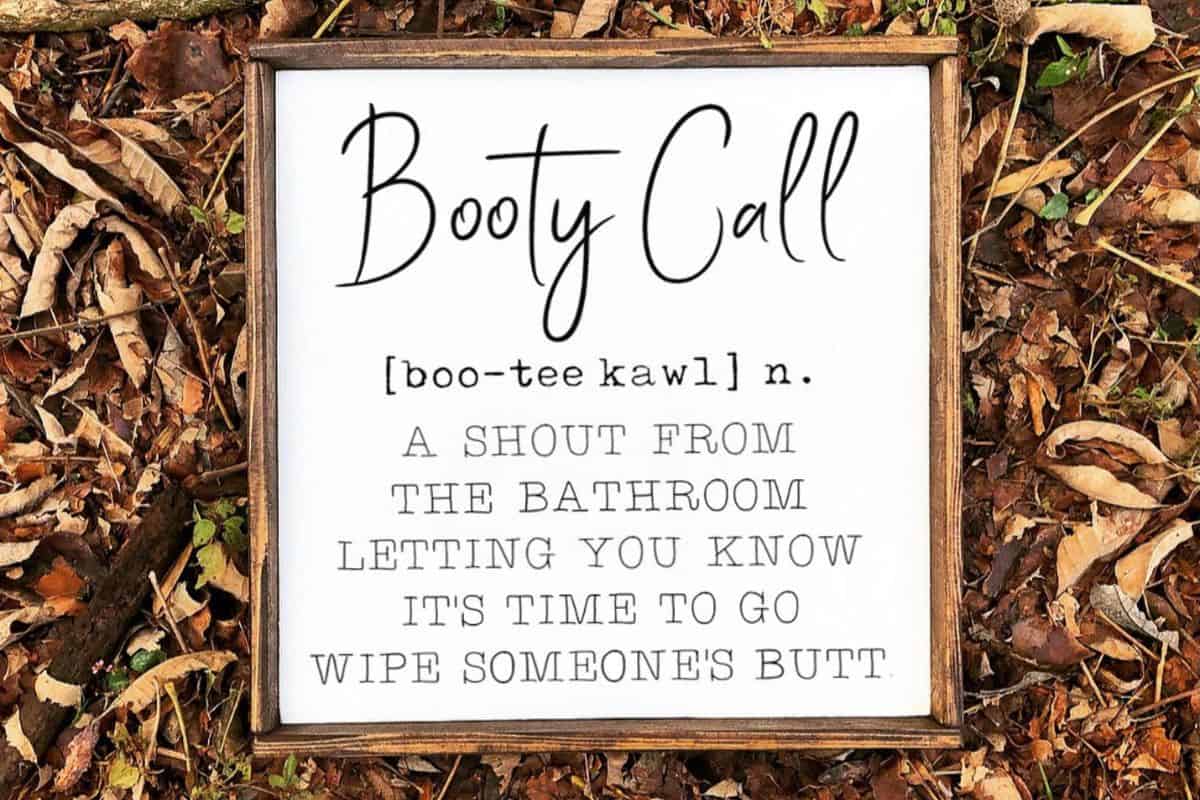 31. What Would Jesus Do
Add a touch of humor to your bathroom decor with this What Would Jesus Do reverse canvas sign. The rustic farmhouse design is perfect for modern or rustic homes. Hang it in your bathroom to give your guests a good laugh.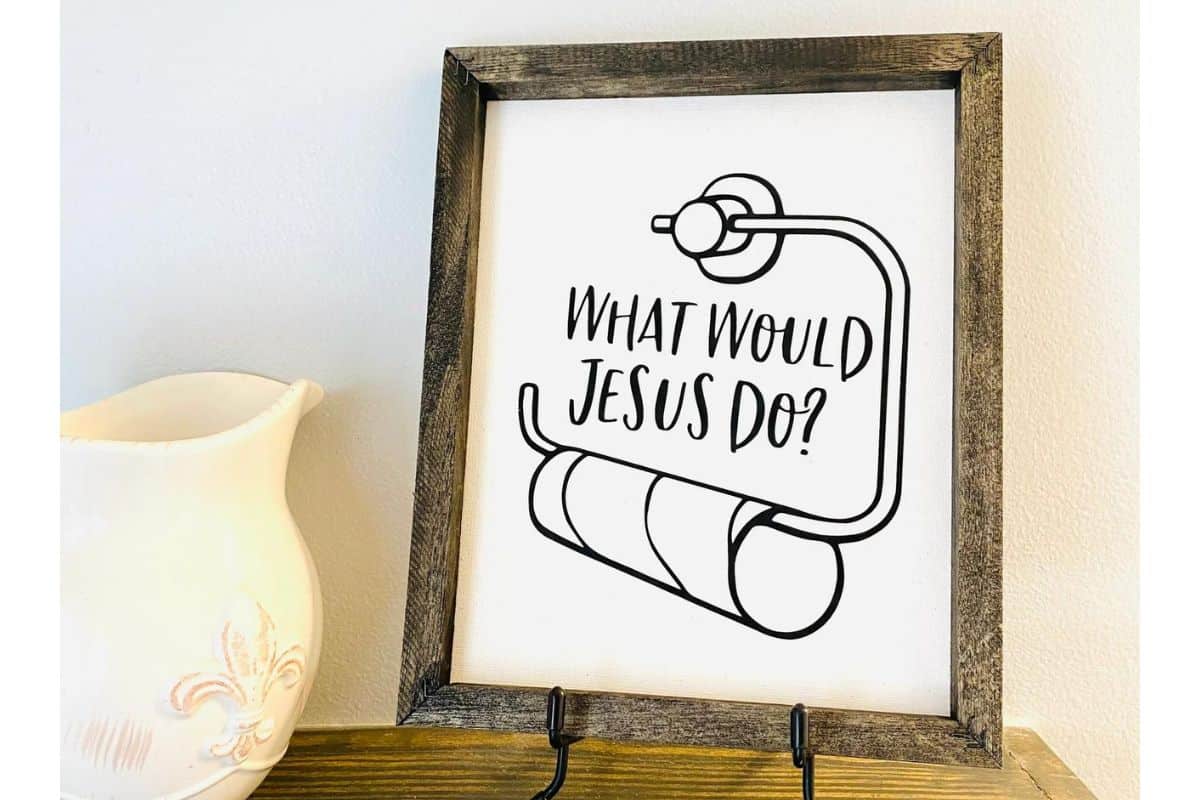 32. Set of 4 Custom Bathroom Art
These signs will be the perfect finishing touch to your bathroom! It's always exciting to add a new decor element to a space.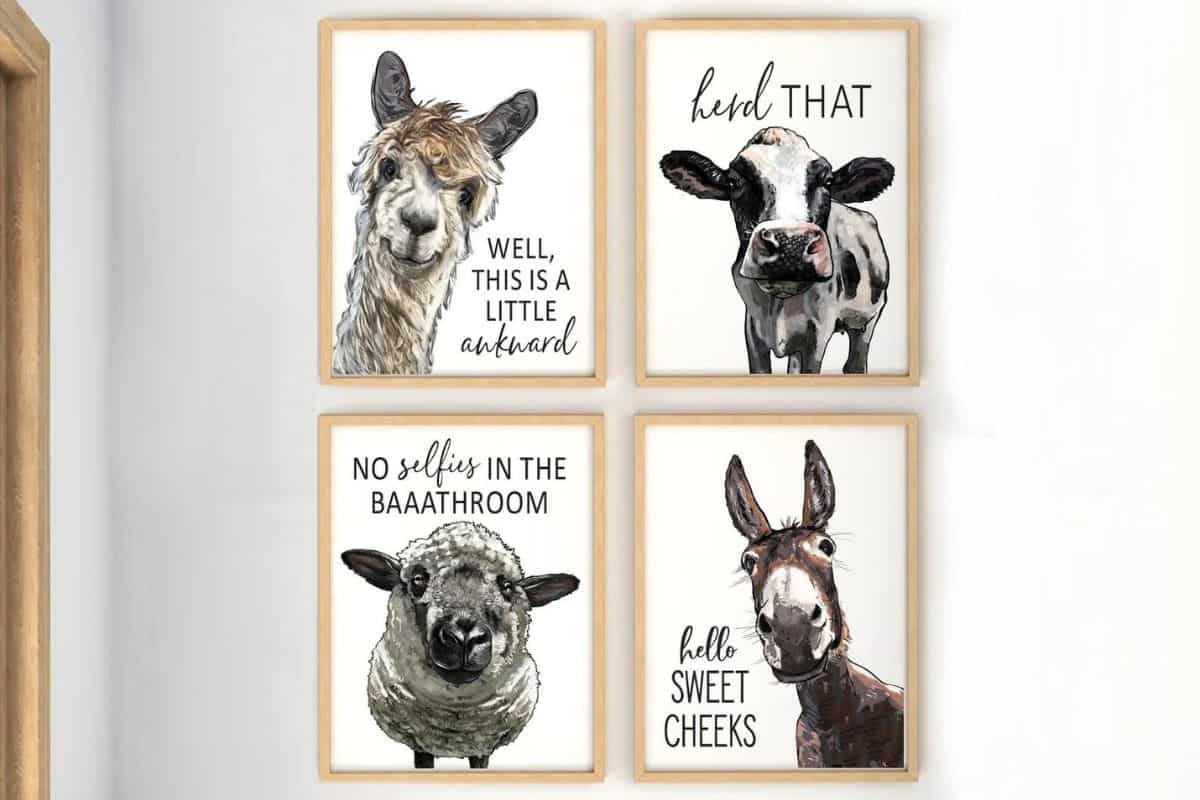 33. Funny Bathroom Art
Bring some humor to your bathroom decor with this Classic Art Portrait of Bartolomé Esteban Murillo's Two Women at a Window, c. 1655/1660. Your guests will love the unexpected twist on a classic piece of art.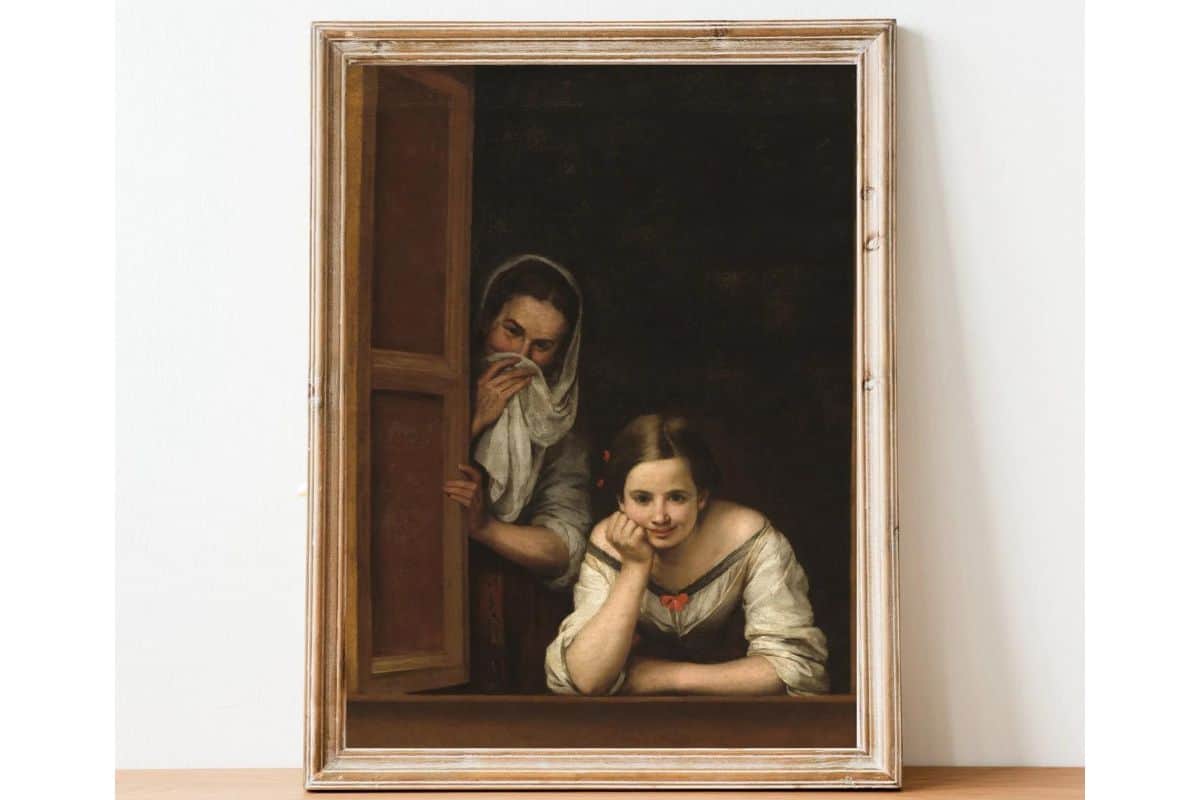 34. Crazy World
Looking for a funny and unique decoration for your living space? Look no further than our "Just Poopin' You Know How I Be" and "Crazy World Lotta Smells" signs, featuring hilarious Michael Scott quotes from The Office sitcom.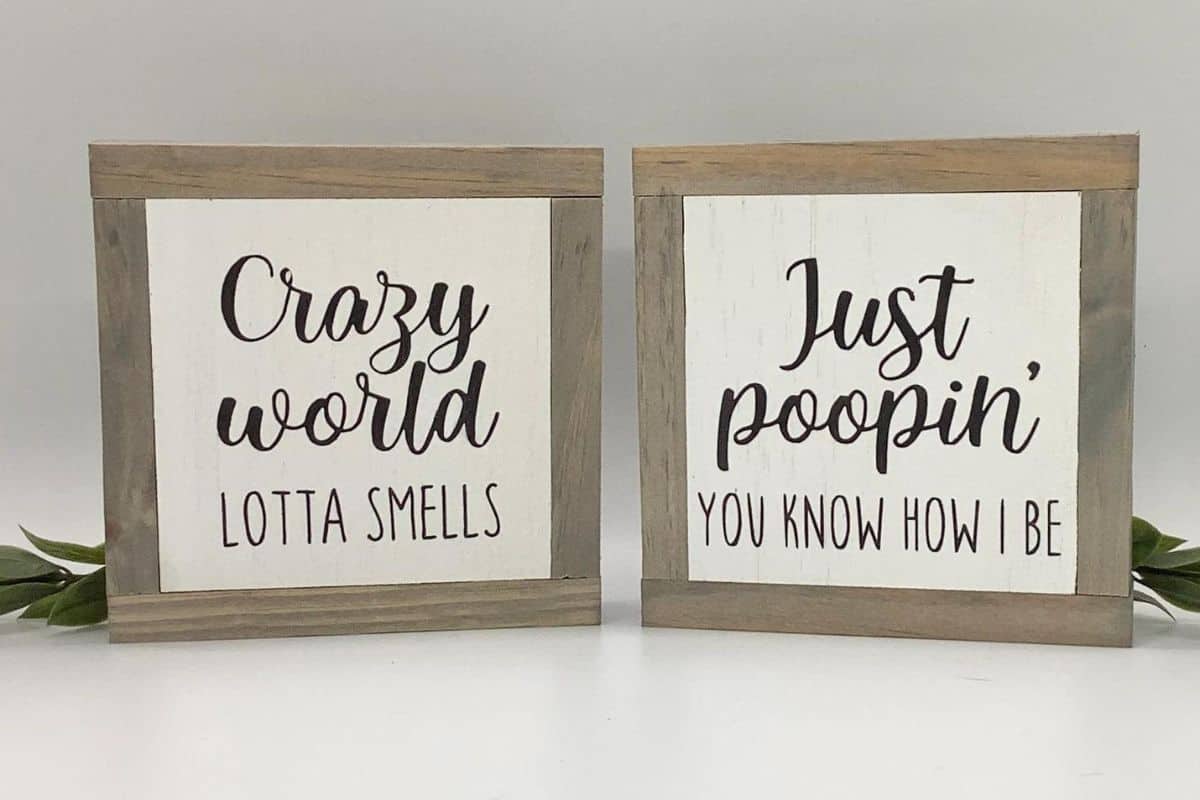 35. Farts are Funny
Bring some humor to your home decor with this "Farts are always funny" wooden sign. Measuring 6x6 inches with a special walnut-stained frame, this sign is perfect for any room in your house, especially the bathroom.
36. Let It Go
Add some humor to your bathroom decor with our Let That Sh*t Go wooden sign. This rustic farmhouse-style sign features a wood frame and charming design, making it a great addition to any washroom.
37. Caution
Got little ones? Keep your guests on their toes with our "CAUTION: Kid's bathroom" sign, available in multiple sizes and featuring a charming farmhouse design. Perfect for playrooms and bathrooms alike, this vinyl sign will have everyone giggling.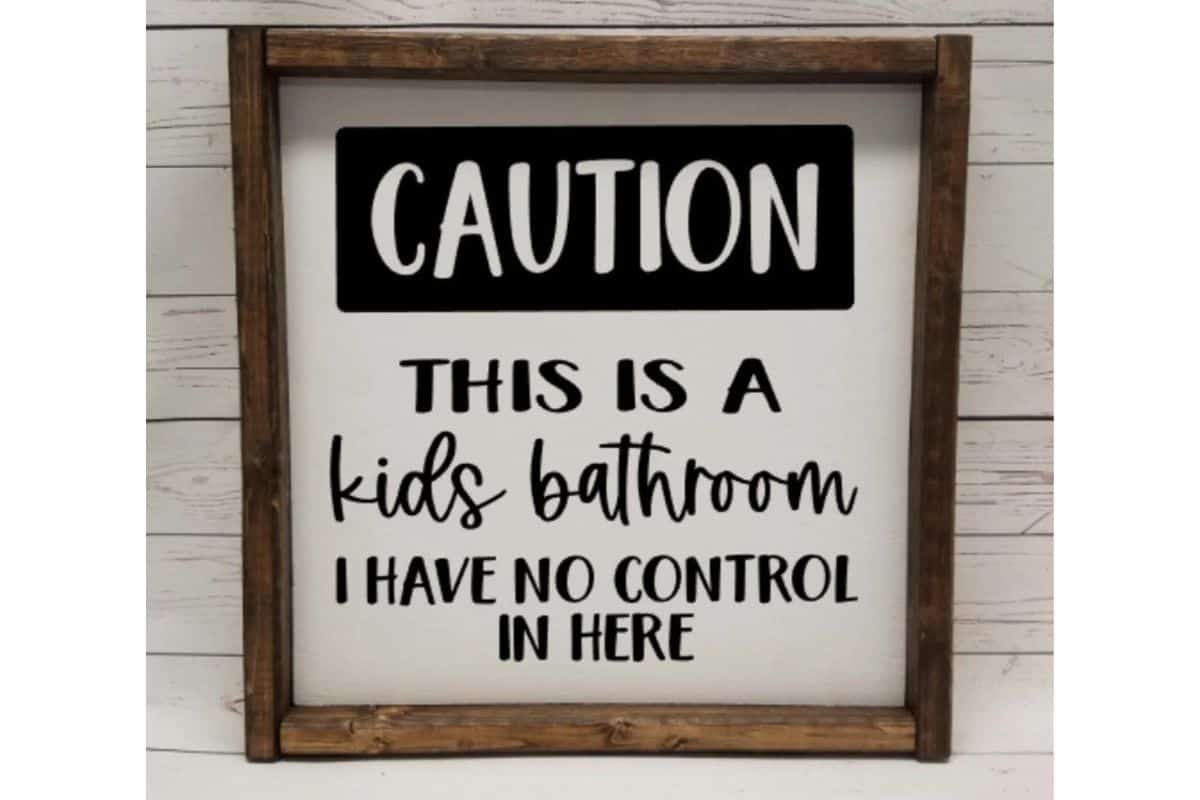 38. Best Seat in the House
Add humor to your bathroom decor with this cute and funny farmhouse sign that reads "Best seat in the house". Comes in a 5.5 x 5.5 size that can sit on a shelf or the back of your toilet. The 7.5 and 9.5 sizes come with hanging hardware attached and are ready to hang on your wall.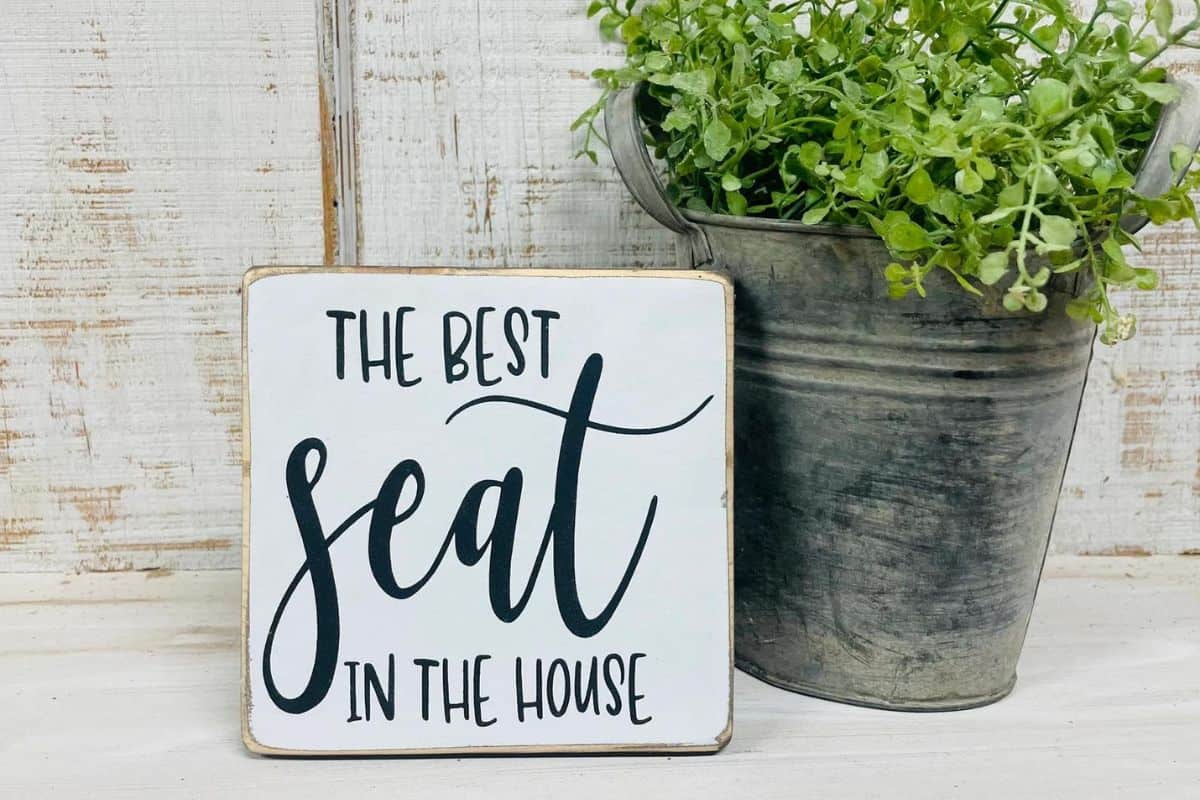 39. This is a Bathroom Not an Internet Cafe
This humorous 6x6" wooden bathroom sign reminds your guests to limit their screen time. The vinyl design adds a touch of rustic charm to your bathroom decor. Perfect for a farmhouse-style bathroom.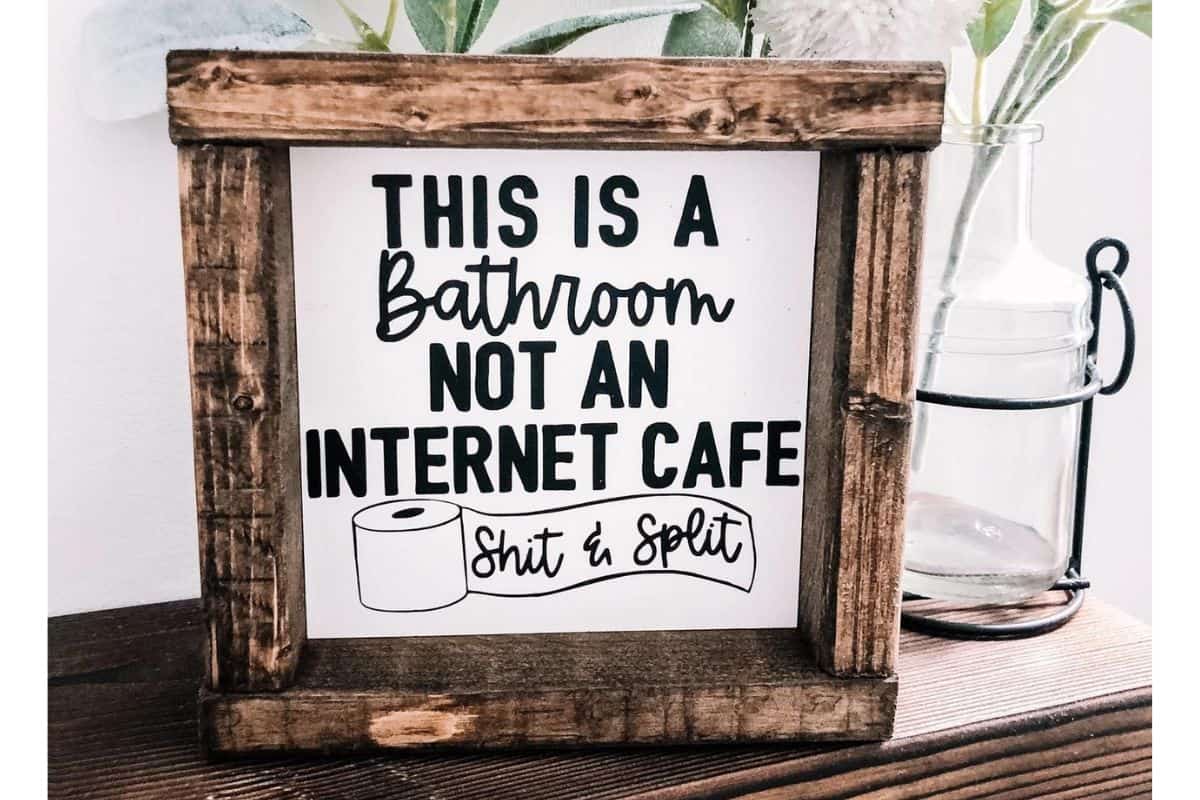 40. I Hope Everything Comes Out OK
Add some humor to your bathroom wall decor with this "I Hope Everything Comes Out OK" wood-framed sign. Perfect for your rustic farmhouse or cute washroom, this poop-themed wall art will have your guests chuckling.
41. Funny Baseball Bathroom Sign
This quirky farmhouse-style sign is sure to add a touch of humor to your guest bathroom, especially when your dugout guests come to visit.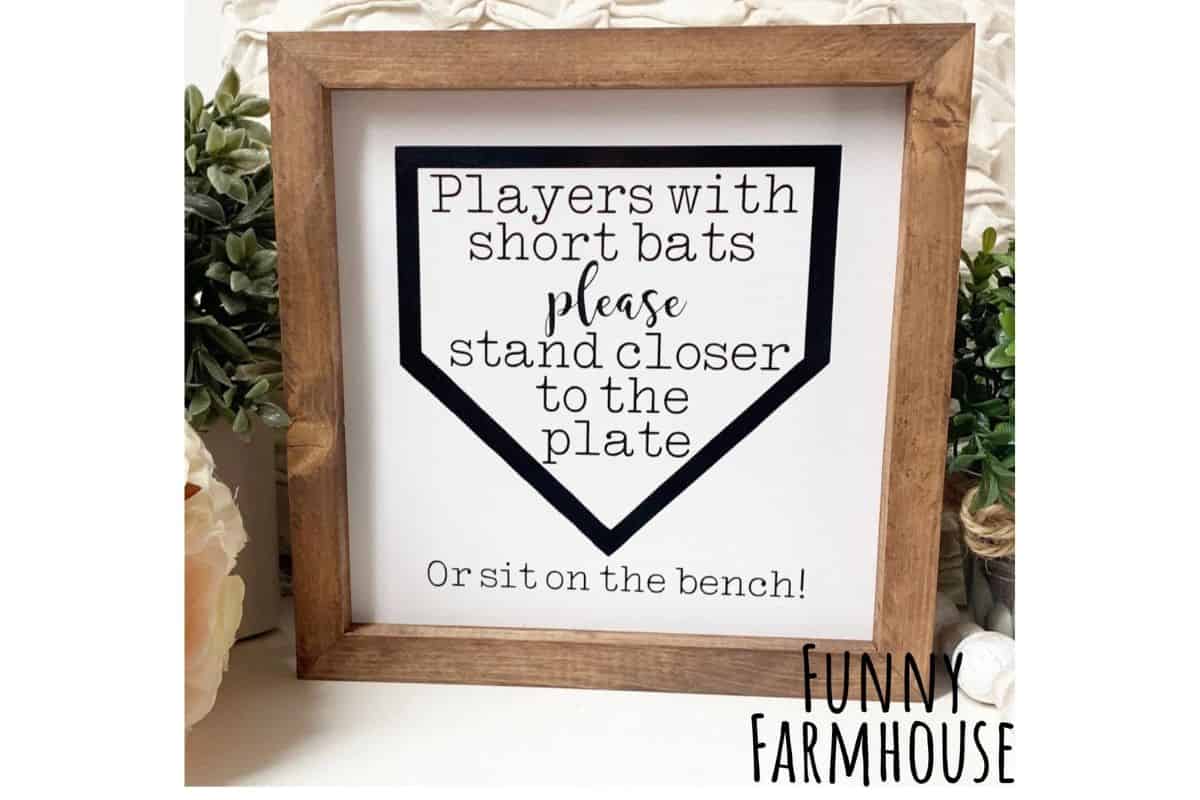 More Craft Ideas:
Round-up posts are a great way to get a lot of ideas about a single topic in one place, and we love doing the research for you.
Be sure to look around the blog for more fun Craft Round-Up posts!
Get Naked Funny Bathroom Sign Tutorial:
Here is the tutorial I was telling you about! This is a Funny Bathroom Sign Made with the Cricut Explore Air 2 and Iron-on Vinyl.
You don't have to buy one if you'd rather make one. Use one of the designs above as inspiration!
Which bathroom sign was your favorite? When you make or purchase your own bathroom sign, please share a photo! We'd love to see!
Our Crafting Essentials List:
Title:
41 Funny Bathroom Signs that will make you Laugh
Keywords:
funny bathroom signs
Last Updated:
August 16, 2023