Halloween is around the corner and we've got you covered with 20 amazing Cricut costume ideas that are so easy even the most novice of crafters can make them!
Halloween is such a fun time year. Whether you dress up or just your kids, it is fun to pretend to be someone or something else!
But there is no need to make a difficult costume when you can use the help of the Cricut! There are so many different costumes you can make!
All 20 of these costume ideas include a full step-by-step tutorial so you can make your own and know exactly how!
More Cricut Craft Tutorials:
The Cricut is our very favorite crafting tool, so naturally, we have shared lots of Cricut tutorials. Like this Halloween Candy Dispenser, Halloween Treat Candy Bar Cover, and Skeleton Shoes.
Be sure to look around the blog for more Cricut Craft Tutorial Ideas!
FAQs:
What Cricut machine should I buy?
If you are new to Cricut, you really can't go wrong with the Cricut Explore 3. This machine cuts 100+ including cardstock, like vinyl, iron-on, and specialty materials like glitter paper and bonded fabric.
The Cricut Maker 3 is best for a crafter that wants to experiment with more different materials since this machine can 300+ materials. The Maker also has a larger variety of blades to cut the different materials.
Whichever you choose, you will definitely get a lot for your creative buck.
Visit this page for side by side comparison of the two machines.
Can you make costumes with Cricut?
Yes, you can! The possibilities really are endless with what you can create.
Below you will find lots of ideas to get you started.
Cricut Costume Ideas:
Visit the website for the step-by-step tutorial.
DIY your family's Halloween costumes with your Cricut Maker and EasyPress 2. These taco and hot sauce costumes are so much fun to make and wear; everyone will be "taco"ing about them!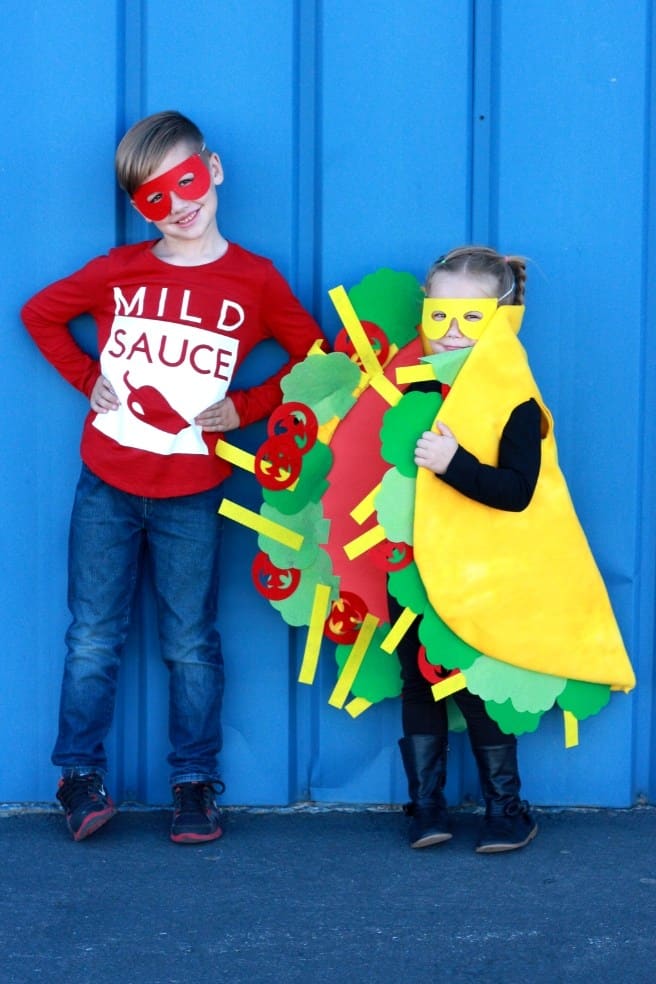 Make one of these DIY Princess Costumes today! This is a super fun no-sew project to make using the Cricut maker.
Dress up in a Green M&M Halloween Costume! This is a woman's DIY costume but can easily be adapted for any adult or child.
Halloween is the PERFECT time to try something new when it comes to sewing! And this project is super fun – I used Cricut Iron-on Vinyl to create my own glam mermaid fabric to use to sew the perfect DIY mermaid costume!
My son is obsessed with Moana and Maui especially. Today I'm going to use my Cricut Maker to make a DIY Maui Costume. This should take a few hours to make but it'll be well worth it in the end.
Last year, my company decided to not have a costume contest for Halloween, like they had for years. It bummed me out, so I decided the night before to make an easy DIY geeky "non-costume-costume" using a T-Shirt.
Make a darling baby owl costume that looks like Harry Potter's snowy owl Hedwig! This DIY Halloween costume is perfect for a Harry Potter group costume, is no-sew, and is so simple to make.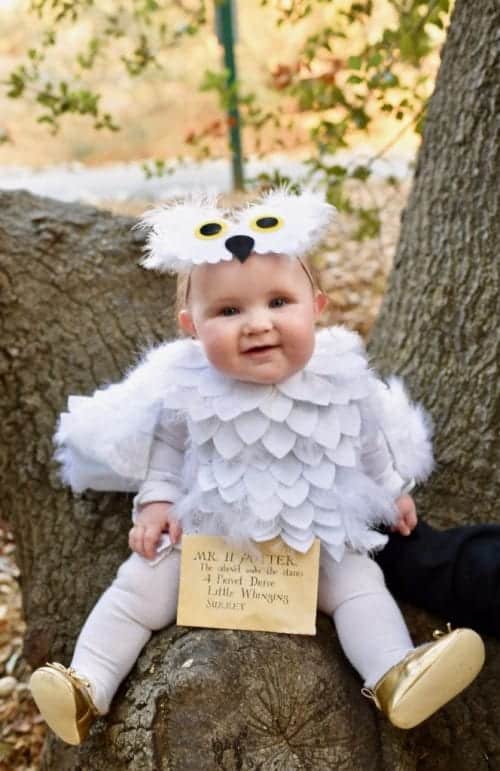 I'm so excited to share my No Sew Dinosaur Costume today. I made this costume for my son last year, and in my typical fashion–last minute. We love making DIY Halloween costumes in my home. It was my first time cutting felt with the Cricut Maker and I instantly fell in love.
I came up with these DIY Farmer and Animal Halloween Costumes with the Cricut Maker. I was originally planning to have my husband be the farmer, and then decided that it would be so cute to have my two-year-old be the farmer, so that is what I did!
DIY last-minute Disney Frozen Elsa Tutu Costume. This tutorial will show you how to make an Elsa Costume with a tutu skirt and glitter snowflake cape.
This Baby Shark Costume DIY is sure to be a hit! I couldn't let this Halloween pass us by without making a baby shark costume for my toddler! She loves this song and does all the hand motions to it.
I'm rounding out my candy costumes with one of my personal favorites, Good & Plenty! Those pink and white candies on a purple box make this Good & Plenty Costume DIY easy to spot and enjoy.
These DIY Girls Rock Star Costumes are perfect Halloween costumes for any little girl! You'll also find a Girls Just Wanna Have Fun theme and they'd also be a perfect Gem and Holograms costume!
This year our family settled on dressing up as the characters from the Disney movie Coco. Although I was super excited because I love this movie so much. So many of my handmade Halloween costumes were made using my Maker and were super easy to do!
Have you heard the song It's Raining Tacos? Well, my son loves it and sings it all the time, so I made him an It's Raining Tacos costume.
These easy DIY superhero costume ideas can be the fastest homemade Halloween costumes ever! Simply cut out the DIY superhero masks, iron on letters to personalize the capes, and fly away feeling more super than ever! They're the perfect last-minute DIY Halloween costumes and great for a family who loves superheroes but may not want to choose a favorite character!
I love helping my children's Halloween costume visions come to life! This year I decided to use my Cricut Maker to speed up the process and allow me to be even more creative!
Over the last few years, as my kids have gotten older, we have changed how we DIY Halloween Costumes at our house. Now that they are teens and young adults, they STILL want Halloween costumes, but they don't want to look like they are trying too hard either, LOL!
Talk about one "hull" of a Halloween costume! This easy DIY Halloween costume uses just iron-on material and paper! Doesn't get simpler than that, right?!
What is a favorite DIY Halloween Costume you have seen? Share and leave a comment below!
Our Crafting Essentials List:
Title:
20 DIY Cricut Halloween Costume Ideas with Complete Tutorials
Keywords:
cricut costume ideas
Last Updated:
August 9, 2023