Transform plain shirts into scary Halloween shirts with these DIY heat transfer vinyl tutorials! Look like a pro and save money on expensive costumes.
Do you love Halloween too? I love all of the cute and creepy that happen during this season.
BUT, I am not a big fan of dressing up. Now I can be festive without having to wear a costume. It's perfect!
Make a shirt just for you or for everyone in the family! These are some great ideas to get you started. All with a complete tutorial from start to finish.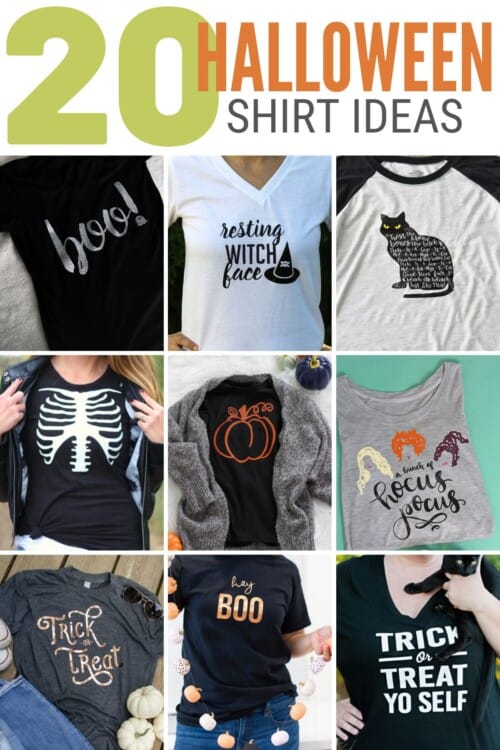 More Halloween Idea Posts:
Idea posts are awesome because they give you lots of ideas all in one place! Here are a few more idea posts that I think you might like: 20 Fun and Scary Halloween Costume Headbands, 20 Cricut Halloween Costume Ideas, and 20 Halloween Porch Decor Ideas.
Be sure to look around the blog for more Halloween Crafts!
Halloween Shirt Ideas:
Visit the website for the step-by-step tutorial.
1. Hey Boo from Lovely Indeed
These shirts are super cute and you can wear them the whole month of October, any time you need to show a little Halloween spirit. And the best part? You don't have to make a new one next year.
Make your own Pumpkin Iron-On Vinyl Shirt that is perfect for Halloween and the month of October!
Make your own DIY Hocus Pocus T-Shirt with my free cut file and heat transfer vinyl. I will teach you how to create your own cute Sanderson Sister tee.
I either like to go all out for my Halloween costume or the bare minimum. This year is the bare minimum. So I thought I would make a cute little shirt that I feel 100% comfortable in while I walk block after block with my kids. And it glows..so my kids will still think I'm cool.

Learn how to make a fun vampire-themed Halloween shirt with Glitter Iron-on and a Cricut! An Easy DIY Craft Tutorial Idea.
This Hocus Pocus inspired Thackery Binx shirt tutorial will put a spell on you and all Halloween lovers in your path.
I tried out Silhouette America's new Copper Heat Transfer Vinyl the other day, and WOWEE is it pretty!! I created a fun "Trick or Treat" women's Halloween shirt out of it.
We always go to the pumpkin patch every October. On the day of our annual outing, I whipped up this cute little short-sleeved shirt and it worked perfectly for our fun-filled HOT afternoon at the pumpkin patch!
Make your own DIY custom foil shirts at home! You can create beautifully shiny t-shirt designs in all kinds of colors with this easy DIY technique. Plus snag two free cut files to make your own cute DIY Halloween shirts.
My boys (even in middle and high school) still like to wear seasonal shirts, and they really like to wear seasonal shirts they help design!
I can't believe Halloween is just a couple of weeks away. I wanted to make myself something to wear this year, and I'm always up for a quick and easy t-shirt idea!
If you have ever been accused of having this kind of face, this Resting Witch Face Shirt is just for you!! You all know I am a huge lover of fun shirts! I can't stop making them and I love sharing my free cut file with you all to make your own!
Grab a FREE Boo Y'all SVG Cut File for Cricut and Silhouette machines and learn how to make your own Boo Y'all T-Shirt for Halloween!
Make your own DIY Creepin' It Real Halloween T-Shirt with this free SVG cut file, using iron-on vinyl and your Cricut or other cutting machines.
Craft up some fun this Halloween with these cute DIY Witch Halloween Sayings for T-shirts and Mugs! The free Halloween Cricut SVG files I designed can easily be used to make all kinds of cute Halloween decorations!
It's that time of year again…Fall. Time to get out all of those fun Halloween decorations and clothes. I'm back today with a fun vinyl Halloween shirt. I hope you enjoy this heat transfer vinyl project as much as I enjoyed making it.
So, apparently, I've been spending my time under a rock because until a couple weeks ago, I had no idea what a flip-up t-shirt was! You've got to admit, this zombie version is perfect for the Halloween season!
This Frankenstein shirt is perfect for your favorite little monster to wear on Halloween or any time! Adults will like this DIY Frankenstein shirt too!
For the first time in years, I'm not dressing up! I did, however, make myself a shirt. Today, I'll just be the candy tester (I'm hoping for Butterfinger!) and what I do best… MOM.
19. Batman T-Shirt from Larissa Another Day
This is probably my favorite shirt to date, and definitely my favorite Pinterest project.
I wanted to make something fun for Halloween and I came up with this adorable shirt! In total, the project took me less than 30 minutes.
Which shirt is your favorite?
Our Crafting Essentials List:
Title:
20 DIY Halloween Shirt Ideas made with Heat Transfer Vinyl
Mentions:
gift ideas, t-shirt designs
Keywords:
halloween shirt ideas
Last Updated:
June 1, 2023