Get a head start on your spook-tacular setup with 24 of the Best Halloween Porch Decor Ideas for 2023! From spooky to silly, find the perfect inspiration to make this year's decor a haunting hit.
Hey there, Halloween enthusiasts! 🎃
Are you already counting down the days to All Hallows' Eve?
Well, you're in for a treat! We've rounded up 24 of the best Halloween front porch ideas for 2023 that are sure to impress your trick-or-treaters!
Halloween Porch Decor Ideas:
Visit the website for the step-by-step tutorial. All links will open in the same tab.
1. Floating Witch Hat Luminaries from Polkadot Chair
Add a magical touch to your Halloween porch with Floating Witch Hat Luminaries! They light up for an enchanting yet slightly eerie outdoor display.
2. Making Your House Come Alive from Craftibilities
Eeeeee!!! I'm so excited about this and LOVE how it turned out! Making my house come alive for Halloween with spooky eyes and teeth for our house.
3. Pumpkin Arch from Don Morin
Step up your Halloween game with a Pumpkin Arch! This Jack O'Lantern masterpiece adds a grand entrance to your doorway, making it the star of your annual Halloween entryway.
4. Spiders and Bats Oh My! from One Good Thing
Elevate your Halloween vibe with Spiders and Bats Porch Decor! Simple to make yet strikingly effective, this decor adds just the right amount of spookiness to your October porch.
5. Yard Zombies from Craftibilities
Get ready to scare with Yard Zombies! These easy, budget-friendly skeleton zombies are a spooktacular addition to your outdoor decor.
7. Easy Halloween Bat Porch Decor from Tatortots and Jello
Elevate your front porch this Halloween with an easy bat theme. Featuring a chevron bat wreath and countdown calendar, it's a fang-tastic holiday display.
8. Spooky Halloween Front Porch Decor from Place of My Taste
Be the "cool" house on the block with Spooky Halloween Front Porch Decor! Going all out this year to make Halloween extra special for the kiddos.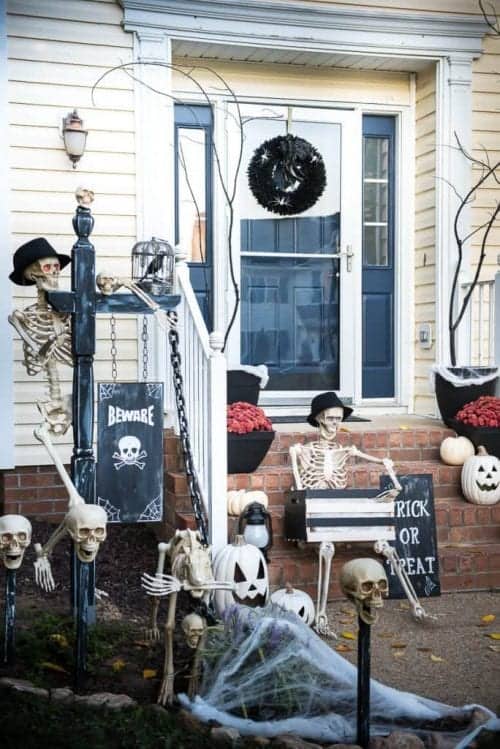 9. Raven-Inspired Halloween Porch from Create Craft Love
Unveil a hauntingly beautiful display with a Raven-Inspired Halloween Porch. Easy and fun to create, it's the perfect eerie elegance for your outdoor decor.
10. Glam Farmhouse Halloween Porch from Modern Glam
Embrace vintage charm with a Glam Farmhouse Halloween Porch. Inspired by timeless decorations, this setup adds a rustic yet glamorous touch to your holiday display.
11. Giant Spider Web from The Cavender Diary
Make a spine-chilling statement this Halloween with a Giant Spider Web! Featuring a big, fat spider, it's a planned-out project that adds a major spook factor.
12. Halloween Front Porch from House on Longwood Lane
Elevate your Halloween with a pun-tastic Front Porch! Featuring DIY door mats in collaboration with JOANN, this modern setup offers a spooktacular entrance.
13. Hanging Pumpkins from Lolly Jane
Turn plastic pumpkins into Hanging Pumpkins with fishing line, and tea lights for a standout Halloween display.
15. Halloween Front Porch from The Teacher Diva
Celebrate your first Halloween in style with a bat-inspired Front Porch! Simple yet impactful, this decor is easy to assemble and perfect for making your new home the talk of the block.
16. Scary Halloween Decorations for Your Front Porch from Atta Girl Says
Unleash the fright factor with Scary Halloween Decorations! From ghoulish skulls to eerie lighting, these decor elements are sure to send shivers down your spine.
17. Simple Halloween Pumpkin Porch Steps from Liz Marie
Every year one of my favorite things to do is decorate our front porch and steps for Fall. For my porch steps for the season, I wanted to style a simple Halloween pumpkin porch look and show how easy it is to achieve this look with just white faux pumpkins.
18. Easy Outdoor Halloween Decor Idea from The House of Hood
Boost your curb appeal with Easy Outdoor Halloween Decor! Giant spiders pop against our white house for a fun and spooky look.
19. Spooky DIY Halloween Chalkboard Tombstones from Made In A Day
Craft your own eerie graveyard with Spooky DIY Halloween Chalkboard Tombstones. Made from foam core board, these tombstones add a personalized touch to your Halloween decor.
20. DIY Standing Ghosts from PMQ for Two
Craft adorable spooks with DIY Standing Ghosts! Using just napkins and craft stash items, these easy, budget-friendly ghosts add seasonal flair to your home.
21. Halloween Apothecary Witch Decorations from Craving Some Creativity
Create a bewitching outdoor scene with Halloween Apothecary Witch Decorations! Using household items, this Witch Shop adds festive flair and includes extra spooky ideas.
22. Cutesy Halloween Porch from Kara's Party Ideas
Brighten the neighborhood with a Cutesy Halloween Porch! Enjoy seasonal charm without the store-hopping hassle, making it a win for you and your community.
23. Creepy Crawly Front Porch from Jane Can...
Get tangled in the fun with a Creepy Crawly Front Porch! Craft a gigantic spider web from thick white yarn for a spine-chilling Halloween display.
24. Last Minute Halloween Porch from A Thoughtful Place
Last Minute Halloween Porch: Low on prep, high on fun! Perfect for delighting kids and guests, this quick decor is ideal for block parties or after-school surprises.
What Halloween decor is your favorite?
Our Crafting Essentials List:
Title:
24 of the Best Halloween Porch Decor Ideas for 2023
Keywords:
front porch halloween
Last Updated:
September 26, 2023