Trick-or-treaters, beware. We've assembled 20 of the best porch decorations to get your entry howling with fright. We've even included a DIY tutorial for each.
Seeing the creativity that people put into their Halloween decorations makes me so happy. Whether you are here to get ideas for your own Halloween front porch ideas or just like to browse as I do. Welcome. You've come to an inspiring place!
More Halloween Idea Posts:
Idea posts are awesome because they give you lots of ideas all in one place! Here are a few more idea posts that I think you might like: 20 Fun and Scary Halloween Costume Headbands, 20 Easy Witch Crafts, and 20 Leftover Halloween Candy Dessert Recipes.
Be sure to look around the blog for more Halloween Crafts!
Halloween Porch Decor Ideas:
Visit the website for the step-by-step tutorial.
Add a bit of whimsy to your Halloween Porch decorations this year with these Floating Witch Hat luminaries! They even light up, making them a fun and only slightly eerie Halloween decorating idea.
Eeeeee!!! I'm so excited about this and LOVE how it turned out! Making my house come alive for Halloween with spooky eyes and teeth for our house.
We decided to change up our annual Halloween Display this year including adding this Jack O Lantern Arch at the entrance to our doorway.
I'm usually not that "into" decorating for Halloween, but I do like to do a little something fun each year. I was looking for something that was simple to make but that also made a statement! This fit the bill perfectly and I just love how it turned out! I hope you do too!
This year I made super inexpensive and easy skeleton zombies. They are awesome!!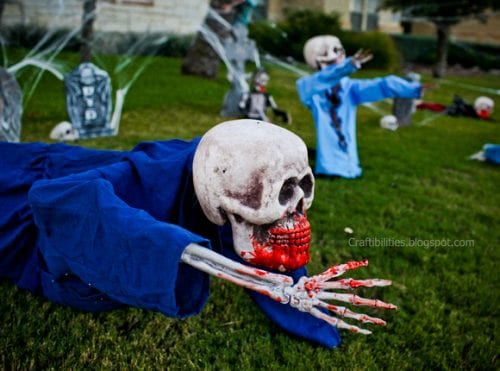 We built a GIANT front yard spider and spiderweb! The boys are quite excited about our new spooky spider friend!
One of my favorite areas to decorate is my front porch. This year I am going with an easy Halloween bat theme. I got out my chevron bat wreath and my Halloween countdown calendar, and then I added some new elements!
The kiddos love Halloween, and this year our house will be the "cool" looking spooky house on the block. Yay! I was also thrilled because I don't usually make a big deal of Halloween decor so this year it's a little bit different.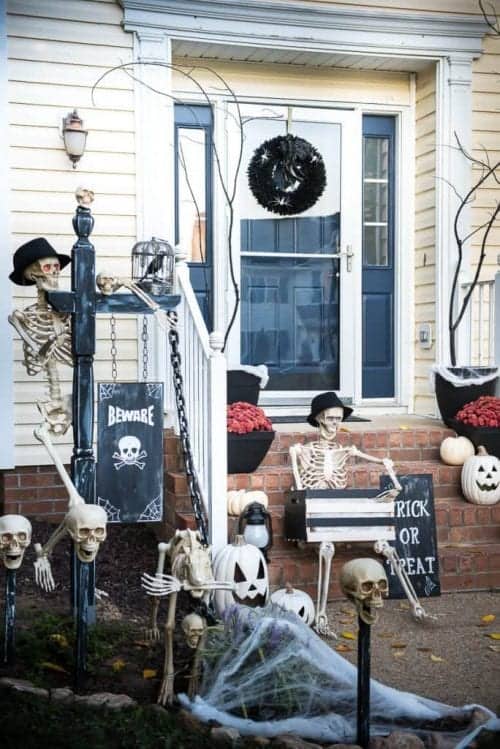 My Raven Inspired Halloween Porch was very easy and fun to create!
I am always drawn to vintage-inspired Halloween decorations. It was the perfect jumping-off point to create this Farmhouse Halloween Porch.
We don't usually go overboard decorating for Halloween, but this project I planned out. I wanted a spider web……with a big, fat spider in it.
Who loves a "punny" door mat? These DIY Halloween Door Mats were so fun, easy, and inexpensive to make, y'all are going to love this super easy DIY tutorial and how to style them! I've partnered with JOANN on this DIY Halloween Door Mat and styling our Modern Halloween Front Porch.
Turn plastic pumpkin candy buckets into easy Halloween outdoor decorations with fishing line and cup hooks! Light them up at night with remote control tea lights for the biggest statement on the block!
Guests will be dying to get a reservation at this haunting Dead & Breakfast Inn! But, trick-or-treaters beware, you won't be able to get much R&R at this Halloween themed inn. Come on in, and I'll give you a tour of our Dead and Breakfast Halloween Front Porch.
It's our first official Halloween in the new house (we moved literally 2 weeks before Halloween last year) and we couldn't wait to get everything decorated for the holiday. Inspired by all the bat photos on Pinterest, I decided to finally go for it. We kept it pretty simple and surprisingly, everything was really easy to pull together.
We're all ready to welcome trick or treating with a stockpile of candy and a spooky porch decorated in a gothic horror novel vibe. Our goal was to be scary, minus the gore, so as not to frighten the youngest Halloween visitors.
Every year one of my favorite things to do is decorate our front porch and steps for Fall. For my porch steps for the season, I wanted to style a simple Halloween pumpkin porch look and show how easy it is to achieve this look with just white pumpkins.
Eeeeek! Our outdoor Halloween decor is up! When I first saw the outside of our house, I knew it was going to be so fun to decorate for the holidays. We had to throw some giant spiders up on the house of course. They really pop against our white house!
Make these DIY Halloween Chalkboard Tombstones made from foam core board.
Outdoor holiday decor is sometimes overlooked, but on Halloween your porch is your greeting to dozens of trick or treaters. Do you want your entry to be scary? Or classy? Or a mixture of both? I tried to incorporate some classy Halloween elements into a spooky farmhouse welcome.
Which front door is your favorite?
Our Crafting Essentials List:
Follow The Crafty Blog Stalker