Craft a fun fluffy monster eyes headband to wear trick or treating. Great for kids and adults! An easy DIY costume that is perfect for Halloween. This is a sponsored post on behalf of FloraCraft.All opinions are my own because I love giving you helpful tutorials! #MakeItFunCrafts
It is almost Halloween! What? You don't have a costume yet? That's okay, you still have time to make a totally fun and unique costume... or at least a headband. 🙂
This Fluffy Monster Eyes Handbands is so cute and comes together really pretty quickly.
Supplies Used: Affiliate links below may be too similar items when exact items couldn't be found online.
How to Make a Fluffy Monster Eyes Headband
Start with the black and white felt. Cut two 2 ½-inch circles out of the white, and two 1-inch circles out of the black. With a hot glue gun glue the black circle on top of the white circle. With the Glitter Fabric paint, outline the black pupils. Layer both eyes and let the fabric paint dry.
When dry, glue the felt eyes to the foam balls.
I have never used floral pins before, but they are awesome!. They are like double pins with a bridge in the center that will hold down your material. Begin wrapping the feather boa around the eye by securing one end of the boa to the foam ball with a floral pin.
As you continue to wrap the boa around the eye, add more floral pins as needed to keep the boa secure and in place.
When you can no longer see the foam ball trim off the rest of the boa with a pair of scissors. One eyeball is done. Repeat for the other eye.

The feather picks are used for the eyebrows. Secure them in place with floral pins.
To put the eyeballs together break a skewer stick so it is about 3 - 3 ½ inches long. Insert the skewer between the eyes and secure by adding a dab of hot glue on both ends.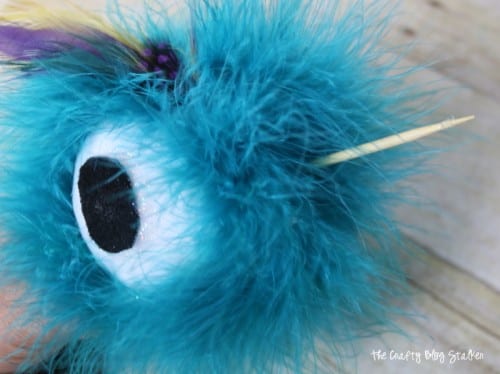 AHHHHHH! So cute... but wait!
For my headband, I used one that my girls already had. You could also use the elastic type of headband.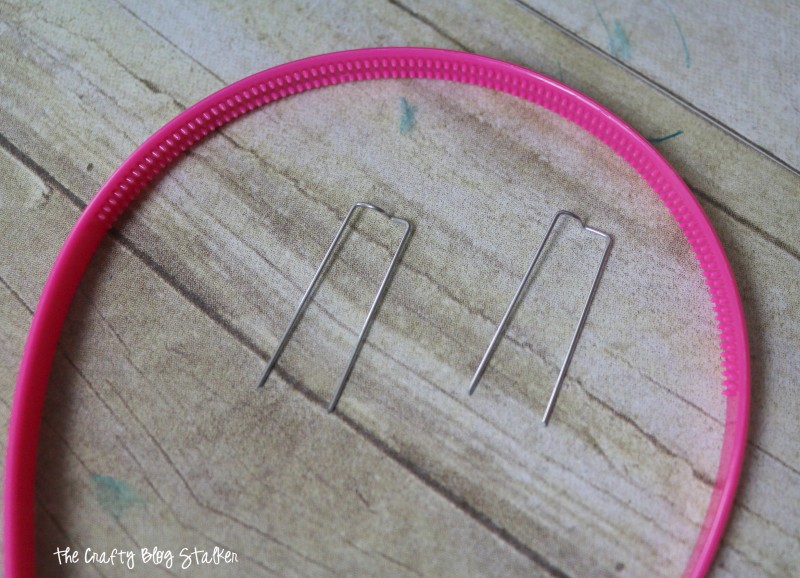 Attach the eyes to the headband with floral pins. If you want to make sure it stays nice and securely add a dab of hot glue to each pin end of the floral pins.
And that's it! I think these Fluffy Monster Eyes are super cute, but you could also make them scary by using a black feather boa and red and black eyes. You could even make this a one-eyed or three-eyed monster! It's your choice!
And let's be friends on Pinterest so you can see all the DIY projects I'm pinning!
You Might Also Like:
Follow The Crafty Blog Stalker