Create a spooky black and white striped skull wreath this Halloween! Easy to make, perfect for haunting decor. Follow our step-by-step guide. This post contains affiliate links.
Halloween is just around the corner, and if you're anything like me, you're itching to get your home looking spook-tacular!
Well, you're in for a treat—no tricks here!
Today, I'm sharing a super simple DIY project that's going to add that perfect touch of eerie elegance to your front door.
It's a Striped Halloween Skull Wreath! Trust me, this isn't your average wreath; it's a hauntingly chic masterpiece that's as easy to make as it is eye-catching.
So grab your crafting supplies, and let's get started making Halloween wreaths that will be the talk of the ghost town!
Supplies Used:
Most of these supplies can be purchased at your local Dollar Tree making this a budget-friendly project!
Wreath Form from a Pool Noodle:
This wreath was pretty simple to put together and I love how it turned out.
I started with a pool noodle that we had hiding in our closet. The hot summer pool days are over so I don't think it will be missed.
Using Gorilla Tape I taped the ends together to form the wreath shape.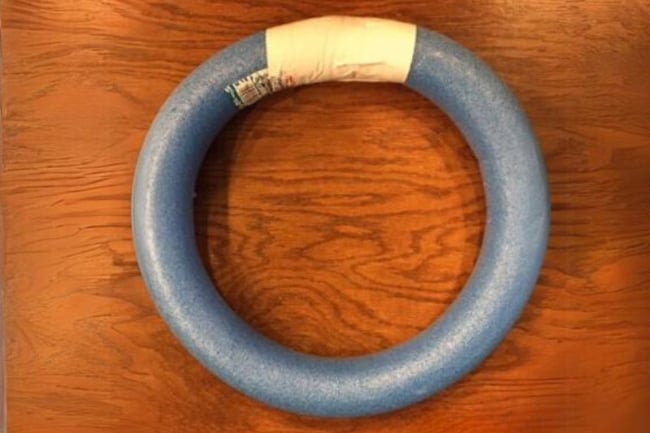 Felt Stripes:
Cut the felt sheets into strips that measure 8.5 x 2 inches.
For my wreath, I ended up needing 14 strips of each the black and the white.
Glue the strips onto the wreath form with a glue gun in a striped pattern.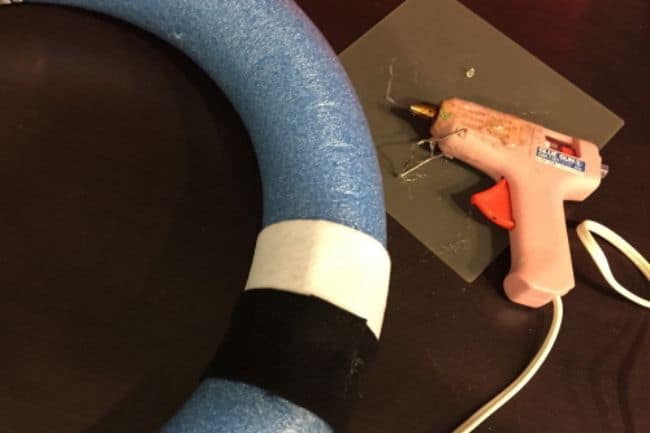 This is how my wreath looked after all of the felt strips were glued into place.
It's already looking really fun!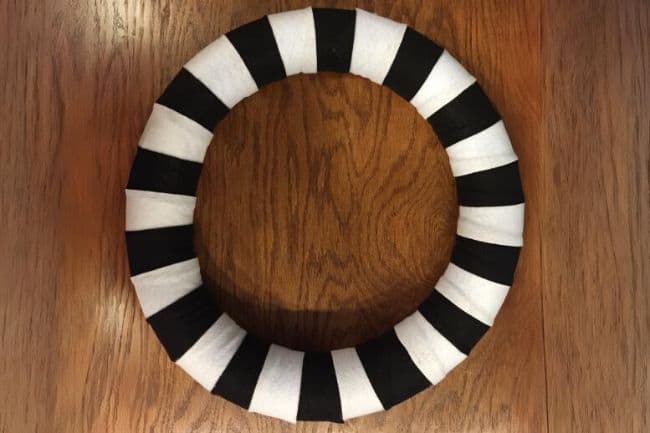 Hanging the Skull:
To hang the skull inside of the wreath, use a nail and a hammer to create a small hole at the top of the skull (not a sentence I ever thought I would say).
Take a long piece of fishing line and tie it to the screw.
You can secure the knot with a dab of glue.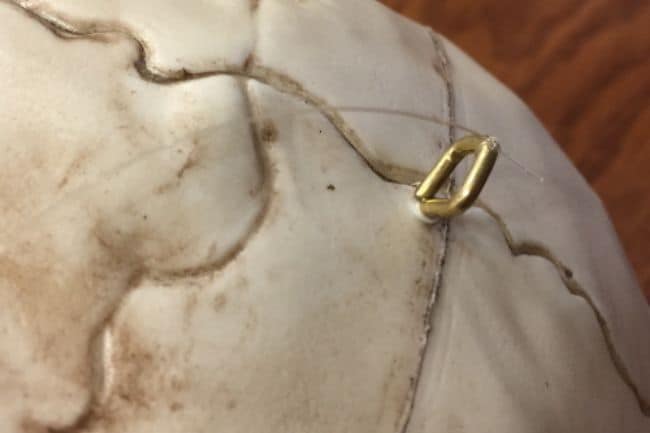 Wrap the length of fishing line around the top of the wreath and tie it off when the skull is centered in the wreath.
The fishing line works great because it is clear and makes the skull look as if it is floating.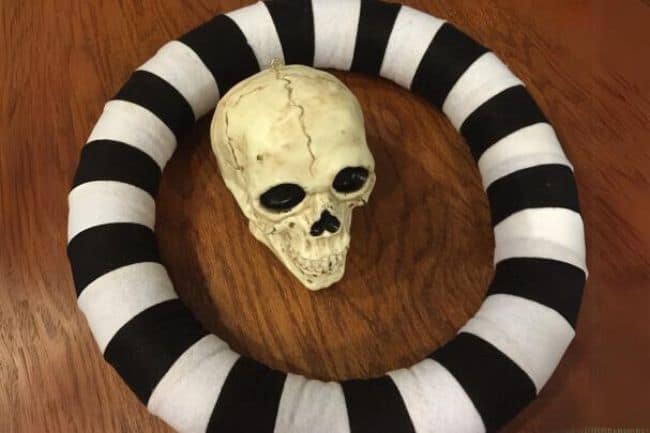 The wreath is cute but not quite done, it needed something more.
So I went digging through my fabric stash and found some yellow flannel fabric.
I frayed the edges of the fabric and made this fun bow.
Hot glue the bow onto the bottom of the wreath, and now it looks complete.
The best part is that when the door opens and closes the skull head shakes back and forth. Creepy!!
Trick or Treaters and guests will love your Halloween decor that is perfect for spooky season.
Our Crafting Essentials List:
Title:
How to Make a Striped Halloween Skull Wreath
Last Updated:
November 9, 2023