Do you love fall decorations? Well, if you want to make an easy, fast and gorgeous fall wreath, look no more. I know you want to make this!
Hey there, it's me Sara again from Twelve On Main and I'll be sharing the tutorial for this beautiful Fall Fabric Wreath!
I'm excited to be here once again contributing! I've been so busy working on home decor and DIY projects for fall.
I am excited to bring you one of my favorite projects today, a DIY fabric wreath for fall.
More Fall Front Door Ideas:
Fall crafting means leaves, pumpkins, and all of those fun natural colors! I love to combine all of those and create fall wreaths! Like this Happy Fall Door Hanger, this Fall Canning Lid Wreath, and this Paper Chain Fall Wreath.
Be sure to look around the blog for more fun craft tutorials!
Supplies You'll Need to Create this Project:
This post contains affiliate links.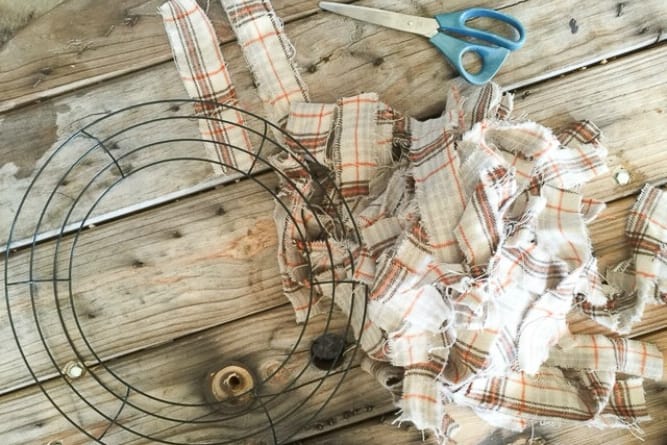 Prepping the Fabric:
I used a plaid fabric that I found in my fabric stash! But you can use any fabric you wish.
I ripped my fabric in about 1 inch wide strips and then cut them into 5-inch lengths.
Assembling the Wreath
You want to start by folding one piece of fabric in half, folding it over the wireframe.
Then feed the two ends of the cloth through the folded end of the fabric and then pull the two ends through, pulling taut.
Repeat this over and over until the wreath is full. The more strips you add, the fuller it will be.
This is preferably done while watching a little Jimmy Fallon, or perhaps some Fixer Upper. It's important to keep yourself productive!
You'll be done before he interviews his second guest, that is unless you have to have a snack while you do it, then it may take just a little longer. Either way, just enjoy yourself.
This will be a really great addition to your front porch fall decorations!
Craft Tutorial Video:
Like videos? Please subscribe to my YouTube Channel so you don't miss out on any future video tutorials!
Our Crafting Essentials List:
If you love this tutorial, please help me by sharing this post on Facebook and Pinterest!
Title:
How to Make an Easy & Gorgeous Fabric Wreath for Fall
Keywords:
fabric wreath for Fall
Last Updated:
June 1, 2023