Customize a pair of Flip Flops with your favorite fabric and hot glue. An easy DIY craft tutorial idea perfect for summer.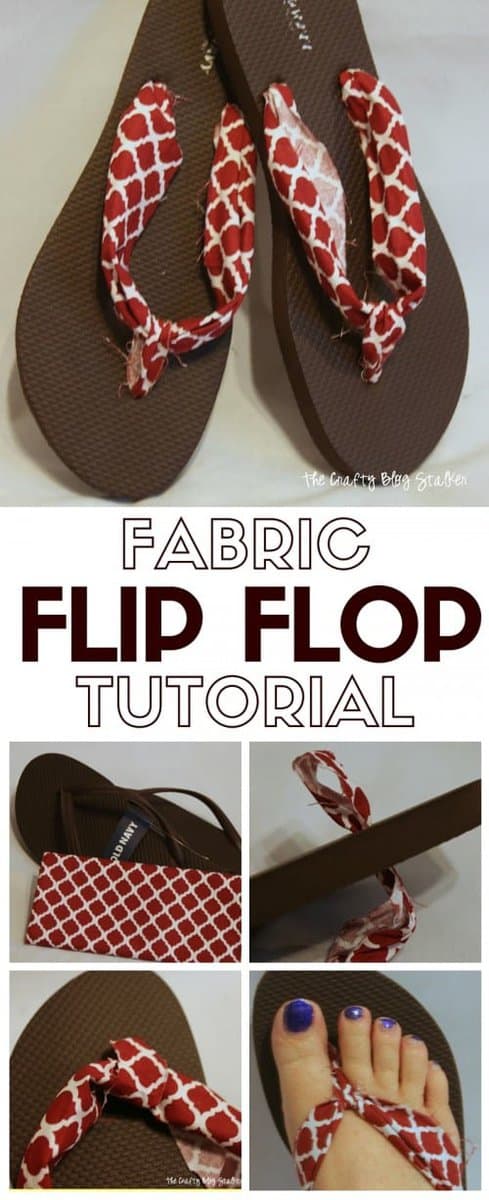 I am a flip-flop girl. They are practically all I wear in the summer. Now that spring is in the air, my toes are aching to get out of those stuffy shoes and socks and into that warm summer sun!
There are so many possibilities on how you can add your favorite fabric to flip flops, but what I like most about this method is that you can make your flip flops fit perfectly so you don't have to worry about doing the toe pinch every time you step to keep you flip flop on, or have your feet ache from flip-flops that are too tight.
Supplies Used: Some links may be too similar items when exact items couldn't be found online.
I bought my flip flops at Old Navy because I think they have the most comfortable flip flops, they are cheap (2 for $5) and they come in all sorts of fun colors! The fabric I chose is no longer available, but you could easily use your favorite cotton fabric or even scraps of what you already have.
How to Make Fabric Flip Flops
One: Remove the plastic do-hickeys that come on the flip-flops.
Two: Start with a strip of fabric that is about 1 inch wide and about 10 inches long.
Tip: Don't cut this piece, simply snip about an inch into your fabric and then pull and tear. So much easier!
Three: Fold strip in have and poke up through the bottom of the top center hole - where your toes go, but don't tie the knot yet.
Four: Tear a piece of fabric that is about 4 inches wide and about 25 inches long (this will give you lots of extra but that is ok - rather too much than not enough).
Five: Thread one end of the 4-inch strip through one of the bottom holes on the flip flop base and tie a tight not.
Six: Pull the 4-inch strip through the 1-inch strip's loop.
Seven: And back down to the hole on the other side of the flip flop.
Eight: Fit the flip to your foot by pulling on the straps to where it fits you comfortably and tight enough to stay on.
Nine: Tie the strips of fabrics into knots and trim off the excess fabric.
Ten: Hot glue around the knots to make them just a bit more secure into the holes of the flips flops.
Because there are already holes in the flip-flop bases the knots fit pretty well inside and you can't feel those knots when you are walking.
My new Fabric Flip Flops are so cute and I can't wait to hear all of the compliments I'm going to get on them!
What colors will you choose for your new Fabric Flip Flops? Share and leave a comment below!
And let's be friends on Pinterest so you can see all the DIY projects I'm pinning!
You Might Also Like:
Follow TCBS