Paper Strip Hearts are easy and fun to make. Hang them from the ceiling or add to a banner for fun party decor. Complete tutorial below!
There is no better way to decorate for Valentine's Day than with hearts!
These paper hearts are super easy to make with scraps of paper and is a great craft to make with kids.
Easy Valentine Crafts:
We have shared all kinds of Valentine projects in the past! Like this Valentine's Day Banner, this Heart Pendant Necklace, or this Chocolate Nugget 6 Pack Gift.
Be sure to look around the blog for more fun Valentine ideas!
Supplies You'll Need to Make This Craft:
This post contains affiliate links.
How to Make Paper Hearts:
To begin, chose your paper.
I chose a double-sided paper that also has touches of glitter in it. There are so many fun papers out there to choose from.
Using a paper trimmer, cut the pattern paper into strips.
For each heart, you will need 6 strips. The 2 small reds are 5 inches long, the pink is 6 ½ inches long and the patterned red is 8 inches long.
To make different sized hearts, for fatter or skinnier hearts, you cut the strips into different lengths.
Stack them as shown above and bring the bottoms of all the slips of paper together and staple.
Take 3 strips of paper and bring the ends together until they are even, do the same with the other three strips pulling them in the opposite direction.
Then bring all 6 ends together, keeping them even, and staple the ends together.
And there is your heart!
Hang them with string or ribbon. To attach the string, I took a glue dot and put it down the center of the heart and put the end of the string in the center, and pinch the heart together. The glue dot will hold the string, it won't be super strong, but will hold the heart to hang it.
I like to watch the hearts as they hang because they slowly spin so they are always moving.
I hung some at my desk at work.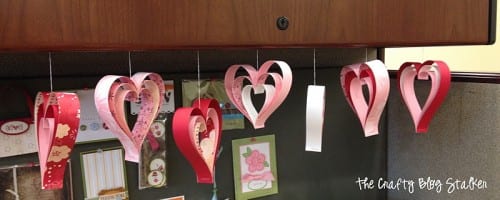 Our Crafting Essentials List: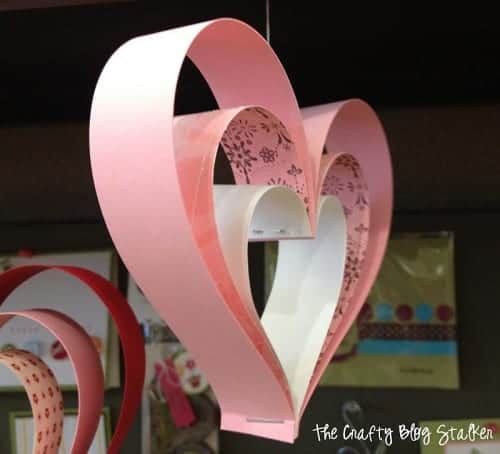 When you make these paper hearts please share a photo! We'd love to see them.
Our Crafting Essentials List:
Follow The Crafty Blog Stalker