Make fun and easy paper flowers to use as papercraft embellishments. A step-by-step tutorial for Easy Flowers with Paper Loops.
Hi everyone! Today I have a really simple and cute paper loop flower tutorial for you. This project takes less than 10 minutes to make and can be added as a cute embellishment to any of your projects!
Video Tutorial:
Like videos? I have a video tutorial for you! Please subscribe to my YouTube Channel so you don't miss out on any future video tutorials!
More Paper Crafting Tutorials:
Since we love papercrafts, that means we have lots of paper crafting tutorials we want to share with you. Like these Paper Necklace Cards, this Disney Autograph Book, and this Shaker Bookmark.
Be sure to look around the blog for more fun craft tutorials!
Supplies You'll Need to Create this Project:
This post contains affiliate links.
Craft Tutorial:
You can make your flowers bigger or smaller depending on the length you cut the paper. My flowers have a diameter of about 4 inches. Play around with different sizes to find the right size that is perfect for your project!
Cut 7 strips of paper that are 8 inches long and about ½ an inch wide.
Ink the edges of each strip with black ink. This adds depth to the flower.
Turn the strips of paper over and at the end of one side add your favorite adhesive.
Adhere one end to the other forming a circle. Make sure the paper design you want is on the outside of the loop.
On the inside where you adhered it add more adhesive. Gently press the middle down so it forms two loops. Try to adhere it in the middle so the loops are even.
Now you have a bunch of flattened loops.
Using adhesive in the center, stack the loops in different directions to create a nice big flower. The more loops you add the fuller the flower will be.
Add a Jewel to the center to finish the flower.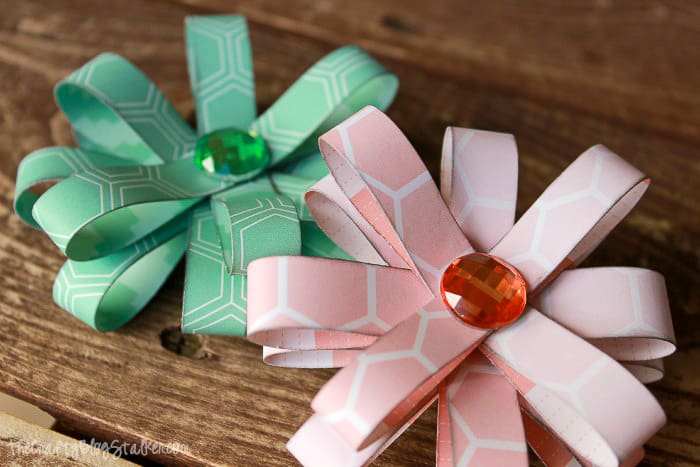 Our Crafting Essentials List:
Title:
How to Make Easy Flowers with Paper Loops
Mentions:
30 Minutes or Less, Paper Crafts
Last Updated:
August 9, 2023