Start a Christmas Family Tradition of a Handmade Ornament Exchange. An easy DIY craft tutorial idea for keepsake Christmas Ornaments.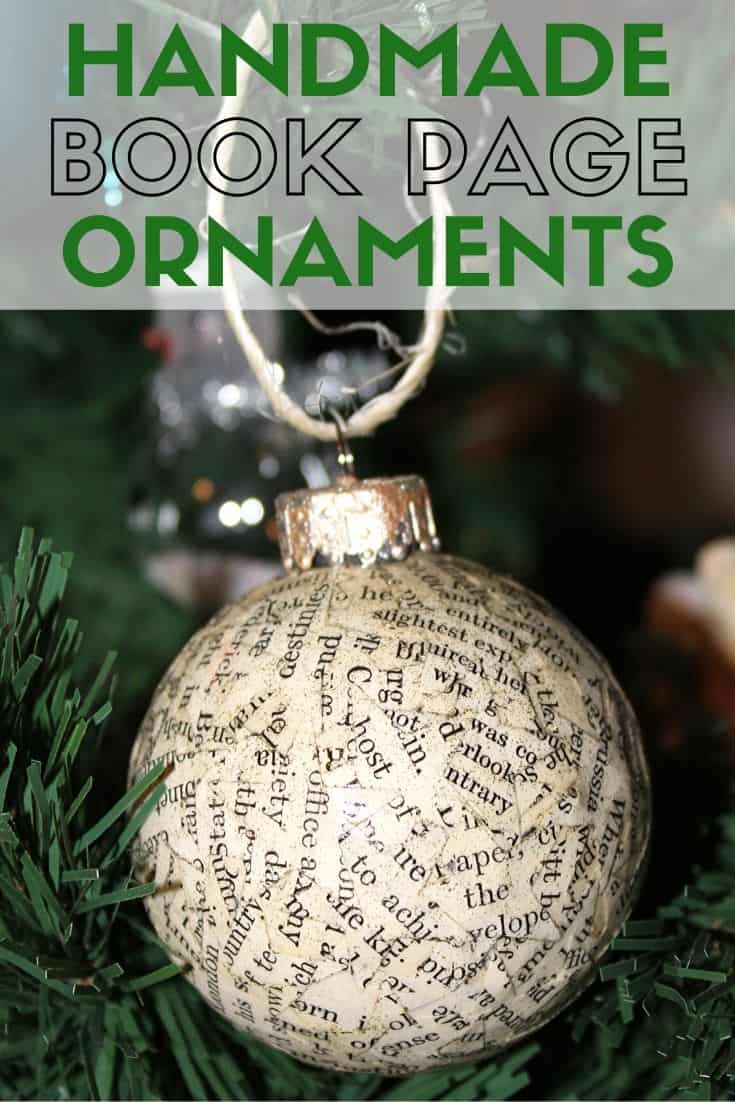 Every year my family does a Handmade Christmas Ornament Exchange. This is one of my very favorite family traditions. There are 7 kids on my side of the family, we are all grown and married and my mom likes to participate too. How it works is everyone makes 8 ornaments. Then we exchange our ornaments around Thanksgiving time. Everyone in the family ends up with 8 different handmade Christmas ornaments every year. These ornaments have become a keepsake to me and I love decorating my tree every year pulling out the ornaments from years past. It really is a fun tradition.
Supplies Used to Make Book Page Ornaments
Some links may be on similar items when exact items couldn't be found online.
How to Make Book Page Ornaments
Started with a plastic ball ornament, I like that it won't break ensuring that my ornament will last even longer.
The old book that I used was purchased at my local goodwill.
Tear the pages out and begin punching circles with the paper punch. Cut a slit halfway through the circle with a pair of scissors. This will make the paper circle lay nicer on the round ornament.
Dip the paintbrush in Mod Podge and paint a small area.
Apply one of the paper circles and press it down.
Paint another layer of Mod Podge over the top of the paper circle as well.
Continue moving around the ornament to cover it completely.
When you get to the top, cut a small hole in the center of one of the paper circles. The size of this hole depends on the size of the top of your ornament.
With Modge Podge paint around the top of the ornament.
Put the paper circle around the opening. Again covering with another layer of Modge Podge.
When the ornament is dry, apply a layer of glitter spray paint to give the ornaments some sparkle. (It's hard to see in the picture.)
I really do love how my ornaments turned out and I am super excited to exchange!
Do you have a handmade ornament that you cherish? Share and leave a comment below!
CLICK HERE TO SAVE HOW TO MAKE A BOOK PAGE CHRISTMAS ORNAMENT TO YOUR FAVORITE PINTEREST BOARD!
Follow me on Pinterest and you can see all the DIY projects I'm pinning!
You Might Also Like:
Follow The Crafty Blog Stalker