With a few supplies—and a little time— you can create your own M&M candy ornaments for your Christmas tree or around your home.
I had this idea for Christmas ornaments in my head for a while now.
These ornaments are pretty simple to make and could even be a fun family activity to do with the kids!
Supplies You'll Need to Make This Craft:
This post contains affiliate links.
M&M Candy Ornaments:
First, separate your M&M's into the same color.
I filled up big ornament balls, which took a lot of M&M's.
You could use smaller ornaments if you wanted to, just make sure the opening is large enough to put the candies inside.
Santa Ornament:
Fill the ornament with red M&M's.
Thread black ribbon through a pop can tab to look like a belt.
Apply dots of glue along the backside of the ribbon, and press into place with your fingers.
The two ribbon ends should meet at the back.
Trim off any excess with a pair of scissors.
Reindeer Ornament:
Fill the ornament with brown M&M's.
Apply a dot of glue on the back of two googly eyes and the red pom, and press them into place with your fingers.
Make a bow with the brown ribbon for the antlers and glue it to the top.
Christmas Tree:
Fill the ornament with green M&M's.
Apply a strip of red self-adhesive rhinestones around the plastic ornament to look like a string of lights.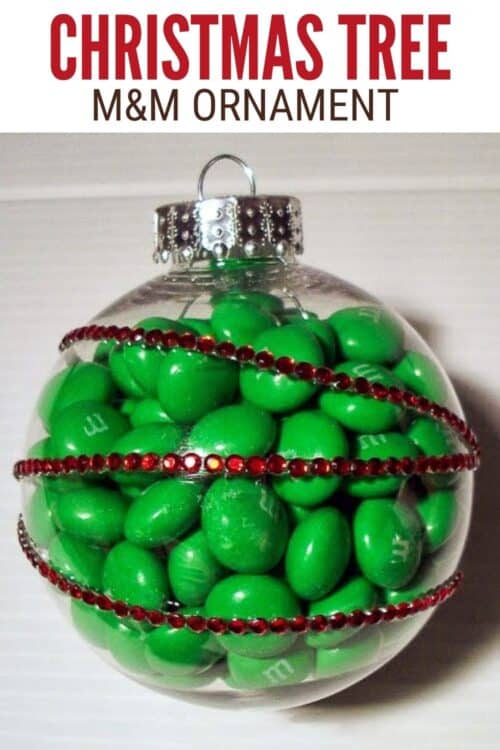 Aren't they cute? I definitely need to make more!
The ornaments are pretty heavy since they are filled with delicious M&M's.
I glued the top of the ornaments on to make sure none would fall out if they were to fall, but that step is completely optional.
Our Crafting Essentials List:
Title:
How to Make Your Own M&M Candy Christmas Ornaments
Mentions:
30 Minutes or Less, Christmas, Crafts for Kids
Keywords:
Christmas Ornament Craft
Last Updated:
November 1, 2023