Hi, I'm Denise from DIY Crush, a blog full of great tutorials, patterns, features, and more! So thrilled to be guest posting for you today!
Let's get started on this fun project!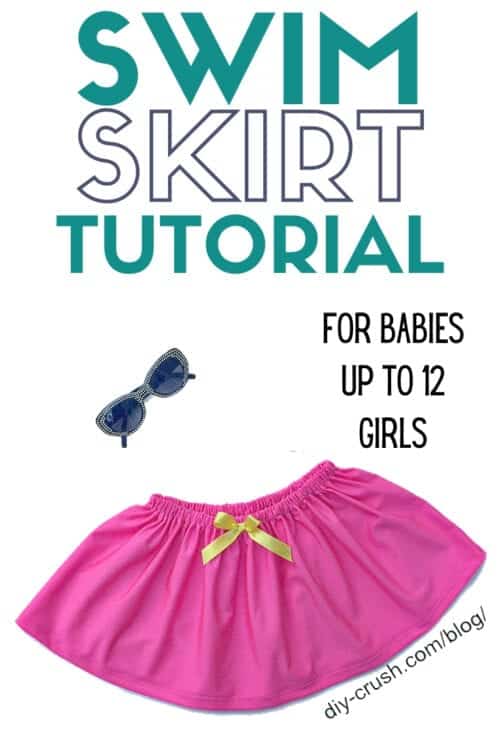 Supplies Used to Sew a Girls Swim Skirt Cover Up
Items linked below may go to similar items when exact items couldn't be found online. Links are affiliate so when you purchase, I will get a small kickback to help fund the next tutorial!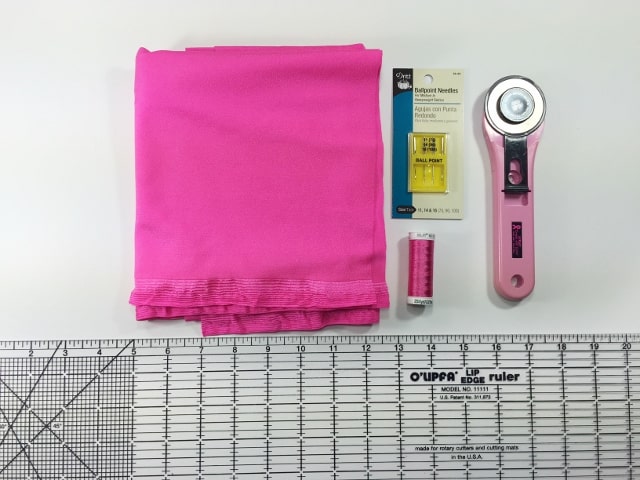 Cut Your Fabric
You will only need to cut one piece of fabric and one piece of elastic!
Newborn through 3 months: 30" wide x 8" long | Elastic 16"
6 months through 12 months: 33" wide x 9" long | Elastic 16.5"
18 months through 2t: 38" wide x 10" long | Elastic 19"
3t through 5t: 45: wide x 10" long | Elastic 20"
6 through 9: 50" wide x 11" long | Elastic 21"
10 through 12: 60" wide x 12" long | Elastic 23"
Sewing a Girls Swim Skirt
With the right sides together and print direction going down, pin and sew the right edges. There is no need to finish the raw edges as the swimsuit material won't unravel.
Make the top casing and bottom hem
Fold down the top edge ¾" and pin every ½ inch.
Using your preferred stitch and needle, sew the fold in place along the bottom edge of the fold. Leave a 1" opening on the side seam for later inserting the elastic.
Repeat this step with the bottom hem but omit the opening.
How to Insert the Elastic
Secure a safety pin to one end of the elastic and insert it into the casing.
To prevent the elastic from slipping into the casing while you feed the elastic in, secure the end of the elastic with another safety pin to the inner seam.
Once both ends of the elastic meet, overlap them ½" and pin in place. Then sew over this area several times.
Finish the Swim Skirt
Now it's time to close the opening with your machine.
Add a cute ribbon bow to the front by hand or with your machine. Heat seal the ends and you are done!
Your custom-made swim skirt is done! Now get your little girl and let her try it on!
You Might Also Like These Tutorials:
Our Crafting Essentials List:
Title:
How to Sew a Girls Swim Skirt Cover Up
Keywords:
girls swim skirt
Last Updated:
September 4, 2023