Turn a boring doormat into a fabulous Stenciled Door Mat with only a little bit of paint and a stencil. Easy DIY craft tutorial idea for outdoor home decor.
Spring is here and my front door needed a makeover. This fun stenciled doormat is exactly what was needed.
Supplies Used: Some links may be too similar items when exact items couldn't be found online.
How to Paint a Stenciled Door Mat
Start with a simple bristle outdoor mat.
And a stencil, outdoor Patio Paint, and a stencil brush.
First, we need to do a little math. Yes, I don't like math either. But we want to make sure the pattern is centered evenly on the mat.
For the rug, I want a unique pattern so before I can start painting I cover the whole stencil with masking tape.
Using a craft knife, cut away the openings that I want to paint.
Here is what it looks like completed. Can you see the pattern?
Now the stencil is finished, we are ready to paint.  Since this is an outdoor mat, make sure to buy outdoor paint. 
Placed the stencil on the mat and begin painting. started out. When one area is finished, move the stencil, lining it up to what is done and keep going.
I filmed a quick tip to keep in mind when stenciling.  Hopefully, you will find it helpful.
Here is what the mat looks like with the pink portions painted. It is a little blurry, so I apologize.  I can't wait to see what it looks like with the green.
Switch to the green outdoor paint going opposite with the stencil pattern. Here it is completely finished.
This was such a fun doormat to make and it looks fabulous outside my front door.  Look at the before and after and you can see what a difference a little paint can make.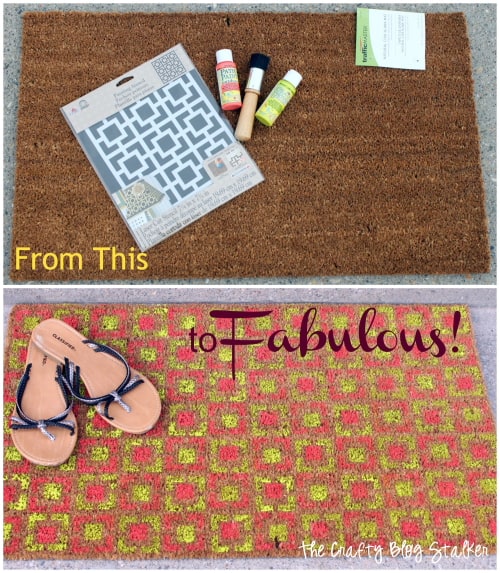 How do you like to decorate your front porch? Share and leave a comment below!
Our Crafting Essentials List:
Title:
How to Paint a Stenciled Door Mat
Last Updated:
August 16, 2023