The perfect gift for any special occasion like an Anniversary and Valentine's Day is a Personalized Glass Etched Wine Bottle. An easy DIY craft tutorial idea.
This tutorial is adapted from a Facebook Live. To watch a live tutorial follow The Crafty Blog Stalker on Facebook.
There are reasons why special occasions are called SPECIAL OCCASIONS. If they aren't special then they are just weekend plans like grocery shopping, and grocery shopping is not special!
Special occasions are a great reason to go a little beyond the norm, maybe you could even say it's a great time to do something a LITTLE SPECIAL! Okay, I kind of feel like I'm going down a rabbit hole here, but hopefully you get where I am going. 🙂
The end of February marks my 19th wedding anniversary, and I definitely think that is a special occasion. To mark the occasion I decided to make a personalized gift of an etched glass bottle. This is such a fun idea because even after we have toasted the occasion, the bottle becomes a keepsake.
Supplies Used: Some links may be too similar items when exact items couldn't be found online.
How to Make a Personalized Etched Glass Wine Bottle
Like videos? I do have a video tutorial if you would prefer to watch the tutorial. Please subscribe to my YouTube Channel so you don't miss out on any future video tutorials!
Make and Cut a Personalized Stencil
The first thing you will need to do is create a stencil. I created my stencil Cricut Design Space and I have a tutorial for you so you can create your own personalized stencil. Click here to learn How to Make a Stencil in Cricut Design Space.
Cut the stencil out of vinyl using your Cricut Explore machine. Cricut Design Space will walk you through the cutting process.
If you don't have a Cricut, you can hand cut the stencil out of vinyl using a craft night. Although, the Cricut seriously makes it so easy and you are sure to get the perfect straight and curved lines.
After the image is cut, weed out the vinyl spaces that you want the etch cream to fill on the bottle.
Remove the Bottle Label
Use Goo Gone to assist you in removing the label from the glass bottle.
The technique that worked the best for me was to get the label wet under some running water. Then I sprayed a good amount of Goo Gone onto the bottle, rubbed it into the paper with my finger and let it sit for 5 to 10 minutes. Using a kitchen scrubber run the bottle under water and scrub the label off making sure to get any glue residue that is stuck to the bottle.
Do not use a wire scrubber because that will scratch the glass. I used a kitchen sponge scrubber that had a good scrubby side but still gentle enough to not scratch.
After the glue is all removed, wash the outside of the bottle with some dish soap to remove any greasy residue of the Goo Gone.
Apply the Stencil
Cut a square of transfer tape that is just slightly larger than the stencil. Rub the top of the transfer tape with a spatula tool to get the vinyl stuck to the transfer tape.
Carefully peel back the transfer tape and this should peel up the vinyl from its backing sheet like a sticker. Make sure all pieces are stuck to the transfer tape. If a portion doesn't pull up, lay the transfer tape back down and go back over the spot with a finger or the spatula tool. Repeat until the complete stencil easily peels away.
Apply the stencil to the glass bottle and press all over the stencil because now you want the stencil to stick to the glass. Slowly peel off the transfer tape. If an area of the stencil sticks to the transfer tape lay it back down and rub until it sticks.
Make sure the vinyl is really stuck to the glass and there is a good seal, otherwise the etching cream will sneak under the vinyl and you won't get nice crisp lines.
Remove any excess grease from fingers with a lint free cloth and some rubbing alcohol.
Glass Etch
First, let me say, Etch All is usually white. I don't know why mine is black. So if your cream has turned black, don't worry. It still works. The black cream does not add a tint to the glass that it etches, it still works normal, just as it was white.
Using a wood popsicle stick, apply the Etch All cream in big blobs. It is a thick cream that doesn't really drip so it should stay in the place that you put it. Cover the entire stencil with a thick coat and let it sit for 15 minutes.
When the 15 minutes is up, take that same popsicle stick and carefully scrape the Etch All cream off of the bottle and put it back into the bottle.
Did you know you can reuse the cream? I have had this same bottle for about 10 years and I have done so many fun projects!
Take the bottle to the sink and carefully wash away what is left. Be careful not to let the cream wash onto other areas of the glass because it will etch whatever it touches.
Peel back the vinyl stencil and there you have your personalized etched glass bottle!
I also made matching wine glasses!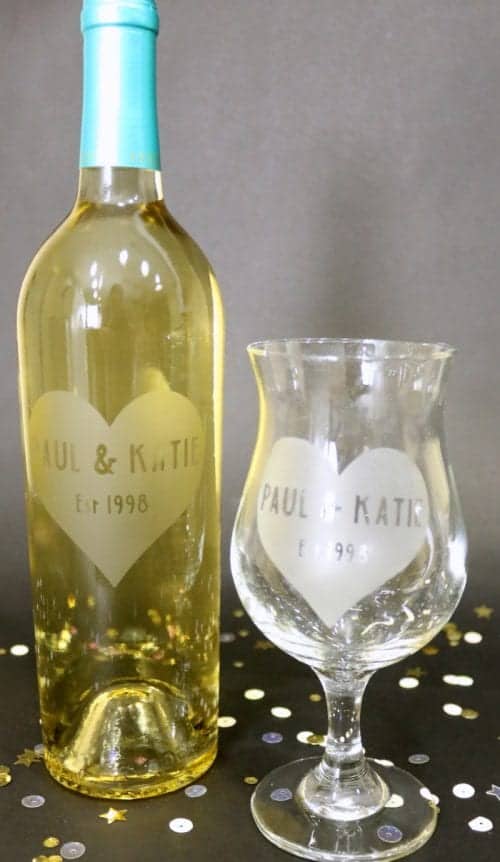 Etching glass is really so easy and once you've done it, you will want to etch EVERYTHING!
I was having so much fun that I etched a couple more glass bottles. I really wanted to see what the difference would be between the darker colored glass and the clear glass.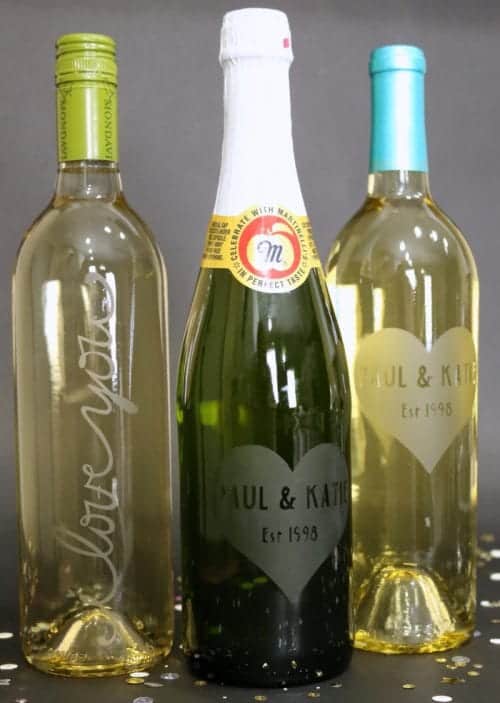 The green bottle matched the wine glasses as well.
Then I went rogue and created a different stencil using an image in Cricut Design Space that took no personalization, but I still love it.
These personalized etched glass bottles are such a fun gift idea for weddings, anniversaries, Valentine's Day and really so much more! What special event would you make one for? Share and leave a comment below!
And let's be friends on Pinterest so you can see all the DIY projects I'm pinning!
You Might Also Like: