Loom bands are colorful, stretchy, rubber bands that come in all kinds of colors. This guide tells you how to make a rubber band bracelet with loom bands. This post contains affiliate links.
I was at my local craft store earlier this week and I came across loom bands.
They were very intriguing and looked simple enough. Right away I thought of creating easy DIY bracelets with my daughters.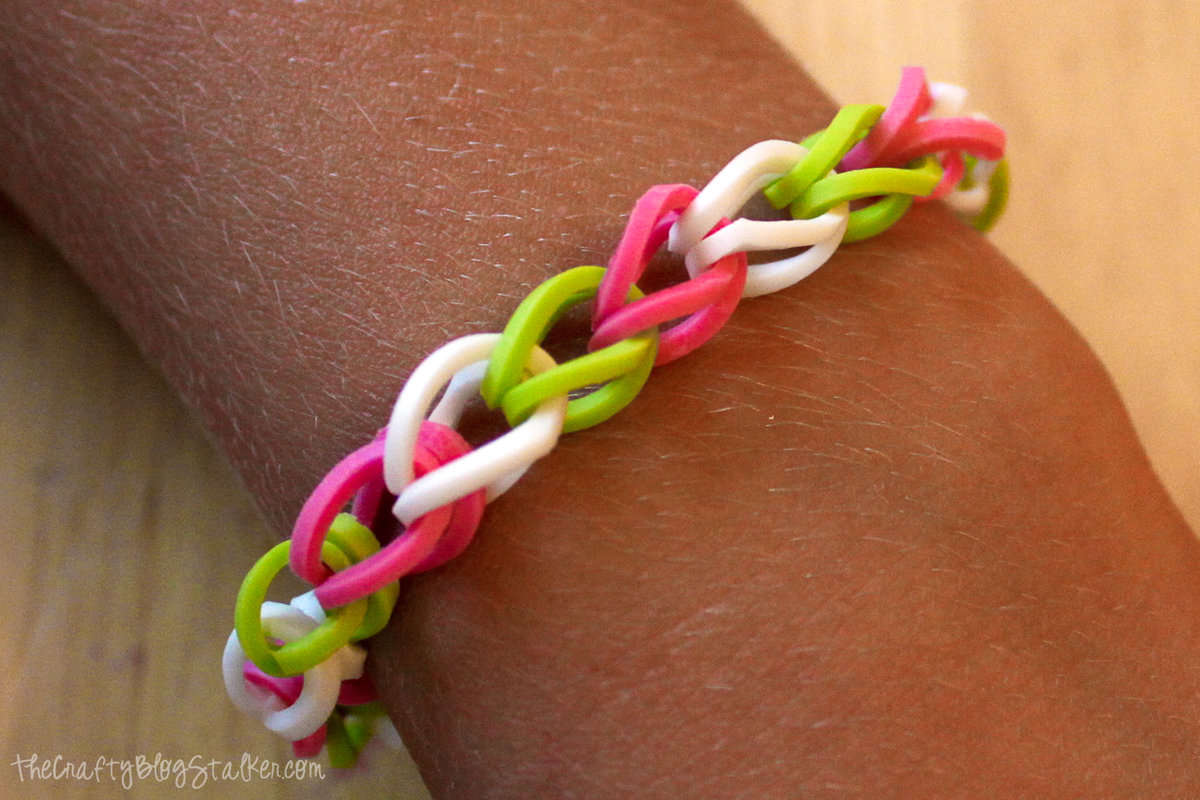 Supplies You'll Need to Create this Project:
These are often called rainbow loom bracelets, but don't use a loom for this pattern. Only our fingers.
Instructions:
Take the small rubber band and flatten it into an oval in your fingers and put it through the C-clip.
Take another small rubber band and flatten it again and put it through the two loops from the previous band.
Continue with small rubber bands until you have the desired length, then take the 2 loops of the last band and put them into the C-clip.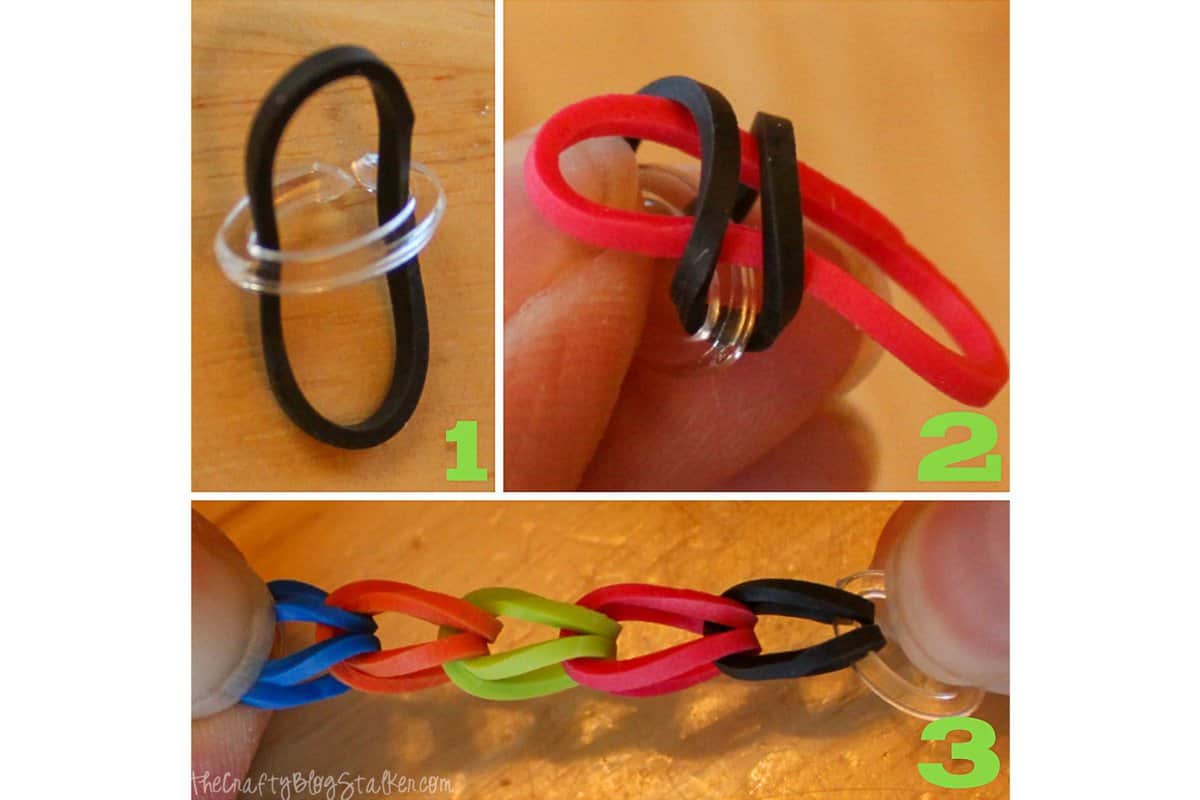 It is really that easy!
The package came with a crochet needle, but we all found the needle more confusing to use than just fingers.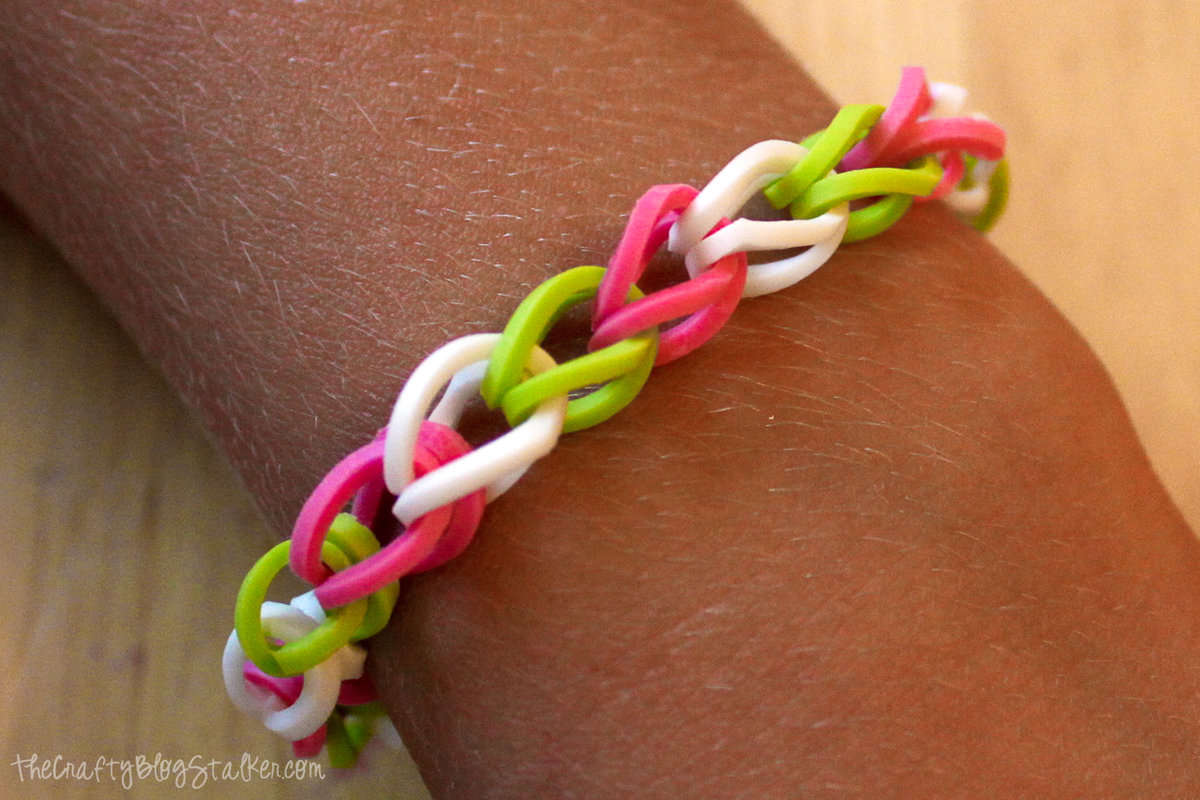 All three of my girls made one and had a lot of fun making their own single chain bracelet.
This is simple chain design is great for younger kids. My youngest is 8 and she was a little frustrated to get started but once she figured it out she made several with no problem. Now she has new skills!
They even made some matching bracelets for their teddy bears!
My girls also made a few rubber band friendship bracelets for each best friend at school, so they can all have matching bracelets.
I never did learn how to make the fancy braided friendship bracelets but I think these are much easier, and they are pretty cute too! Plus they make great gifts to friends.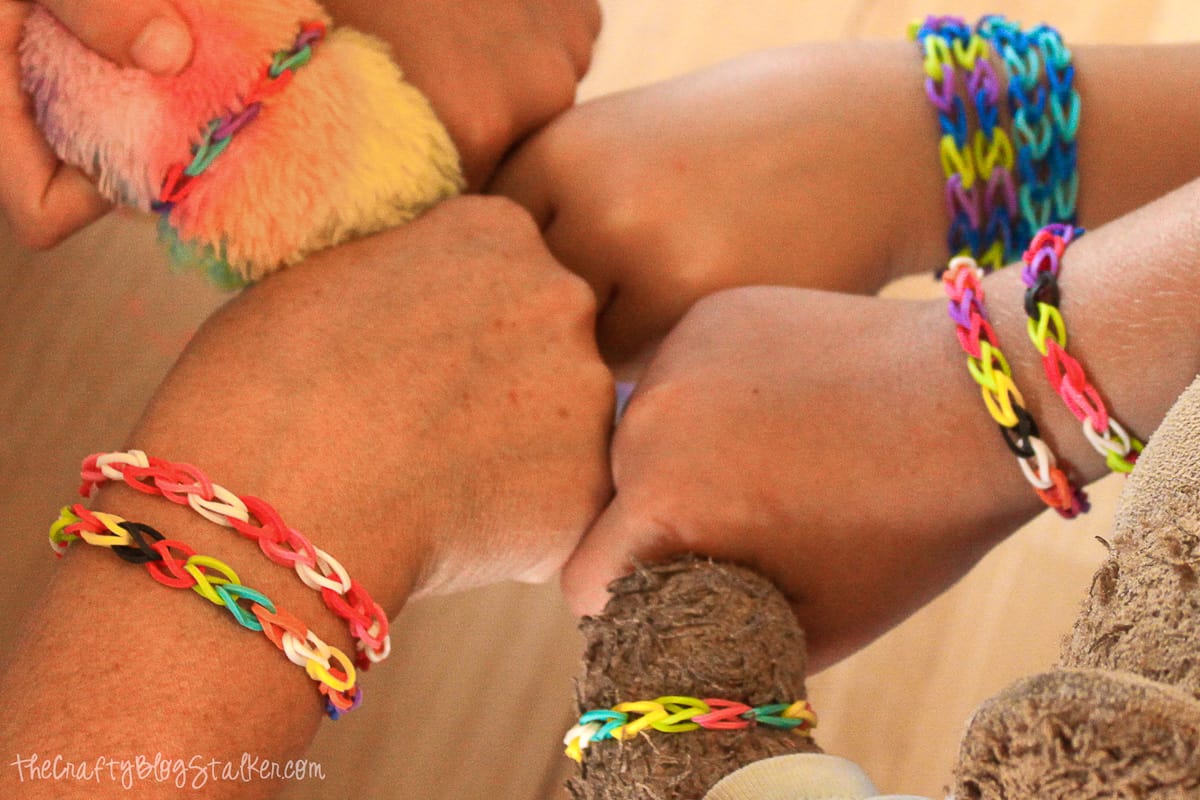 Frequently Asked Questions:
What are loom bands?
Loom bands are mini elastic bands, that are really pretty small. You can stretch these colorful rubber bands to fit over your finger but not much more.
Where do you buy loom bands?
You can find loom bands at just about any local craft store, like Hobby Lobby or Michaels Stores. They are usually in the kid's crafts section.
Amazon is also a great option. There you can find lots of colors of loom bands and all of the tools, like a weaving loom and hooks.
How much are loom bands?
They are pretty inexpensive, but that doesn't mean you should buy the cheapest set.
You will find some loom bands that are very poor quality and break easily. Those are usually really thin bands.
I like this loom kit from Amazon. It is good quality and not expensive, and they even come with charms!
Do you need a special hook?
The hook is basically a crochet hook, so you don't need a loom band hook.
Although, stay away from the larger crochet hooks. They don't work well with small bands.
Can you buy just the plastic C clips?
Yes, you can!
I really like these C clips that come in a rainbow of colors. They are so pretty!
How many rainbow loom bands does it take to make a bracelet?
For this colorful bracelet, you would need about 25 loom bands.
But feel free to use more or less for the perfect fit.
How do you finish the ends of a rubber band bracelet?
In the very first step, you start with a C-clip. When the bracelet is the desired length, bring the clip around and attach it to the last rubber band loop bringing the ends of the bracelet together.
Walah, your bracelet is finished and your wrist has a fancy new bracelet!
Are there different patterns you can make?
Yes! There are many different designs and instructions out there to make different types of bracelets. There are some that have a more complex design, while others have more easy rainbow loom bracelet designs.
For more great ideas type "loom band bracelet" in your search browser, and you can find a lot of tutorials showing you how to make the different bracelets. Just make sure they offer clear instructions so you don't end up getting frustrated.
How do you make a fishtail rubber band bracelet?
The fishtail is another popular style of loom bracelet, and guess what? I have a tutorial!
How to Make a Fishtail Bracelet.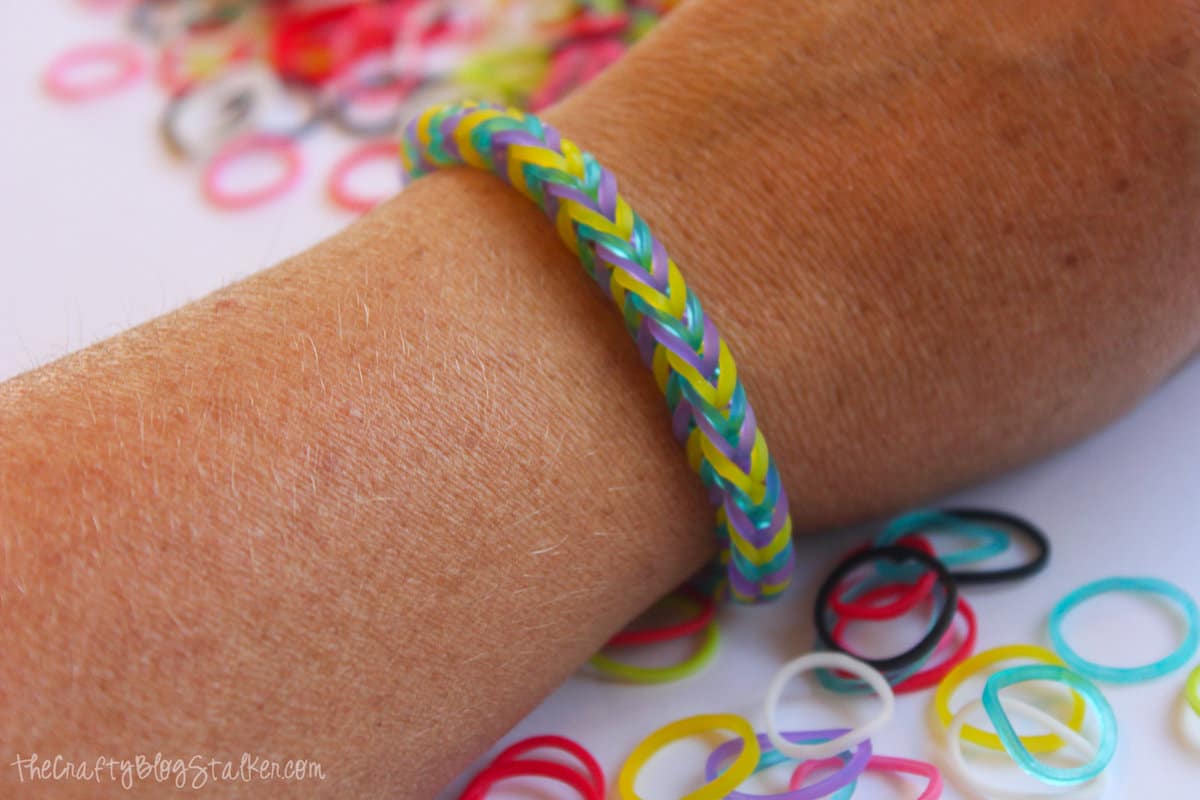 Our Jewelry Making Essentials List:
Title:
DIY Rubber Band Bracelet with Loom Bands
Mentions:
30 Minutes or Less, Crafts for Kids
Keywords:
hoe to make rubber band bracelet
Last Updated:
October 20, 2023