AD: Have you seen the new Cricut cutting machine? Join me as we unbox the Cricut Maker 3 and talk about what comes with this electric cutter! This post has been compensated by Cricut. All opinions are mine alone.
Since you are here, I can assume that you heard the announcement about the NEW Cricut Maker 3 and Cricut Explore 3 cutting machines! I am so stinkin' excited about the upgrades of these machines and what they can do, and I hope you are too.
Today we are going to focus on Maker 3. Don't get me wrong, Explore 3 is just as amazing, but Maker 3 can do everything Explore 3 can do but with 200+ more materials!
Where to Buy the Cricut Maker 3:
The easiest place to buy the Cricut Maker 3 is on the Cricut Website.
You can purchase the Cricut Maker for $399, but I highly suggest the Maker 3 Bundle for $499. In this bundle, you get 14 rolls of Smart materials, as well as tools, sticker paper, and more. It really is a great deal for only $100 more.
Alright, are you ready to see it? Let's go!
What Comes in the Box:
Let's jump right in to what we are all dying to do, then we'll go over the differences of the machines, and answer questions you may have.
Contents of the Cricut Maker 3 Box
Cricut Maker 3 (wrapped in shrink plastic)
Premium Fine-Point Blade + Housing
Power Adapter
USB cable
Welcome Envelope
Smart Material Samples to get started cutting right away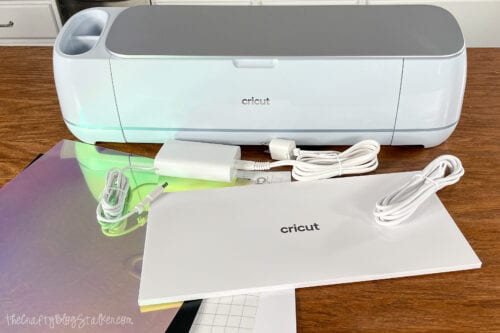 Included with the upgrades to Maker 3, is a more powerful power adapter. This new cord allows for 3 Amps of output, while Explore machines have power adapters with 2.5 Amps of output. This also means that this new cord will not work with the original Maker.
That means it is important to always use the power cord that comes with your machine.
If you are new to Cricut you will also get a Free trial subscription to Cricut Access which has thousands of images, and fonts that you can use to create your own projects.
You will also get 100 ready-to-make projects, where the designing is done for you, all you have to do is and assemble.
Similarities between Original Maker and Cricut Maker 3:
Right out of the box you may notice how the shape and design of the machine hasn't really changed.
Maker 3 still has the USB on the side for charging devices, and the groove on the top to hold your device while cutting. I loved these features with the release of the original and am so glad they kept them with the Maker 3.
Here is the new Cricut Maker 3. You may notice that the shape and design of the machine are very similar to the original.
The original maker was only available in one color and same for Maker 3. The only color currently available for Maker 3 is a gorgeous pale blue with a blueish silver accent. The machine really is eye catching.
Differences between Original Maker and Cricut Maker 3:
Now let's talk about the upgrades because that is the fun stuff!
The biggest differences are speed, cut length, and cutting without a mat with Smart Materials. I made a chart below so you could see the differences more clearly.
What are Smart Materials?
Many are familiar with smart materials because we have been able to use them with the Cricut Joy, but now smart materials are available in 13-inch width rolls we can use with Maker 3.
The biggest difference with Smart materials is the width. Since they are 13 inches wide they can be loaded into and cut on Maker 3 without a Mat.
You can still cut Smart Materials on earlier versions of Cricut Cutting machines but the material will need to be placed on a mat before loading into the machine.
You can only cut without a mat when your are using a Maker 3 or Explore 3 and Smart Materials.
Smart Materials come in smart vinyl, smart iron on, and smart paper sticker cardstock.
Does the Maker 3 really cut 2x Faster?
The speed is my favorite upgrade with Maker 3. Yes, it really does cut 2x faster when using Smart Materials. I did a side by side comparison you can watch in the video below and it was fun to see the differences between the two machines.
So to get the best speed out of your machine, make sure to use Smart Materials whenever you can.
What is the Cricut Roll Holder?
The Cricut Roll Holder is a separate accessory you can purchase for your Maker 3 to hold your vinyl.
This accessory is completely optional and is not required when using Maker 3, but if you cut long projects it can definitely come in handy. Especially since Maker 3 can cut a single image that is up to 12 feet in length. That is a lot of material! Plus the roll holder helps keep your roll of Smart Material from falling all over the place out of control. It really is handy for large projects.
Why Skip Maker 2?
So what happened to Maker 2? Why did it jump from the original Maker to Maker 3?
Since the advances between the Explore and Maker are similar, both were advanced to the same number showing that they are the same version or generation.
Watch the Unboxing Video:
Like videos? I have one just for you! Please subscribe to my YouTube Channel so you don't miss out on any future video tutorials!
If you have any questions about the Cricut Maker 3 that I didn't answer, don't hesitate to leave it in a comment below and I will get back to you with an answer.
Follow The Crafty Blog Stalker