This tutorial will walk you step-by-step through the process of making a keychain out of acrylic and engraving it with a Cricut machine. This post contains affiliate links.
I think everyone should have a bonus mom. You know, someone that looks out for you, that helps you in one way or another, and just loves you!
It could be a stepmom, teacher, coach, coworker, or friend.
If you have a bonus mom, show them how much you love and appreciate them with a cute bonus mom keyring! It would make the perfect keepsake for Mother's Day, a birthday, or just because.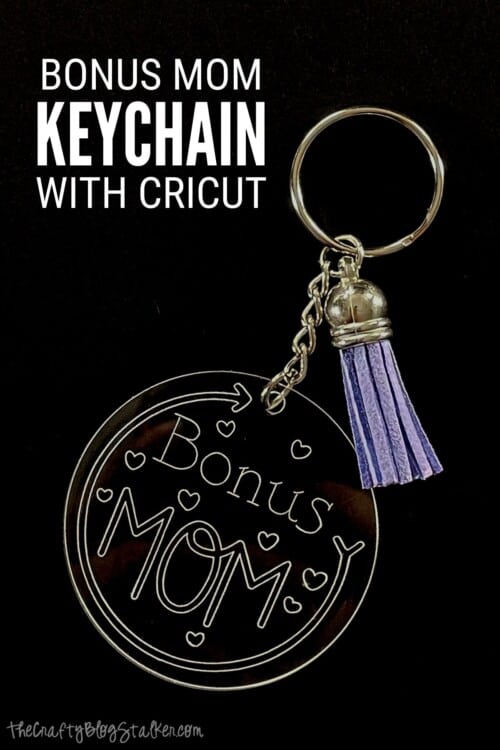 More Cricut Craft Tutorials:
The Cricut is our very favorite crafting tool, so naturally, we have shared lots of Cricut tutorials. Like this Paper Bird Garland, this Paper Flower Shadow Box, and this Oh Hello Porch Sign.
Be sure to look around the blog for more Cricut craft tutorial ideas!
Supplies You'll Need to Create this Project:
Cricut Design Space:
Open Cricut Design Space using the link to the Bonus Mom Design.
The design is already sized to fit on a 2-inch acrylic circle keychain. If you need to resize make sure to select the entire design so all of the pieces resize accordingly.
Tap on "Make It".
Mirror the design and center in the middle of the mat.
Engraving with Cricut Maker:
On your StrongGrip mat, center the acrylic circle in the same position as the mat preview in Cricut Design Space.
Secure the acrylic circle in place by placing a couple pieces of masking tape around the circle.
Insert the Engraving Tip and QuickSwap housing into the B clamp on the Cricut Maker.
Load the mat and then cut.
Assembling the Keychain:
Hold the open jump ring with one pair of jewelry pliers.
Loop the engraved acrylic circle, and chain onto the open jump ring.
Using two pairs of pliers close the jump ring by twisting your wrists.
Open the jump ring at the top of the chain and add the tassel to the jump ring, and then close again.
Your keychain is finished! Isn't it so cute?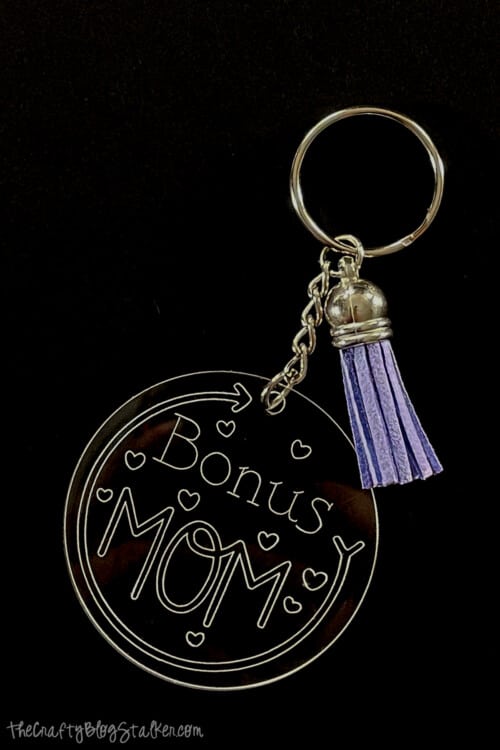 Craft Tutorial Video:
Like videos? I have a video tutorial for you! Please subscribe to my YouTube Channel so you don't miss out on any future video tutorials!
Our Crafting Essentials List:
Follow The Crafty Blog Stalker