Sublimation is a great way to transform your DIY crafts. Learn how many different things you can sublimate on with these 20 simple tutorials.
Sublimation is one of my favorite new crafting techniques.
I just love what I can make!
Sublimation has stepped up my gift-giving because personalization is so easy.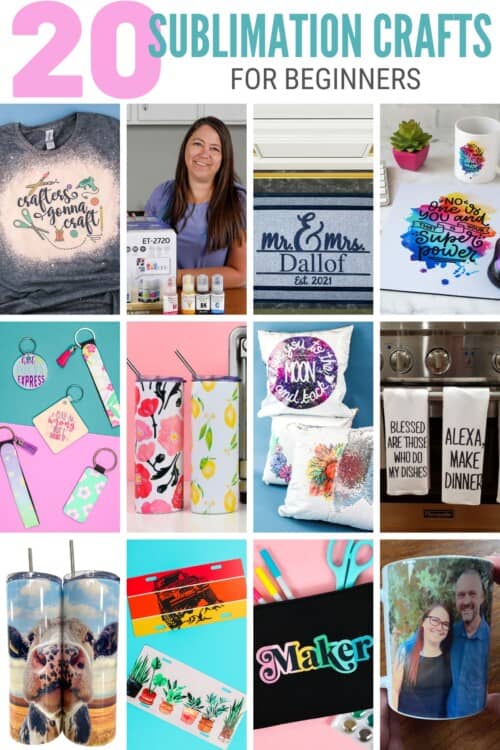 More Craft Idea Posts:
Idea posts are awesome because they give you lots of ideas all in one place! Here are a few more idea posts that I think you might like: 20 Cool Gadget Under $20, 20 Handmade Birthday Cards, and 20 Drinking Straw Crafts.
Be sure to look around the blog for more Craft Idea Posts!
Sublimation Crafts:
Visit the website for the step-by-step tutorial.
Convert a new Epson EcoTank home office printer into a sublimation printer with a complete video and step-by-step tutorial!
Did you know you can use a convection oven for sublimation? This post walks you through how to sublimate a tumbler using shrink wrap and a convection oven. It's easier than you think!
Want to get started with bleaching shirts? You may also see this process referred to as reverse tie-dye. You will definitely learn about doing that process in the video below as well!
Whether you're a teacher or a student, personalized notebooks make it easier to find what you're looking for. Make your very own customized notebook using sublimation.
Create colorful, custom sublimation projects with the Sawgrass SG500 printer from JOANN!
I've been asked a lot about how to How To Do Sublimation Over Glitter With Cricut Print Then Cut And EasyPress 2, so I decided to do a tutorial for yall.
Yes, you can sublimate on canvas, you just need a secret ingredient!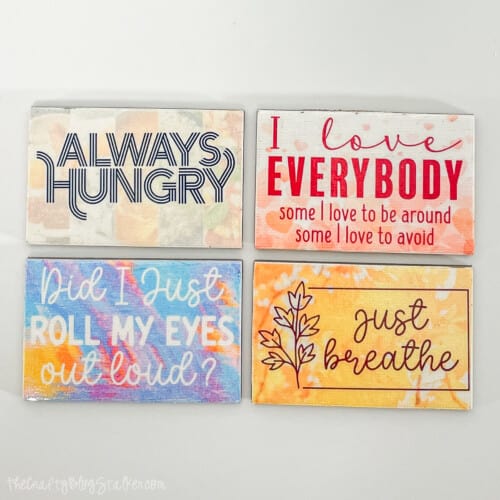 The illusion of glitter is even better and FAR faster and easier than real glitter! That's the beauty of sublimation - the results are high resolution, bright, and vibrant.
It is an easy project that will look amazing on your bed or even in your living room. Ready to get started? Grab your supplies and keep reading for three wants to personalize a sequin pillow cover.
This tutorial shows how to sublimate on a drinking cup using the heat press by Sublifun. Turn your favorite image or design into a fun and personalized tumbler.
You won't believe how easy this is! The wood takes the ink really well and you get fantastic results. Follow along with our craft tutorial and get ready to make your own wooden sublimation projects.
Want to move beyond sublimating white polyester fabrics? You can sublimate on glitter HTV! Use this trick for adding sublimated images to cotton and dark fabrics.
Give the gift of a personalized front door mat using sublimation. A step-by-step tutorial with a video tutorial.
If you love sublimation, you're going to love making sublimation earrings. I'm going to make these earrings in two different ways, but there are tons of different ways to make sublimation earrings.
Sublimation markers are markers that have sublimation ink inside of them. They look and work like regular markers.
Learn how to make a Photo Mug with a Sublimation Print and Cricut Design Space. A step-by-step tutorial and video!
Want to make some sublimation license plates? I'm going to make a couple of different versions today, including regular license plates and ones that glow in the dark.
Adobe Photoshop can be an intimidating program to use, especially for crafters who are new to sublimation. In this post, we'll talk about how to use basic tools in Photoshop for sublimation projects, including how to get the best color.
Sublimation keychains are a fun project to make for yourself, for gifts, or even to sell. I picked four to show you below but there are many more to choose from. So, grab your sublimation printer and get ready to make some adorable keychains in minutes.
The best part about sublimating kitchen towels? NO WEEDING! Seriously, once everything is designed, you can make each towel in a matter of minutes.
Create a heartfelt custom photo puzzle as a cherished gift. Use favorite photos to capture memories in a thoughtful and entertaining way.
Our Sublimation Essentials List:
Title:
20 Sublimation Craft Tutorials for Beginners
Keywords:
sublimation crafts
Last Updated:
August 9, 2023