Make your own earring holder frame to hang on your wall. Below is the step by step tutorial on how to make an earring frame.
I love jewelry and have quite a few pieces. If you asked me what kind of jewelry was my favorite, I wouldn't be able to answer. I have necklaces, bracelets, rings, and earrings galore.
A couple of years ago, I shared a tutorial on how to make a Jewelry Hanger using a Towel Bar. I love this system although it really only works for my necklaces, bracelets, and chunky rings.
This is how I kept my earrings. No organization at all, and it was always a huge pain to find a matching pair that went with my outfit.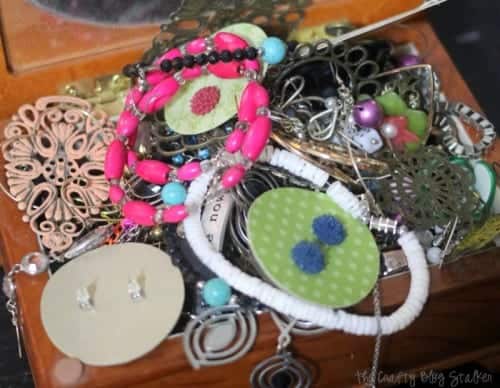 Enough was enough. I buy earrings because I love them and want to wear them, not lose them in this mess. So I decided to make myself an earring holder, but not just any holder, a mesh frame.
I am so excited to have this new earring organizer and hang it next to my towel bar jewelry hanger!
More Home Organization Craft Ideas:
Organizing the home is so much more fun if you can craft while you are doing it, and we have lots of tutorials to show you how! Like How to Organize Your Jewelry Making Supplies, this Custom Craft Table, and How to Reuse Plastic Jars.
Be sure to look around the blog for more home organization tutorials!
Supplies You'll Need to Create this Project:
This post contains affiliate links.
Craft Tutorial Video:
How to Make Your Own Earring Holder Frame
Yield:
1 Earring Holder Frame
Make your own earring holder frame to hang on your wall.
Materials
Instructions
The aluminum mesh sheet measures 12 x 24 -inches so the length needs to be trimmed to fit into the frame. I used the paper insert in the frame to measure how much metal mesh and cut just a little bit larger than the insert.
The aluminum mesh cuts pretty easily so your scissors don't need to be super heavy duty, but I wouldn't recommend using your best craft scissors because you are still cutting metal.
Start with the top edge and create a fold along the mesh using a ruler.
Using a ruler, push the top edge of the aluminum mesh into the groove of the frame. Secure with several staples along the top edge.
When you get to the corners, cut out a square that matches the corner of the frame. This will help the aluminum mesh lay right and stay tight without bunching.
Here you can see the staple going into the side of the frame. You want to be cautious of the direction that you put the staples into the frame. They should go into the side so they don't poke through the front.
Staple the top and bottom and then the two sides, trying to keep the aluminum mesh as tight as possible. When all 4 sides are stapled down, trim the edges of the metal mesh so it isn't poking up higher than the groove around the opening of the frame. The edge of the metal mesh is sharp and pokey so use caution.
Notes
This type of earring organizer works best for hook earrings. Post earrings will work but you will have to reach around each time you put them on the holder and take them off. To hook, you just slide into the holes.
I hung my frame just under my Jewelry Hanger and I love how they look together, plus all of my jewelry is now in one place!
If you love this earring holder tutorial, please give it a five-star review and help me share it on Facebook and Pinterest!
Our Crafting Essentials List: