Make your own earring holder frame to hang on your wall. Below is the step by step tutorial on how to make an earring frame.
I love jewelry and have quite a few pieces. If you asked me what kind of jewelry was my favorite, I wouldn't be able to answer. I have necklaces, bracelets, rings, and earrings galore.
A couple of years ago, I shared a tutorial on how to make a Jewelry Hanger using a Towel Bar. I love this system although it really only works for my necklaces, bracelets, and chunky rings.
This is how I kept my earrings. No organization at all, and it was always a huge pain to find a matching pair that went with my outfit.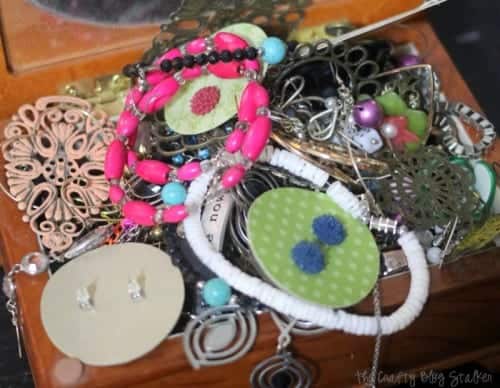 Enough was enough. I buy earrings because I love them and want to wear them, not lose them in this mess. So I decided to make myself an earring holder, but not just any holder, a mesh frame.
I am so excited to have this new earring organizer and hang it next to my towel bar jewelry hanger!
Craft Tutorial Video:
More Home Organization Craft Ideas:
Organizing the home is so much more fun if you can craft while you are doing it, and we have lots of tutorials to show you how! Like How to Organize Your Jewelry Making Supplies, this Custom Craft Table, and How to Reuse Plastic Jars.
Be sure to look around the blog for more home organization tutorials!
Supplies You'll Need to Create this Project:
This post contains affiliate links.
I hung my frame just under my Jewelry Hanger and I love how they look together, plus all of my jewelry is now in one place!
If you love this earring holder tutorial, please give it a five-star review and help me share it on Facebook and Pinterest!
Our Crafting Essentials List:
Title:
How to Make Your Own Earring Holder Frame
Mentions:
30 Minutes or Less
Keywords:
earring holder Frame
Last Updated:
August 16, 2023