Learn how to make a personalized stitched Pencil Holder for your desk. A simple DIY craft tutorial idea to get you back to school.
In July, I was shopping with daughter at the Dollar Store. She wanted to pick up some makeup. Seriously, I love the Dollar Store for makeup, but that's a different story. While my daughter was off in the makeup isle I was browsing the office section. I have a passion for office supplies. I don't know if it is because it reminds me of getting all those new pencils and notebooks for back to school, or if it's because of all the organizing options. – Actually, it is probably for both of those reasons.
Anyway, I found these pencil holders. I was drawn to them because of all the fun colors, then when I picked them up and got a closer look, I started getting fun ideas of how I could make them even cuter! Don't have a dollar store close? I couldn't find the exact ones online but these pencil holders are super cute too!
I decided on the neon green one. Not because it went with any cool color scheme I had my office, but just because I really liked the color.
In my craft stash, I also have LOADS of stitching Floss, two cases full in fact. The case below this one is just as full. I began pulling out colors that I thought would match with the bright neon green of the pencil holder.
Ultimately I decided on a bright pink and Orange. If you want specifics they are actually DMC Embroidery Floss 603 and DMC Embroidery Floss 740.
How to Make a Stitched Pencil Holder
One of my very favorite patterns is chevron. I figured that pattern would be pretty simple to create so I just jumped in. I did a little bit of math counting the holes in one row around the holder to figure out how many stitches I should go up and down for the points of the chevron. DMC Floss includes three strands, so I cut the length I wanted which was about the length of my arm, and then separated the strand into 2 pieces. So there were 3 strands in each length. Then I started stitching.
My very first craft that I fell in love with was cross stitching (that's why I have so much floss) and stitching through the holes of the pencil holder is really the same concept. out through the top hole, back in the hole directly below, moving down or up at a slant.
Here is what my first chevron row looked like.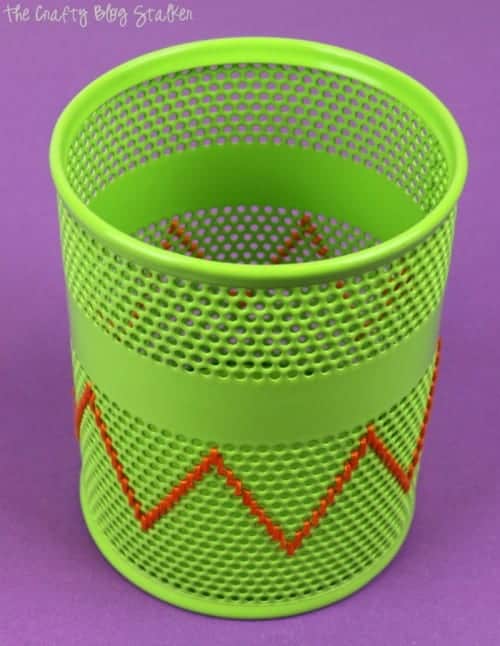 The further down the holder you go it is a little bit more difficult to get your fingers to do what you want them too. So keep that in mind when you are creating your pattern. I only did one more chevron pattern below the first and that bottom row of circles were the most difficult to make.
Here are what the rest of the pieces of the pattern looked like as I stitched around the pencil holder. I really wanted to keep with that chevron pattern on the top too but that band around the middle with no holes really messed with me and made me realize that I am really not as good at math like I thought I was. After about three hours of trying to figure it out and trying, and then pulling it out because it didn't work – I decided to go with the stripes on the top. My brain hurt and my ego needed something I could actually figure out. I can figure out straight lines!
Even though It wasn't exactly how I imagined, I still really like how it finished up!
Want to see what the inside looks like? Here you can see that I tied knots at the end of my strands when starting a new piece as well as how I moved around the Pencil Holder. I always started at the back seam and moved around the holder. I will always point the seam towards the wall or back of the room so it doesn't matter if it is perfect.
The inside never looks as nice as the outside, in fact, it looks down right messy. But it's on the inside and no one else will see it, so it's okay.
And let's be friends on Pinterest so you can see all the DIY projects I'm pinning!
You Might Also Like: