Take a tour as I clean up my Craft Room and share some DIY Storage Solutions and how I organize my crafting supplies. Simple DIY craft tutorial ideas.
Happy Monday Everybody! Craft room tours are very popular on Pinterest! I love to go and see how other people craft. Someday I hope to have a gorgeous custom craft room, but in the meantime, I have to deal with what I've got. Now don't get me wrong I'm not complaining! I get an entire room for my hobby and I know some only have closets or a couple bins.
Last weekend I wanted to work on a project and realized that I could hardly walk in the door. So I decided it was time to clean up and organize a little. So this is my Craft Room, mess and all.
This is what you had to step over just to walk inside.
As for my workspace, I use a couple of lifetime tables.
Cleaning up took longer than expected, but I was actually surprised at how much fun I had organizing and putting everything in its spot. I even purged and got rid of quite a bit of stuff I never used too.
When I was finished I took a moment to take a deep breath and look around. I couldn't help but smile as I noticed some of my favorite things about this room.
Storage Solutions in My Craft Room
My husband built me this closet is AMAZING! This is where I keep a majority of my stuff. I like to use plastic totes because it helps me keep my craft stash organized.
There is a TV on the wall so I can watch some of my favorite movies while I am crafting. Can you guess this movie? You get bonus points if you do!!
The walls of my craft room are pretty bare and I really need to add some more decorations on the wall. I do have this Create Banner hanging above one of my tables.
You might say I have an obsession with ribbon because I have a ton! All in different colors, patterns, and widths. I designed and created this DIY Ribbon Storage and it is super functional. Plus, I love having all of my ribbons on display!
One of my favorite crafting types is paper crafting, and stamping goes right along with that. That is why I have SO MANY stamp sets and I actually use them all of the time!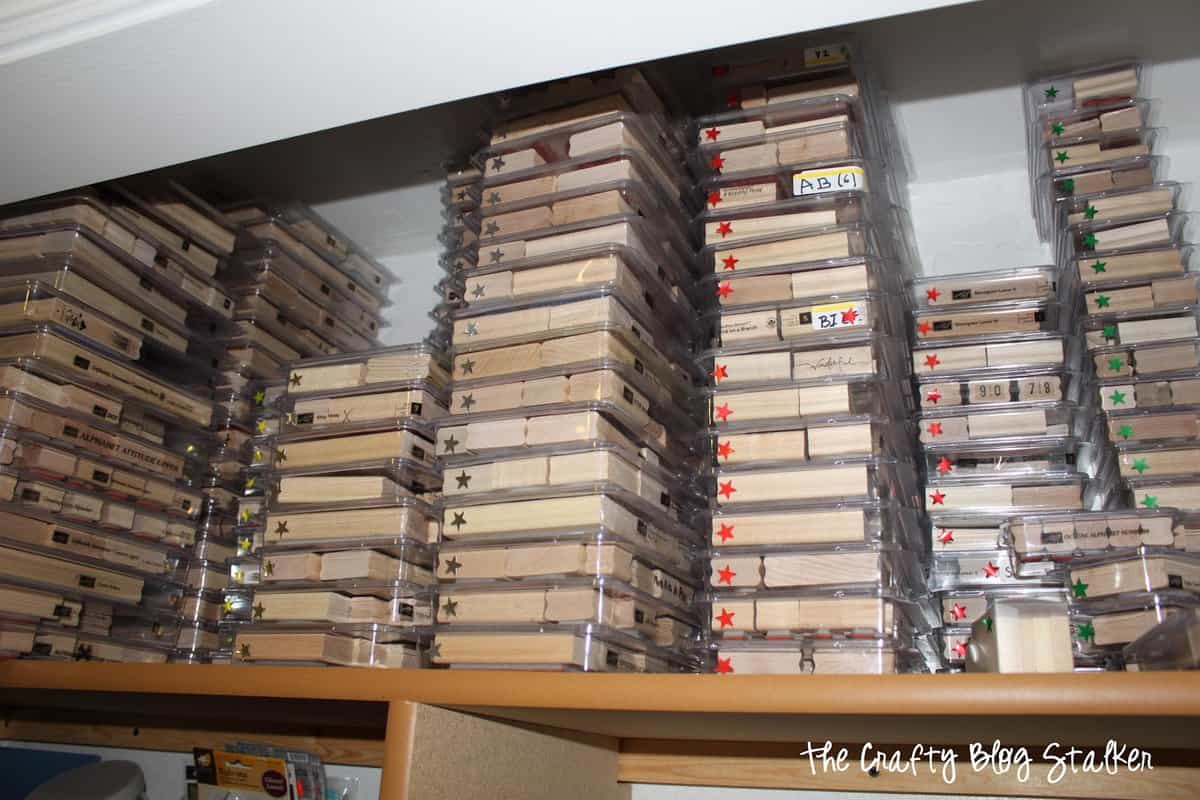 The worst part is having to go through all of the stamps to find one specific. That is why I created my own catalog of all of the stamps that I own.
In a 3 ring binder, I have filled sheets of cardstock with all of the stamped images of my stamps. Next to each stamp set is a colored star sticker. That star sticker reflects the size of the stamp set that the image comes from. Those sets are then alphabetized within their size. So I can look through the catalog to find the perfect image and then use the star guide to quickly locate the set it comes from. So much easier than going through every single set!
My next storage solution is something I am really excited about! Since I have a lot of rubber stamps, I also NEED to have a lot of colors of ink pads! For the longest time, I kept all of my pads in a wooden case meant for cassette tapes. It quickly filled up and the rest of my ink pads were just piling up in other parts of my craft room.
I had been looking for quite a while that I could keep my ink pads in that didn't cost an arm and a leg. Media Stix became the PERFECT solution!! They are intended to hold CD's or DVDs but the slots are the perfect size to hold ink pads. 1 package will hold 60 ink pads! SCORE!!!
Again, hubby helped me with the install. I actually purchased two packages because I have about 80 ink pads, and now I can buy more!!
Aren't these awesome?! I even arranged them dark to light in the colors of the rainbow. It totally makes me smile when I see them on my wall. They are just so pretty!
The best part... there is room for more!
The Media Sticks do cause the ink pads to have a slight slant upwards but I have never had a problem with ink pooling to the end or leakage so it isn't a concern for me. If it is a concern for you, you could add a thin piece of wood to the top screw of the media stix to level out the ink pads.
I absolutely love how my Craft Room looks and feels when it is cleaned and organized. But I know I won't stay that way for long. My husband actually teases me that I spend more time cleaning and organizing my room than I actually do creating.
Do you have an awesome organizational tip that you use in your craft room? Share and leave a comment below!
And let's be friends on Pinterest so you can see all the DIY projects I'm pinning!
You Might Also Like: