A wall-mounted coat rack allows easy access to coats, hats, and backpacks. Find out how to make a DIY coat rack out of wood here.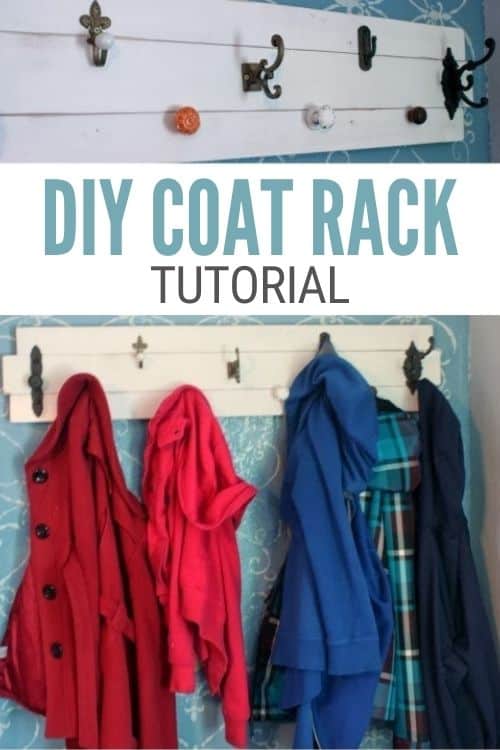 Lately, there have been jackets and coats everywhere in our living room and hanging off the back of the kitchen chairs.
We have a coat closet, but by the state of our house, hanging up our coats is just too much of a chore.
So I came up with a quick DIY coat rack to hang in our entryway. Now there are no more excuses!
Supplies You'll Need to Create this Project:
This post contains affiliate links.
Instructions:
Begin by arranging the coat hooks and knobs that will fit your space. This helps you to know how big of a piece of wood to buy.

We decided that we wanted the coat rack to measure about 40 x 8 ½ inches.
The backing to the knobs is 1 ⅜", so we had to account for that as well.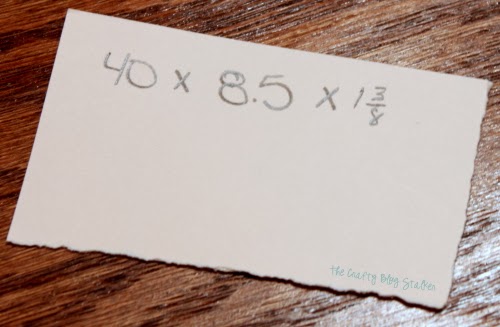 If you have it, you could easily use scrap wood. But we didn't have what I was wanting so we went to Home Depot to brainstorm further.
We measured lots of different pieces of wood to see if we could get what we envisioned to work.
We ultimately decided to go with 2 different sizes of Primed Pine Board. We got one length of 1x4x8ft and one length of 1x3x8ft.
On a side note, wood measurements are crazy and inaccurate, What is the point? How hard is it to have a 1x4 if the sign says they are 1x4? But in all actuality they are .75x3.5! A man had to come up with that system because it makes absolutely no sense at all.
Here is my best sketch of how it will all go together. I felt I could explain it better with a drawing, BUT this drawing is not to scale, just wanted to show you what I was thinking.
Once we knew what we were doing we went to the saw table and cut our lengths of wood to what is stated in the sketch above.
We used the entire length of 1x3x8 but had a good chunk of the 1x4x8 left for some unknown future project.
Once home, I began sanding the strips of wood.
The wood pieces are primed, not painted but that meant I wouldn't have to paint or stain.
I only sanded the pieces a little to give the wood a worn/stressed look to them.
This is how the pieces looked when I was done sanding them.
Before we add the knobs we need to add the support braces to the back. This will keep all of the boards aligned like we want and give the space on the back to allow for the screws of the knobs.
We used screws that are just a little bit shorter in length than the depth of the two boards so they didn't come out the front of the coat rack.
I measured out the placement of the knobs and then used a drill to make the holes to screw them in.
We put almost all of the knobs in but left a couple off where we would need to screw the rack into the wall.
The coat rack needs to be screwed into the studs in the wall so they are good and sturdy. We took that into account when we were putting the braces on the back and put them in the same plus where the studs are.
We used super long screws to attach it to the wall to make sure it went through both pieces of wood and into the stud of the wall.
My son also jumped in on the action so he could help Dad keep the coat rack level and I could be the photographer.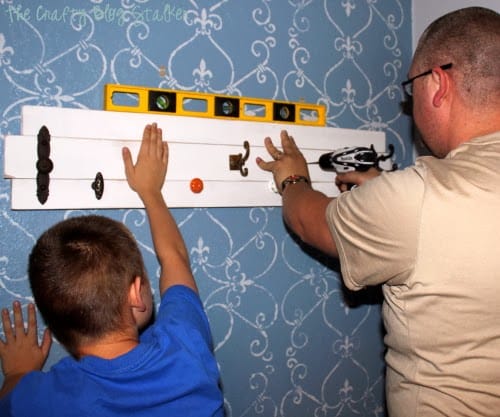 Once everything was secure we screwed the last couple of hooks into the board.
Then I took some white paint and dabbed it over the dark screws to help hide them.
Doesn't it look awesome, and completely functional too? I love the mish-mash of all the different knobs.
After it was done, it took about 2 hours to put it all together.
If you love this coat rack tutorial, please give it a five-star review and help me share it on Facebook and Pinterest!
Our Crafting Essentials List:
Title:
How to Build a Wall Mounted Coat Rack
Last Updated:
November 21, 2023