Learn how to add light to your crafting space with light tools from Cricut. Don't craft in the dark, brighten up your craft room and let the creativity flow. Some products for this tutorial were supplied by Cricut. If you make a purchase using the links below, we may earn a commission.
As you probably already know, I love my Cricut cutting machines. In fact, I have a whole section on my website devoted to Cricut Tutorials!
But, did you know that Cricut isn't just cutting about cutting machines, vinyl, and cards? They also have a line of lighting tools to help you be able to see what you are creating!
More Cricut Craft Tutorials:
The Cricut is our very favorite crafting tool, so naturally, we have shared lots of Cricut tutorials. Like Etched Summer Glassware, Unboxing the Cricut Hat Press, and Personalized Cutting Boards.
Be sure to look around the blog for more Cricut Craft Ideas!
What is the best lighting for crafting?
Natural light is always the best lighting, but that isn't always an option. Especially if it is dark or freezing outside.
The reason natural light is so great is because of its natural color temperature. Plus, it is usually the perfect brightness so you can easily focus but not so bright that it will strain your eyes.
When looking for artificial light, you want to look for lights that can imitate the look of natural light and have different brightness levels. These will be the easiest on the eyes.
Cricut BrightPad:
The Cricut BrightPad comes in two versions.
The biggest difference between the two is the mobile feature of the BrightPad Go.
The BrightPad Go can be charged and then used anywhere, while the original must be plugged in for use.
Cricut BrightPad Features:
The lit-up surface of the BrightPad measures 11.5 x 9 inches. This means you have a lot of room to work with.
Plus, it is very lightweight and easy to move around as needed.
There are three buttons in the top left corner of the Brightpad, and this is how you control the light settings.
There are 5 different levels of brightness you can choose by selecting the + and - buttons, making sure you get the best amount of light for what you are working on.
And the surface has a rating hardness of 6H, which is really high! That means you don't need to worry about scratching the surface with weeding tools.
What Can the BrightPad Go Be Used For?
There are so many uses for the BrightPad, but first, let's start with what I use it for.
Weeding:
Having a light behind your vinyl, or iron-on can really help you see those cut lines, making the design much easier to weed.
Sadly, this doesn't work on all colors of vinyl, but I have a fix for that below.
Tracing:
I don't have a need to do a lot of tracing, but when I do, it definitely comes in handy!
Diamond Art:
Diamond painting is a favorite hobby of mine. It is kind of like cross-stitching, except with little plastic pieces called diamond drills.
I like to place the BrightPad behind the canvas. It really helps me see what colors need to go where.
My Most Recent Project:
I just made some Personalized Cutting Boards and I use the Cricut BrightPad Go as I weeded my project.
There is even a video if you want to check it out in action.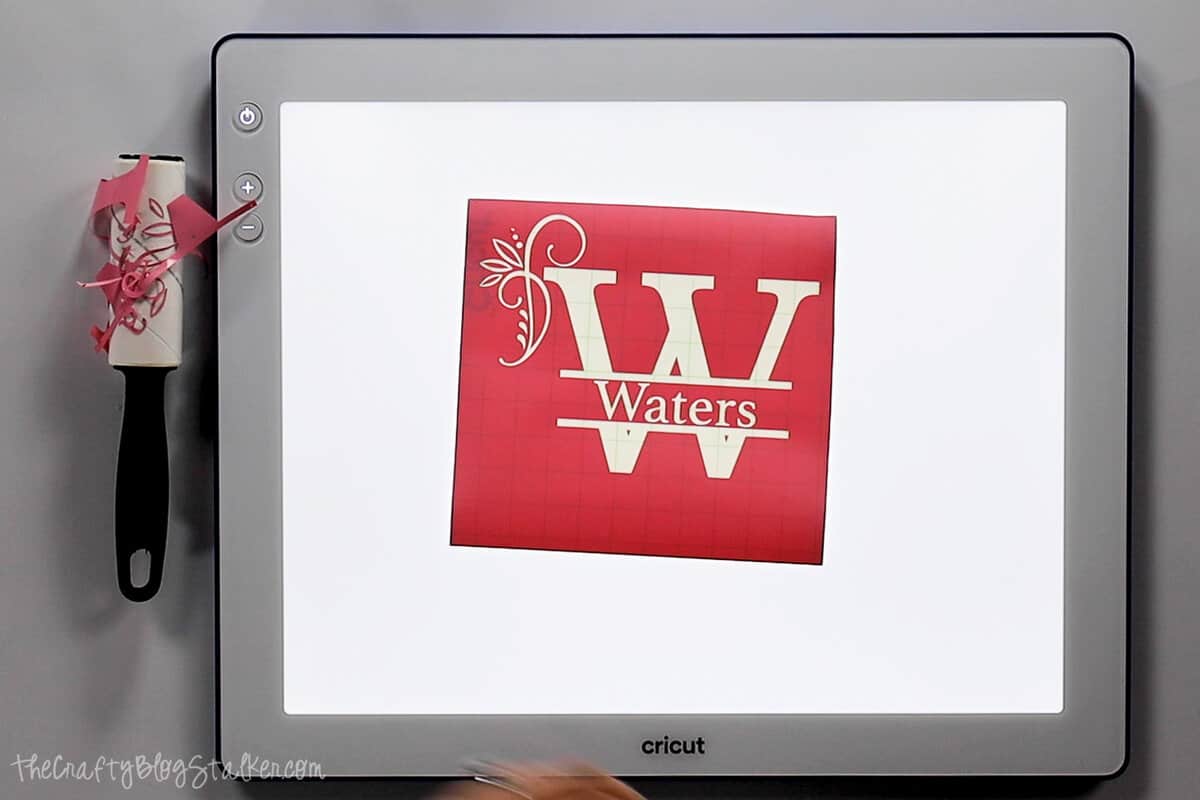 Other Uses:
There are a ton of other uses for it too.
Art
Quilting
Scrapbooking
Calligraphy
Tattoo Design
Jewelry Making
Stamping
and so much more!
Cricut Bright 360:
The Cricut Bright 360 also comes in 2 versions and 2 different colors.
As you may have guessed, the biggest difference between the floor lamp and the table lamp is the size of the stand.
The floor lamp stand is longer since it rests on the floor than the table lamp stand.
Cricut Bright 360 Features:
The lit-up portion of the lamp has a diameter of about 7.5 inches but can light an area of about 4 feet.
It rotates and moves a full 360º, so you can put your light exactly where you need it.
The light can be adjusted between warm and cool and any setting in between.
The brightness can be dimmed and brightened up to a high 95 color rendering Index. That means it can produce light like daylight. This means the light will be easier on your eyes.
What Can the Bright 360 Be Used For?
As before, let's start with what I use it for.
I have the floor lamp, but the table lamp can easily be used the same way, just propped up on a desk or side table.
Crafting and Watching TV:
I love to get crafty while sitting in my favorite chair and watching TV. With the Bright 360, I can easily move the lamp to that perfect angle.
Craft Room Lighting:
This one is a no-brainer, but I love to use the Bright 360 when I am crafting.
I love how well it lights up my area, so I can easily see what I am working on.
(Want to make the cute I Love You card shown above? Here is the Design and I used the Insert Cards, Princess Sampler)
Weeding:
That's right, the Bright 360 is also great for weeding!
Remember how earlier I said sometimes you can't see the cut lines in materials with the BrightPad?
When light from below doesn't work, try light from above. It really does help those cut lines stick out so you can see what you are weeding.
Other Uses:
The possibilities are endless for Cricut Bright 360.
Quilting
Paper Crafting
Painting
Drawing
Jewelry Making
Cross Stitching
Crocheting
Knitting
Basically, for any activity of making, you could use Bright 360.
Do You Need Cricut Lighting:
The answer is absolutely yes, you do!
My favorite place to shop is Cricut.com, but you also find Cricut Lighting at many other major craft retailers like Hobby Looby, Michaels, and JoAnn.