The Cricut Explore Air 2 is the perfect gift for any crafter. Give the gift of Cricut for Christmas, birthday or simply gift it to yourself! This post is sponsored and written on behalf of Cricut. All opinions expressed are 100% my own.
Are you looking for that perfect gift for your favorite friend or family member? Do they like to craft or DIY? If you answered yes, then I have the perfect gift idea for you. And trust me when I say that the recipient will be all smiles after they open this gift!
Introducing the Cricut Explore Air 2. This smart cutting machine can cut over 100 different materials including cardstock, vinyl, and even thicker materials like leather and felt. Plus the "Air" means that it is Bluetooth capable and you can create on the go without being tied to your machine with cords.


Let's break it down into a little more detail on what this fun machine can do, and why it is the perfect gift for any crafter.
Speed
The Cricut Explore Air 2 is the newest of Cricut Smart Cutting Machines and is up to 2x faster at writing and cutting then it's previous models. Don't have a lot of time to craft? Now you can complete a project in even less time!
Materials
Some of the popular materials that the Cricut Explore can cut are:
Paper - Standard, Cardstock, Vellum, Poster Board
Vinyl - Standard, Premium, Dry Erase, Chalkboard
Iron-On - Heat-Transfer Vinyl (HTV)
Craft Materials - Washi Tape, Craft Foam, Glitter Paper
Upcycled Materials - Chipboard, Cereal Boxes, Aluminum Cans
Fabric - Felt, Denim, Polyester, Burlap, Canvas
Plastic - Stencil, Window Acetate, Silicone
Thick Materials - Leather, Balsa Wood, Magnet Materials
For a more detailed list of materials as well as settings to be used visit the Cricut Help Center.
Types of Projects
Think you are stuck with only papercrafts when using the Cricut Smart Cutting Machines? That is not the case at all! Since there are so many different types of materials that you can cut with the Cricut, the possibilities are endless!
Home Decor
Fashion
Kids Crafts
Party Supplies and Decoration
Handmade Cards
Jewelry Making
Scrapbooking
Wedding
Organization
AND SO MUCH MORE!
Cricut Design Space
Along with Your Cricut comes a program that allows you to quickly design all of your projects. You can use the Cricut Design Space on their website, but I highly recommend downloading the Cricut Design Space App so you can design anytime or anywhere.
50 Free Projects
Included with the Cricut Explore Air 2 is 50 Free Projects!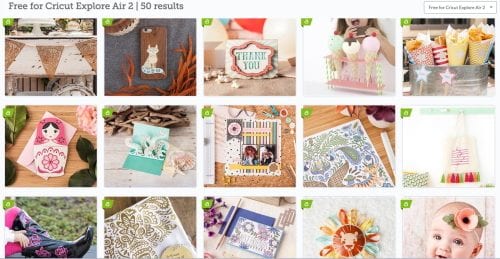 Just in case your friends can't decide where to start, there are lots of different projects to choose from. All projects from the design space include the level; beginner, immediate or advanced, list out the materials needed, and provide step-by-step instructions to make sure the crafter feels completely confident in what they are creating.
Cartridges
A common question I get is about cartridges.
"….how does the keyboard work since the keyboard is not attached to the machine? I'm specifically talking about the rubber keyboard that comes with all the symbols with each cartridge you buy. I have several cartridges with the book and the keyboards and I have no clue how this works with the new machines." Kayla-Michelle
Link a Cricut cartridge to a Cricut Design Space Account using the cartridge port on the Cricut Explore machine. This will save all of the images from the cartridge into your Cricut Design Space account. This means you will be able to design your project in Cricut Design Space and still have access to all of your images without having to use the rubber keyboard or having the cartridge plugged into the machine.
Be a Designer
While the complete project ideas are fun and great when you want to make something that doesn't take a lot of time, my favorite thing about the Cricut Explore Air 2 is that I get to design my own craft projects!
One of my most recent projects was this Diy Patterned Serving Tray.
Inside Cricut Design Space, I used solid triangles and hollow triangles and created this fun pattern that I cut out using Cricut Metallic Vinyl. My new serving tray was designed and finished in no time, and I love the finished project.
Purchase
Purchase a Cricut Cutting Machine. Everything you need to get started is included in the box!
Have I convinced you of why the Cricut Explore Air 2 is the perfect gift for any crafter? Go here to purchase or if you have any questions please ask. I'd love to help. Or you can visit Cricut for more information.
Our Crafting Essentials List:
Follow The Crafty Blog Stalker