Gift your favorite teacher something to let her know your appreciation. Below is the Teacher Gift Card Holder Tutorial and Printable.
Back to school is an exciting time whether you are just starting out in Pre-K or you're in the last year of college! The anticipation of what is coming and the excitement to be done!
No matter what grade you or your child is going into, it is certain that you will have a teacher that puts in a lot of extra hours.
Give them a little "pick-me-up" with a fun coffee gift card and a free printable gift card holder!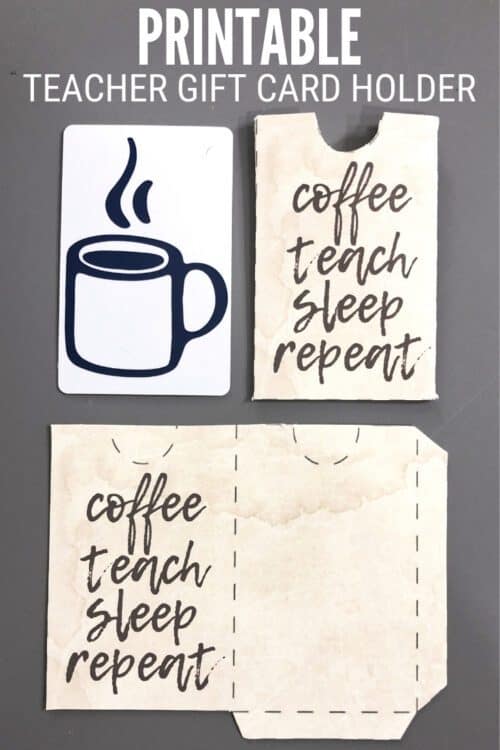 More Handmade Teacher Gift Ideas:
We love our teachers! Let's show those teachers some appreciation with a thoughtful handmade gift.
We have several gift ideas we'd like to share with you. Like this Printable Candy Bar Tag, this Personalized Straw Cup, and these Smart Cookie Printables.
Be sure to look around the blog for more fun craft tutorials!
Supplies You'll Need to Create this Project:
This post contains affiliate links.
Craft Tutorial Video:
Like videos? I have a video tutorial for you! Please subscribe to my YouTube Channel so you don't miss out on any future video tutorials!
Craft Tutorial:
The first step is to print the Coffee Gift Card Holder PDF
Print to your home office printer.
Cut the design out with a pair of scissors. You don't need to cut out the notch now, so just cut straight across the top.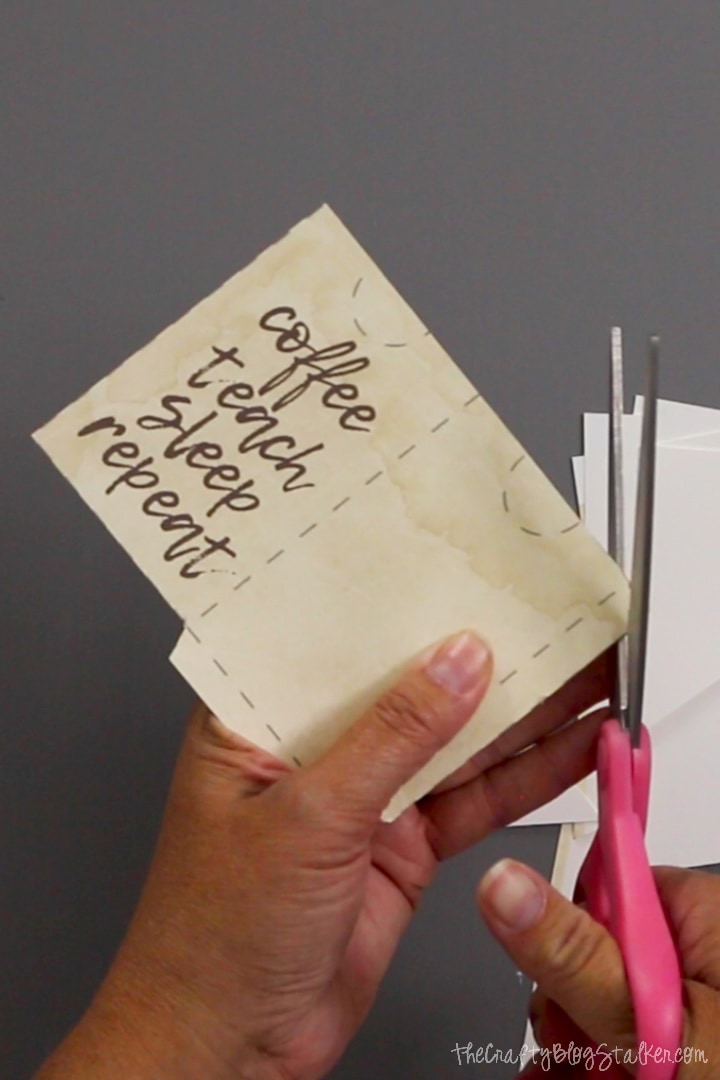 Place the cutout face down and fold the tabs along the dotted line.
Rub folds with a bone folder for a nice crisp fold.
After both tabs are folded in, apply glue to just the tabs. If glue gets in the center then the gift card won't be able to slide in.
Fold the cardholder in half so the two outer edges meet and align perfectly.
Go over the folded edge with a bone folder, and then around the glued edges as well.
This is when you want to cut the notch out of the top so the cut-out notch will be the same for both sides of the envelope.
Slide in a gift card to your favorite coffee place and your teacher's gift is ready to give. Easy Peasy!
I really like the design of this gift card holder because it works for a teacher of any grade, including college!
Our Crafting Essentials List:
Title:
How to Make a Teacher Gift Card Holder with Printable
Mentions:
Paper Crafts, Sponsored
Keywords:
free teacher gift printable
Last Updated:
August 23, 2023