Looking for simple gift tag ideas for Valentine's Day? These black and white tags are perfect for Valentine's Day gifts!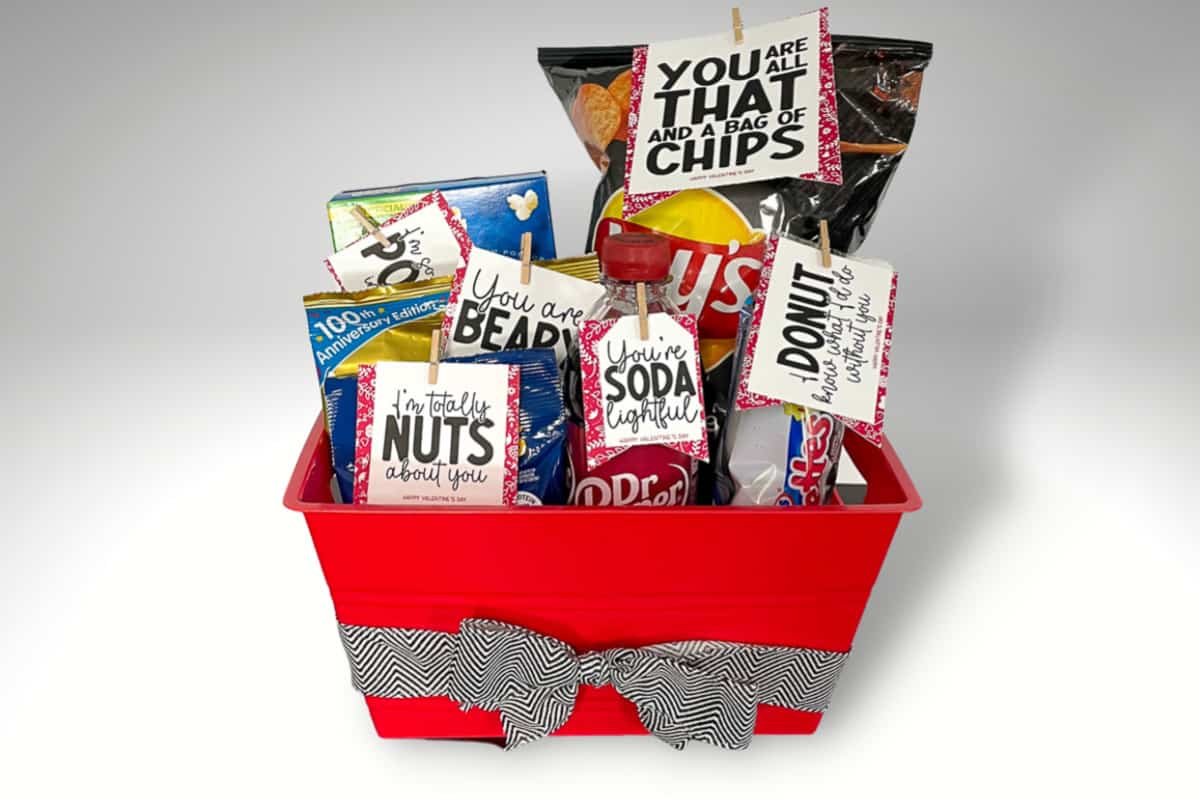 Even if you save things for the last minute, like me, you still have plenty of time to make this easy Valentine's Day gift idea.
It is the perfect time to make a little basket filled with your Valentine's favorite treats for February 14th!
The tags are mostly black and white unless you print them on a different colored paper. Although these have Valentine's theme, in red text at the bottom of each tag it reads "Happy Valentine's Day".
These Valentine's gift tags make easy gifts for a boyfriend, girlfriend, spouse, and kids or family members.
Craft Supplies:
This post contains affiliate links for your shopping convenience. Should you choose to purchase through them, we will make a small commission at no extra cost to you. You can read our full Privacy Policy.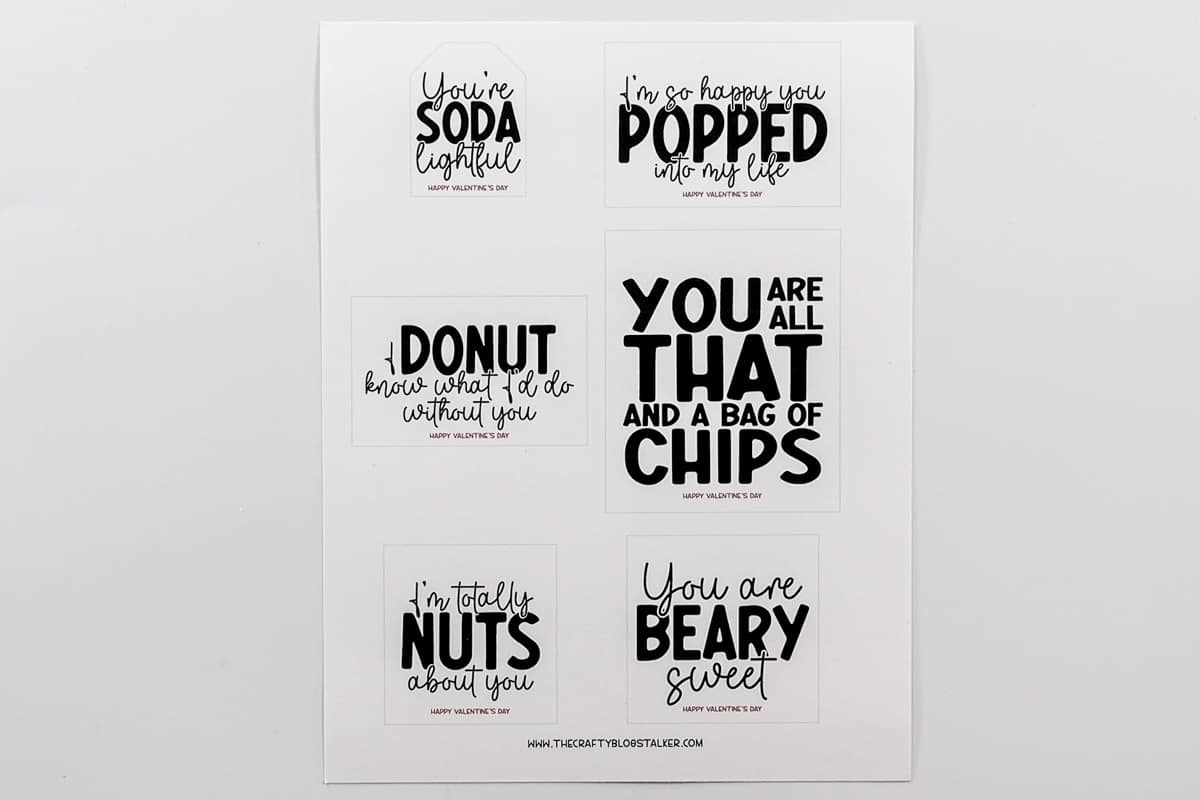 It is such a pretty set of printable Valentine's gift tags, but feel free to adapt this project to use supplies you already have at home.
Instant Download Free Printable Tags:
The Free Valentine's Day Tags PDF file will include one sheet with 6 different tags.
Free digital files are for personal use only.
Print:
For best results, print the PDF on a sheet of white cardstock or heavier paper.
There is no need to take the PDF to professional printers to print at an extra cost.
Cut:
There is a light gray outline around each tag to use as a guide when cutting the tags.
I like to use my Fiskars Paper Cutter, but a good pair of scissors will work too.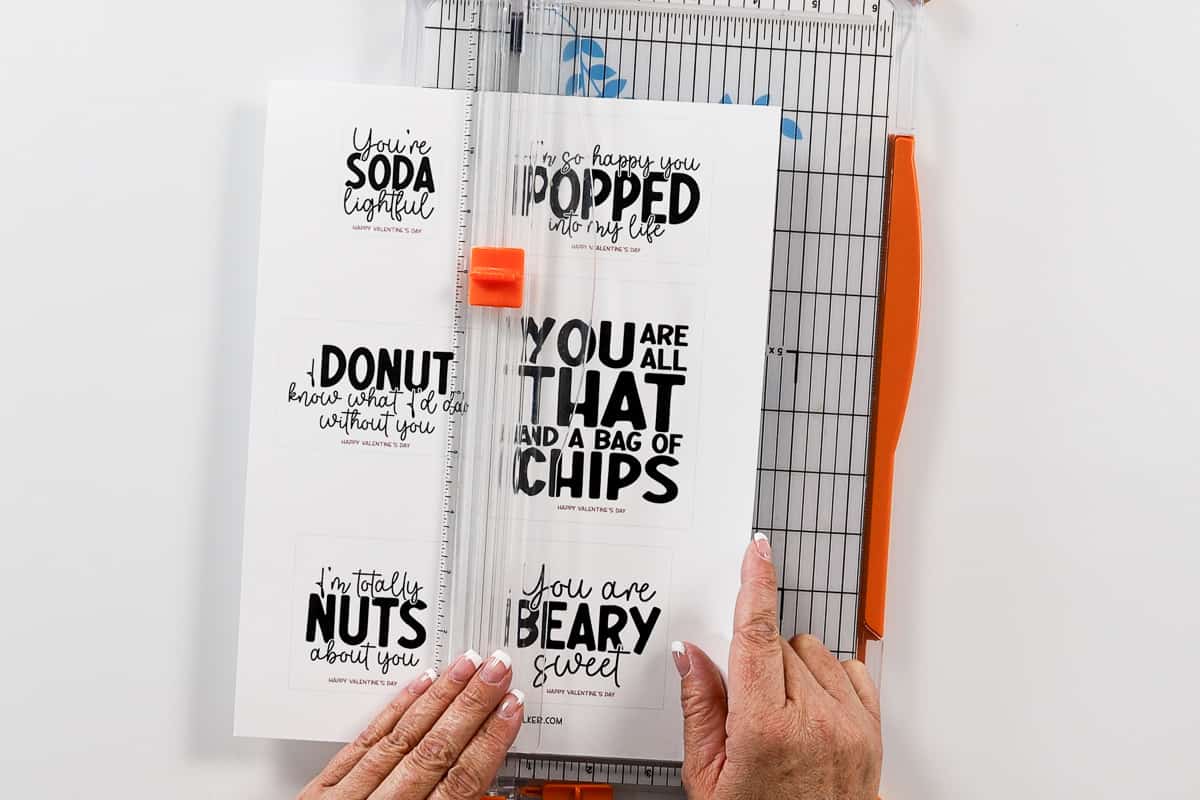 To style the tags a bit more, let's add a red pattern paper backer.
Measure the width and length of the tag.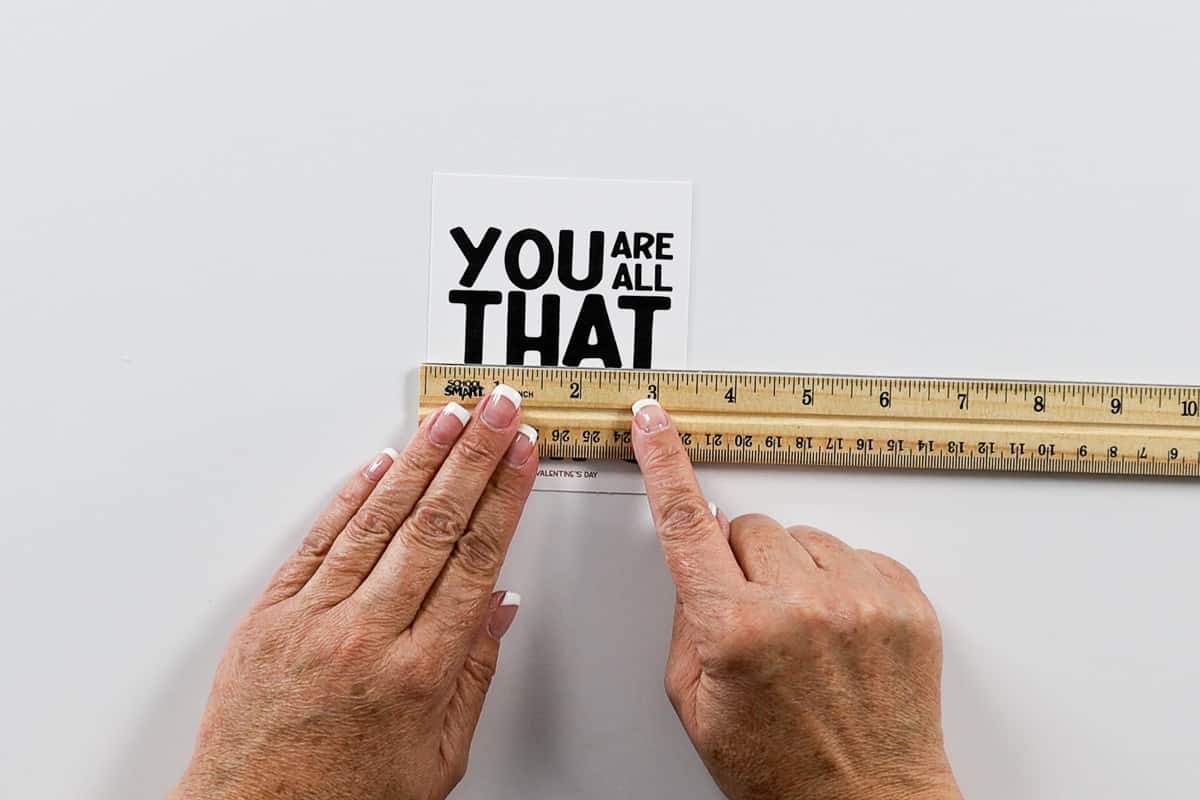 Cut a rectangle of the pattern paper ½ an inch larger than the length and width of the tag.
To add some shape to those backer pieces, we are going to cut a dovetail.
Center the red piece of paper in the Banner Punch Board, and line the corners up with the cutting track.
Then cut the dovetail with the cutting blade.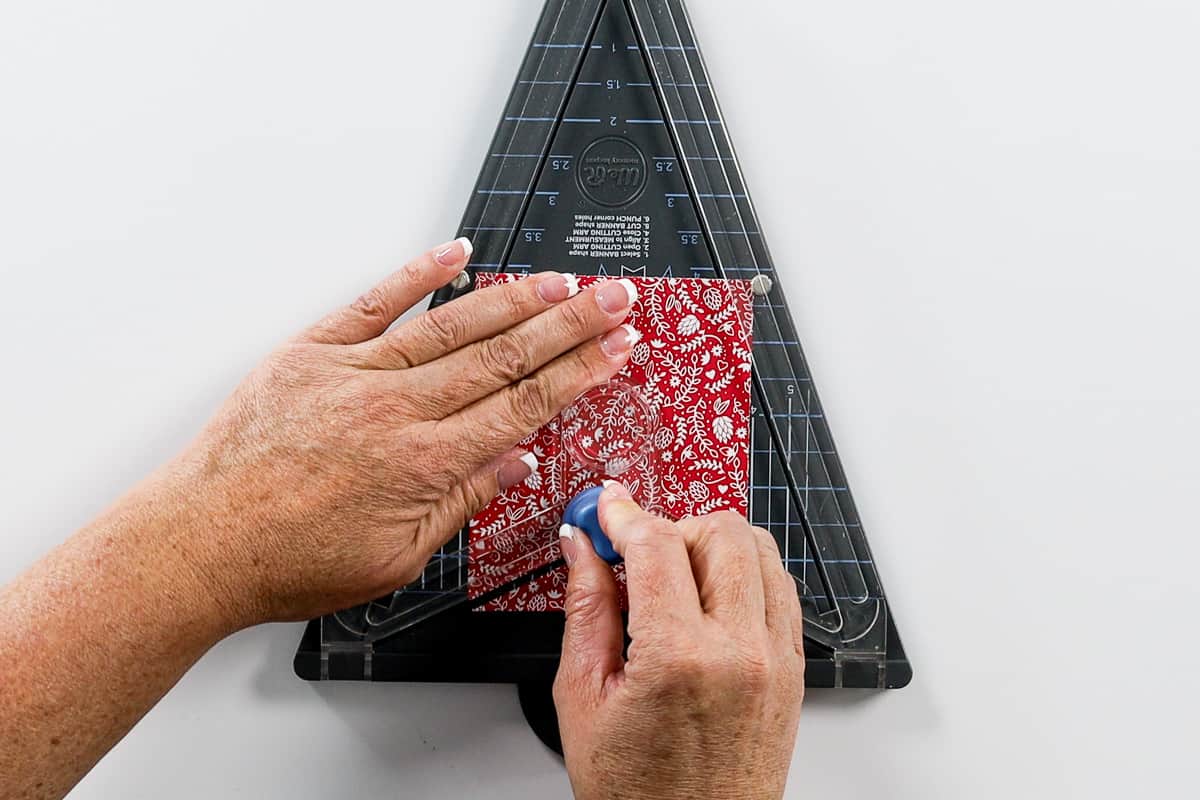 Now your backer piece has a cute flag shape to it.
I love how the two pieces look stacked together. They make such cute gift tags.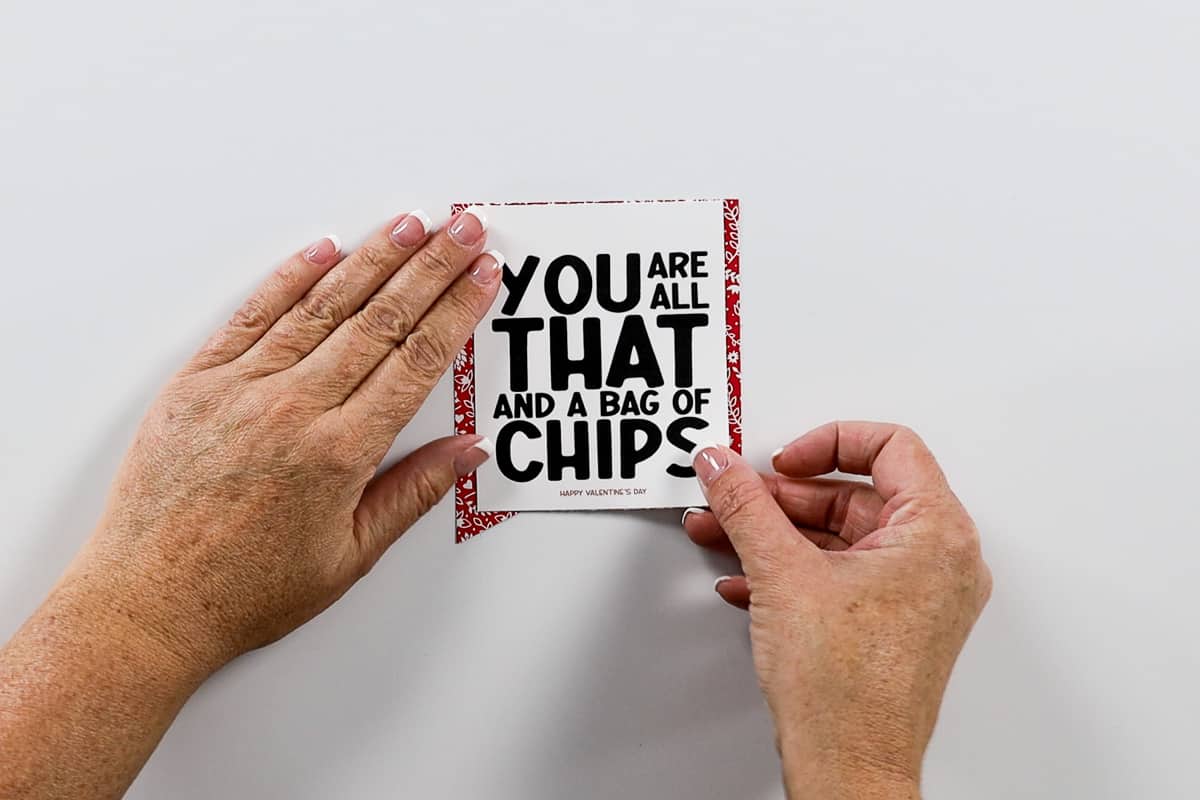 You do not need to glue the two layers together, they can remain loose.
Repeat for each tag size.
Attaching the Tags:
All of the treats purchased for my Valentine's Day gift I got at my local grocery store. Just make sure you purchase their favorite flavors.
There are three different ways to attach the tags to the items.
But first, we will use these cute little clothespins on all of the products.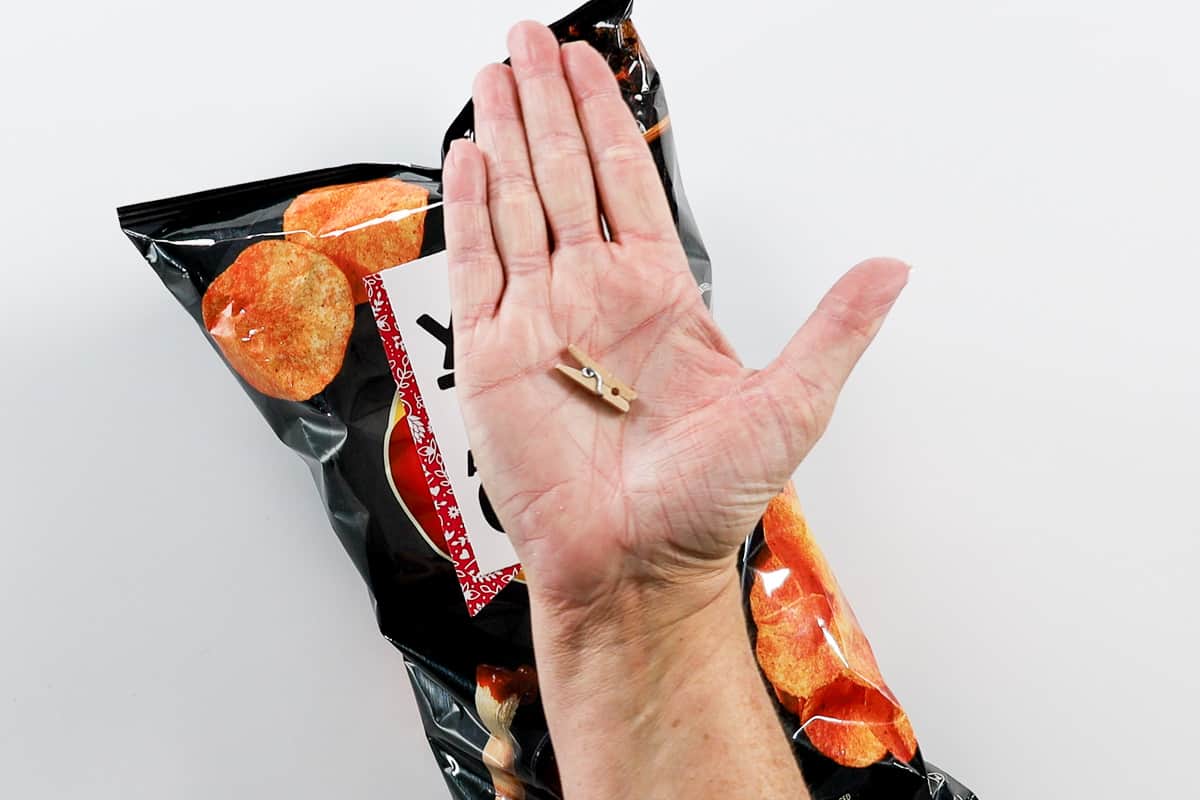 For any of the gifts that come in a bag, we can simply attach the cute tag and backer piece with the clothespin.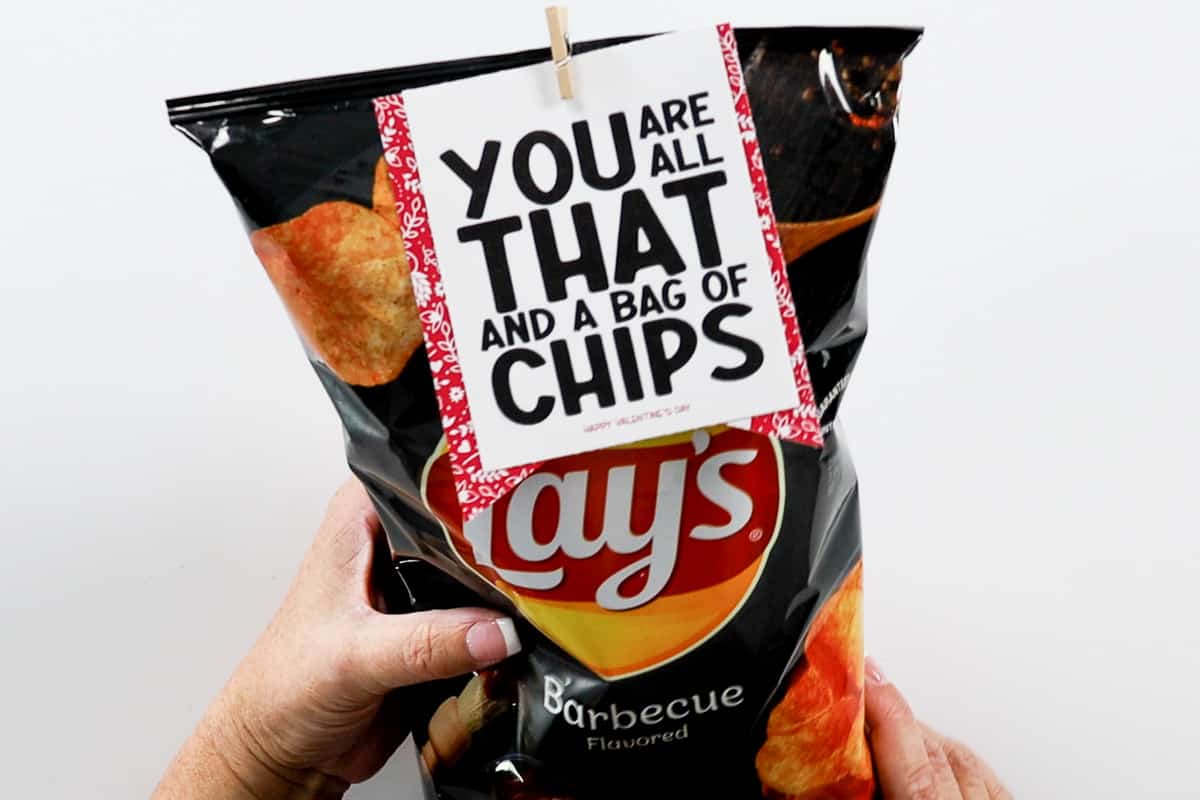 For the soda bottle, I ran a thin piece of twine through the hole in the clothespin and tied it around the neck of the soda bottle. Tied the cord off and trimmed the ends.
The tags then easily slid into the clothespin.
For the box of popcorn, add a glue dot to the front of the box.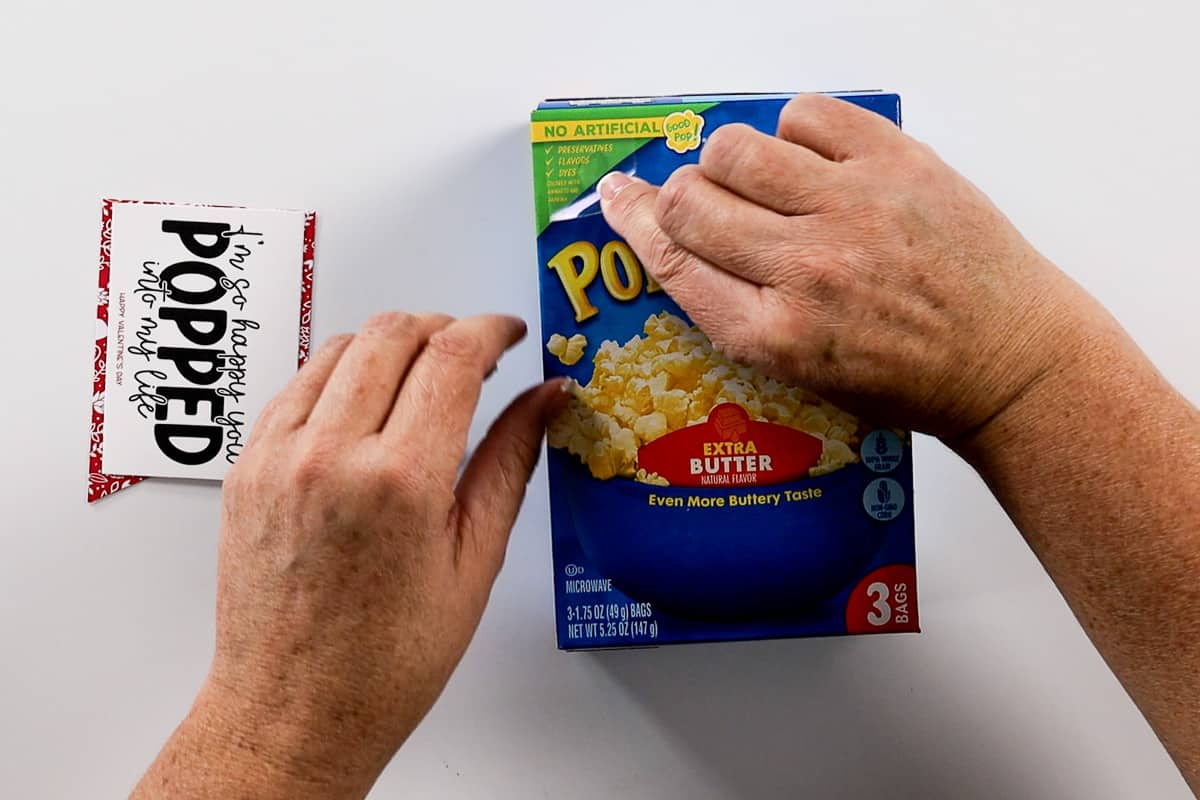 Stick the clothespin into the glue dot, and then place your Valentine's Day tag into the clip.
Assembling the Gift:
The plastic red basket I purchased at my local Dollar Tree.
Wrap the basket with some wired ribbon and tie a bow on the front.
Tear up some paper to place in the bottom of the basket. This will help those smaller items sit up more.
Arrange the food items in the basket so all items can be seen. This is the tricky part.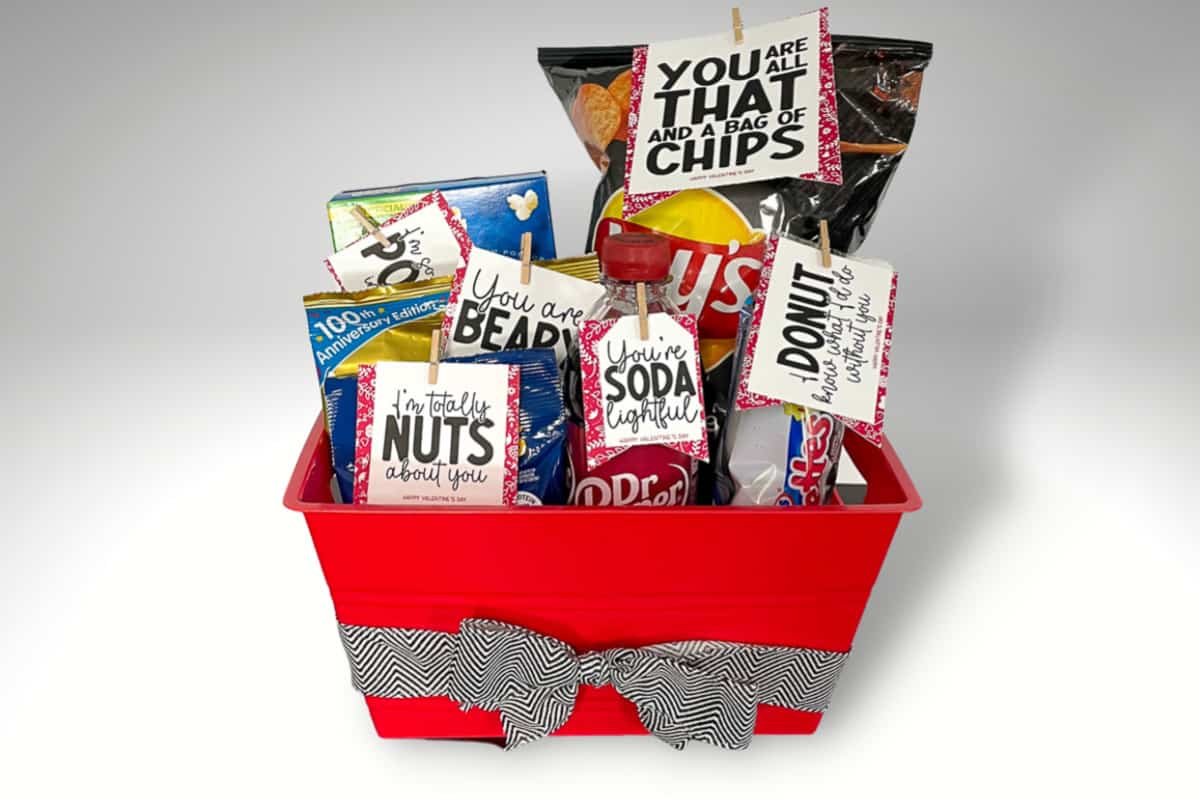 This may be a small gift, but it is so thoughtful! It is a great way to show your Valentine how much you see them and know what they like.
I know my own Valentine would love to receive a basket filled with their favorite goodies and sweet love notes.
Frequently Asked Questions:
Are there other ways to attach the free printable gift tags?
Yes, there are other ways to attach the gift tags. Another favorite of mine is with washi tape. It is inexpensive and there are so many fun patterns.
You could also use a hole punch to put holes in the tags and tie them on that way.
Let your creative imagination run wild with all of the possibilities!
Is Valentine's Day on the 14th?
Yes, Valentine's Day is always held on February 14. It is not a holiday that changes dates based on the year.
Many celebrate this day with sweet notes or Valentine's Day cards and showing love toward those they care about.
What are free printables?
Printables are designs that you can print from your home printer. When they are title free printables, that means you do not have to purchase the file.
Printables can cover many topics from worksheets, step-by-step tutorials, or like these cute Valentine gift tags.
Most often, free printables include items you can print at home instead of buying in a store.
What can I gift my boyfriend to make him feel special?
Collect all of his favorite treats, include these free printable cards, and put them all together in an inexpensive basket.
It is the perfect way to say Happy Valentines Day.
Our Printables Essentials:
Title:
How to Style Valentine's Day Gift Tags {Free Printable}
Mentions:
30 Minutes or Less, Dollar Store Crafts, Paper Crafts
Keywords:
printable valentine tags black and white
Last Updated:
November 27, 2023